The iPhone 12 release date finally went down on October 13, 2020. During the colorful virtual event, Apple introduced four iPhone 12 models, including the entry-level iPhone 12 Mini. As expected, the iPhone 12 supports 5G networks and comes with the improved Super Retina OLED display. But are these features plus many more enough for the iPhone 12 to stack up against the true performer in Samsung Galaxy S20? This article looks at the iPhone 12 price vs. Samsung S20 price, the iPhone 12 display vs. Samsung S20 display, and so on. Keep reading!
Part 1. iPhone 12 vs. Samsung S20: Specs & Features
| Specs & Features | iPhone 12 | Samsung S20 |
| --- | --- | --- |
| Starting Price | $799 | $999.99 |
| Processor | A14 Bionic | Qualcomm Snapdragon 865 |
| Connectivity | 5G, LTE | 5G, LTE |
| Display size and resolution | 6.1-inch OLED, 1170 x 2532 | 6.2-inch OLED, 1440 x 3200 |
| Front camera | 12MP | 10MP |
| Rear camera | 12MP wide, 12MP ultrawide | 12MP wide, 12MP ultrawide, 64MP telephoto |
| OS | iOS 14 | Android 11 |
| RAM | 4GB | 8GB |
| Internal memory | 64GB/128GB/256GB non-expandable | 128GB expandable to 1TB |
| Battery capacity | 2815mAh | 3880mAh |
| Colors | White, Black, Pacific Blue, Product Red, Green | Cosmic Grey, Cloud Blue, Cloud White, Cloud Pink |
| Voice Assistant | Siri | Google Assistant, Samsung Bixby |
Part 2. iPhone 12 vs. Samsung S20: Color & Design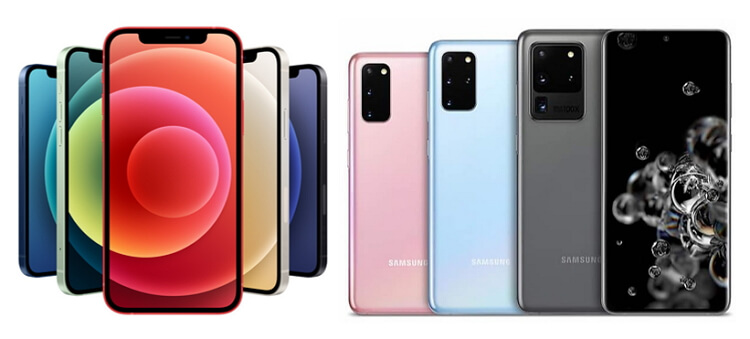 For starters, the iPhone 12 boasts an all-new boxy and flatter design borrowed from the iPhone 5 and the recent iPad Pro. According to Apple, this phone is 16pc lighter, 15pc smaller, and 11pc thinner than iPhone 11. However, it maintains the same 6.1-inch display, although the iPhone 12 packs an OLED display. The brand new iPhone is also fitted with the tough Ceramic Shield glass that gives it 4x more drop resistance. At the back, you'll see a raised camera bump with dual 12MP wide, 12MP ultrawide, and a LIDAR sensor. The iPhone 12 is available in White, Black, Pacific Blue, Product Red, and Green colors.
As for the S20, it's undoubtedly one of the sleekest phones you'll get on the market currently. It features a bigger 6.2-inch panel with a small rounded front-facing camera at the top-center. Compared to the Galaxy S10, the S20 offers a less curvy display, which prevents accidental touches. Like the iPhone 12, it has a raised camera pump at the back with wide, ultrawide, and telephoto sensors. However, the color options aren't as many as on iPhone 12. You can get the Galaxy s20 in Cosmic Grey, Cloud Blue, Cloud White, and Cloud Pink.
Part 3. iPhone 12 vs. Samsung S20: Display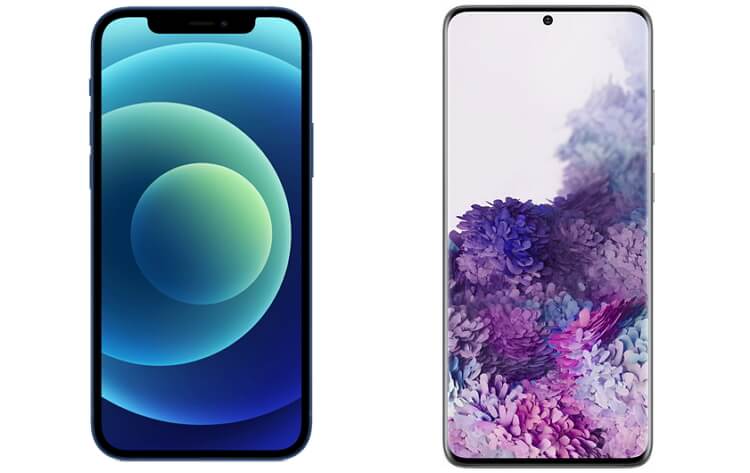 As I've said above, the iPhone 12 offers an advanced 6.1-inch Super Retina display. This was a feature reserved for the higher-end iPhone 11 Pro models previously. It also boasts an improved 1170 x 2532-pixel resolution with 460ppi density. Interestingly, the display registers a super-high 625 nits of average brightness that can peak at 1200 nits. That means that you can comfortably use your phone outside during those sunny days. But on the flip side, the display only supports a mere 60Hz refresh rate. Now that's 2x lower than what you'll get on most high-end Androids.
Meanwhile, the Galaxy S20 display is bigger, faster, and clearer than the iPhone 12 panel. That's because it offers a superior 1440 x 3200 display resolution with 563ppi density. But that's not the main issue here because this phone supports a massive 120Hz refresh rate. That's even higher than what you'll get on the popular OnePlus 7T. Also, the Galaxy S20 is more responsive, thanks to the 240Hz touch sensor. So overall, the S20 bosses the iPhone 12 display in almost every aspect.
Part 4. iPhone 12 vs. Samsung S20: Camera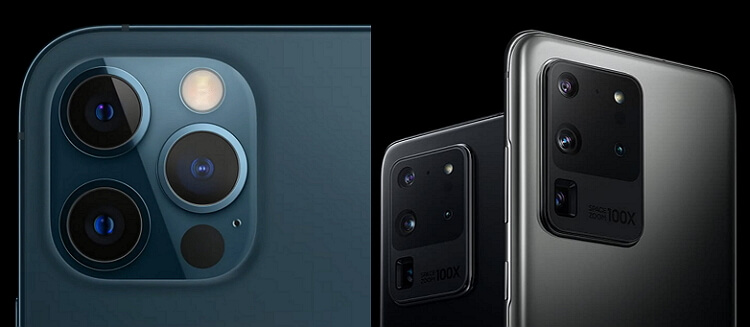 Honestly, I'm disappointed that the much-awaited iPhone 12 camera setup doesn't come with a telephoto lens. But that's not to say that it's a barebones affair here because the 12MP wide and ultrawide does a solid job. First of all, the sensors support the Night Mode for allowing nighttime with 120-degree wide-angle shots. Also, the Deep Fusion offers improved color and texture in low-light scenes. Plus, the Smart HDR 3 refines shadows, highlights, contours, and white balance for the most natural lighting and color. Don't forget the robust A14 Bionic processor that offers a powerful Image Signal processor for more speed and efficiency.
Now let's quickly moving on to the Samsung S20 camera system. Here, users will enjoy more versatility, thanks to the included 64MP telephoto lens that supports 3x hybrid zoom and 1.1x optical zoom. It also offers a massive 30x digital zoom, although it starts getting blurry as you approach 30x. And as usual, the S20 comes with dual 12MP ultrawide, 12MP wide, and a Night Mode for capturing high-quality pics in low-light scenes. Both phones can capture 4K at 60/30fps. All in all, it's a close race, but the iPhone 12 has a slightly better camera system.
Part 5. iPhone 12 vs. Samsung S20: Software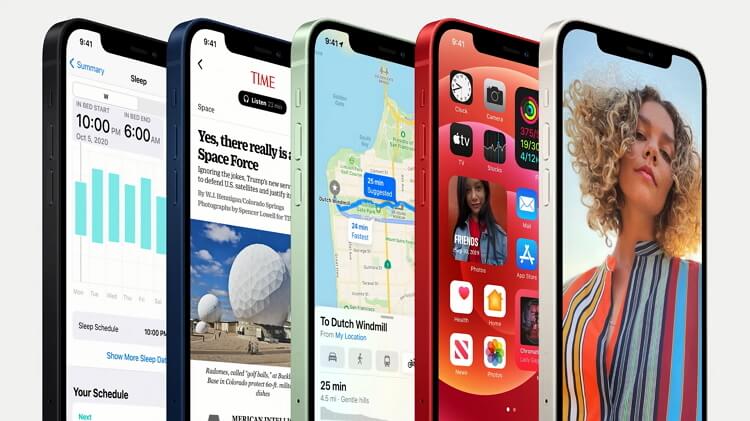 First forward, both phones support 5G networks for streaming games, videos, and music on the fly. That small similarity aside, these premium smartphones run on completely different OS platforms. While the Android 11 is good, the updated iPhone 12 iOS 14 is excellent. It comes with a brand new Widget experience and other exciting features such as the Picture-in-Picture mode and a new look Library. The iPhone 12 also boasts the powerful A14 Bionic chip, which Apple claims is the fastest smartphone processor ever. However, the intelligent Google Assistant that controls the S20 platform gives it an edge for me. Additionally, the super-fast Snapdragon 865 is no slouch. So, it's all about your brand preference.
Part 6. iPhone 12 vs. Samsung S20: Battery, Storage, & Price
With a 5G phone, you should expect improved storage capacities and battery life. Below is a complete memory, battery, and price breakdown:
iPhone 12 RAM: 4GB
iPhone 12 internal storage: 64GB/128GB/256GB
iPhone 12 Battery capacity: 2,815mAh
iPhone 12 64GB price: $799
iPhone 12 128GB price: $849
iPhone 12 256GB price: $949
Samsung S20 RAM: 8GB
Samsung S20 internal storage: 128GB expandable to 1TB
Samsung S20 Battery capacity: 3,880mAh
Samsung Galaxy S20 128GB price: $999
Final Verdict
While the iPhone 12 sacrifices some vital features like the telephoto lens and a lower resolution display, it makes up for it with its unrivaled camera system and a lower price. However, the telephoto lens, more refresh rate, and the smart Google Assistant make the Samsung S20 worth the price. Simply put, it's all about your favorite brand.
Tip: Whether you choose the Samsung S20 or the iPhone 12, it's obvious that you'll ge the perfect phone for your social media activities. So instead of posting long comments, you can post a GIF picture. GIFs are funnier and convey your message without uttering a word. With Wondershare Online UniConverter, users can convert videos to GIFs on Android, iOS, Windows, macOS platforms. The drag-and-drop platform is easy to navigate and supports all video formats. You can customize GIFs with texts, custom duration, refresh rate, and output size.
Step 1. Upload a video
Launch Online UniConverter and then click the Video to GIF tool under the Online Tools tab. After that, click Choose Files to upload a local video or drag-and-drop your video if you're using a computer.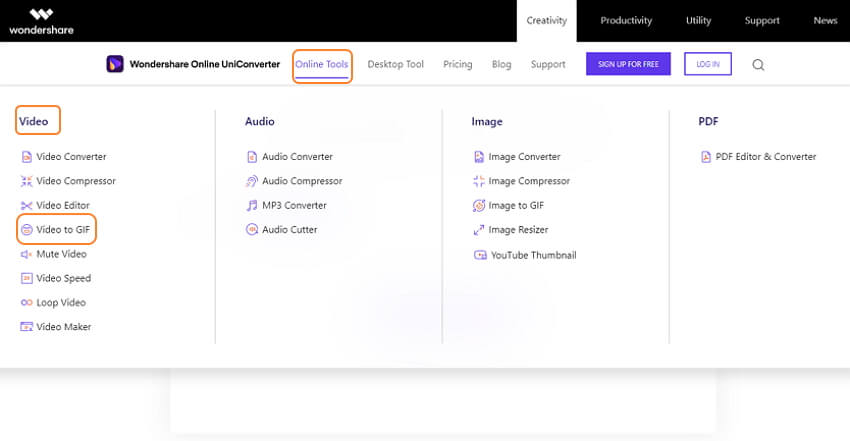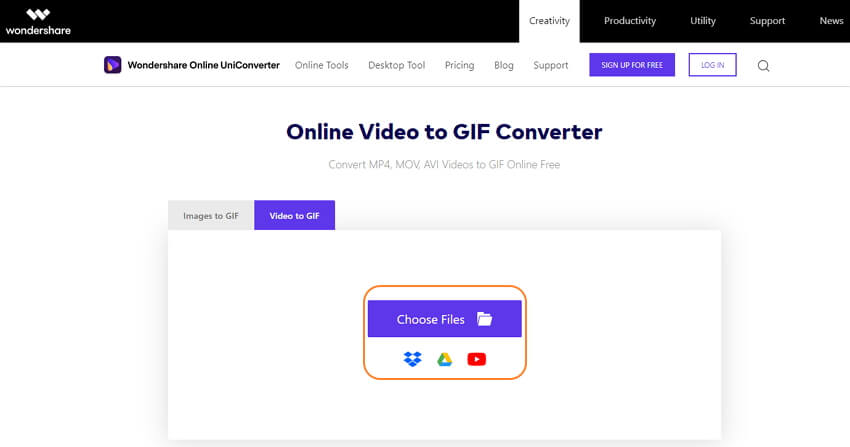 Step 2. Set GIF Preferences
Next, start customizing your Gif by trimming, setting the output quality, frame rate, and duration. You can even add text and watermarks if you want to.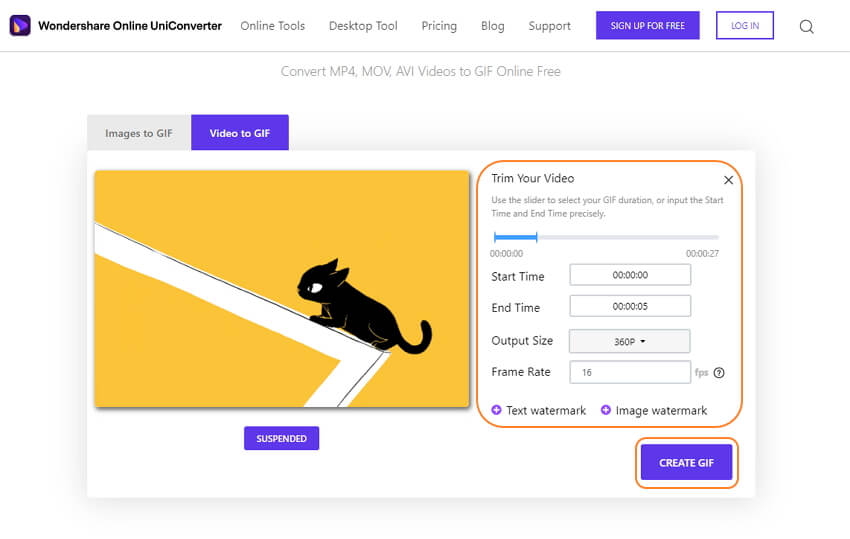 Step 3. Save your GIF file
Now click Create GIF to convert your video to a GIF file and download it. Proceed to upload it on your favorite social media platform. Enjoy!