People on the Instagram, Facebook, YouTube and other social media sites who has a good social media presence and have millions of user base known as influencers. These users can influence the online marketing of your product and services. Everyone can connect with these users to get traffic on their websites and product pages. While collaborating with the influencers for your product or services you need to be very careful and write the perfect Email to impress them to collaborate with you. There are many brand pitch Email templates available over internet and we will also share some brand collaboration proposal template tips & tricks in this article with you.
Part 1: Most Helpful Tips and Tricks about Writing a Good Brand Collaboration Email
1. InflueNex
InflueNex is the best and easiest solution for your entire brand pitch Email templates and provides you powerful tool that helps you to quickly write best Email. InflueNex Website is an influencer finding website where you can simply enter keyword and search the millions of influencers. Not only searching there is option also available that enables you to connect with influencers directly through Email. You can use several brand collaboration proposal templates on the website and use them directly to write the best Email to impress the influencers. If you want to write Email manually then you can follow our other tips and write the best one to fulfill your needs.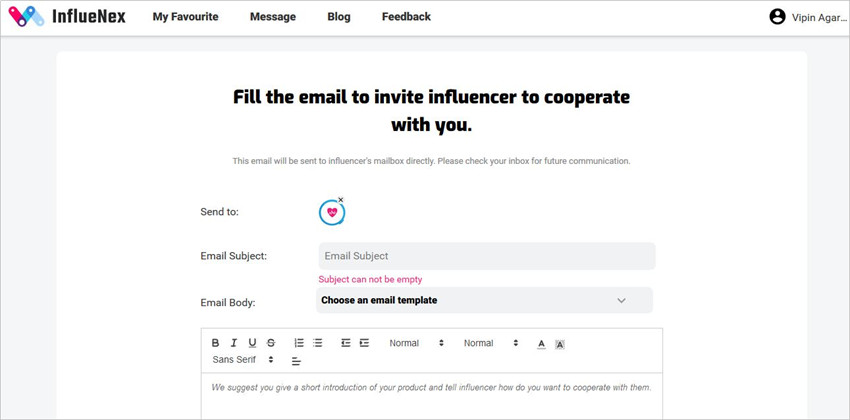 2. Make your Goal Clear
Whenever you write any brand collaboration Email to the influencers or any of you client you need to make sure that you clear your goal in the Email. This is good to decide what output you need from the mail before starting the writing. Always start the email by writing the things which you need from your clients so everything looks clear. Instead of writing the confusing things in the Email clear your goals directly so your clients or influencers won't irritate with the Email.
3. Subject Line of Email
While writing any Email subject lines plays a very important role because whenever Email dropped to the receiver inbox they first read the subject lines. So, if you write poor subject lines in the mail then then reader can directly delete the Email without reading the matter in it. For example:
Important, You Have Won 1000$.
The above subject line is very bad and mostly users delete these types of Email directly without reading them because it looks spammy. Use the simple subject line and don't tell the reader about the importance of mail because they can get frustrated with this.
4. Best Emails Starting
When you send an Email to the readers for brand collaboration then even readers open your mail and read first few lines. If they don't like the first lines they will simply stop reading the other matter of Email. So the important part is that make sure to write the best starting of Email so readers can get engaged in reading your mail. You need to take care more about the greetings of Email and use impressing formalities.
5. Points List for More than one Point
After selecting the good opening line and good Email situation you need to reach at the main point quickly. If you write meaningless sentences about the product of services then your readers might get irritate and stop reading. If you have more than one point to share with readers then instead of writing paragraph, the best option is that use bullet points or number lists. This will help readers to understand your points quickly.
6. Simple and Understanding Content
Several studies show that the reader never read the Emails where so many technical details are written such as terms & conditions. Sometimes any terms which is not suitable for readers, push them to delete your mails. The best part is that you can share a simple URL of terms and condition instead of writing it in mail. If reader likes your mail then they automatically visit the terms and conditions page. This is also better to write the Email with simple and understandable content so everyone can easily understand your services.
7. Subheadings
Subheading also plays a very important role in any Email or written content. If you are writing an Email and wants to describe several things then the best part is make different subheadings. Small parts of content with different subheadings are easy to read and understand by the users. With the help of subheadings you can easily highlight main points of Email without doing much effort.
Part 2: Most Helpful Brand collaboration Email Templates
Whether you are a business man or a social media influencer, as per the statistics the average number of emails an individual or an organization will receive everyday can be somewhere between hundreds to thousands which actually depends upon the popularity of that influencer or organization. What if you want to send a collaboration email to influencers? What is the possibility that your email will be read by them or even if they see how likely they are to open it. That is the point where your subject line lays its magic by alluring the reader and makes them to read the entire email. Below we will show you some brand collaboration email samples. You can apply to each media platform that you need, whether instagram, you tube, facebook and others.
1. Start with a Relationship Email Template
When you contact the influencer first time to make collaboration then the best thing is that you can write Email with the relationship template. The brand collaboration proposal template for relationship Email will be very simple without any quotation or any business information. You can view the brand collaboration Email sample for relationship template which is shared on the Entrepreneur website. The Aaron's template is very sweet and short and completely to the point which shows that you want to make working relationship with the influencers.
source: https://www.entrepreneur.com/article/253287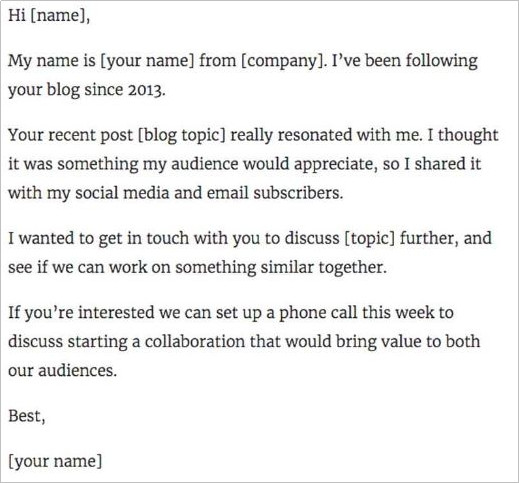 2. Email Templates about Launching a New Product
If you are trying to contact influencers for the new product launch then this is very good because mostly all influencers like to go with the latest trends of market. For the new product launching you can follow the brand collaboration Email sample below which is very good for the new product. This sample is introduced by BackLinko's Brian Dean.
source: https://blog.hubspot.com/marketing/email-outreach-elements-scripts

3. Email Template about Follow Up
Influencers are also human and busy with the work so sometimes you may not receive their attention instantly in one mail. In that case you need to send them follow up Email. While sending the follow up mail to the influencers you can the below brand pitch Email template which is shared by David Ly Khim and they claims that they have received 53% responses with this Email template.
source: https://mention.com/blog/influencer-outreach-templates/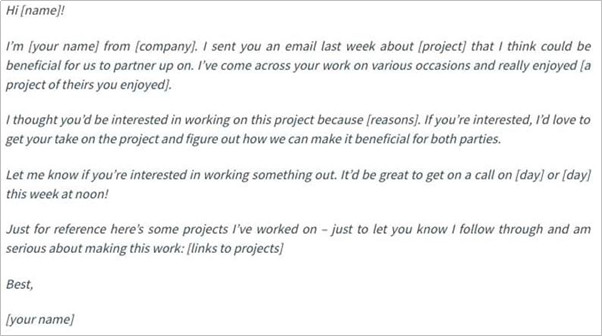 4. Templates for Invitation of Events
Influencers also love to attend parties more than the free product samples. You can also invite influencers to the parties of your brands using the brand collaboration Email sample for the events. With the help of events and parties you can invite multiple influencers together at one place. The below is the sample of event invitation shared by Eventbrite.
source: https://www.eventbrite.co.uk/blog/5-reasons-to-invite-bloggers-to-your-event-ds00/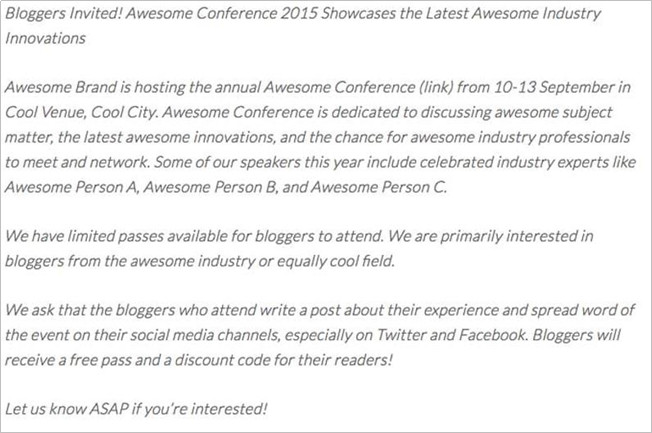 5. Templates to Provide a Free Sample
Influencers love to receive free samples because it shows that you respect them and in the return you get their huge user base for your products. While sending Email for free sample to the influencers this is really important to take care about your writing. Make sure to write Email to send them the product as a gift not bribe. The below is a very good brand collaboration proposal template to provide free sample. This is shared by Aaron Agius on entrepreneur.
source: https://www.eventbrite.co.uk/blog/5-reasons-to-invite-bloggers-to-your-event-ds00/