Every month over a billion people use YouTube. Yeah, a lot of people, actually.
And many people also use YouTube as their source of income. So, it's pretty obvious that you will find plenty of YouTube calculators on the market to estimate your earnings. These platforms will inform you how much potential revenue you can generate from your videos or channels.
 Now, each calculator works differently. So, if you want to know how each money calculator works and what they offer—you must read this article.
Here are the top 10 best free online YouTube income calculators and what they offer.
 The Ten Best Free Online YouTube Money Calculators
YouTube money calculators are a simple and easy-to-use online tool for calculating estimated money. That you can earn from a YouTube channel.
Calculating your potential earnings is necessary. It will help you decide whether you should invest your time or not. Like if you are planning to start a new YouTube channel or want to create some videos for a particular niche.
Any YouTube money calculator is designed to estimate earnings from a channel or a video. How much you can earn depends on engagement, video view count, and other factors. Here are your top ten choices when choosing a YouTube income calculator.
1. The Influencer Marketing Hub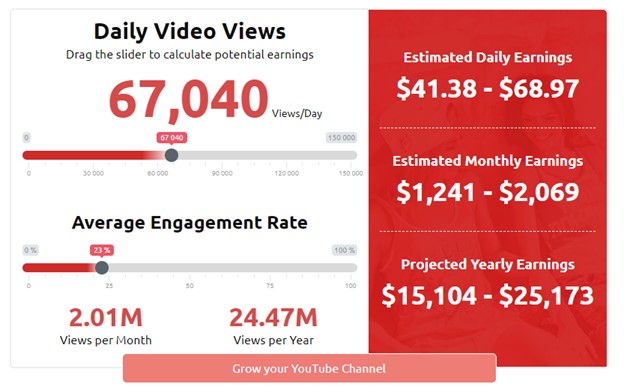 This one's a high-quality and effective YouTube money calculator. And the Influencer Marketing Hub's YouTube calculator has been on the market for a long time. The company offers reviews of several social media and SEO services apart from their YouTube calculator.
This platform helps detect not the earnings of your channel but the total income of a video. It also features details on how the money calculator works and provides a few useful insights and analytics as well.
There is no need to import your YouTube channel URL for estimating the earnings when using the Influencer Marketing Hub, just drag the slider to indicate the average daily views and average engagement rate of your YouTube channel. You will the estimated daily, monthly or yearly earnings on the right side.
2. Social blade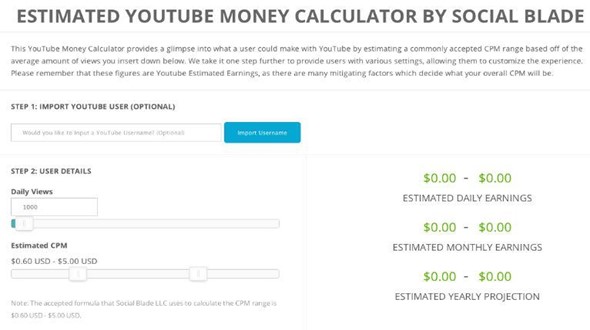 Social Blade is popular on platforms like YouTube, Instagram, Facebook, and Twitter. Its unique tools help you track statistics. And you can get information related to the growth and rankings of your YouTube channels and videos.
The site API allows you to incorporate the tools into your own websites or applications, import any YouTube username and enter it to check the estimated CPM and then check daily views to understand its revenue-generating potential.
Using Social Blade YouTube Money Calculator is easy, all you need to do is setting up the daily average views and the estimated CPM of your YouTube channel, and then you will see the estimated daily, monthly and yearly earnings.
3. Noxinfluencer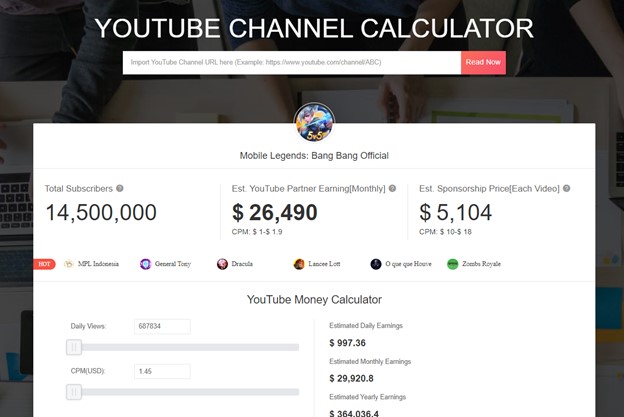 This platform has some best tools to analyze any social media platform. With NoxInfluencer YouTube Channel Calculator, you can easily track the most trending topics on social media platforms. All you have to do is search for the keywords and filter them to get the results. NoxInfluencer is a useful platform for analyzing the stats and profiles of other social media users and influencers.
To estimate the YouTube channel earning with NoxInfluencer, paste the YouTube channel link and then click on Read Now to check the results.  You will see different metrics like the subscribers, estimated monthly YouTube partner earnings, estimated sponsorship pricing for each video. You can also use the slider to calculate the earnings based on average daily views and CPM.
4. Sellfy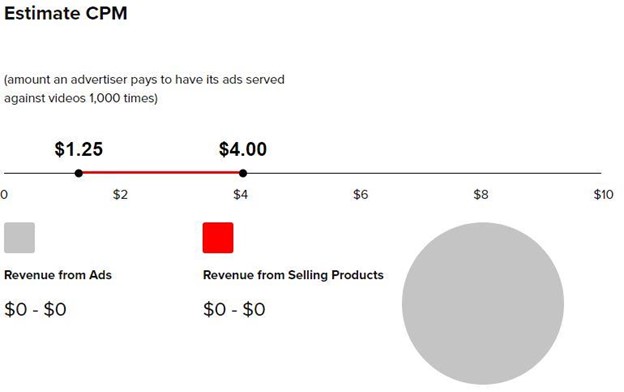 Sellfy remains one of the best websites for all YouTube users and creators. It features some incredible tools and algorithms to estimate the revenue one can generate from YouTube accounts. This money calculator comes with all types of insights, solutions, and services to boost the growth of your YouTube channels. The calculating tool is simple and user-friendly. You get an estimation of the revenue based on the content views, ads, and channels.
To use Sellfy YouTube earning calculator, you need to put the total number of monthly views of the content, and then you can check the revenue from the ads and from the selling products based on the views and CPM entered.
5. HypeAuditor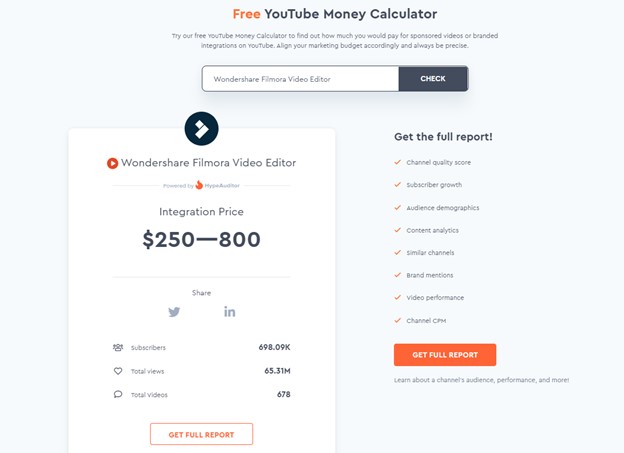 Nowadays, promotion on social media platforms is crucial to increase your visibility. Companies even hire influencers to market their services, products, or brands. They have started to invest their money in influencers to create effective marketing campaigns. HypeAuditor provides services for brands that need influencers to get more exposure. Besides estimating the YouTube channel revenue, it also provides campaign management, market analysis, and more influencer marketing services with innovative technology.
To use the free YouTube money calculator from HypeAuditor, all you need to do is entering the YouTube channel name in the box, and then click the Check button to get the results.    
6. Promo.com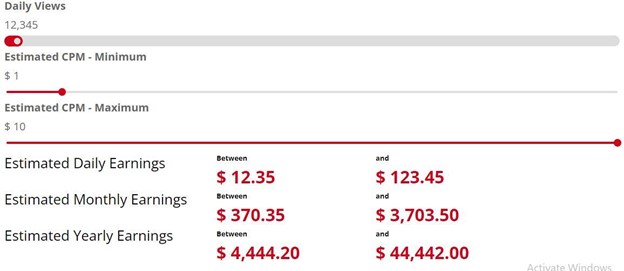 The marketing partner for Instagram and Facebook, Promo.com has one of the best YouTube calculators online. The platform offers you everything from a video maker to a video editor to try out. You also have access to handy tools like the image resizer and a meme maker.
Promo.com offers you access to potential daily and weekly earnings, right from one tab, and it also has some of the best templates for creating video promos.
  You can use the slider to specify the total number of daily views and the minimum and maximum CPM range, and then you will see the results for the estimated daily, weekly and annual earnings.
7. Omni Calculator

Another impressive tool you can use is Omni Calculator which offers a different take on the YouTube income equation. The company's transparent YouTube calculator states the obvious – you won't get what you make. That's because YouTube takes 45% of the money earned on the platform.
User-friendly interface and robust tools are simply beneficial for getting instant results, making it a great tool for calculating the amount of money you can generate from the content.
Enter the number of video views and RPM (Revenue per thousand impressions) into the calculator. And then view the time—views per day or month. You can also select the unit of time for the predicted revenue. Check the results based on gross revenue or net revenue
8. Plerdy.com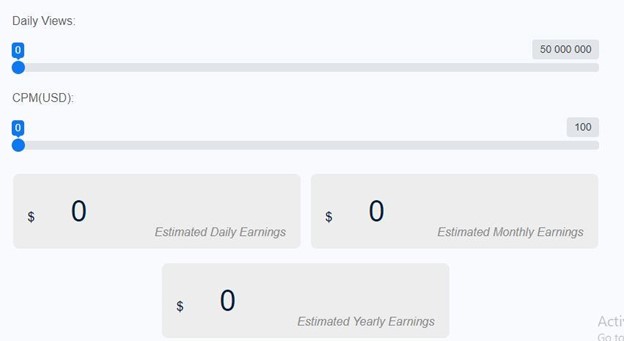 Plerdy.com goes beyond helping marketers predict YouTube earnings. Many SEO specialists and internet marketers use Plerdy's tools. This includes an SEO Checker tool and website heatmap tools to test conversion rates and behavioral factors. 
Plerdy.com tools aim to boost your conversion rate and offers a free tool to calculate your earnings from YouTube.
Use the slider to determine your daily average views and CPM, and then you will see the daily, monthly and yearly earnings on the YouTube income calculator.
9. Seekmetrics

Seekmetrics is a user-friendly and easy-to-operate platform for you to use. The platform also offers several other tools like a Social Share checker and a Quote Generator. Like some of the other tools here, Seekmetrics also offers image optimization and conversion tools. 
There is no need to do registration or sign-ups. You can calculate how much money you can generate daily, monthly or annually.
Just put in your minimum and maximum CPM and daily views on the YouTube calculator. It will automatically generate your estimated earnings.
10. Aux Mode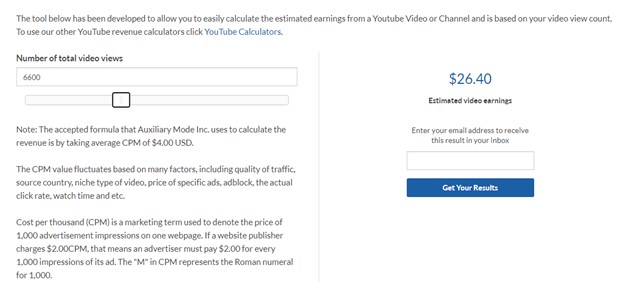 Aux Mode is one of the best YT money calculators famous among YouTubers. The service provider helps you predict earnings 0 but loses out to competitors due to its simplicity. For one, you cannot change the CPM range, and you need to enter your email address to view your predicted earnings. In short, you are sending out your email ID that Aux Mode can then use to send you emails (psst… remember those pesky newsletters?)
It's effective for content creators in terms of calculating their monetary potential by putting in the views, and the revenue is calculated using an average CPM of $4 USD.
To estimate the revenue you can get from YouTube channel, put in the total number of daily views on the YouTube money calculator, and then you will see the estimated video earnings on the right panel. You can also enter your email address to send the result in your inbox.