Although TV speakers are somewhat satisfactory for basic TV watching, you might need more than that to get the ultimate home entertainment. With a home theater system, you'll enjoy more real sound and unimaginable bass as you enjoy your music or TV series or movie. So, this article will cover the best home theater systems for 2020 to help turn your home into an entertainment zone.
Vemax Hector 7.1 Bluetooth Multimedia Home Theater
Specs:
7.1 mm wooden woofer.
9000W PMP0.
1-year warranty.
FM/AUX/USB connectivity.
The Vemax Hector 7.1 Home Theater system offers more convenience than you can imagine. It features a 7.5 mm wooden woofer and pure copper transformer for deep bass and profound sound clarity. Also, it ensures maximum flexibility thanks to its FM, AUX, and USB connectivity. Moreover, the 12-month warranty assures you of the utmost quality and entertainment. Just take note that Vemax Hector 7.1 Home Stereo is quite a bulky product.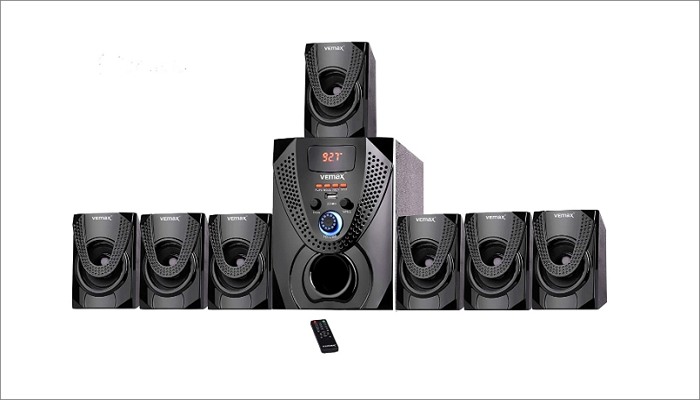 Yamaha Yht-4950U 4K Ultra HD 5.1
Specs:
5.1 channels.
145W of output power.
Bluetooth and 4K Ultra HD support.
8 cone subwoofer driver.
The Yamaha YHT-4950U is one of the complete home stereo systems that you can find currently. It features 4K UHD support as well as Dolby vision. Also, it has 8 cone drivers for surround, front, and center sound speakers backed up with 145W of maximum input. Further, the YST II subwoofer features a unique combination of constant current principles and negative impedance to give you precise control.
Specs:
Wireless surrounds.
Amazon Alexa and Google Assistant support.
Sonos app control.
Wi-Fi connectivity.
Are you still searching for a soundbar with the most advanced features? Well, your search is over with the Sonos 5.1 Surround Set. It's easy to set up as you simply have to place the speakers strategically around your couch then control the system using the Sonos app. It features unrivaled audio quality and can easily stream tracks from 30+ different streaming services. Not to mention the Google Assistant and Alexa support for controlling your smart home.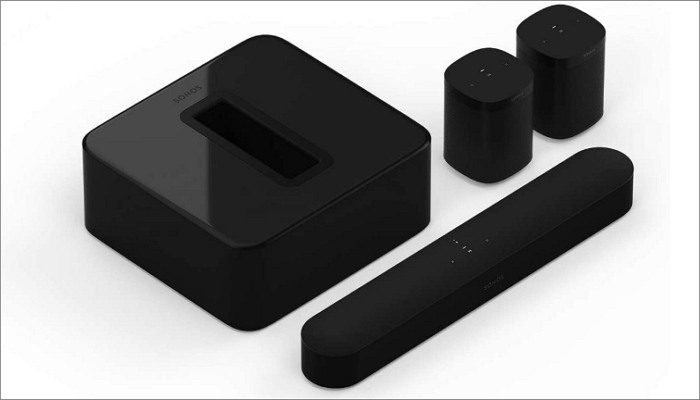 Jamo Studio Series S 803 HCS-BLK Black Home Cinema System
Specs:
Beautiful design.
Soft 25 mm dome twitter set.
127 mm poly-fiber woofer.
87Db (8 O ohm) sensitivity.
Jamo recently launched its Studio S range speakers, and the S 803 is already dominating the market. To begin with, it sounds clean and lean with remarkable speed and pitch precision. Its bass and mid functions are also perfectly handled by the 127 mm poly-fiber driver reflex with a front-firing slot-style port. To compliment that, it features a 25 mm soft dome tweeter with light walnut finish. Overall, this Danish brand is stylish and sounds fast and fun.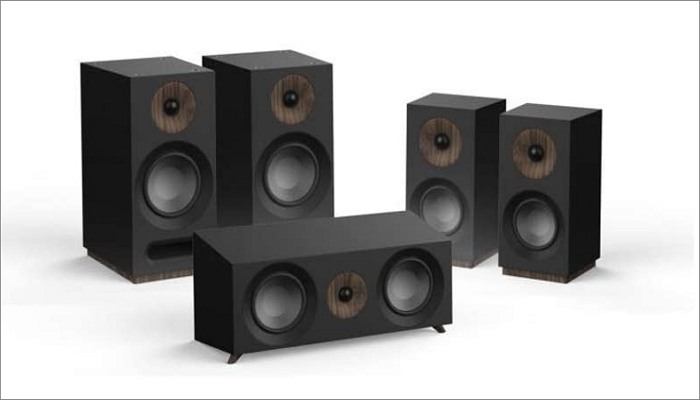 Pioneer Elite VSX-LX303 9.2
Specs:
Four satellite speakers, one center channel speaker, and one powered subwoofer.
Up to 170W of energy amplification.
Straightforward 9-channel AV.
Google Assistant compatible.
The VSX-LX303 comes in glamor silver and black design. It features a large display for clear readability and a USB port in the front panel. That aside, the DTS Play-Fi and the inbuilt Chromecast allows for seamless music streaming from Tidal, Deezer, Spotify, other sites. And in addition to that, you can connect it to Amazon Alexa. O, lest I forget, it comes with up to 7 HDMI inputs.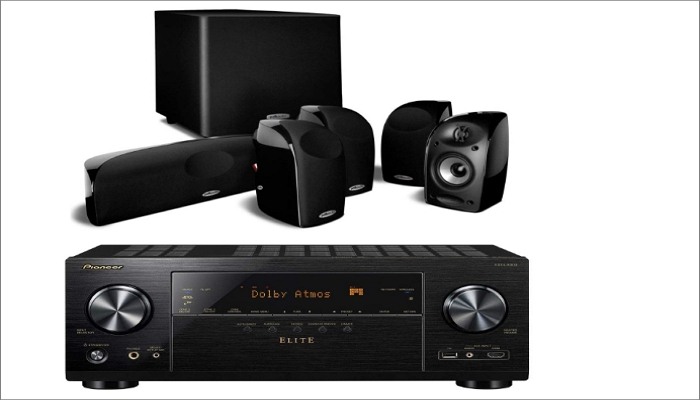 Klipsch Reference Theater Pack 5.1 Surround Sound System
Specs:
Aluminum twitters.
Wireless high fidelity subwoofer.
Spun copper IMG woofers.
Flexible system placement.
The Klipsch 5.1 home theater is undoubtedly worth every penny you pay for it. It has extreme power with a frequency response to match. That said, each Klipsch speaker produces crystal clear and natural sound with smooth highs, lows, and mids. The aluminum tweeters, on the other hand, deliver top-notch response and powerful dynamics. Plus, the 2.4 GHz of wireless connectivity saves you the trouble of running extra cables in your room.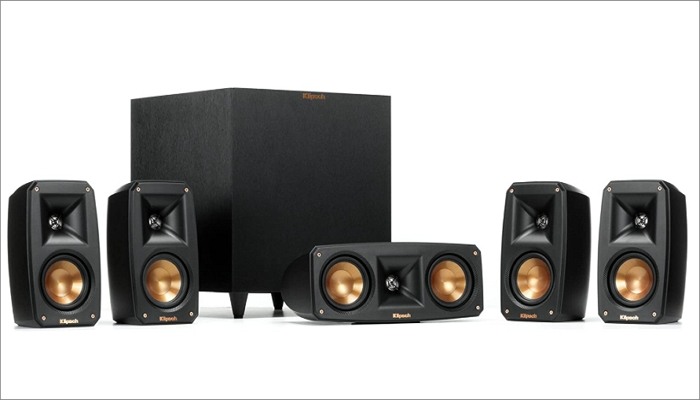 Definitive Technology ProCinema 6D
Specs:
5.1 channel.
3-dimensional surround sound.
Four satellite speakers.
3.25 BDSS woofer.
The Definitive Technology ProCinema 6D Home Theater is not your typical home stereo system. For starters, it's quite affordable, with a price tag of $600. However, I find it to be a steal because it comes with a massive 250W powered subwoofer, four speakers, and a center channel. The aluminum dome tweeters also produce a smooth high-frequency response with punchier bass and superior mid-range detail from the BDSS Bass Drivers.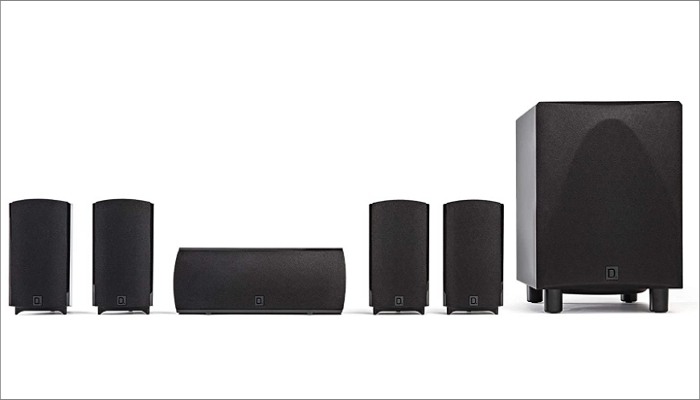 Klipsch R-3650-WII in Wall System #2
Specs:
12 1000W subwoofer.
Wi-Fi and Bluetooth enabled.
6 HDMI inputs.
1-year warranty.
The Klipsch R-3650-WII comes with two left and center speakers, a center channel, 1000W subwoofer, rear right/left surround, and a network AV receiver. With these accessories, you can use this system as either stereo music or home theater. And in addition to that, the 1000W dynamic subwoofer offers an extended bass response. And of course, the 6 HDMI inputs are perfect for gaming buffs.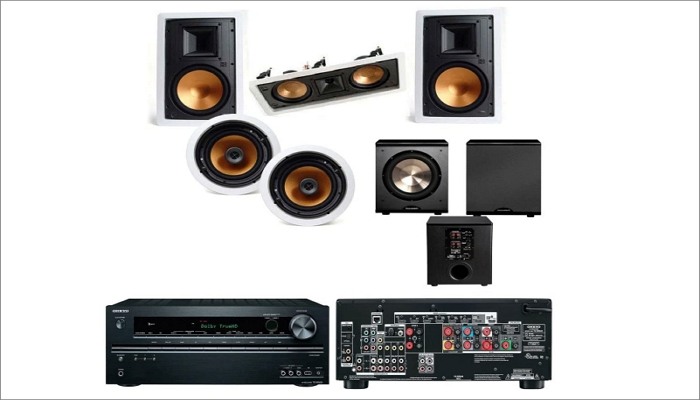 Specs:
Five channel speaker setup.
4K HDR compatible.
Six input and two output HDMI support.
1155W subwoofer.
The Sony STR-DN1080 provides you with everything you'd want from a modern receiver. It is easy to set up and use, sounds excellent, and fully featured, making it a great value for the money. While most of its peers have a reduced number of HDMI ports, this AV receiver has six inputs and two outputs while remaining 4K/HDR-compliant. This feature allows it to distribute surround sound and 4K video simultaneously. Another thing, it comes with Bluetooth, Ethernet, and Wi-Fi support.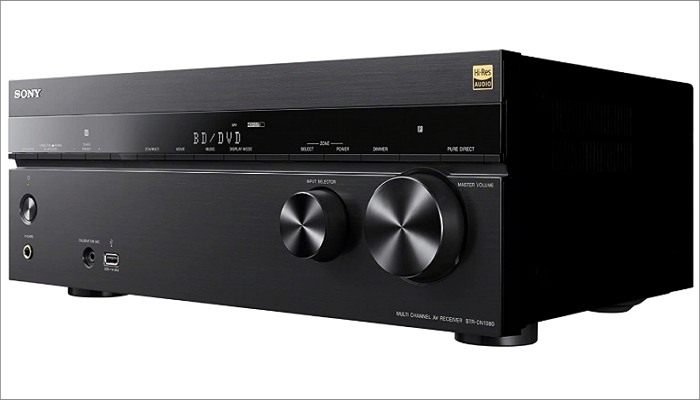 VIZIO SB46514-F6 46-Inch 5.1.4 Premium Home Theater
Specs:
Lifetime technical support.
Up to 20 kHz frequency response.
108 dB SPL.
Stream music from Pandora, Tidal, Google Play Music, etc.
This high-quality soundbar measures in at 46 across and 2.5 high with a low profile stature that fits perfectly under any TV without blocking the IR receiver. The soundbar contains up to five drivers that are complimented with rear satellites and beastly subwoofer. On the back of it, you'll get HDMI IN, HDMI OUT, 3.5 mm jack ports, optical audio in, and an Ethernet and USB port. My only disappointment is the lack of an LCD screen.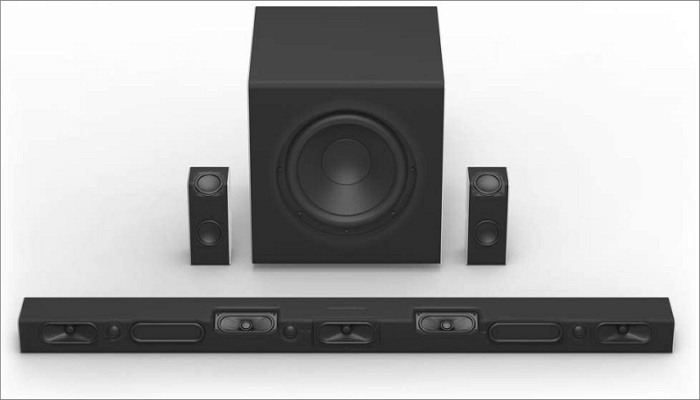 Specs:
15 bass-reflex subwoofer.
Up to 200W output.
Full-range tower speakers.
Dual floor-standing speakers.
Today, Dolby Atmos is one of the essential elements to look for when shopping around for a home theater. Well, the Klipsch RP-8060FA will take you right in the middle of the action with its clear, detailed, and lifelike sound. It comes with a vented twitter design with cerametallic woofers that deliver lower frequencies. Simply say, Klipsch's 70-year plus of acoustic technology is showing zero signs of slowing down.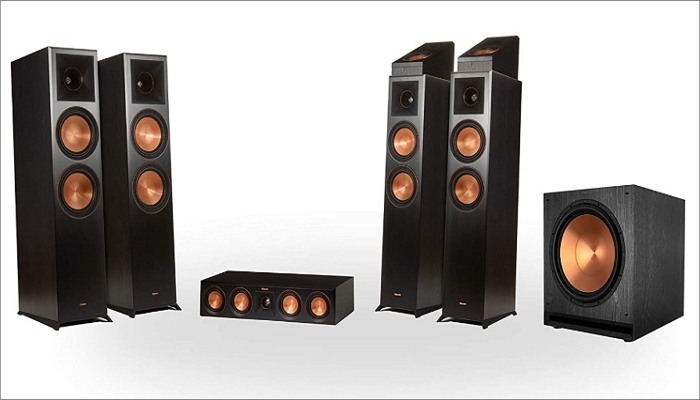 Specs:
Dolby Atmos sound support.
Wireless slim subwoofer.
Stream music using the inbuilt Chromecast.
5 bass driver.
The VIZIO SB36312 36 Home Theater ensures that sounds reach every corner of your room thanks to the Dolby Atoms support and two soundbar speakers for upward-firing. It comes with a thunderous 60Hz lows and highs of 100Db, making it the perfect fit for your movies, music, and video games. Additionally, the wireless subwoofer features a 5 bass driver for a solid low-frequency as you stream music from Tidal, Pandora, Apple Music, Spotify, and others.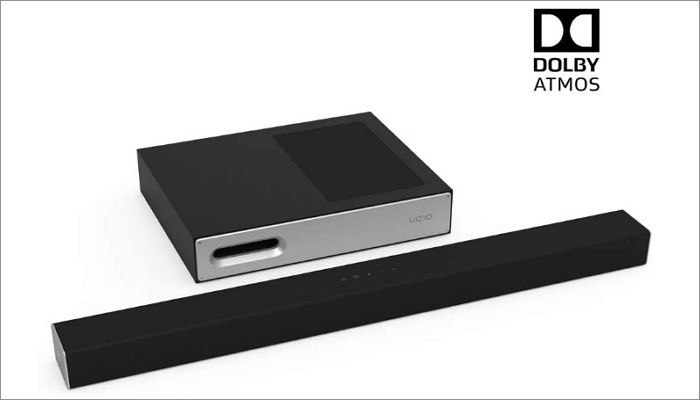 Klipsch Reference Wireless 2.1
Specs:
RW-51M bookshelf speakers.
RW-100SW subwoofer.
WiSA wireless transmitter.
5-year warranty.
If you prefer listening to music with sub and stereo speakers, Klipsch RW 2.1 is such a system. It connects wirelessly, so you don't need those bulky receivers. Moving on, this bundle comes with a subwoofer and stereo speakers for the ultimate watching, gaming, and listening experience. Also, this home theater system features an expandable surround channel of up to 7.1, as the Bluetooth-enabled app lets you take control from the comfort of your mobile device. If you factor in the extensive 5-year warranty, this is undoubtedly a must-have.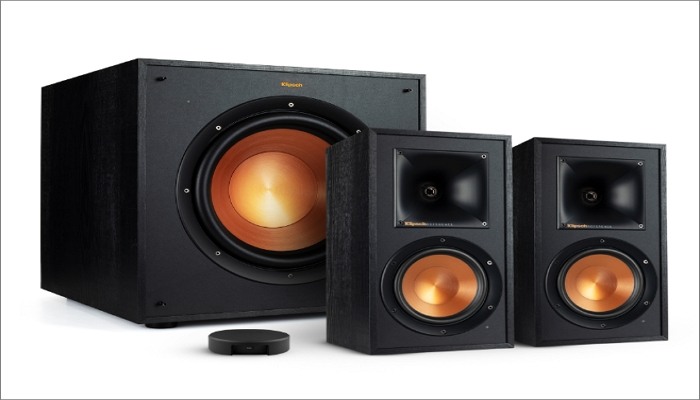 Conclusion
Up to this juncture, friends, I hope that you can now shop for the best home theater systems. As you can see, most are pocket-friendly (less than a thousand bucks) without necessarily sacrificing quality. But if you're still encountering problems choosing the best fit, feel free to contact us ASAP.