Every business needs to keep a track record of its operations, sales, finances, and customers. The key to the successful running of a small business is a proper check and balance on its operations. Traditional methods such as handwritten notes are considered an obsolete and inefficient method for managing your clientele record.CRM software for small business has taken over the system and has developed popularity among small-scale businesses. This software is developed to manage the clientele and potential customers of their product, which helps small business owners save their time and focus their energy on developing their systems. The article focuses on discussing the all-time top-notch CRM software for small businesses and providing a comparative study for helping users decide over the best option for their business according to their needs and requirements.
It is one of the common software in the market with tons of companies consuming different services. It requires a critical understanding of the services that are being provided by the CRM system for finalizing the best platform for controlling the marketing and sales of the business.
HubSpot is considered one of the best CRM software for small businesses if users are looking for a cost-effective solution to their CRM-induced problems. It is a user-friendly platform with a varied range of tools for managing customer information with free access to features for CRM, Marketing, Sales, and Service Hubs. HubSpot provides its users with the entire sales pipeline on the single dashboard screen. Its extensive user-interface offers an additional display of contact and sales activity with detailed reports on performance and customer handling within a basis.
This application is available on iPhone and Android systems, where it provides all the additional marketing services such as email templates, real-time notifications, email tracking, scheduling, and much more. HubSpot is known for its connection with more than 300 applications and services such as WordPress, email marketing services, and lead generation software for providing exceptional CRM services to its users. The core software comes for free, yet HubSpot provides featured services starting at $50/month.
You can download the software from here. URL: https://www.hubspot.com/products/get-started?mbsy_source=4c2546be-efc4-4ed4-9c23-fad6d646b18f&campaignid=32479&mbsy=sdTwH&utm_medium=am&utm_id=am45180978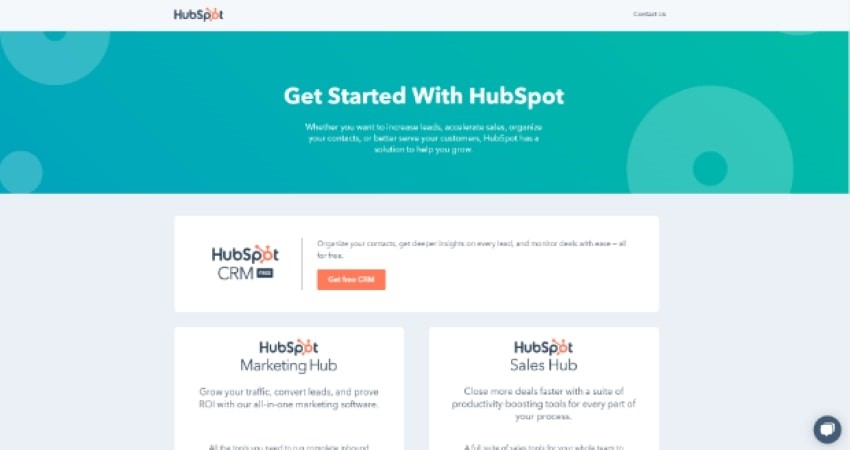 It is a cloud-based software suite known for its uniqueness and explicit servicing, making it the perfect platform to run your small business's operations. Zoho comes with its marketing and sales features with SaaS applications and productivity tools that are available online. This CRM software helps integrate with other existing marketing tools and allows capturing leads with the help of social media, segment visitors, and different available approaches, such as offering support by utilizing Zoho's live chat.
For users who seek to aid their small businesses by organizing their associated contacts for improved customer and distributor connection; looks a platform for ensuring proper marketing of their brand that would help the company fulfill their customer reach and bring about a profitable business by managing their sales should definitely sign up for Zoho.
This is a free platform for up to three users, yet the best part comes with a price. Users can have access to better services, starting at $12/month.
Download the platform by clicking here. URL: https://www.zoho.com/crm/?src=top-header&ireft=home-sa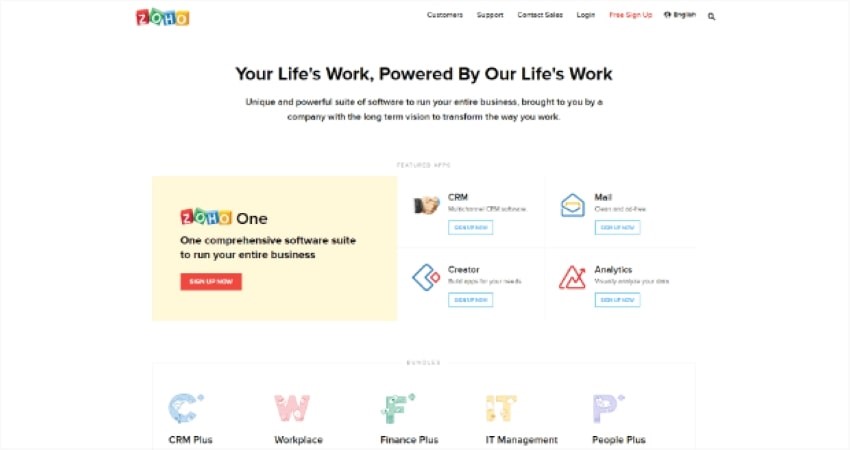 One of the most user-friendly platforms ever made, Pipedrive offers CRM marketing with its fast and straightforward service. Its pipeline feature ensures an overview of the complete sales process of the company with control. Along with that, it offers email integration, sales reporting, and forecasting, all in a precise and convenient mobile application. This platform, though doesn't come with segmentation, provides simplicity in maintaining relationships and identifying leads.
Pipedrive comes with a plan starting at $12.50/month per user. You can download this software by clicking here. URL: https://www.pipedrive.com/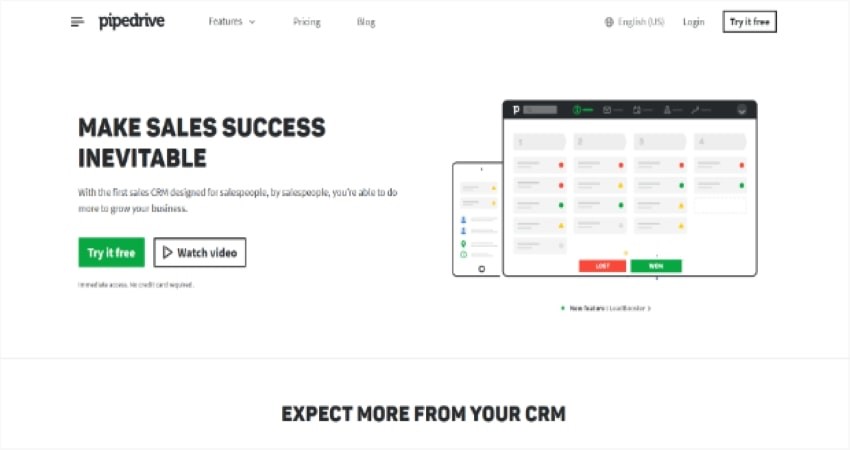 Salesforce is one of the tech giants in the CRM field and is considered one of the best in the business. Salesforce allows users to take leads by organizing a self-organized customer journey and helps them utilize its intelligent marketing platform for maintaining and increasing their sales through advertising on social media, digital platforms, SMS messaging, and emails. Salesforce is one of the oldest, far-fetched and explicit software that provides a list of advanced solutions for businessmen in sales, marketing, commerce, customer servicing, team enhancements, and much more.
Salesforce is considered one of the best CRM software for small businesses whose plans start at $25/month per user.
Download Salesforce by clicking here. URL: https://www.salesforce.com/in/form/signup/freetrial-sales/?d=cta-jumbo-trial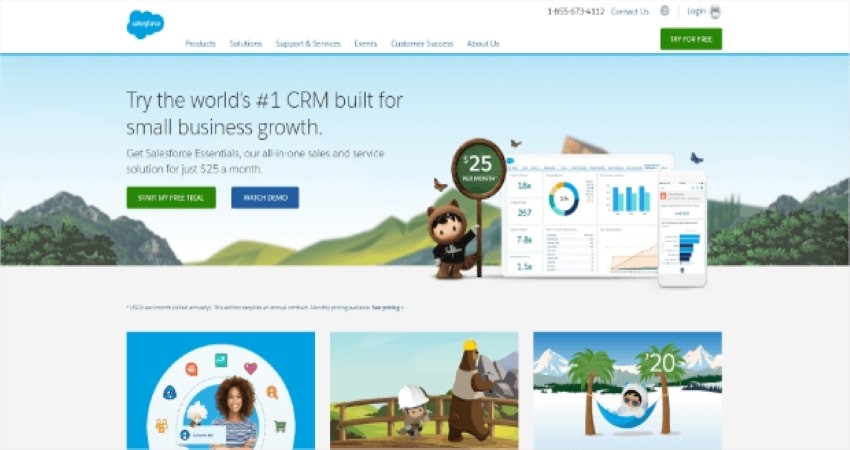 If users seek for a sales-oriented approach for strengthening their business, Freshsales is a popular opinion. It comes with a convenient and user-friendly dashboard that provides prompt access to contact management, send report, emails, and deliver calls. It comes with both web-based and application-based services. What makes Freshsales a better option is its AI-powered lead scoring that prioritizes specific leads that are nearing conversion. It provides excellent insights and a complete customer overview with significant touchpoints.
The application provides a pricing package starting from $12/month for every user according to their required features.
You can download Freshsales by clicking here. URL: https://www.freshworks.com/freshsales-crm/?gspk=U3llZEJhbGtoaQ&gsxid=i5EUVC1n5DhE&utm_campaign=Growsumo&utm_medium=SyedBalkhi-Growsumo&utm_source=Growsumo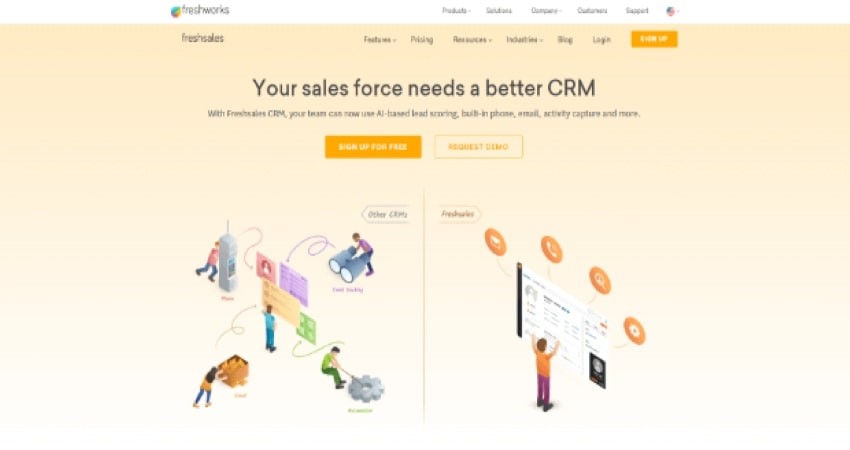 This free CRM software for small business provides works with G Suite or Gmail for tracking customer information and leads. This platform can capture the lead contacts automatically and provide formatted information over it with proper tags and notes. Streak CRM is integrated with Gmail's workflow management features as its base, which makes it easy to use.
This application has a free version with limited features. Users can get access to paid plans starting from $49/month per user.
Streak CRM can be downloaded from here. URL: https://www.streak.com/?gspk=U3llZEJhbGtoaQ==&gsxid=qDTVOHZiKRCc&utm_campaign=SyedBalkhi&utm_medium=influencer&utm_source=gs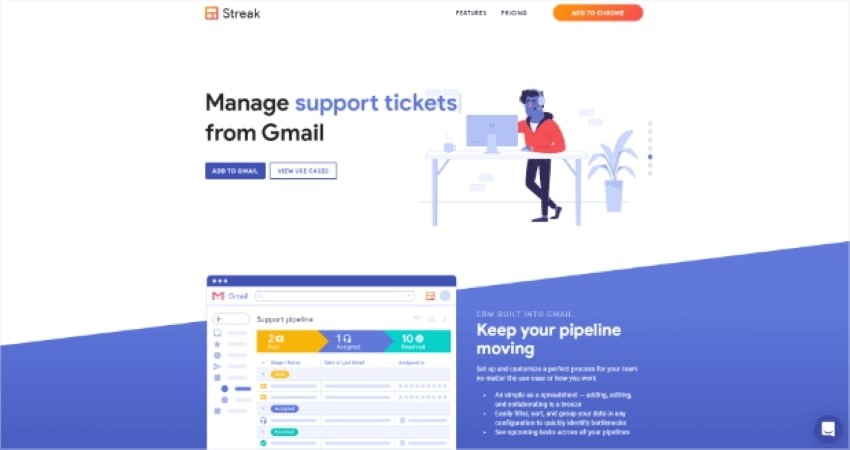 Conclusion
This article has stated several top-notch and state-of-the-art CRM systems that provides users explicit service with their impressive features. Small business owners can dig into these applications and decide over the best option for their marketing and customer management.