There are common reasons you want to do a webcam test for your computer's camera. For example, if you have a business meeting or an interview in the form of a video call, it would help if you did a camtest first. Other reasons for an online webcam test include:
Preparation for a live video on YouTube.
Recording a Zoom meeting.
Make an explainer video for your company's products and services as a sales representative.
This article provides you with the best tools for online camera test before using your computer's camera for any video call or live recording.
Part 1. 10 Best Ways to Test your Webcam Online
Here we will show you the 10 best tools to test video cameras online. These cam testers are web-based. Also, they are free and straightforward.
Media.io Online Webcam Tester is a fast way to test a cam online to confirm if it is working or not through video recording. It works well on Windows, macOS, and other devices with a good internet connection. With this tool, you can check your image quality in real-time. Moreover, it is a pretty excellent webcam recorder.
How to Test My Webcam in Seconds?
Step 1. Connect: access the website and choose the Camera Recording mode. To make for better playback, click Record Webcam Now.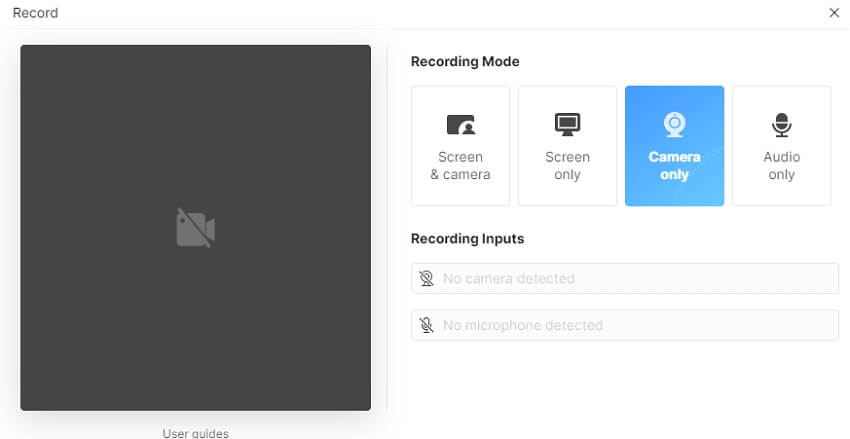 Step 2. Allow permission: give the tool permission to access your camera and mic and begin recording.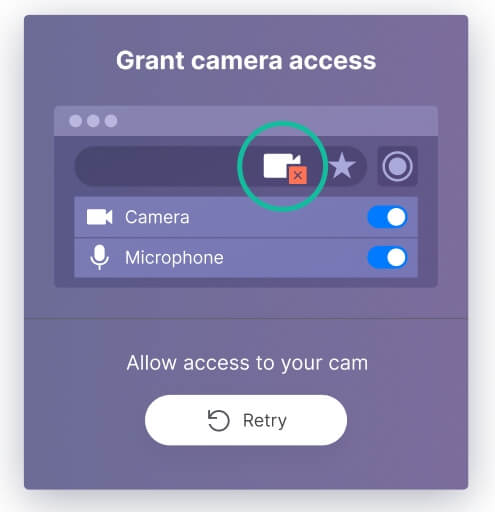 Step 3. Test: check your webcam online by replaying the recorded webcam. Adjust the camera positioning and edit the timeline to perfect position and quality.
Extra features of Media.io Online Web Checker:
It allows you to test your internal or external mic in addition to webcam testing.
It is an all-in-one recorder, allowing you to use other editing functions like adding background music, rotating, trimming, adding text, etc.
Allows for multiple modes like screen and camera recording so that users of different needs can quickly adopt the preferred option.
It is a powerful video editor that gives a final aesthetic result.
The second tool for your webcam testing: the Webcam Test utility by Itself Tools. If any issues are detected, Webcam Test will give you instructions on fixing the problems. It is free with no need for registration or software download and installation. It works well on every device that supports a web browser, and it helps you learn more about your camera's frame rates and aspect ratios.
DeviceTests is a private way of testing your webcam as the site does not record any audio or video on its servers. Other additional features of Device Tests include FPS (Frames per Second) check and adjustment, internet speed test, gamepad or controller test, etc.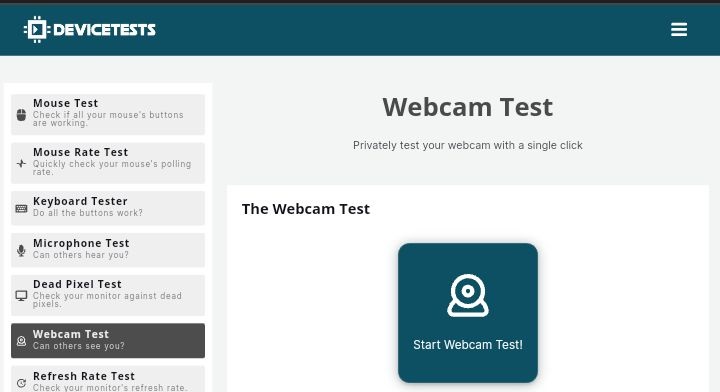 A way to do a cam test is with the StoryXpress webcam online test tool. StoryXpress will ensure that your video camera is performing at its optimum by the time you begin a video call or recording. This video creation and hosting site has been designed to help you create the best videos for more effective communication with others. It tests your webcam, analyses the results, and allows you to edit for a more aesthetic and interactive video.

It is a cam tester that checks that your webcam is working correctly without the need for downloading third-party apps or software. WebcamTest works on different browsers. If you test cam online and it is not working well, the site will show you the problem and even give you a troubleshooting guide to resolve it.
Furthermore, this tool shows you all your video's specifications and values, including the quality rating, frame rate, aspect ratio, webcam megapixels, etc. You can adjust the value of each specification to suit your preference.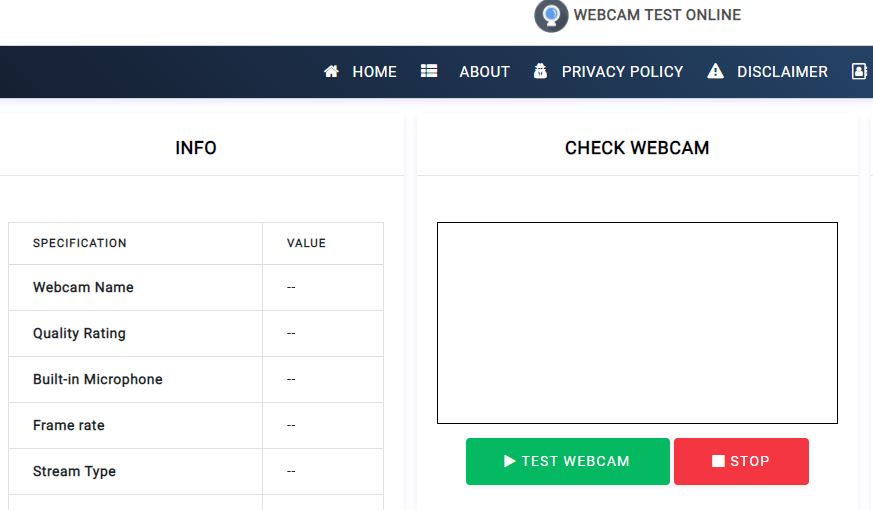 VideoForm is a personalised webcam tester that users find helpful for webcam testing. With this utility, your privacy is guaranteed because all testing operations are done online, and the site does not store both video and audio records. It is a free tool to check for the proper configuration of your computer's camera.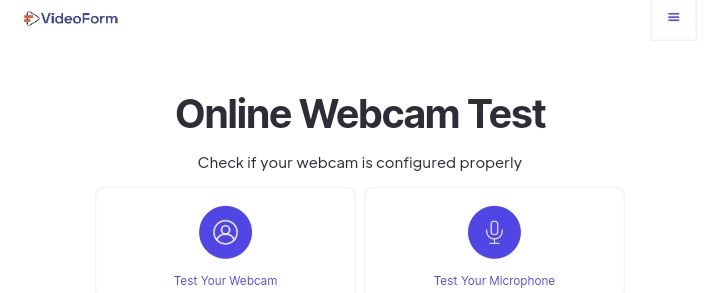 The Test Webcam Online tool helps you test your webcam without downloading apps. All you need is to click the "Test webcam" button on the site, and you are good to go. It helps you prepare for your business meetings and personal video calls. With this tool, you can check the quality of your video, adjust the camera position using the adjusting grid, and customise the room brightness to suit your environment. Indeed, it is the complete package for webcam online tests.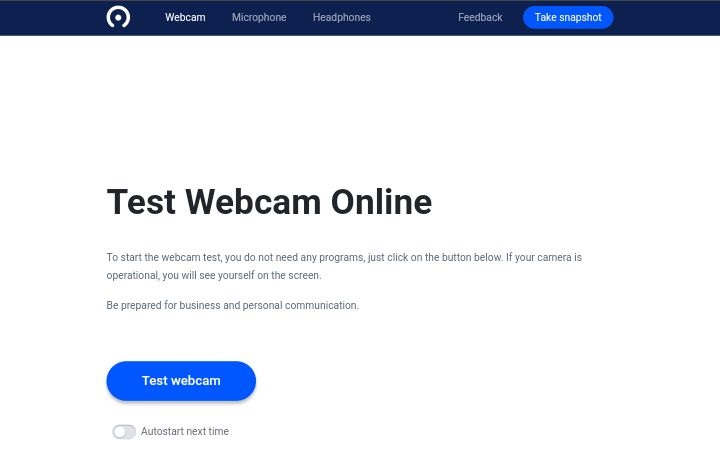 Test your mic in addition to testing your webcam using the ever-reliable Vidyard. With this efficient tool, you can check the placement of your PC camera online to ensure it reveals the best quality that will make for a better video in your video calls or Zoom meetings. An ad-free platform which implies no interruptions during your webcam mic test.

Loom is another way to test your webcam and mic output. Once you grant access to the site, it can easily do a pc camera test on your computer system before a video call. Additionally, it allows you to record your camera and screen in the form of video messages that you can playback later. Finally, you can plug in an external camera and do a cam test on your laptop instead of using the default system camera.

Veed.io cam test software is an online tool to check if your camera is working and if it is working correctly. This private site only shows your camera view to you and no one else. In addition, it goes beyond web cam testing and helps you edit your videos and add text and effects and subtitles for better engagement on your videos, especially tutorials.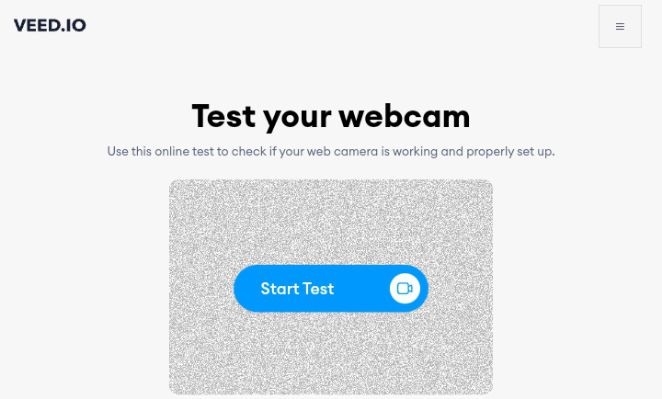 Part 2. Why is My Webcam not Working? How to Fix?
Below we discuss some of the common issues affecting webcams and how best you can fix them:
Issue 1. You did not give the tool permission to use your camera.
Solution: click Allow when a webcam tester requests access to your computer's camera.
Issue 2. Your camera is not enabled for your browser to access.
Solution: visit your device settings and toggle on your camera for your default browser, as shown in the image below for Mac devices.
Issue 3. The camera drivers may be old and incompatible with a recent version like Windows 10.
Solution: Update camera drivers under Device Manager for Windows PC.
Issue 4. The Screen Time limit may have elapsed using Mac OS.
Solution: go to your system preferences to ensure that your camera time limit is expanded on Screen Time.
Issue 5. There may be a faulty connection affecting the camera output.
Solution: check that your external camera USB connection is well plugged in; unplug and re-plug your cables.
Issue 6. The running of many programs can affect the smooth running of your camera.
Solution: restart your computer system afresh.
Issue 7. If another application is using your camera, the webcam will not work for a new site at the same time.
Solution: disable your camera on other platforms, leaving the camera on for only the site you need it for at the moment.
Issue 8. The camera may be having difficulty detecting your face or movement.
Solution: update the hardware changes on your Device Manager, and expand your imaging devices, video branch, cameras, and sound.
Write in the End
Webcam testing is essential to ensure a seamless video recording or live video chat. With the tools suggested in this blog, you can test your video camera and mic before use. A tool like Media.io Webcam Tester has simplified the cam test process online for you. In addition, you can enjoy other tools on Media.io online toolset, such as the video converter, compressor, editor, format converter, etc.