When images and videos are used along with other media, the overall outcome becomes engaging. So, if you plan to give an official or education presentation, prepare a tutorial, planning to launch a portfolio. In several other situations, slideshows work as an excellent choice. Besides helping you professionally and academically, these slideshows are a great way to express your emotions and feelings to your loved ones.
The slideshows can be created using multiple videos and images, and to make them more impressive, you can add background music and other effects. So, if you too are looking forward to creating an engaging and professional-looking slideshow, use slideshow maker software. There are several slideshow software programs for Windows and Mac available with an array of features. You can choose among these programs that best match your requirements.
How to Create A Slideshow with Music Online
Part 1: Top 12 popular slideshow maker softwares (PC & Mac)
With a wide range of Slideshow maker software available for Windows and Mac, selecting one becomes a hassled task. Thus, to help you get some relief, we have shortlisted the top and popularly used slide software below.
To create a slideshow of images quickly and easily, this is one of the best tools available. The program works on the Windows system and comes along with a wide range of features. Its simple slideshow wizard allows you to add themes, slides, and soundtracks. You can also add the narrations if required. The image editing tools of the program can be used for adjusting the brightness, contrast, and other elements. For transitions and effects, you can use zoom, crop, fade, and more than 30 effects. The created slideshow can be saved locally or to DVD, YouTube, and other platforms.
Supported Platforms: PC, Mac, iOS, and Android
Pros:
This video and photo slideshow softwareis quick and straightforward to use
The paid version is cheap in comparison to other tools
Number of transition effect tools
Duration of the effects can be adjusted
Music and narration can be added
Cons:
Some professional users might find the tool very basic
The free version of the tool can be used only for non-commercial use
To get the email support, a technical support plan has to be purchased
Lack background, filters, and theme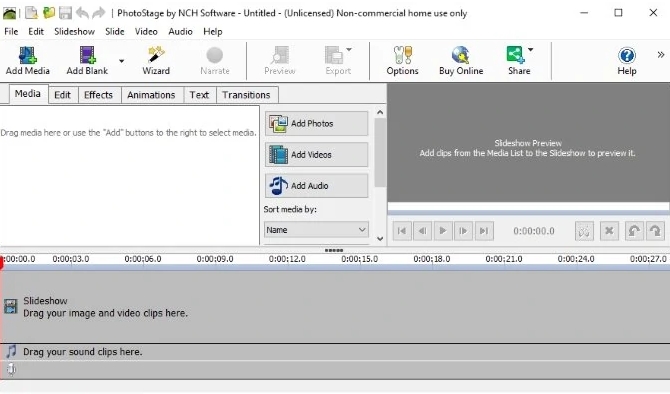 This is professional video-making software that helps you create awesome videos for personal use, TV, web, and others. The creative tools and features of the program ensures that you get the desired slideshow or a video of excellent quality. The software allows editing the media files in any format and quality and on all platforms. Some of the striking features of the tool include reformatting videos automatically, curve adjustments, audio stock, and more. This non-linear editing tool is apt for amateurs as well as the professionals.
Platform supported: Windows, Mac
Pros:
Supports creating high-quality videos and slideshows
Non-linear video editing supported
Video editing in real-time
Allows adding transition and visual effects
Cons:
For this slide software, an intensive resource system required
For beginners, the tool is complicated
The learning curve is steep
Video rendering is slow
Duration of slideshow is iessential
While creating an interesting and engaging slideshow, one of the key factors to be considered besides the quality and the features, is the duration of the video. Especially if you are creating a slideshow for an event like an anniversary or a birthday, the length should be appropriate so that it keeps the audience entertained and engaged. If the video is too long, the audience will start losing interest. Generally, a slideshow of about 4-6 minutes is good enough to keep people engaged and interested.
So, if you are using Adobe Premiere Pro or similar professional software, creating a short slideshow may seem to be a challenging task. First of all, you need system resources for downloading these programs, and next, you need to learn the features and the tools for creating and editing the videos. Downloading, learning, and then using these tools is a time-consuming task for creating a short 4-6 minutes of a slideshow. The best alternative here is to use a simple tool that can work quickly without much hassle.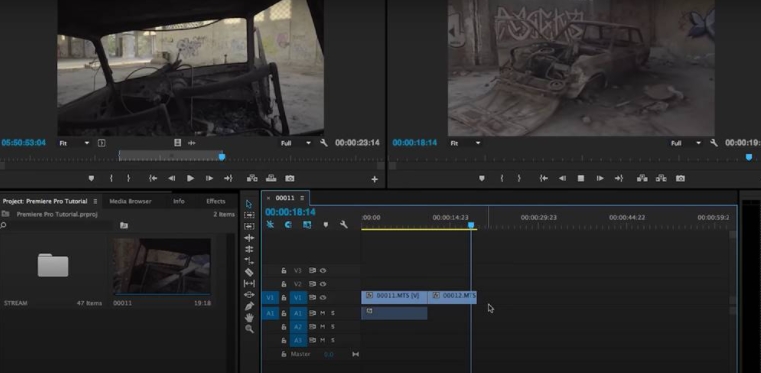 Online UniConverter Slideshow Maker is one such tool that does not need any software download and works straight from your browser. Free to use, the tool is simple and quick and comes with all the basic features needed to create a good slideshow. Online UniConverter allows adding pictures as well as videos from your system, Google Drive, Dropbox, and YouTube link to create a slideshow. You can choose the aspect ratio, crop the file, select image duration, and use transition using the tool, and there is also an option to add the local and cloud audio file or music. The output format of the created video can also be selected from the supported format using this free slideshow software.
Steps to create a slideshow using the best slideshow maker - Online UniConverter
Step 1: Click on the Choose Files button at the Slideshow Maker tab to add the local media files. You can also add the files from the cloud storage or using a YouTube link.
Step 2: After the files are added to the interface, choose the aspect ratio, image duration, and transition effect.
Step 3: Next, choose the audio or the music file that you wish to add as the background. You can add the local file or from Google Drive or Dropbox.
Step 4: Select the target format at the Output Format drop-down menu, and finally click on the MERGE button. The tool will start creating your slideshow.
After the process is completed, you can download the created slideshow to your local system or save it to cloud storage.
If you want to turn your images, videos, and music files into a stunning slideshow, this is an apt tool to use. Available for Windows system, the program is user-friendly and comes loaded with a variety of features to edit and add effects. 2D and 3D transition effects can also be added to the created video. The built-in preview window allows you to keep the check on the changes made. The created slideshow can be directly burned to a DVD or can be shared online on YouTube. Additional features include adding background music, adding effects to the text, red-eye removal, DVD menus, and more.
Supported platform: Windows, Mac
Pros:
User-friendly interface
Multiple options to add effects and edit files
Save created slideshow to a DVD or upload it to YouTube
Cons:
Advanced features are available on the paid subscription plan
No option to receive the created slideshow on an email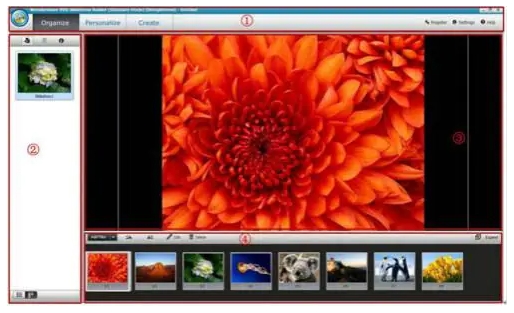 For creating a slideshow of images and videos on a system, DVD, or web, this is a good tool to use. The program facilitates adding motion effects, captions, and transition effects to make an eye-catching slideshow. There are several built-in effects and music tracks available to be added to your video and the created file can be saved in all key output formats. At the starting of the software, a ProShow Wizard appears that helps the beginners in creating a slideshow.
Supported platform: Windows
Pros:
User-friendly interface
Allows creating a slideshow with caption effects, and transition effects
ProShow Wizard assist the beginners in creating a slideshow
Cons:
The free trial version is available for 15 days, and the processed files have a watermark
No music generator option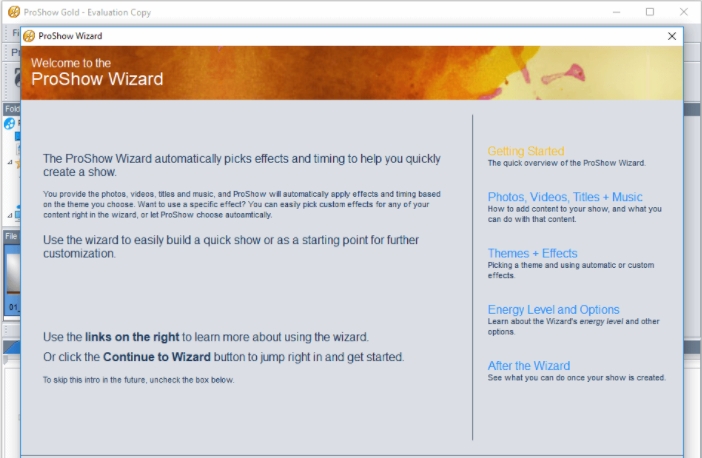 If you are looking for a tool that lets you create a slideshow with simple settings, you can trust Movavi. In a few simple steps, your choice of slideshow is ready using more than 100 transitions and 150 filters. The created videos can be uploaded to several platforms, including Vimeo, YouTube, and others. In addition to local download, you can also save the slideshow to cloud storage. Different title styles are also available at the tool that helps to create a slideshow matching your content theme.
Supported platforms: Windows, Mac
Pros:
Features more than 40 styles, 150 filters, and 100 transitions for creating an exciting slideshow
Preview option available
Option to share the slideshow on YouTube, cloud storage, and other platforms
Cons:
Added media files cannot be organized
Transition is applied to the entire slideshow and cannot be randomized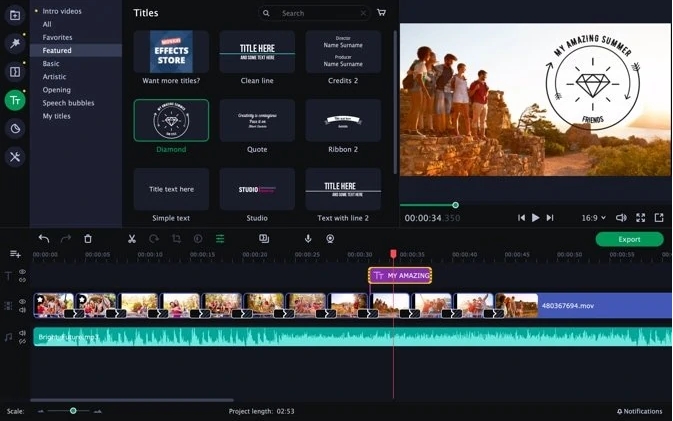 This Windows-based tool comes with professional features that allow creating a stunning slideshow of your videos and images. Using the tool, you can apply animations to your choice of the slide, use multiple layers on the slide, use image masks, use animated 3D text, graphics, keyframes, and more.
Supported platform: Windows
Pros:
This slideshow software for Windowscomes with more than 180 transition effects, 3D effects, more than 200 templates, and more
Allows converting slideshow into HD quality videos in all key formats
Available in standard and a deluxe version with added features
Multiple publishing options
Cons:
Navigation is a bit complicated
Other tools of the developer are informed, which is annoying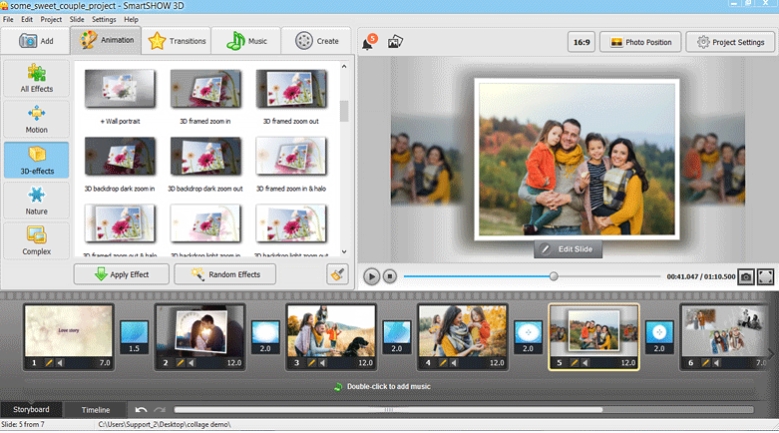 CyberLink PhotoDirector 12 is an editing tool that comes with a wide range of options, including slideshow making. Using the program, you can create an impressive slideshow using features like animations, dispersion effects, editing options, adding background, adding layers, and more.
Supported platform: Windows, Mac
Pros:
This slideshow software for Macand Windows has multiple editing tools
Multiple themes available with a wide music library
Various options for slideshow customization
Cons:
If you are using the program only for slideshow making, then it will turn out to be an expensive one
The tool may confuse the users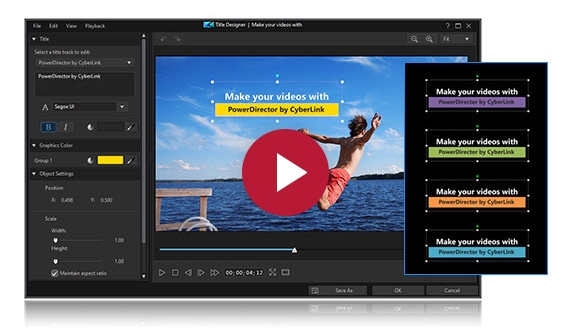 Using the features like effects, overlays, filters, and transitions, excellent slideshows can be created using this fantastic tool. There are options to create photo collages as well and edit the added images. The curve tools help in adjusting the brightness and other file parameters.
Supported platform: Windows
Pros:
Multiple editing options
Allows setting accents along with effects, animations, and more
Allows adding background music or score
Over 100 photo collage templates
Cons:
Software installation is slow
It takes a long time to export the files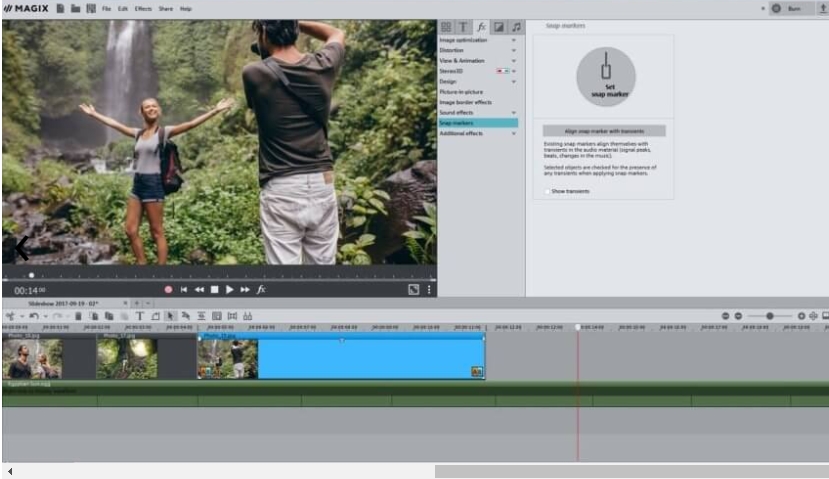 With a sleek and attractive interface, this is one of the popularly used tools for creating slideshows. The tool comes with an array of editing, effects, and transition tools to let you create a sideshow as needed. The created files can be shared over an email or can be uploaded to multiple sites like Facebook, Twitter, and more.
Supported platform: Windows
Pros:
Multiple options for transitions and effects
The themes and the timings of the slides can be adjusted
Allows creating 4K videos
Option to burn the created slideshow to a DVD or upload to Facebook, YouTube, Twitter, and more
Cons:
With multiple options on the interface, it looks confusing
The learning curve is quite steep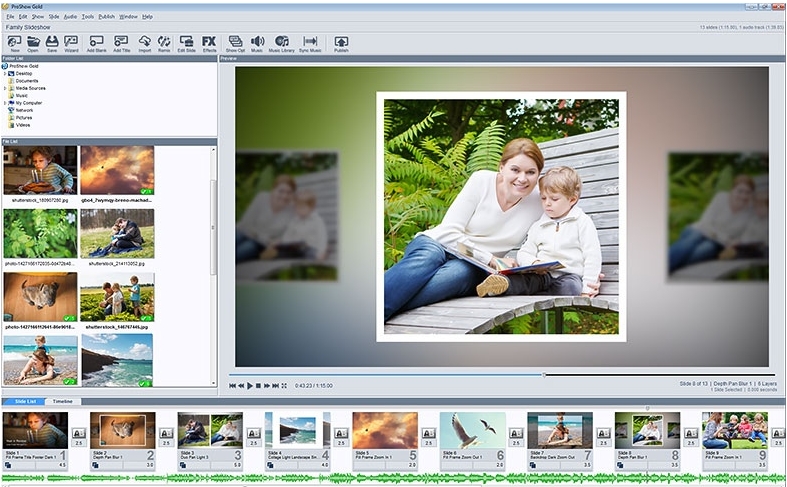 In comparison to other tools, this is comparatively new but apt for beginners to create impressive slideshows. You can use images, videos, and music files to creating your choice of slideshows using several templates that comes with readymade effects and titles. Additional features include video speed controlling, animated zoom tools, options to auto-save the project, and more.
Supported platform: Windows
Pros:
Option to add filters and transitions to multiple clips
Add creative text and motion effects
It comes with multiple templates to match your slideshow theme
Allows exporting created slideshow in all key video formats
Cons:
No option for screen recording
Basic tool and not apt for the professionals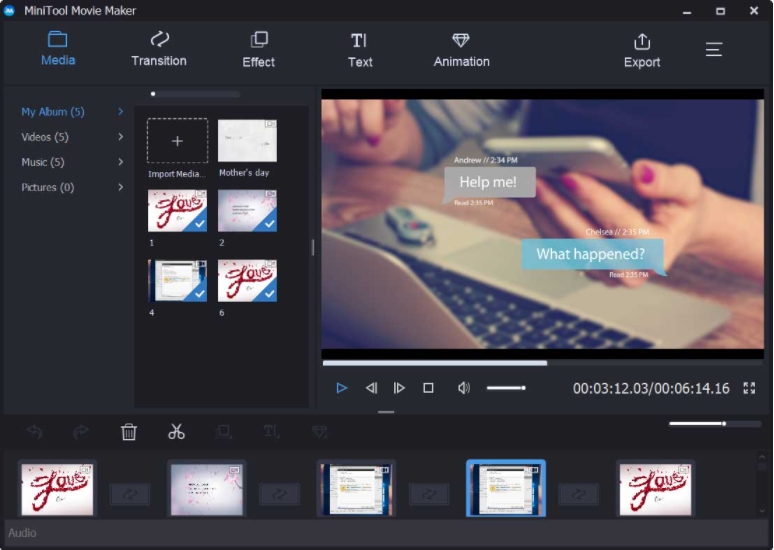 This feature-packed editing software also allows creating an excellent slideshow with your images, videos, and music files. Use the editing features of the tools along with the effects and transitions to create a special slideshow of your choice. You can even record a video using the webcam and then use it along with the other files in your slideshow.
Supported platform: Windows, Mac
Pros:
Lightweight tool that is simple to use
Option to share the created file directly to social media networks
Record videos using a webcam and add them to the slideshow
Multiple editing, transitions, and filter options
Cons:
The features are limited in comparison to other dedicated slideshow creation tools
The supported file formats are limited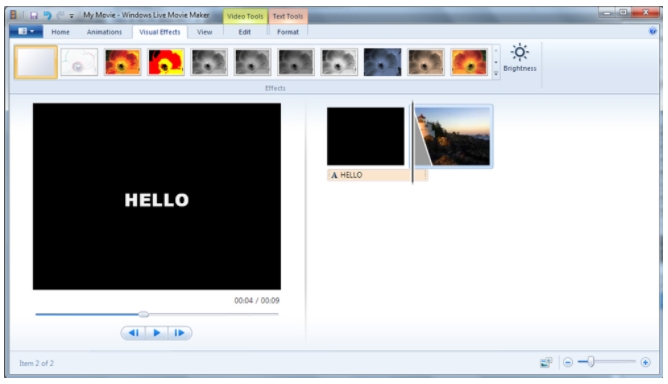 Part 2: FAQs about Slideshow Software
Check the FAQs related to Slideshow Software below.
1. What program can I use to make a photo slideshow with music for free?
If you are looking for a free tool that helps you make a slideshow with your choice of music for free, Online UniConverter Slideshow Makeris the best choice. Using this tool, you can add your choice of music or audio file saved to your local system or Dropbox or Google Drive.
2. How do I make a photo slideshow faster?
To make a photo slideshow faster, we suggest using a simple and clutter-free tool with all your needed features. An online tool like Online UniConverter Slideshow Maker will also work as a great option. The program comes with decent features, and there is no time waste in software downloading and installing.
3. How do you make a good photo slideshow?
To make a good photo slideshow, there are several factors to be considered. Some of the key ones are enlisted below.
Using software that has all basic and needed features
Using a template so that you have a readymade and professional looking theme or a design
Add multiple effects, filters, and transitions to the created slides
Add background music to the created slideshow
Export the created slideshow to an array of formats suitable for multiple platforms
Conclusion:
With the myriad of slideshow-maker software available, selecting one can be a challenging task. Check out the features you require in your slideshow, and then choose the most appropriate one from the above list. If you need to create slideshows once in a while or for a short duration, spending on expensive software is not a wise decision. Instead, you can use an online tool like Online UniConverter Slideshow Maker, which is not only free but also simple to use with decent features.