We can read PDF files with our Android and iOS devices. Yet, if we seek to do something more than just reading PDF files, there are several platforms available to allow us to utilize the additional functions and features for editing and improving the PDF file. Portable Document Format, commonly known as PDF, is one of the most widely used formats for reading documents. If you are into reading and seeking an eBook or want to research paper for your project, you may find all the associated documents in the form of the PDF format, which is both convenient and preferred. PDF reader App has become a necessity in smartphones, considering the demand for PDF documents. This article shall focus on the most effective Android and iPhone PDF reader software that would suit your needs and requirements perfectly.
Part 1. 3 Best PDF Reader Apps for Android
If we observe the available PDF apps, they allow users to comply with various additional functions, which majorly include editing the PDF files along with annotating, printing, or inserting forms as per the need of the user. The following PDF applications are the most readily available and most prominent applications that suit the user's needs.
This application is much more than PDF reading. Its variety and impressive features allow people to create new PDFs from scratch with the help of images or already existing Office documents. Its most common features include highlighting text and adding personalized annotations on the document. Xodo's connect service allows users to share their documents with other people for editorial purposes.
It comes with additional support features, making it one of the most effective PDF powerhouses in Android stores. It provides smart integration with Dropbox, Google Drive, and OneDrive. It isn't confined to the easy import of data from the cloud but provides prompt synchronization of the edits that are made in the source file. Its effective core PDF viewing engine allows high zoom, page cropping, and full-screen mode to help readers focus more on the document. Its additional night modes and thumbnail previews are cherries on the top that provides comfort to the users.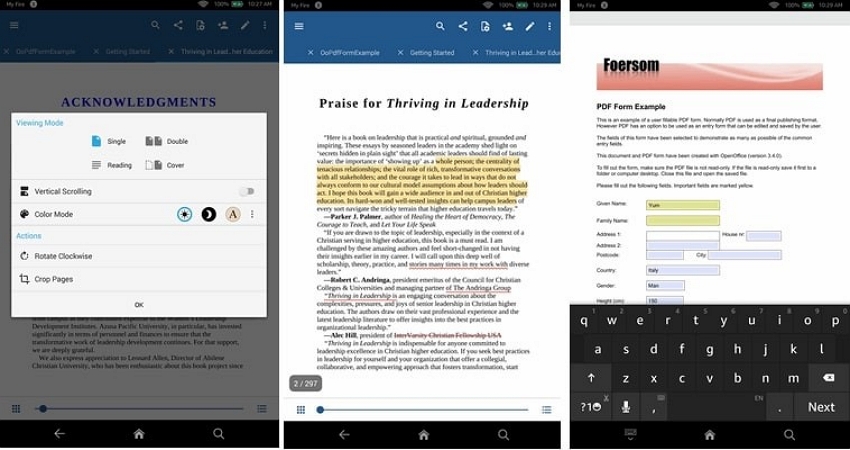 Unlike other PDF Reader software, this application focuses on comfort and usability, making it one of the most popular PDF applications with an impressive rating. What makes Foxit extremely convenient to use is its fast, prompt system. It opens PDFs quickly and allows users to control the orientation and the text reflows so that they can fit it according to their comfort.
Foxit has simple annotation are integrated with simple tools that provide control over the document. It comes with it connected technology, allowing users to share their work and deliver changes and comments over the document with others in real-time. Form handling made Foxit different and a top choice of users, where it allowed filling out and saving the forms, import and export the important data while allowing form submission through HTTP, FTP, and email. The core functions at Foxit are available for free, whereas advanced features are provided to users that pay for its package subscriptions.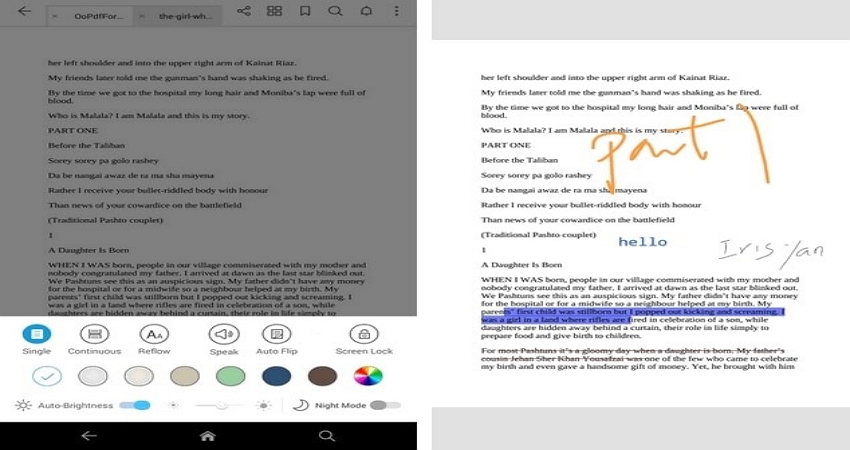 We might not see Gaaiho as a popular PDF Reader app since it doesn't have the attention, unlike Xodo and Foxit. Despite this fact, Gaaiho comes with 20+ years' experience in PDF software; hence it does have great tools in its package.
Gaaiho is a perfect platform in terms of comfort and flexibility. With a speedy main viewing engine, it provides prompt access to any document or attachment. It comes with a fast and reliable bookmark option that allows easy access to any portion of the document. It is a free version; hence it comes with basic annotation tools with the ability to highlight tools with text and shapes. It is the only application that offers direct access to cloud files through Dropbox with the ability to add WebDAV servers, which is not found in any other platform.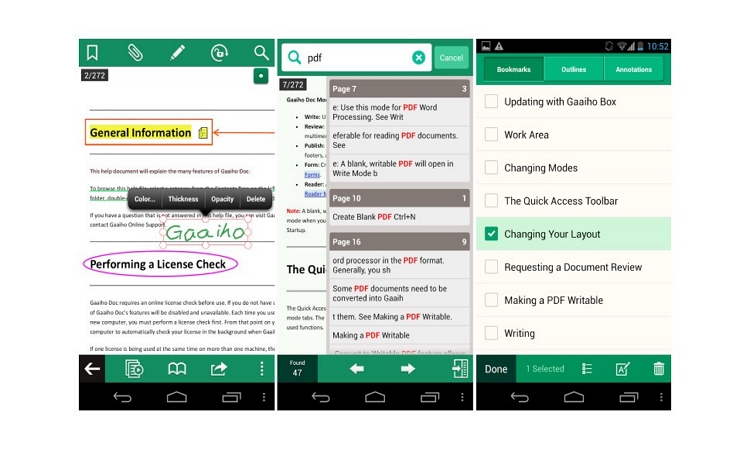 Part 2. 2 Best PDF Reader Apps for iPhone
iPad is the most commonly used device for reading eBooks. This requires a good PDF reader for perfectly managing the PDF document. It usually gets difficult to decide the best option for your iPad and iPhone. Thus this article discusses the two best options for users to easily select from without inconvenience.
We are definitely aware of Adobe and its range of products available for both computers and smartphones. Adobe Acrobat Reader is one such PDF software that is considered an overall best PDF reader for iPhone. This application allows easy annotation along with password-protection that ensures security. PDF portfolios and fillable forms can be easily opened with the software. One of Adobe's most varied features is its inbuilt scanner that helps any file turn into a PDF. It surely is a suitable option if users carry the need for an advanced reader.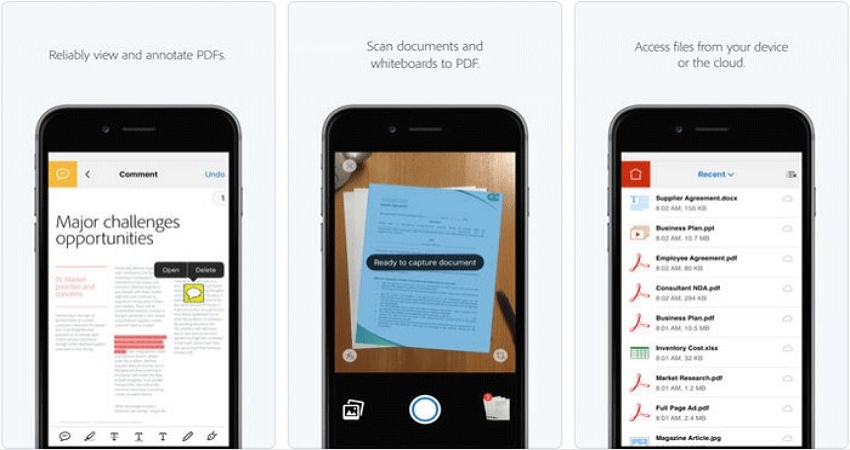 Google has never disappointed with its PDF reader software and has provided a very advanced structure to its iPhone users for free. Users can download their PDF or EPUB files in the library, whereas it provides a very detailed library of classics and the latest books. It added audiobooks support in its latest update, which increases its utility and practicality.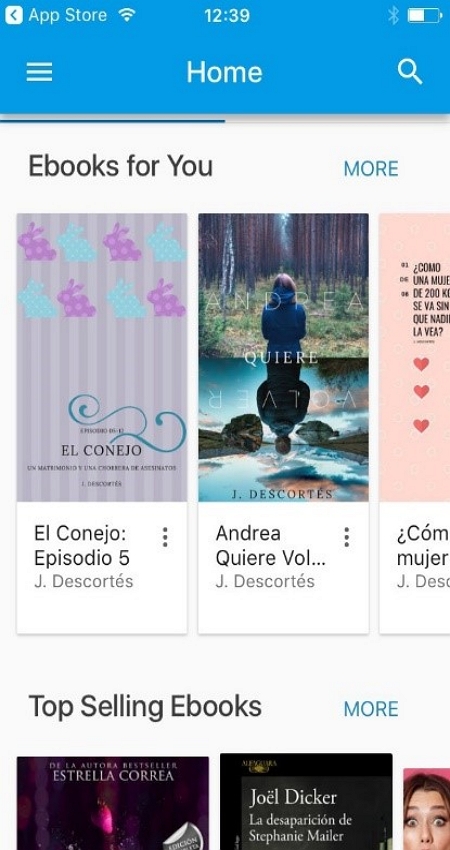 Summary
PDF readers are essential for viewing PDF documents, which makes them an important tool for various users. This article has stated various available applications and platforms for both Android and iPhone providing users with the ease to select on a platform that would suit their needs and requirements. It will surely help readers finalize the product they want to read an eBook or a business document.