For a great motorbike ride, you definitely need a great sound to keep you going. Well, the best motorcycle speakers are available in varying models and functions, although most are strikingly similar in terms of design. This can make your selection process to be quite complicated. So, I've done my research to bring you this list of 14 best motorcycle speakers 2020.
GoHawk RE8 Waterproof Bluetooth Motorcycle Stereo Speakers
GoHawk RE8 is an innovative speaker. It's super-duper easy to mount, thanks to the universal mounting clamps. It can perfectly fit on motorbikes with 7/8" to 1.25" handlebars and comes with up to 24 white LED strips for improved night illumination. It also features a 15-meter Bluetooth wireless connectivity for streaming music tracks and radio channels from your iOS or Android device. And if you add in the waterproof construction, these are a great buy.
Pros:
Attractive satin finish.
Easy to install.
Superb crystal sound.
Cons:
Brackets might be too small for 1.24" handlebars.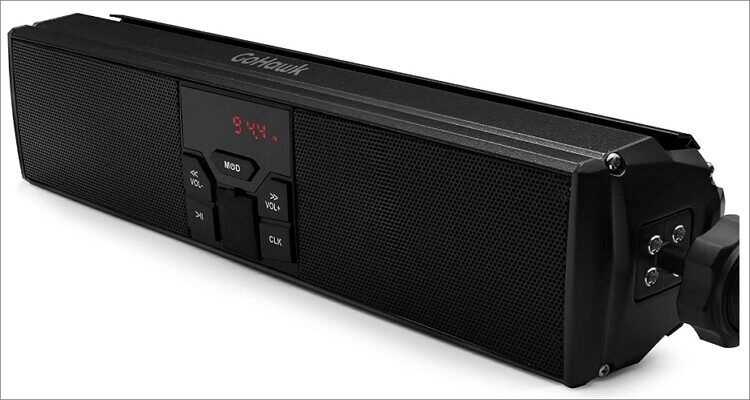 Pyle Motorcycle Two 3 Inch Speakers
The Pyle Motorcycle Two 3 Inch Speakers is another weatherproof speaker system that will add the much needed audio quality on your motorcycle. Firstly, it features dual 3" 50W weatherproof speakers as well as a 100W amplifier. The amplifier will give you full control of your music features such as volume, treble, and sound. Moreover, the easy mounting brackets enable a seamless installation on your handlebar.
Pros:
Easy installation.
Comes with a 100W amp.
Weatherproof system.
Cons: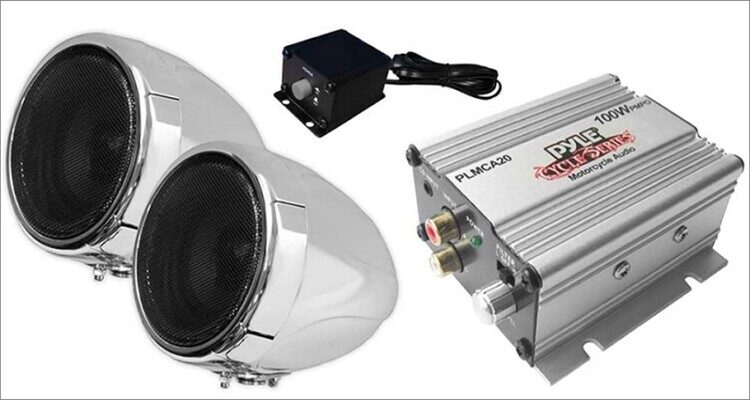 NOAM NMC4 – Motorcycle/UTV/ATV 4 Channels
The NOAM NMC4 motorbike audio system boasts of all the essential features at a pocket-friendly price. It comes with four chrome waterproof speakers, a powerful amplifier, and a reliable Bluetooth connectivity. The speakers produce a clear and loud sound that will make you feel like you're in a cinema room. As for the A2DP Bluetooth 3.0 streaming, you can connect devices up to 10 meters away while there is also an RCA and AUX input.
Pros:
Four channels powerful amplifier.
100% waterproof.
Super-easy installation.
Cons: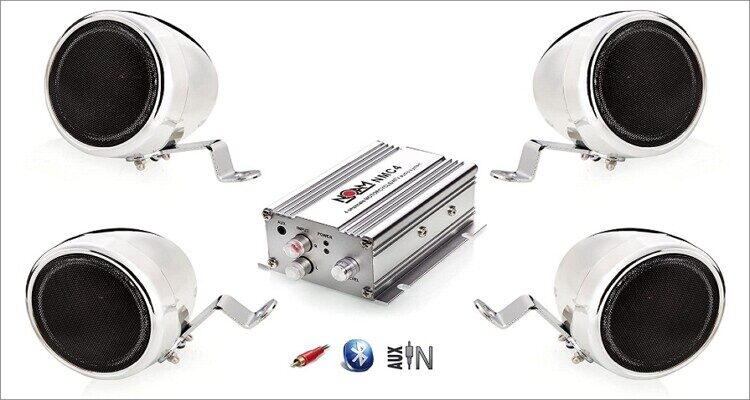 Motorcycle Aluminum Bullet Shape Waterproof Stereo System
The Bullet Shape 3-inch Heavy Duty Speaker System is taking no prisoners in this list with its sleek metallic housing. It will perfectly fit on your motorbike's handlebar and produces crisp, clear sounds even when you hit a demonic 100 Mph. Also, it comes with a Bluetooth pairing and wireless remote control for manipulating the system when you're 30ft. away. And more importantly, the waterproof design can handle all weather conditions.
Pros:
Weatherproof construction.
Up to 30 ft. Bluetooth pairing.
800W power output.
Cons:
Sound distortion at full volume.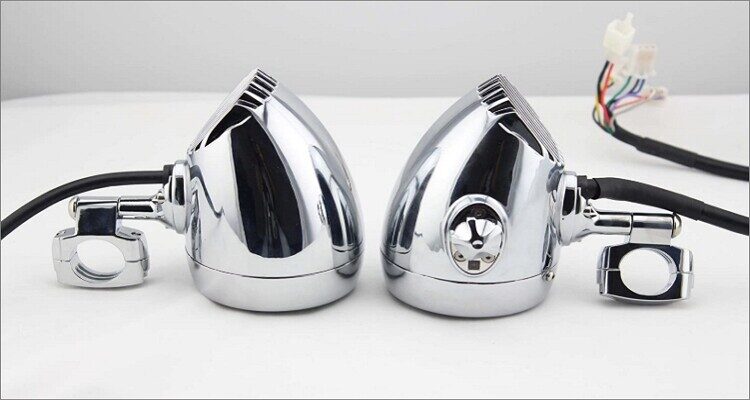 BOSS Audio Systems MRWT40 Marine Waketower Speaker System
The legendary BOSS Audio finally makes its way on this list with this marine-grade weatherproof 800W speakers. Each speaker can produce up to 400W of peak power as the 4" mid-bass driver and 1" dome tweeter guarantee party-jamming as you ride away. The rubber surround construction also ensures that the speaker can take as much punishment without any damage. And of course, BOSS Audio Systems offers an impressive 3-year online dealer warranty.
Pros:
Surround rubber construction.
Excellent sound quality.
3-year warranty.
Cons: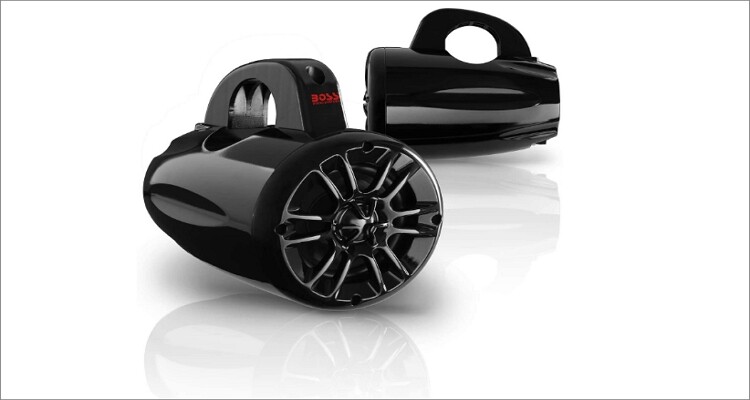 Boss Audio Systems MC420B Motorcycle Speaker System
You can go ahead and blast your music on your motorbike using these dual 3" full-range speakers and an amplifier. The unit comes with a reliable Bluetooth audio streaming as well as an AUX input for connecting your MP3 player or smartphone. With Bluetooth connectivity, you can stream audio from Pandora, Spotify, Tidal, and other streaming services. Another important thing, it features a remote volume control for customizing your music volume during the ride.
Pros:
Includes mounting hardware.
Weatherproof speakers.
Bluetooth connectivity and AUX input.
Cons:
5-10 ft. Bluetooth range.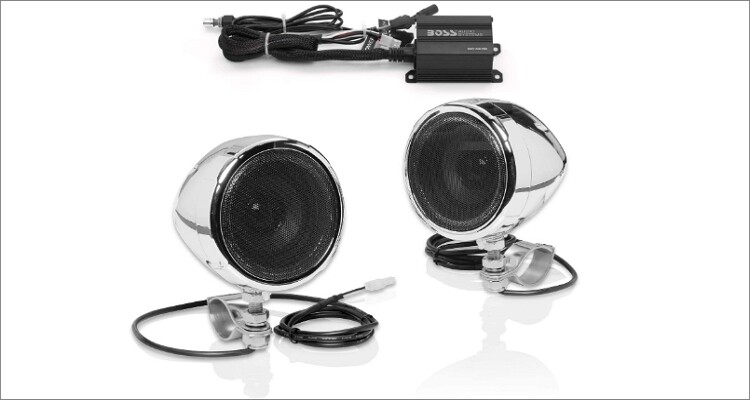 BOSS Audio Systems MC470B
For around $130, this BOSS Audio Systems Speaker System is a steal. One, it comes with a reliable Bluetooth audio streaming for importing music playlists from services like Pandora, Spotify, and others. Two, you'll get an AUX input to enable you to stream songs from external devices such as tablets, smartphones, and MP3 players. And three, the remote volume control feature allows you to manipulate the system effortlessly.
Pros:
Bluetooth connectivity.
Weatherproof construction.
3-year warranty.
Cons: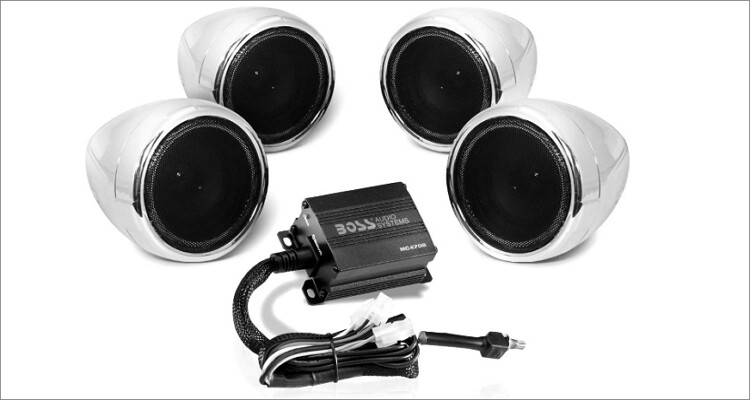 BOSS Audio Systems MCBK520B
Whether you're using a scooter, ATV, or motorcycle, the BOSS Audio Systems MCBK520B is the perfect fit for you. It comes with a compact amplifier and a pair of 3" speakers to take your on-road or off-road adventure to the next level. You can decide to connect your smartphone or MP3 player via the 3.5mm AUX input or connect it wirelessly via Bluetooth. Even better, the SD and USB ports can support up to 32GB of memory.
Pros:
Sounds great.
3.5 mm AUX input.
2 channel Bluetooth.
Cons: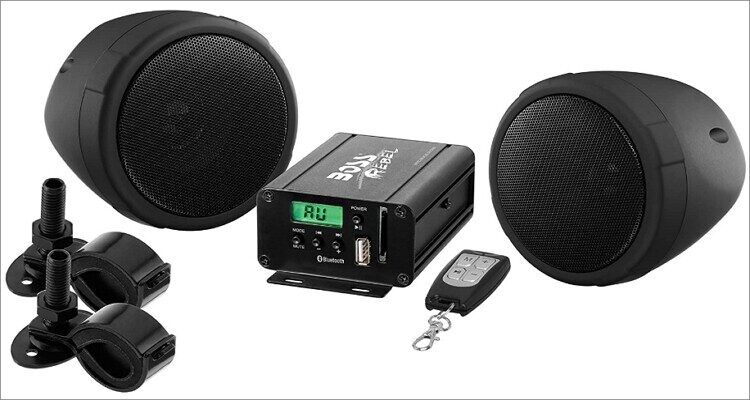 BOSS Audio MC500 All-Terrain Sound System
The BOSS Audio MC500 comes with weatherproof speakers and rubber surround on the inputs for maximum protection. The speakers are powered by the two-channel, weatherproof Class A/B amplifier that also features a 3.5mm AUX input. This way, you can directly play music from smartphones, tablets, and MP3 players. You'll also get a multi-functional remote control for manipulating the system quickly.
Pros:
Multi-functional remote control.
3.5 mm AUX input.
Weatherproof construction.
Cons: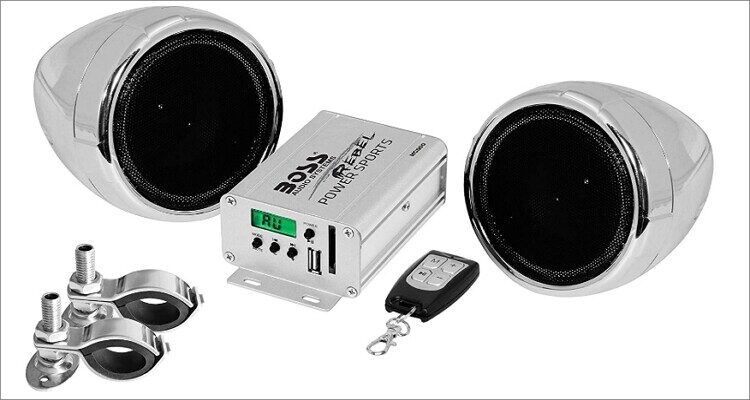 LEXIN LX-S3 Motorcycle Bluetooth Speakers
LEXIN LX-S3 is simply one of the best motorcycle speakers on this list in terms of looks, features, and price. It's made using sleek chrome-plated metal and will fit excellently on your bike. Also, it comes with the advanced Bluetooth 4.0 connectivity for a reliable music listening experience. Further, you can play music via the USB port or tune in the FM radio. And yes, the LEXIN LX-S3 is super easy to install.
Pros:
Easy to install.
Durable design.
Bluetooth 4.0 connectivity.
Cons:
Not the loudest speakers on this list.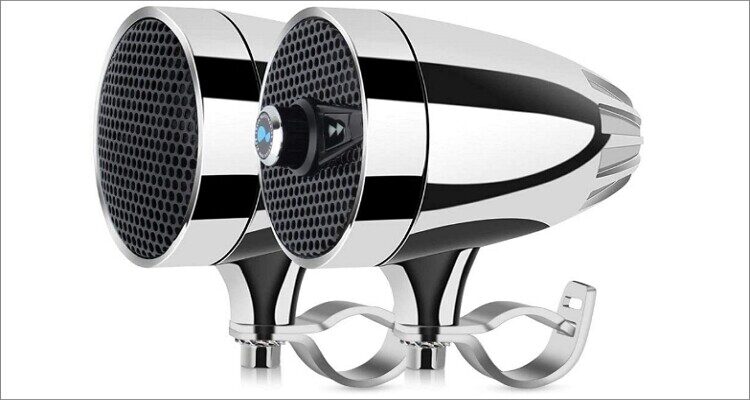 BOSS Audio Systems MCBK420B
BOSS Audio Systems are dominating this list and rightly so. With the MCBK420B speaker system, you'll enjoy immersive music, thanks to its dual 3" water-resistant speakers and weather-resistant 600W amplifier. You can stream music via Bluetooth or 3.5mm AUX input. It also goes without saying that this unit comes with all mounting hardware as well as an owner's manual for an effortless installation.
Pros:
600W weather-resistant amplifier.
Bluetooth and AUX connectivity.
Includes mounting hardware.
Cons: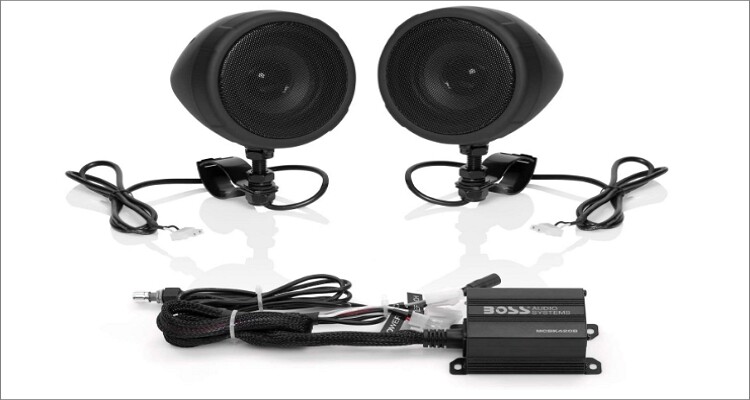 Planet Audio Sound System
Planet Audio is another well-respected brand in the motorcycle sound system space. With this unit, you'll get a quick and reliable Bluetooth audio streaming from your favorite platforms like Spotify, YouTube Music, and more. Not only that, because the four-channel compact amplifier in conjunction with the dual 3" matte Black speakers will keep you entertained with crisp and clear sounds. If you throw in the adjustable brackets, I find this motorcycle unit to be worth every penny of the $100 you'll pay for it.
Pros:
Bluetooth audio streaming.
3.5 mm AUX input.
Adjustable brackets.
Cons: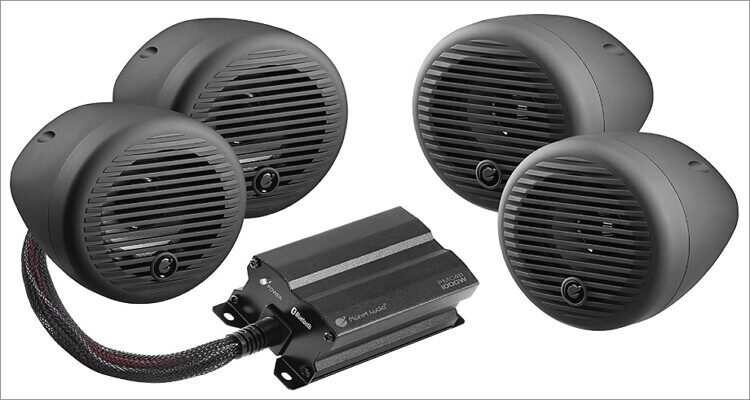 Handlebar Amplifier Motorcycle Speaker System
With up to 1200W of maximum power input, the Handlebar Amplifier is undoubtedly one of the few systems here that will offer you a complete music immersion. It has a waterproof construction and features four 3" bullet-style 50W weatherproof speakers. To listen to music, you can plug in the 3.5mm AUX input. Although this is great, I would've preferred Bluetooth connectivity. Also, the USB port is for charging only.
Pros:
1200W amplifier.
Weatherproof construction.
Includes all mounting hardware.
Cons: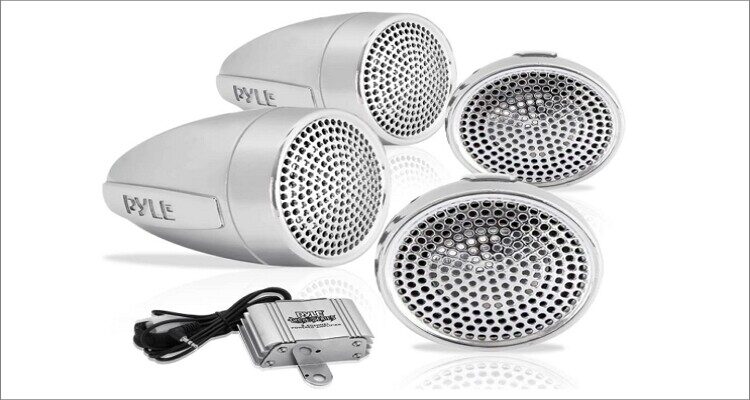 JBL Cruise Bluetooth Handlebar Speaker Kit
Lastly, you can grab these 2.5" modern-styled handlebar mount speakers for $230. The pair comes with a sleek matte black finish with an IPX5 waterproof rating. You can stream music easily from any Bluetooth-enabled device, and the unit can be recharged via the USB port. The built-in digital amplifier and 65mm transducers will give you an immersive experience that is only available on home stereo systems. Plus, it is easy to hook up.
Pros:
Sounds great.
IPX5 waterproof rating.
Excellent design.
Cons:
Yamaha users can forget it.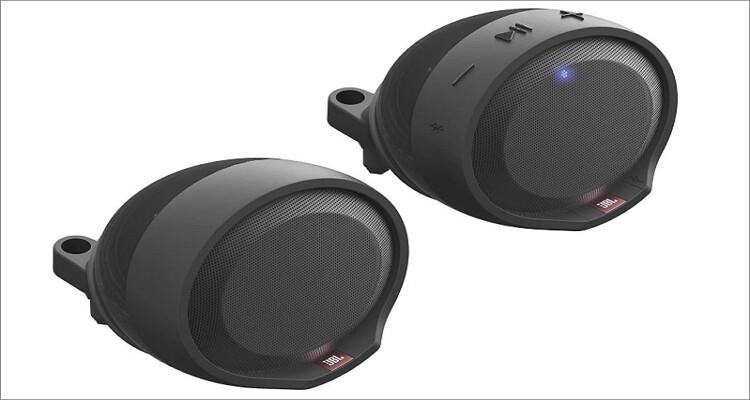 Final Advice
These are the best motorcycle speakers in 2020 you can find. As you can see, the cost doesn't necessarily mean higher quality, although you might need to pay more to land the best of the best. So, carefully go through every review and make an informed decision. You can also check out our best car speakers in 2020 here.