Nothing is as painful as losing a loved one. However, you can get through this challenging phase of life by creating a funeral slideshow featuring videos and pictures of your loved one. This will not only help you remember your loved one, but also efficiently share those special moments with family and friends. So, without beating around the bush much, let's jump in and learn a few DIY ways of generating a memorial slideshow to pay tribute to a loved one in the most professional manner. Keep reading!
Part 1. 6 Things you should know before creating a funeral slideshow
A funeral slideshow isn't just any video or photo slideshow you create and share with friends and family on social media. That's because you need to get it right, starting from the slideshow playback duration to the type of background music. That said, below are a few pointers to help you create a memorable funeral slideshow:
1. Recommended length
When creating a remembrance video, aim for a playback duration between 3 to 7 minutes. This should be enough time to display multiple photos and play one or two short music tracks in the background. In short, keep your memorial slideshow quick and precise, but not too short.
2. Content
The type of funeral collage you assemble is undoubtedly the most important thing you need to keep in mind. Having said that, your funeral photo collage should be of high quality and limited to something between 30 to 40 images. Also, try to ensure that the photos feature your loved ones various life stages.
Similarly, your funeral slideshow should have one or two high-quality videos, preferably less than a minute. And yes, the background music should be peaceful and relaxing.
3. Format
Before creating a memorial slideshow, check if the playback device is compatible with file formats like MP4, MP3, MOV, MTS, VOB, etc. So, assuming you're doing a DIY project, always settle for standard file formats like MP3, MP4, and JPG for images.
4. Sharing
Not everyone can make it to the memorial service. So, figure out how the attendees and those who don't make it will get the video. You can use CDs and flash discs to display the memorial slideshow to the attending friends and relatives. Where this method isn't suitable, use digital links like WhatsApp, Facebook Live, and Instagram to share the funeral slideshow.
5. Actionable tools
Fortunately, the internet is full of tools to help you create a catchy funeral video tribute. But if you want something simple, effective, and works on any device, use Online UniConverter
6. Services
It's normal to require some assistance when creating a professional funeral tribute. If that's the case, reach out to experts who can get the job done for a small fee. But with the right tools and knowledge, you don't need those so-called experts' anyway.
Part 2. 3 Best online free slideshow making tools
In this part, you'll know up to three excellent memorial slideshow makers that work on any updated web browser.
Online UniConverter, initially Media.io, is indeed the best funeral slideshow maker for desktops and mobile devices. It's quick to load up, simple to navigate, and offers many media manipulation tools. First, this app can create a funeral collage from all image and video file formats. Secondly, it allows users to add the most appropriate background music and trim it to fit the slideshow slides. Thirdly and most importantly, users can export slideshows to MP4, MOV, AVI, FLV, and any other video format. Plus, the slideshow processing speed is second to none.
How to Create A Funeral Slideshow with Music
Key features:
Super-fast funeral slideshow making speed.
It supports all video, audio, and image formats.
Users can adjust audio volume and trim it.
It supports multiple slideshow aspect ratios.
Upload videos directly from local storage, cloud, and YouTube.
Exports slideshows to MP4, MOV, FLV, AVI, etc.
24/7 responsive customer support.
Now apply these simple steps to create a funeral video tribute using Online UniConverter:
Step 1: Open the slideshow maker and add photos.
Visit Online UniConverter on your mobile phone or computer, then choose Slideshow Maker under Online Tools. Now directly click below Choose Files to browse and add photos you want to use in the memorial slideshow. Remember, Online UniConverter supports all image file formats. Wait for a few seconds for your image files to finish uploading.
Step 2: Customize the aspect ratio and slide playback duration.
Next, navigate to the right pane and choose an appropriate aspect ratio for your video. For example, you can set it as 1:1 (Instagram Video), 16:9 (YouTube Video), 9:16 (Instagram Story), and 5:4 (Facebook Video).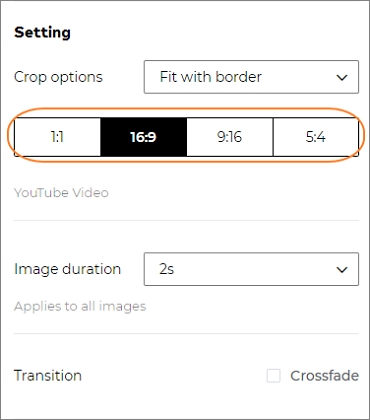 After selecting an aspect ratio, choose the slideshow playback duration on the Image duration menu. Free users can create up to 10-second slideshows, although you can upgrade to the paid plan and enjoy more playback time.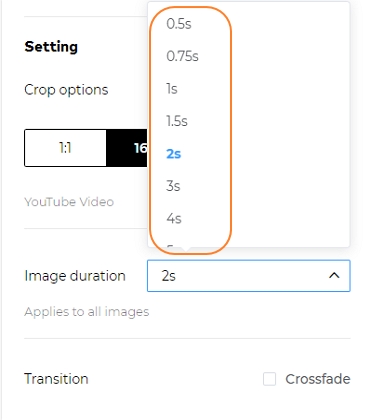 Step 3: Apply befitting background audio.
Any slideshow isn't complete without background audio. Fortunately, this app lets you add background music from your local media library by clicking the Add audio button. After the audio track is uploaded successfully, trim it or adjust the volume level for the best results.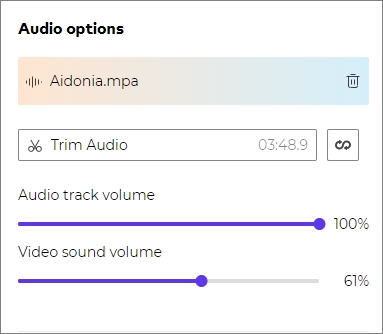 Step 4: Choose an output video format and create the video.
Last but not least, choose a target video format under the Output Format menu. Now go to the preview window and play the slideshow to see if the images and background audio meet the required standards. Finally, press Merge to start creating your funeral slideshow. That should take less than five seconds.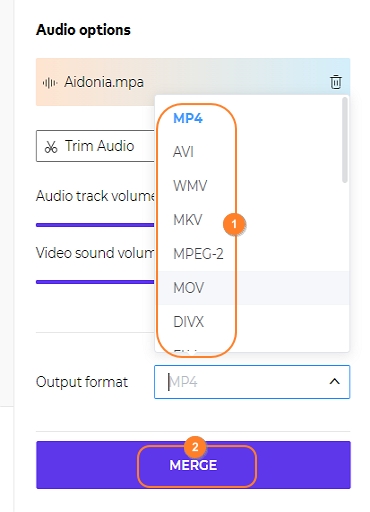 Note: After generating a memorial slideshow, Online UniConverter allows you to either download the file or edit it further to meet your requirements.
With Smilebox, you can create a video or photo slideshow for any event. Here, you'll get multiple slideshow designs for funerals, birthdays, anniversaries, graduations, and so on. In addition, users can upload an unlimited number of photos and customize them with background music from local storage or Smilebox's library. As expected, Smilebox allows you to retouch your funeral collage with emotional texts and captions. Plus, you can directly post the memorial slideshow on Instagram and Facebook for non-attendees to appreciate a life well-lived.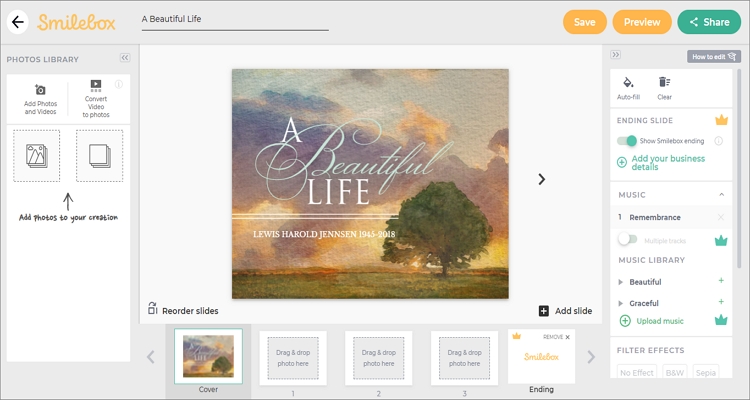 Pros:
It features multiple ready-made funeral slideshow designs.
Customize slideshows with audio, text, and captions.
Unlimited cloud storage to save your slideshows.
Cons:
Most features are locked in the $40 per year Premium plan.
Animoto is another popular video maker that can create an engaging slideshow in seconds. With it, you can create a 30-second slideshow for birthdays, weddings, funerals, milestones, and more. When creating a slideshow, you can personalize it with a piece of background music from the Animoto library or local storage. After making your creations, you can directly share them via text messages, email, and social media platforms.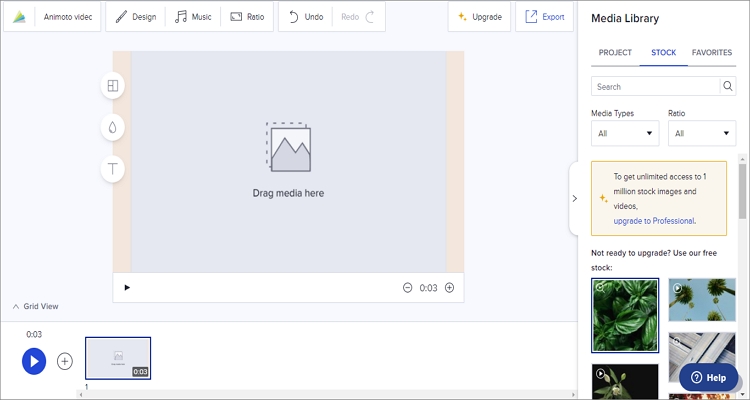 Pros:
Super-simple to use.
Excellent music library.
Beautiful ready-made slideshow templates for any occasion.
Cons:
Part 3. Bonus tips on funeral slideshow examples - 15 best songs
Lastly, let's list some fifteen songs to use on your funeral slideshow that can bring back memories.
1. I Will Remember You - Sarah McLachlan
This one is perfect if you're creating a slideshow for losing a grandparent or a parent. The song bears a touchy message of what parents would like to tell their kids.
2. You Raise Me Up - Josh Groban
In an ideal world, parents and grandparents are our greatest supporters in every situation. So, use this song on your memorial slideshow's background to emphasize this point.
3. If I Die Young - The Band Perry
Are you mourning a life cut too short? Use this sad, contemporary country song to express your disappointment.
4. Fly - Celine Dion
Celine Dion is undoubtedly a household name in the music industry. She dedicates this song to her late niece, who succumbed to cystic fibrosis.
5. A Mother's Prayer - Celine Dion
Here is another soothing song from this celebrated musician. This touching song talks about a mother's prayer that God will always care for humanity.
6. Smallest Wingless - Craig Cardiff
The pain of experiencing a stillbirth or a miscarriage for expectant parents can be unbearable. This song encapsulates the way happiness can quickly turn to sadness.
7. Someone You Love - Lewis Capaldi
Although this song is a little bit sad initially, it brings out a wave of emotions at the end. It's perfect for someone who has lost a spouse or a partner.
8. The Best I Ever Heard - Garry Allan
Garry Allan's voice has never been more emotional. Interestingly, he recorded this song in memory of his late wife.
9. So Long, Marianne - Leonard Cohen
This song by Cohen is indeed one of the saddest yet romantic on this list. Leonard Cohen wrote it in honor of his longtime girlfriend, who passed away.
10. Lay Me Down - Sam Smith
No one loves a situation where they wake up in the morning with an empty side of the bed. This sweet song beautifully conveys the message.
11. Ride - Cary Brothers
Have you lost a close friend who has always been there for you? This song perfectly sums up the situation.
12. Courtney's Song - James Blunt
When James Blunt lost his best friend, Carry Fisher, he decided to pick up a pen and paper to write this lovely lament song.
13. One Sweet Day - Boyz II Men ft. Mariah Carey
Expect some fireworks when two music legends meet in the studio. In this case, Mariah Carey and Boyz II Men team up to evoke memories of heavenly reunion with our loved ones.
14. Little Boys Grow Up and Dogs Get Old - Luke Bryan
If you've lost a dog or a pet, for that matter, use this song alongside your collage slideshow. It talks about the happiness of seeing a pet grow and the sadness of losing one.
15. Goodbye My Friend - Linda Ronstadt
This song is about a lost dog and is written by one of the most decorated songwriters of recent times.
Conclusion
I'm now confident that you can start creating a DIY funeral slideshow from scratch. Just make sure the images and videos are of the highest quality, and the background song corresponds with the slideshow display. And above all, use one of the above online slideshow makers to create a touching memorial slideshow on any device.