When you enjoy watching movies as much as I do, you want a setup that works, and what better than a scalable set up to play videos. With so many digital formats for video and audio, you need a system that can handle almost anything you throw at it. The ideal would be to be able to connect to a big screen for a true theatre experience, but again able to take with you to enjoy while you travel. A system capable of allowing you to experience 3D content and be ready for the future of VR. Sound and vision need to be adjustable and finely tuned to suit the viewing pleasure or to improve content so you get the ultimate experience.
Part 1. The Two Best Video Players
In this article, I will go through two outstanding video players that both have proven to be possibly the best video players in their classes. Let dive into the details and see what makes them so unique, and then we can decide which is better.
ArcSoft TotalMedia Theater
URL - https://totalmedia-theatre.softonic.cn/
For a fee of up to $100, you can turn your home computer into a home theatre with the ArcSoft TotalMedia Theatre software solution. There are three versions Gold, Platinum, and Standard, and the main differences between them are region decoding, security, and video format support. In the standard version, you can play from CD, VCD, DVD, Blu-ray, camcorder, as well as WMV, Quicktime, DivX. The audio available on the standard version supports Dolby Surround, Digital 5.1 (AC-3), and DTS Surround, LPCM, and DD.
The interactive feature support, including BD Profile, Bonus View and BD-Live, direct playback from high-definition cameras, and enhanced integration to high hardware acceleration with NVIDIA CUDA and ATI Stream without losing output quality. Some of the features that you can get are the Stereo 3D function. This will allow for 3D viewing experience from 2D content and Improves SD video to HD. You can cast wirelessly to your TV or projector with Miracast.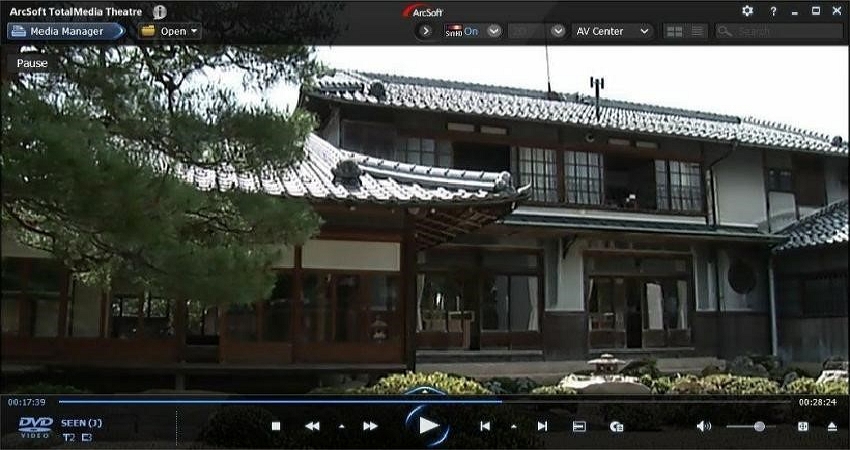 Pros:
SimHD improves the visual experience of DVD's.
The user interface is simple and clean.
Excellent remote control mobile app.
Cons:
URL - https://www.videolan.org/vlc/index.zh.html
The VLC media server & player is a freeware cross-platform compatible media center able to play almost every format. VLC is open-source and has been developed by the VideoLAN Foundation, which is a global group of developers with one main goal, which is to keep the VLC media player relevant and up to date with the times. As it's been developed over sixteen years, almost every format created to date is supported.
You can access your content from wherever it is stored and stream content seamlessly from any content provider. Even play something you found while surfing while downloading to see if you like it before completing the download of it. It's not the best-looking player, but you can customize it with skins. You can optimize your content to improve your viewing and listening pleasure. Casting your movies to your TV is easy so you can enjoy those movie nights on a bigger screen. It's a free video player download.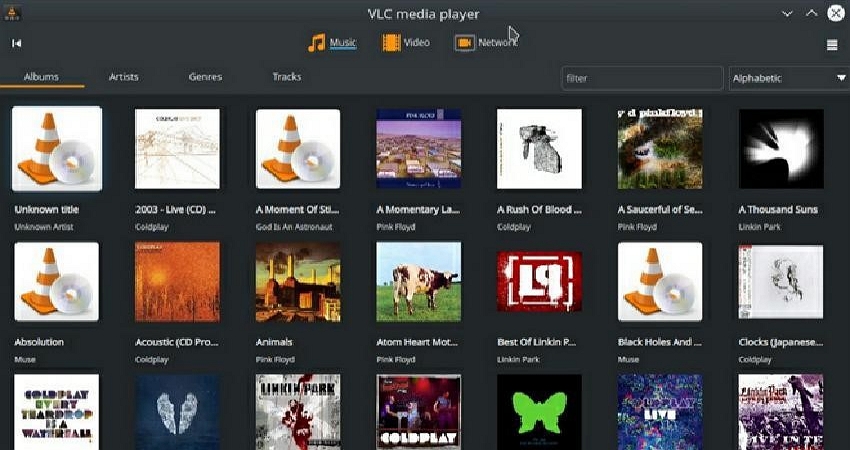 Pros:
Cross-platform, so it works on almost any system or device.
A well-connected library to any storage location.
Customizable in every way.
Optimize your media on all your devices.
Streams seamlessly from the internet.
No matter the format it's mostly all supported.
Stream your favourites from any popular service.
Cast to your projector or TV.
Cons:
Part 2. Which Video Player is Better
When we look at the two side by side, we get a real perspective of what they offer and what they can do. With this, we can judge for ourselves what is it we want and what we are prepared to leave out.
As for ArcSoft TotalMedia
Platforms: Windows, Mac, iOS, Android.
Plays: Files, Discs, TV tuner.
Video formats: Mpg, MPEG, MPEG-2, QuickTime, WMV, WMV HD, RealMedia, and HD.
Audio formats: LPCM, AC-3, DD+, and MLP. It also supports Dolby Surround, Digital 5.1 (AC-3), and DTS Surround, ALAC, email, APE, FLAC, LPAC, OFR.
As for VLC Player
Platforms: All Windows, Mac, Linux, iOS, Android, Raspberry PI, etc.
Plays: Files, Discs, Webcams, Devices and Streams, etc.
Video formats: MPEG, MP1V, MPG1, PIM1, MP2V, MPG2, VCR2, HDV1, HDV2, HDV3, MX*N, MX*P, DIV1, DIV2, DIV3, MP41, MP42, MPG4, MPG3, DIV4, DIV5, DIV6, COL1, COL0, 3IVD, DIVX, XVID, MP4S, M4S2, XVID, MP4V, FMP4, 3IV2, SMP4, H261, H262, H263, S264, AVC1, DAVC, X264, VSSH, SVQ 1, SVQ 3, CVID, THRA, WMV1, WMV2, WMV3, WVC1, WMVA, VP31, VP30, VP3, VP50, VP5, VP51, VP60, VP61, VP62, VP6F, VP6A, FSV1, IV31, IV32, IV41, IV51, RV10, RV13, RV20, BBCD. Even a few rare codecs: 'RLE', 'SMC', 'RPZA', 'QDRW', ASV1, ASV2, QPEG.
Audio formats: MPGA, MP3, .MP3, LAME, MP4A, A52, A52B, ATRC, QCLP, LPCJ, 28_8, DNET, SIPR, COOK, ATRC, RAAC, RACP, HALF, SPEX, VORB, DTS, WMA1, WMA2, FLAC, ALAC, SAMR, SONC.
Well, from looks, the ArcSoft TotalMedia has that going for it, but not much more than that. VLC media player and Media Server may not look that great, but it is a sure-fire solution that takes care of all your viewing needs. No matter what system you are using or which source it's coming from you can play your content. The best of all is you can set up your home theatre or take it with you when you travel. VLC is the best free video player.
Summary
I would love to hear what you have to say, especially if you think differently. If you have something you would like to answer, feel free to let me know below. I look forward to hearing if there is another system that you think could beat VLC.