Gone are the days when you needed professional YouTube thumbnail design skills for Photoshop to come up with a smashing video cover. Today, you just need a browser and internet connection to start designing a YouTube thumbnail image on your desktop or handset. So let's dive right in and discuss the best YouTube thumbnail design ideas of 2020.
Part 1. How to Make Your YouTube Thumbnail Design Online Free
Key features:
50,000+ free template designs
Add text commentary to any image
Apply multiple effects to photos
Thousands of free icons
Canva is a multilingual website that offers you an easy platform to exploit your YouTube thumbnail design skills. It has more than 50K free and professionally designed templates to get you started on the drag-and-drop interface. It can create some soft, dreamy designs with stellar photo effects and compelling text commentary. Also, you can straighten your video screenshots to keep them looking sharp as well as add beautiful and transparent backgrounds. Moreover, Canva offers fantastic photo frames and thousands of free stickers.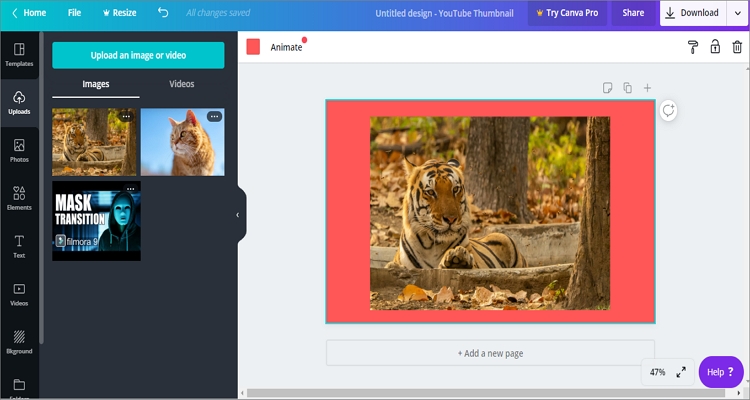 Pros:
50,000+ pre-made templates
Simple to use
Robust free plan
Cons:
Large preset image sizes
Can do with more free assets
Key features:
Ideal YouTube thumbnail dimensions
3 million-plus royalty-free stock photos
Drag and drop UI
Excellent customization tools
With Canva, making a YouTube thumbnail shouldn't be a hassle at all. For starters, you can make your way into the drag-n-drop platform with three million-plus, non-cheesy stock photos and customize them accordingly. You can also upload a local snapshot or image on the professionally designed YouTube templates and customize them with 100,000+ vector graphics, 200+ fonts/texts, background layout, and shapes. It can also create social media graphics, eBook covers, image quotes, business cards, and more.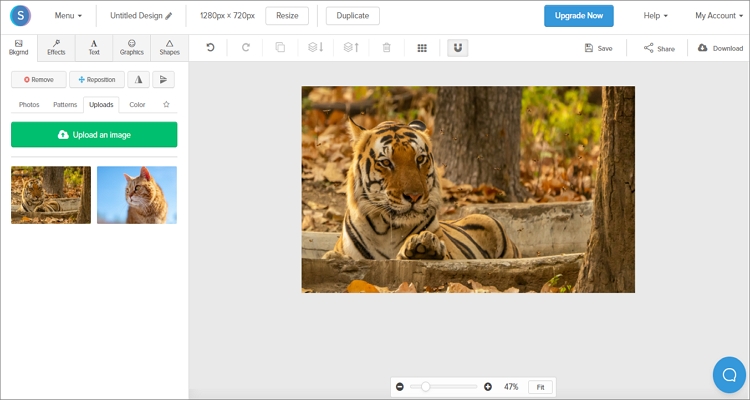 Pros:
100% royalty-free graphics and photos
Excellent YouTube thumbnail dimensions
Customize thumbnail by changing font, colors, background, etc.
Cons:
No autosave
No udo function
Key features:
Easy signup process
Create short videos quickly
Font and color customizations
Cloud storage integrations
Adobe Spark is a nice cloud-based template design platform that's ridiculously simple to use. Here, users can create web pages, custom graphics, and short videos on their mobile devices or computers. You can create a wide range of templates right from scratch and customize them with logos, stickers, images, fonts, colors, and more. Also, the designs are resized automatically to fit various channels such as YouTube thumbnails, Instagram stories, Facebook ads, and more. And even better, Adobe Spark offers native Android and iOS apps for automatic syncing of projects.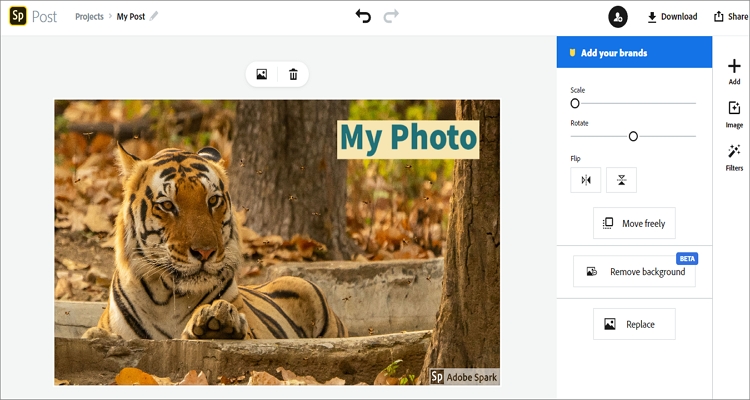 Pros:
Offers native mobile apps
Cloud storage integrations
Customizable branding
Cons:
Can share designs with Twitter and Facebook only
No photo or text enlargement
Key features:
20,000+ great-looking templates
Video to GIF converter
Native mobile apps
Multilingual UI
Crello is a beautiful virtual design editor developed by DepositPhotos. It offers 20,000+ professional templates that you use to make ad banners, social media images, business cards, email headers, and of course, YouTube thumbnails. To add on that, Crello provides its users with free images, stickers, fonts, and other customization objects. You can also regulate your photo's texture by using the unique image blur feature. And, Crello exports designs to multiple formats like JPG and PNG.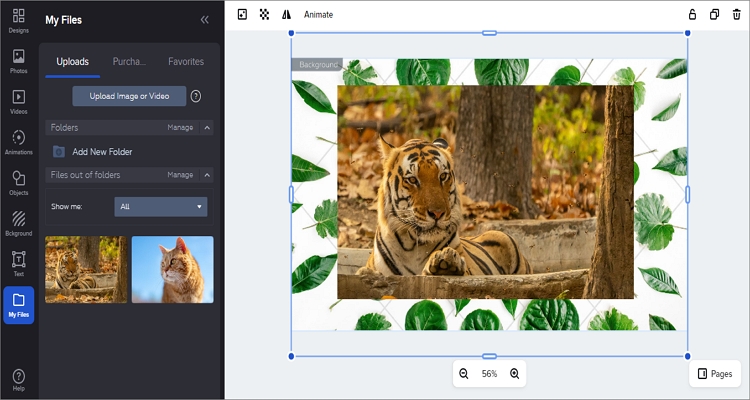 Pros:
Several design elements
20,000+ templates
Affordable subscription plans
Cons:
Clunky user interface
Advanced tools are not free
Part 2. Tips and Tricks to Make YouTube Thumbnail Design
Before you head out to find the best YouTube thumbnail editor/maker, you firstly need to learn the rules of making an award-winning thumbnail. So, let's now learn some tips and tricks on how to make the best YouTube thumbnail:
Tip 1. Find a Good Image
Using a high-quality and relevant photo should be at the top of your YouTube thumbnail making agenda. The thumbnail should complement your video perfectly by passing across the message even before the user opens the video itself. For example, if you're making a video tutorial, you can use an image with the end result. If it's your face photo, make sure that you maintain eye contact with the audience. This will give them a perception that you're confident of what you're doing.
Tip 2. Add Text Content
Another great way to grab your viewers' attention is to apply a shouting text commentary to your thumbnail. It should include some relevant keywords or a video title. This way, your viewer will get a snapshot of what the video content is about. Another best YouTube thumbnail design practice is to include a maximum of two font styles on the text. Overall, the text should be short and straight to the point.
Tip 3. Edit the Image
Simply using high-quality photos with text is not enough to get you more YouTubers views. That's because you'll have to edit the image further to make it look as professional as possible. You can do that by adding bright colors like pink and yellow to attract more attention. However, make sure that you don't overdo it. Just one or two colors should do unless the video is about rainbows and unicorns.
Tip 4. Adhere to The Size Requirements
Finally, you should follow the YouTube thumbnail making requirements to the letter. One, the thumbnail file size should not exceed 2MB. Two, the recommended thumbnail resolution is 1280x720 pixels for the highest quality. This huge resolution will make your thumbnail crisp and clear when opened on YouTube's full screen. And three, the aspect ratio should be 16:9 for full-screen playback.
Summary
With these YouTube thumbnail design ideas and tricks, you can make captivating image thumbnails that will propel your YouTube channel stardom. Simply use the four YouTube thumbnail design sites and make a design that meets all of YouTube's requirements. And of course, don't forget to thank me later when you hit your first one million views.