Although YouTubers get up to three free ready-made thumbnails, they are just not attractive enough to rack in more viewers. In that case, making a custom thumbnail for YouTube video will do the trick. You can create a thumbnail with a photo, texts, transparent background, and more. Keep it in mind that the perfect thumbnail YouTube can tremendously improve your ranking in the search results. So, allow me to guide you through some easy steps to make the best YouTube thumbnail.
Part 1. How to Make a YouTube Thumbnail Online Free
Let's start by discussing how to make a smashing YouTube thumbnail with these five excellent options:
URL - https://www.canva.com/create/youtube-thumbnails/
No matter the urgency to upload your video on YouTube, you can't simply wish away the thumbnail's effectiveness. Well, Canva allows you to make a stunning video cover that will immediately attract more views. The drag-and-drop interface is simple to navigate and offers multiple customization tools like free stock photos, icons, text, stickers, and more.
Now, let's see how to make a thumbnail for YouTube video easily and quickly: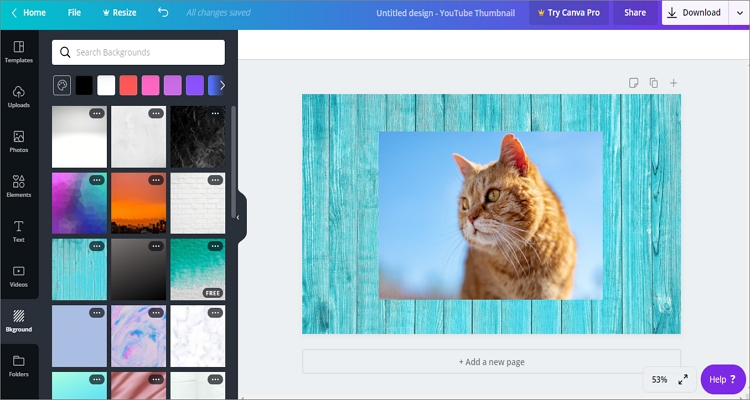 Step 1. Sign up on Canva and then choose a YouTube design under the YouTube Thumbnails Launch Picmaker, choose section. You can also create a design from scratch if you want.
Step 2. Next, click the Uploads button to add your local photo and then crop it to suit your size preference on the template design.
Step 3. Now click the text label marked as T to apply your message on the template. After that, click the Background button to add a custom background on your thumbnail.
Step 4. Lastly, click Download to save your custom thumbnail.
URL - https://spark.adobe.com/make/youtube-thumbnail-maker/
Adobe Spark offers you a feature-rich platform to make custom YouTube thumbnails in seconds. Here, you'll find tons of ready-to-use thumbnails that you can edit and upload to your YouTube account. Also, you can make a striking thumbnail from scratch easily.
Let's dive in and look at the simple steps to create a video cover with Adobe Spark: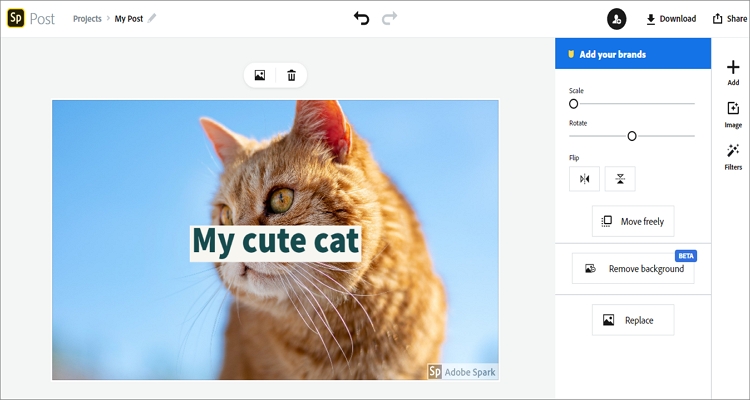 Step 1. After signing up, choose the pre-made YouTube thumbnail option and then upload a photo by clicking the Add button.
Step 2. Next, apply some personality to your photo by double-clicking it to add texts. You can also change the photo's position as well as apply effects by clicking the Effect button.
Step 3. Finally, click Download, choose a format, and then press Start download to begin saving your new thumbnail locally. It's that easy!
URL - https://www.picmaker.com/files
Picmaker is another simple to use YouTube thumbnail maker. It provides users with thousands of free graphic elements and 1000+ free stock photos to edit and download. However, its ability to burn or remove photo background that sets it apart from the rest. You can also add neat texts, icons, filters, and patterns to your thumbnail. Moreover, Picmaker allows you to preview your thumbnail before downloading it.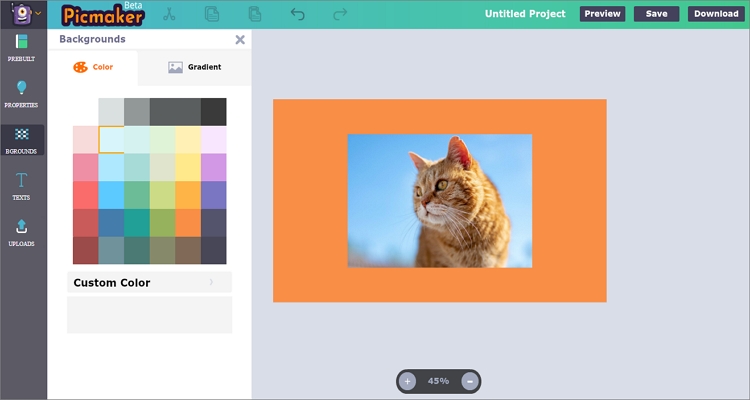 Step 1. Launch Picmaker, choose YouTube Thumbnails, and then click Uploads to add your photo.
Step 2. Next, start cropping your photo before applying a background color or gradient.
Step 3. You can also add other properties like stickers, frames, and photos.
Step 4. Finally, click Download to start saving your YouTube thumbnail locally.
URL - https://www.fotor.com/design/youtube-thumbnail.html
Fotor is one of the simplest ways of creating eye-catching YouTube thumbnails online. It offers multiple YouTube thumbnail templates with various theme variations. You can create a thumbnail by categories such as sports, cooking, makeup, game, and so on.
So without wasting any more time, let's dive and start making a thumbnail for YouTube with Fotor: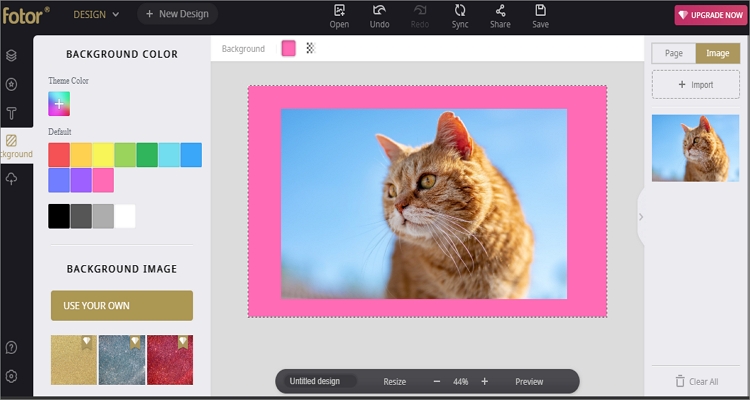 Step 1. Launch Fotor thumbnail maker and then click Create a Design before choosing YouTube Thumbnail.
Step 2. Click Open to begin uploading your photo from the cloud or local storage.
Step 3. Crop your photo to fit well inside the YouTube template. It's best to leave some white space to customize the background further. You can also add texts and stickers.
Step 4. Lastly, click Save and then choose a format before downloading your video cover.
URL - https://snappa.com/
Finally, you can use Snappa to make a video cover for YouTube. On Snappa, you'll get free, high-quality stock photos to download, stunning templates to edit, and professional customization tools like fonts, texts, and more. Also, it supports the drag-n-drop function, making it more user-friendly.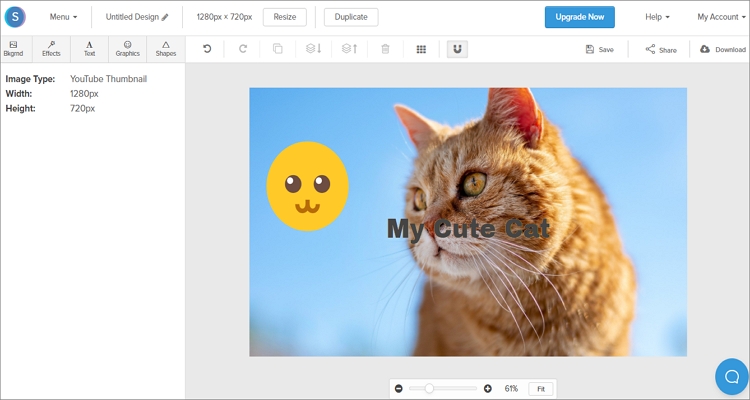 Step 1. Launch Snappa, sign in, and then choose the YouTube thumbnail template.
Step 2. Next, drag-n-drop your photo to upload it on Snappa.
Step 3. Now you can start customizing your photo by applying text, effects, graphics, and even shapes.
Step 4. Lastly, click Download, choose an image format, and start saving your photo.
Part 2. Things You Need to Know Before Making Thumbnail for YouTube
Let's now cap it off with some tips and tricks of making the perfect YouTube thumbnail.
YouTube thumbnail rules – This is probably the most critical factor to keep in mind. One, a YouTube thumbnail should have a resolution measurement of 1280x720p. Two, the aspect ratio should be at least 16:9. Three, the maximum thumbnail size limit is 2MB. And four, the supported image formats are GIF, PNG, and JPG.
Take still images – If you want to take a snapshot of your video, make sure it is of the highest quality. Avoid those awkward sections that you see when you pause the video. In short, pause the video and take a high-quality photo.
Utilize the whitespace – You should always use the whitespace of the template to your advantage. This way, you can keep the thumbnail organized and clean.
Use contrasting colors – The right color combination will always make anything average look extremely good. In that case, you should always use different colors on the texts and graphics of your photo. Always use bright colors to attract more attention. Try not to overdo it, though.
Avoid too much text – You should keep it short and concise with your writing. It should be enough to get the point across. After all, an eye-catching text can turn out to be the missing link that you desperately need.
Summary
With these simple tips and tricks, making the perfect thumbnail for YouTube is as easy as it gets. And to make your work easier, you can simply choose one of the methods above to make a nice thumbnail in seconds. So, what are you waiting for?