Have you ever come across an exciting YouTube video that you would like to watch repeatedly? Don't worry because there are multiple ways to loop a YouTube video. In this article, we are going to discuss how to loop multiple YouTube videos in various ways. Take note, however, that if you're trying to repeat YouTube video on mobile manually, it won't work using the YouTube app.
Method 1. Loop Multiple YouTube Videos with Media.io
Whether you're using a mobile device or a computer, looping your favorite YouTube video clip has never been more straightforward with Media.io. You don't even need to know the nitty-gritty of YouTube to use this app. It's simple to understand, fast, and free for all to use. You simply need to copy-paste the YouTube video URL on the search box and enjoy yourself. The best of all, this app works smoothly on any device with a web browser.
Key Features of Media.io:
Loop multiple YouTube videos with just a single click
Repeat YouTube video on mobile or desktop for up to 8x
Offers excellent image, audio, and video editing functions
Compatible with all HTML5 web browsers
How to Loop a YouTube Video Online or Offline? [Video Guide]
You can directly click the "Choose Files" button below to start looping any video online with Media.io. A few seconds to loop videos without difficulty!
Drop it like it's hot
Add your files by dropping them in this window
Method 2. Create a YouTube Playlist Manually
In this YouTube video autoplay and loop method, you'll curate a playlist and then choose to loop or shuffle the playlist. However, to use this method, you must sign up a YouTube account. But the good news is that this method works both online and on YouTube mobile app.
Windows Media Player is certainly not new to PC users. Although the interface is a bit complicated to beginner, WMP offers a great platform to play your music and video files in an organized way. But did you know that WMP also features a beautiful file editor? Well, all you need is to install a third-party plugin called SolveigMM WMP Trimmer. It's a lightweight tool that will cost you nothing to install. Also, it will seamlessly integrate with your WMP, leaving you with a robust file editor.
Step 1: Firstly, open the video clip that you'd like to watch on YouTube and then tap on the SAVE button.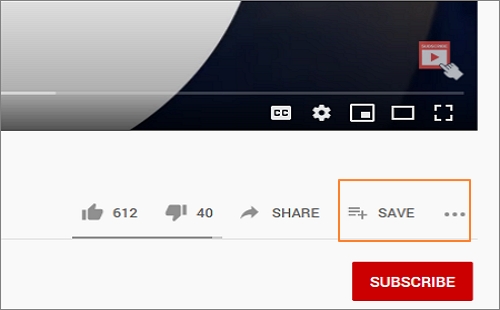 Step 2: Next, click the Create new playlist button and then give your playlist a befitting name. If you want to add a video on an existing playlist, just select the name of your current playlist.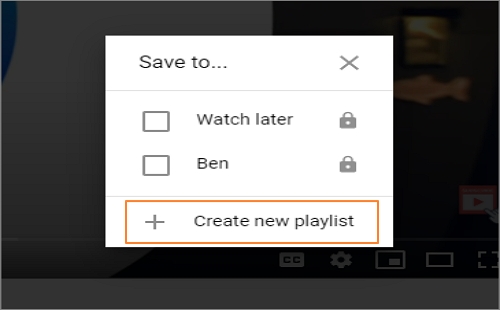 Step 3: Now click the YouTube menu icon on the top-left corner and choose the name of your playlist. Once it opens, click the PLAY ALL button and enjoy your video as many times as you want.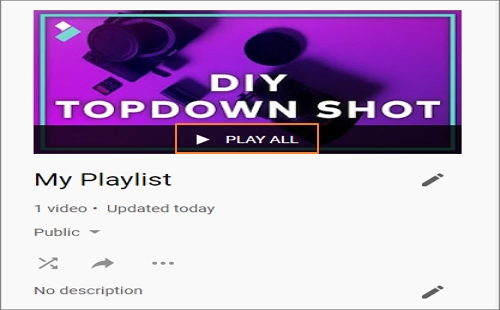 Step 4: To loop the playlist, click the Multiplayer button on the video player's toolbar and then tap the drop-up icon on the new screen. Now click the Loop Playlist button and enjoy.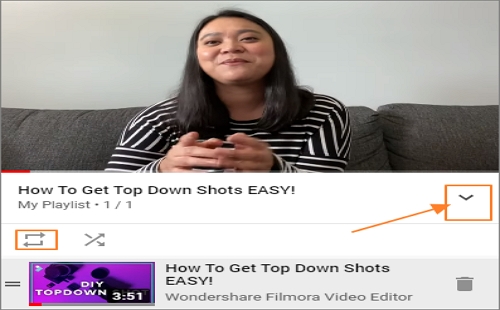 Method 3. Use the YouTube Loop Function
The second and arguably, the most straightforward way to loop multiple YouTube videos is by using the loop function. However, this method only works if you're watching a YouTube video using a web browser. In short, you can't use it with your mobile app. So, let's waste no time and dive in to learn how to repeat a YouTube video on your web browser.
Step 1: Open the video that you want to loop on your favorite web browser.
Step 2: Use your mouse to right-click the video play area. If you're using a touch-sensitive screen, just long-press the video.
Step 3: From the resulting menu, select the Loop option. Now every video that you choose to play will repeat continuously until the loop function is disabled. To disable it, just right-click the video and uncheck the Loop option.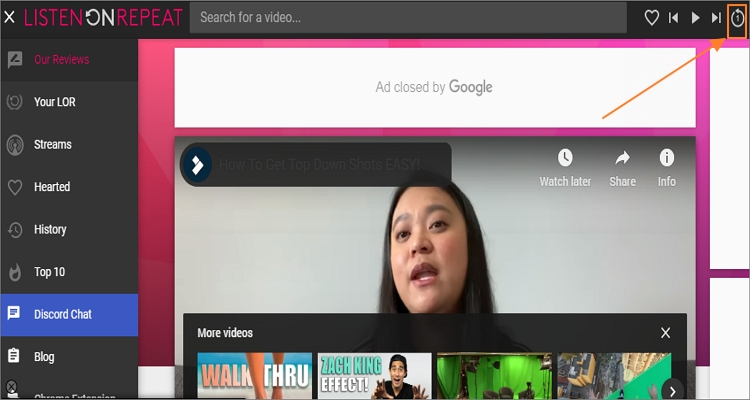 Method 4. Edit URL
Looping YouTube videos by editing URL is undoubtedly the least known way on this list. Surprisingly, it ranks among the simplest ways to repeat a YouTube video continuously. Here is how to go about it:
Step 1: Search for a YouTube video of your choice and open the URL link. Let's take https://www.youtube.com/watch?v=kIBJbj3DeJ0&feature=youtu.be&src=follow_effect&active_id=notification_1819, for example.
Step 2: Delete the first part of the URL link marked in red (above) and then write "repeat" after "youtube". It should look something like this - youtuberepeat.com/watch?v=kIBJbj3DeJ0&feature=youtu.be&src=follow_effect&active_id=notification_1819.
Step 3: Click the Enter key on your keyboard and play the looped video on ListenOnRepeat app.
Conclusion
Hopefully, these four easy methods to repeat YouTube video on mobile or desktop have you sorted out. For tech savvies, looping videos directly on YouTube without any third-party help can be a cakewalk. But if you want an easier, I suggest you opt for the Online UniConverter method. It offers super-fast results and is simple to understand for beginners.