TikTok has long served as a platform for content producers to express their experiences, and its intuitive interface makes it easy for anybody to become creative. The reverse effect is the most recent element that video artists have used to create scroll-stopping movies.
The reverse effect is simple to apply, eliminating the need to edit for hours on end, but it is not a foolproof method. In this article, you'll discover the easiest way to reverse a TikTok video using the built-in reverse effect of the app or play other's TikTok video in reverse.
Part 1. How to Add Reverse Effect to Video on TikTok?
The use of creative effects and filters makes TikTok possible to produce a diverse variety of films that capture the spectator's attention and put a grin on their face. Furthermore, altering the orientation of a video, i.e., playing it backward, is not difficult to do on TikTok. A specialized tool allows you to reverse your video without leaving the app instantaneously.
To understand how to reverse video on TikTok using reverse effect, follow these instructions:
Step 1: Launch the TikTok app on your phone and tap the +symbol. Press the Red circle to start filming a TikTok video, or click the Upload button to import a video from your device to include it.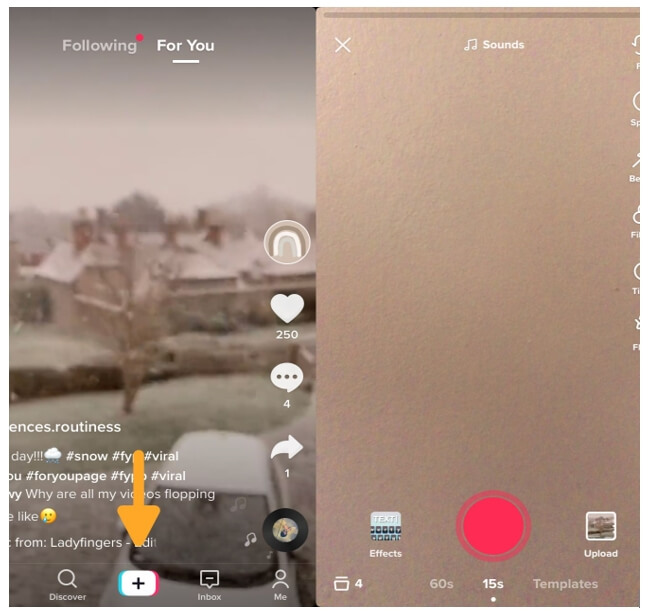 Step 2: Press the red checkmark to stop the recording. On the next screen, you will see several options at the bottom, and from those options, tapEffectsto proceed.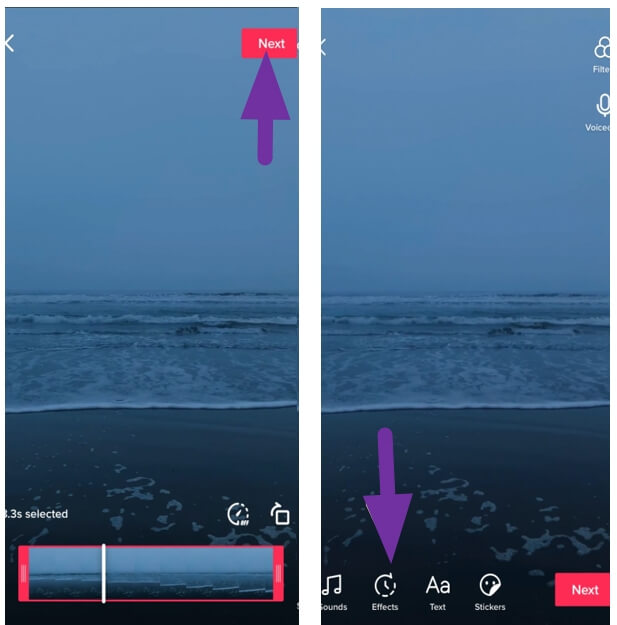 Step 3: TapTimefrom the menu in the bottom right corner of the screen, and then hit the Reverse menu to apply the reverse effect of the TikTok clip.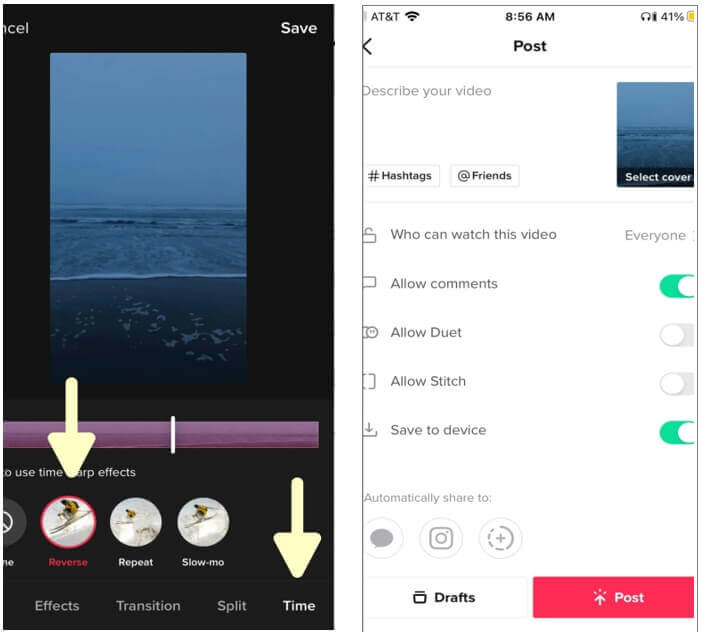 Step 4: Whenever you're satisfied with the results, press Save to save the effect, then press Next to complete the last step.
In this way, we can add the reverse effect to a TikTok video for free.
Now, you're all set to watch the video in reverse. The reverse effect has made life easier for TikTokers who wish to upload a video in reverse order.
How to Play Someone Else's TikTok Video in Reverse with Media.io?
If you want to play a TikTok video posted by someone else or a video you posted before in reverse, you will find there is no Play in Reverse option on TikTok.
To play the video already posted on TikTok, you may need to download it first and use some video reversing tools.
If you prefer an online tool for reversing someone else's video,Media.io video reverser is your best bet. Media.io video reverser is an online tool that allows you to reverse the video in a few simple steps.
With Media.io, you can quickly and effortlessly reverse YouTube videos, TikTok videos, and Instagram videos with a few simple clicks.
To know how to reverse a TikTok using Media.io, follow these steps:
Step 1: Launch the TikTok app on your phone, navigate the video you wish to play in reverse and click on the Share icon.
Step 2: Click on the Save Video option to save the TikTok video to your phone.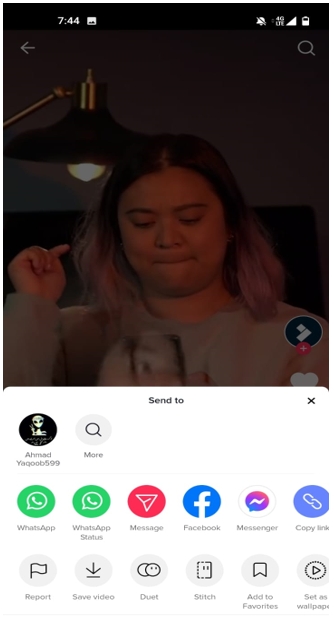 Note: If you want to remove the TikTok watermark on the downloaded video, you can check and try these TikTok video watermark removers. If you didn't see the Save video button, it means the video owner didn't enable the Allow your videos to be downloaded option.
Step 3: Open https://www.media.io/reverse-video.html in your preferred browser and upload the downloaded TikTok video by clicking the Choose Files button. You can also drag and drop the downloaded TikTok video directly to this online video reverser.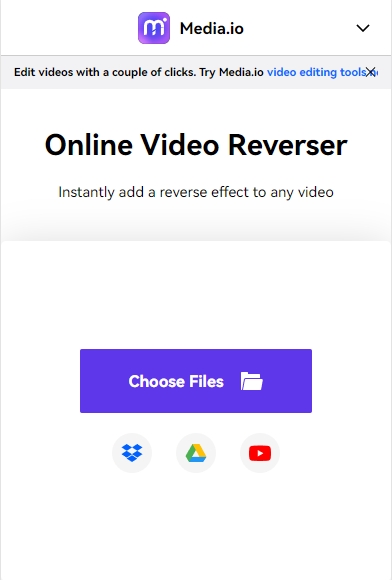 Step 4:The reversed video will be played at the same speed as the original video by default. But you change fast forward or slow down the video as well. You can also mute the audio in the video without any distorted voice after reversing. Choose the target video formats such as mp4, MKV, and AVI, and then clickReverseto start changing.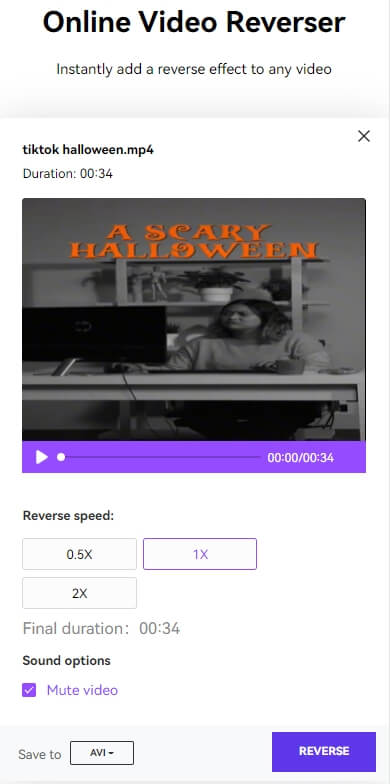 Step 5: Click on Download to save the file to your computer after seeing your reversed videos in the preview window.
Besides playing the TikTok video in reverse, you can also use the speed change tool or the video editor from Media.io to polish the video to the next level.
Part 3: Video Ideas for TikTok Reverse Video
You know how to apply reverse effects to TikTok, and below are some ideas for your next reversing video. 
1. A Makeup Video
Makeup tutorial is one of the most popular styles on TikTok. Almost every fashion content creator or influencer has made makeup videos at some point in their career. However, creating a reversing makeup video can be a new thing on TikTok and might attract users because it can have some of the most eye-catching scenes.
2. Cappuccino Drinking or Sunrise
Sometimes, it is impossible to record every scene due to specialized filming methods or the environment you are working. You may record a video that someone is pouring the drink or preparing the coffee at different stages to display various parts of a cappuccino or drink at different times.
3. Reverse Before-After Video
A before-and-after video is nothing new, but a picture showing the completed result first, followed by a demonstration of its creation process. If you want to captivate your audience's interest from the beginning, showing them the finished product and then taking them behind the scenes to see how it's made is an excellent method. A home baker, for example, may capture the final frosting of their best-selling cake and then reverse the shot to take viewers on a trip back to its inception.
4. Time Lapses Reversal
Candles, an hourglass, and other components that change their appearance over Time may be reversed to give a different impression than what was intended. You can record them in time-lapse first and then reverse it on TikTok. This is particularly useful for situations requiring certain pieces and things that draw attention to specific notions.
5. Product Destruction
Brands and corporations can apply reverse effects to demonstrate the product differently. For example, you can add a reverse effect to depict the sauces being slowly poured into their bottles, the cucumbers and tomatoes floating back into the chef's hands, and spices being dusted into the air.
Conclusion
TikTok is among the most popular social media platforms, and it provides its users with various features. We have shared how to add a Reverse effect to a TikTok video before uploading and how to play a TikTok video in reverse after uploading. Whenever you want to reverse a TikTok video, you will find a solution in this article.