If you don't know how to add pictures to TikTok, then you're not alone. TikTok is a popular video-sharing platform among videographers. Here, content creators can upload short clips of themselves dancing, lip-syncing, and performing other tricks and actions. But videos aren't the only content you can share on TikTok. You can also upload pictures to give your followers a brand-new visual experience. This can be a photo collage of unique memories like graduation, wedding, fundraising, etc. So, read on to learn how to make a TikTok with pictures via some simple steps.
Part 1: How to make a TikTok with pictures on the TikTok app
Let's start by learning how to make TikTok video with pictures natively on the app. Interestingly, there are several methods to achieve this, as I'll show you in the steps below:
Method 1. Green screen effect
One of the best ways to add pictures on TikTok is by placing a photo on the video background. To achieve this, TikTok comes with a green screen effect that helps replace that background of your video. So, here is how to make a TikTok video with pictures using the green screen effect:
Step 1. Install and run TikTok and then create an account. After doing that successfully, tap + at the bottom of the window.
Step 2. Next, tap the Effects button, and you'll see multiple effect categories. Here, choose Green Screen. You can also find this effect under the Trending tab.
Pro tip: You'll see several green screen effects. In that case, choose the one with an arrow pointing downwards.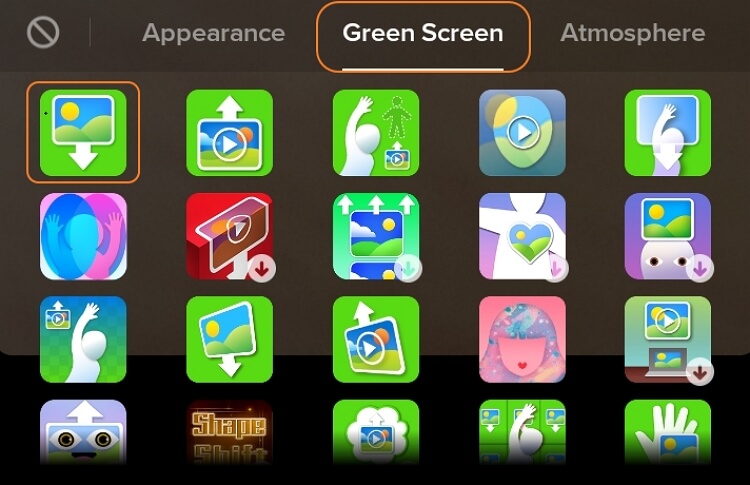 Step 3. Now scroll through the pictures and tap the one you want to use on the video background. Alternatively, hit + to see more options.
Step 4. Lastly, make other adjustments to your photo before clicking Record to capture the video with a photo background.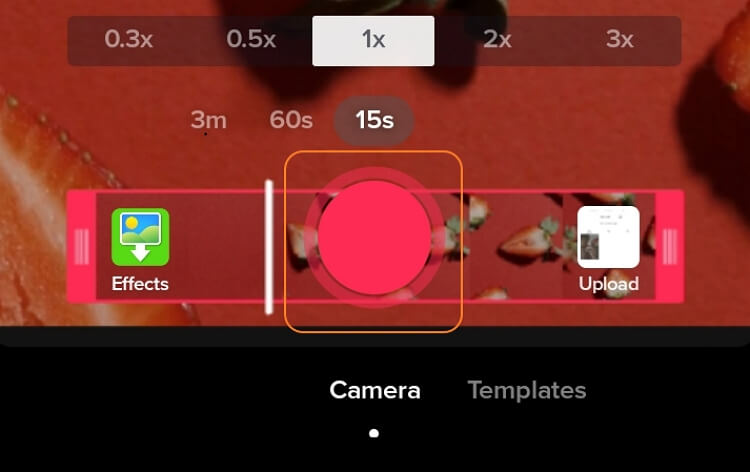 Method 2: Upload picture
Another way to share pictures on TikTok is by creating a slideshow. With this method, you can upload multiple memorable photos and share them with your curious audience. Note that you can upload up to 35 pictures on a single slideshow. Follow these steps to add pictures to TikTok:
Step 1. Run TikTok and then tap + at the bottom of the window.
Step 2. Click Upload and then choose the pictures you want to share under the Photos category. Tap Next to confirm and continue.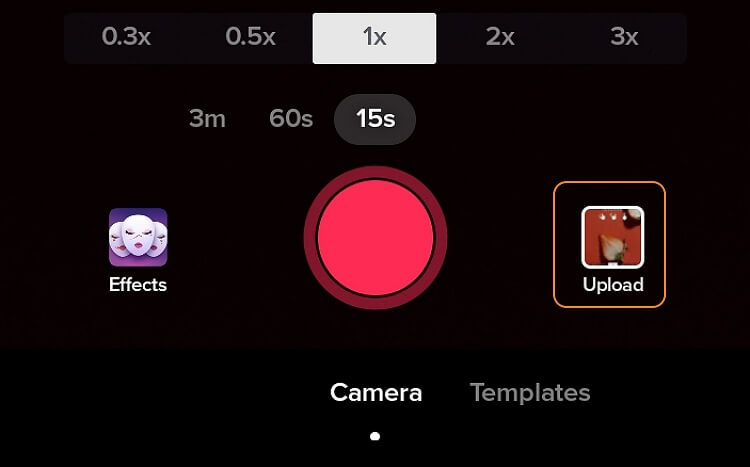 Step 3. Your slideshow will start playing automatically on TikTok. However, you may not like the default background music. If so, tap Sounds and then change it. You'll also see buttons for adding filters, voice effects, voiceovers, effects, texts, and stickers.
Step 4. Click Next and post or save your slideshow on the Drafts folder.
Method 3: Use TikTok templates
Finally, you can create a unique photo template on TikTok. This method makes it easier for creators to make complex and lively videos. Remember, though, that you can only upload a single photo in some predesigned templates.
Step 1. Fire up the TikTok app and then tap + before clicking Templates at the bottom of the screen.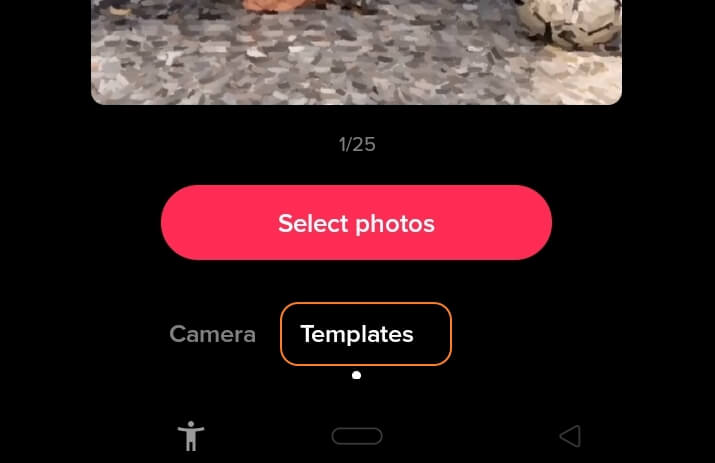 Step 2. Now swipe through the predesigned templates and choose one that impresses you. You'll get tons of options.
Step 3. Tap Select photos and then choose the images to upload. After that, click Ok and TikTok will begin processing your video.
Step 4. Edit your video with effects, texts, stickers, sounds, and more before posting. Enjoy!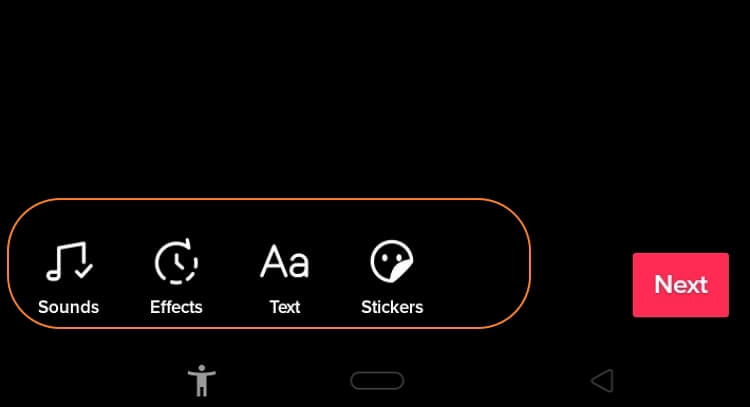 Part 2: How to put videos and pictures together on TikTok Online [easiest]
It's always a good idea to have more options in life. With that in mind, I'd like to show you several online solutions. Online UniConverter Slideshow Maker one of the best, and it can surely bring pictures to life on TikTok. With a user-friendly UI, this tool boasts an excitingly straightforward platform with best results. It allows TikTokers to create slideshows using videos and images. Users can upload MP4, MOV, VOB, JPG, PNG, TIFF, among others. It's also critical to note that Online UniConverter allows you to customize the playback duration, aspect ratio, and apply background music. What's more, you can export the slideshow to multiple video formats.
Here is how to put videos and pictures together on TikTok with Online UniConverter:
Step 1. Launch the online slideshow maker tool.
Visit the Online UniConverter page and then tap Online Tools. Now choose Slideshow Maker under the Editor Tools section. After launching the slideshow maker, tap Choose Files to open your local videos and photos. An alternative way is to simply drag-n-drop images on the slideshow maker.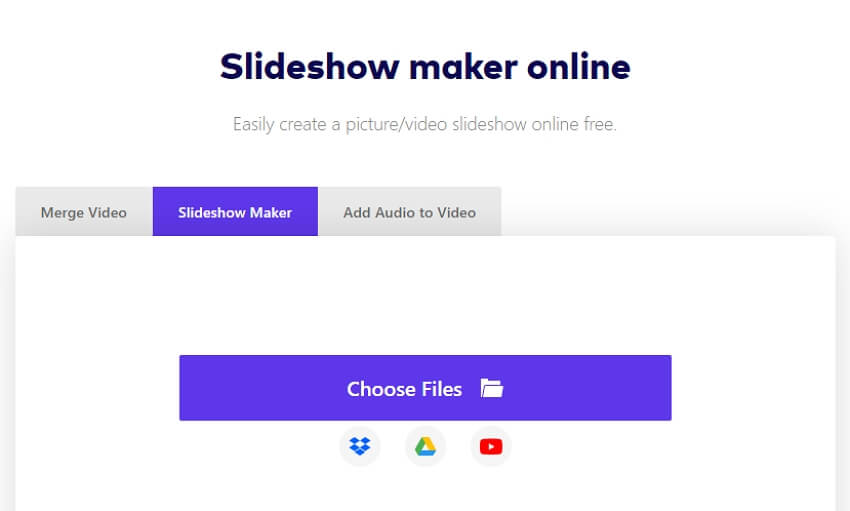 Step 2. Customize the settings to put TikTok videos and pictures together.
After adding your videos and photos successfully, you'll see multiple functions on the right pane. For example, click Add Files to add more videos or pictures. Also, you can set the crop options and the aspect ratio as 9:16. Meanwhile, you can choose the image slide playback duration and upload background audio.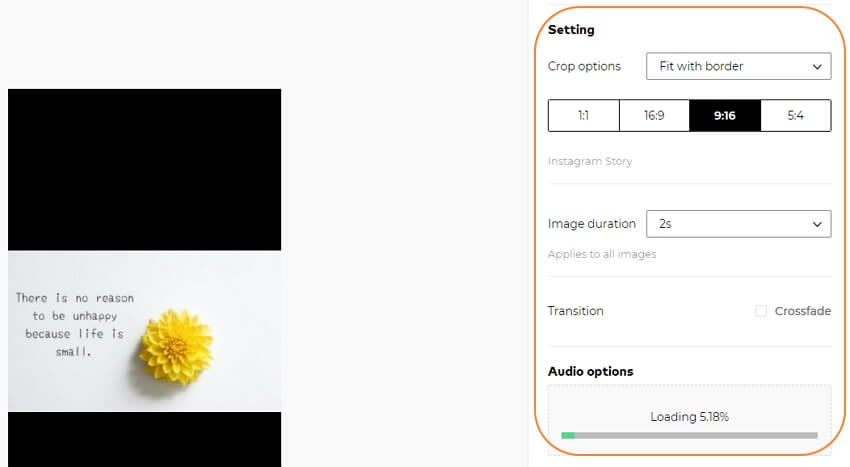 Step 3. Export the slideshow.
Now rearrange the uploaded files at the bottom of the window before choosing an output format. For the best compatibility with TikTok, choose MP4. Lastly, click Merge to start making your slideshow. It's that easy!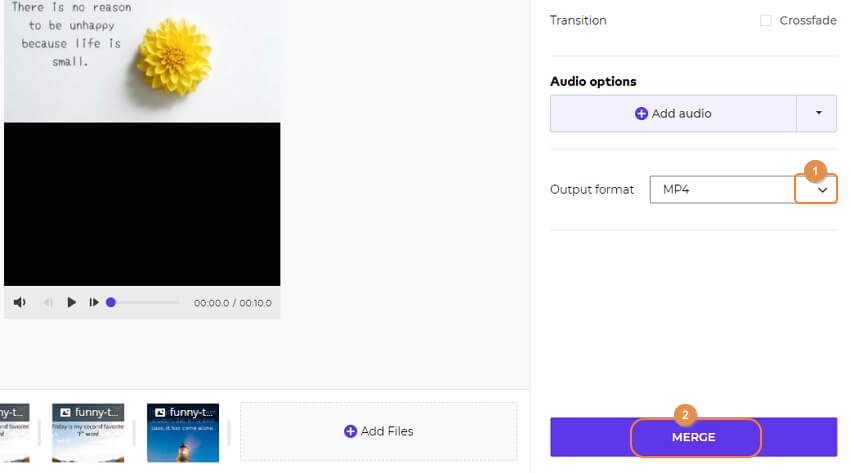 Part 3: How to add pictures to a TikTok video with Kapwing
Another choice is Kapwing. It can be also emplyed as an online video editor to generate a photo slideshow quickly and easily. Don't worry, though; you don't have to subscribe anywhere or pay anything to use this software. Just get a phone and internet connection to get started.
Below is how to add pictures to a TikTok video using Kapwing:
Step 1. Use your computer or mobile browser to launch Kapwing Slideshow Maker and then tap Get Started. The Kapwing Studio will launch immediately.
Step 2. Next, click Start with a blank canvas and then set the aspect ratio as 9:16, perfect for TikTok.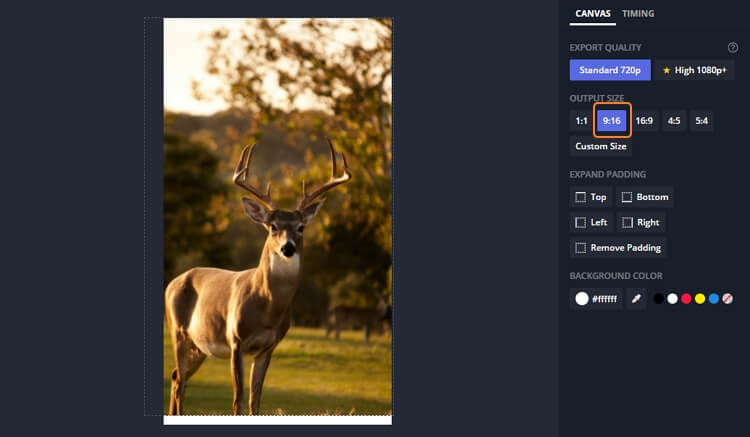 Step 3. Navigate to the left pane and click Scenes to add the number of transitions for your slideshow.
Step 4. Now click Media on the left pane and tap Add Media to begin adding your photos on Kapwing Studio. Then, drag the images on the timeline and place them next to each other. To reduce the playback time, select an image track and drag the sliders on both ends. Or, tap the Timing tab and then use the up and down arrows to adjust that.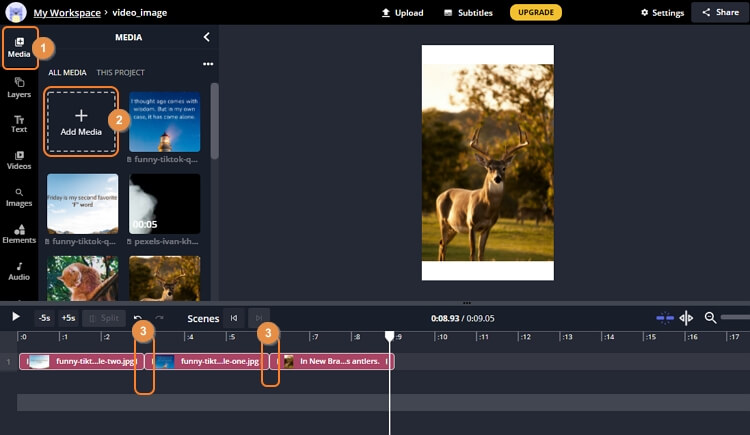 Step 5. As expected, Kapwing allows you to customize slideshows with elements like background audio, emojis, filters, and more. So, exploit these features to the fullest.
Step 6. If satisfied with your generated video, click Export Video and tap Export. Now go ahead and upload it on TikTok.
Conclusion
There you have it; these are the best methods on how to add pictures to TikTok. As you can see, TikTok lets you achieve this in multiple ways. Even better, it's built-in editor has a ton of features. But for some users, adding pictures on TikTok natively can be a long and challenging process. So, might as well use Online UniConverter to create a photo or video slideshow before editing and posting it on TikTok. Have fun!