TikTok, without a doubt, is the most popular social networking app today. TikTok encourages more individuals to utilize the site by making it seem more inclusive. That's why it is the most popular social networking app. Its caption features are one way it is more accessible.
TikTok is made more accessible to its users, particularly those with hearing impairments, by incorporating captions. Users may also find themselves in circumstances when they cannot listen to a video's audio and would like to read instead. However, if you don't know to add and edit TikTok Caption, you'll discover it in this article. Let's get going!
Part 1: How to Add Captions to TikTok Video Automatically?
TikTok comes with a built-in feature to add captions to your videos automatically. Using the TikTok Auto-Captions feature, you can add a caption by analyzing your video's audio. It's an easy but relatively new idea, making it easy for users who wish their videos to go with captions. Follow these steps below to add a caption on TikTok using the Auto Caption feature.
Step 1: Launch the TikTok app and click on the + icon. Start creating the video or choose one from your phone's gallery. Once you're done, click on the tick button in the bottom right to proceed.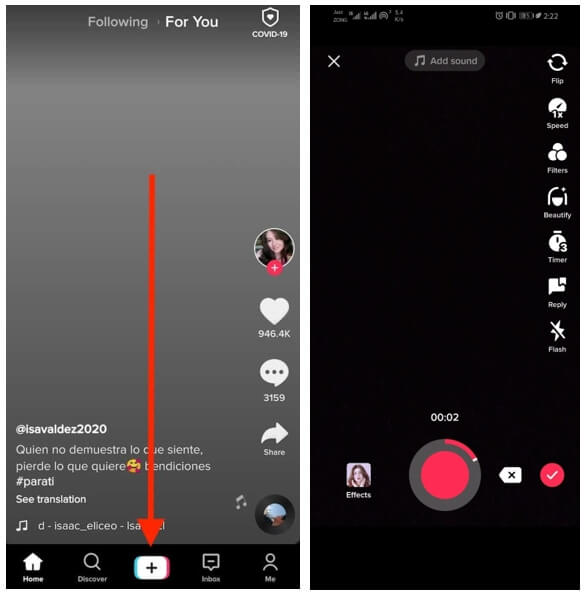 Step 2: After that, click on Captions from the right panel. TikTok will automatically analyze the video and generate the captions. Check if they are right or not. After verifying, click on Save.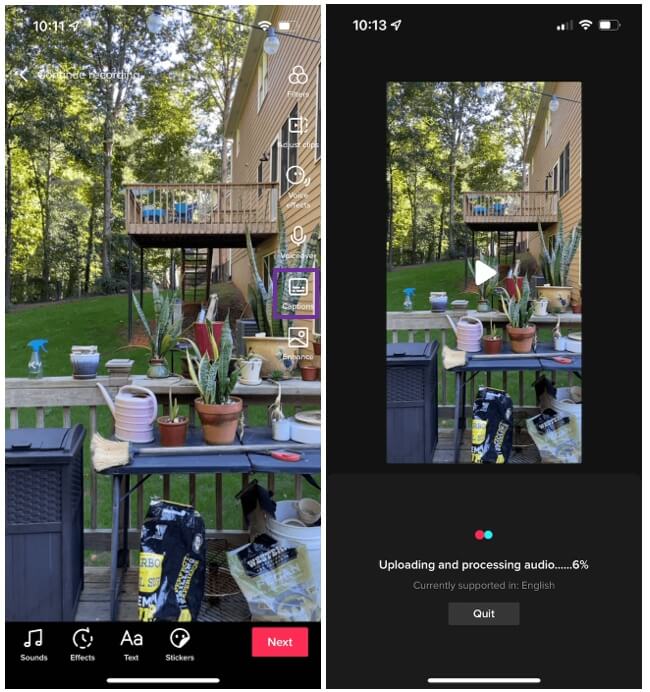 Step 3: In the next window, choose Post to post the video on TikTok.
Part 2: How to Edit Auto Captions on TikTok?
If you've ever used Siri or another speech-to-text tool, then you are aware that it does not always get it right when attempting to decipher what you are trying to convey. That may be simply that you stammered a bit, or it could be because of background noise. And the same thing might happen with the auto-captions generated for videos on TikTok.
To understand how to edit TikTok caption, follow these detailed steps:
Step 1: Launch the TikTok app and click on the + icon to create or upload a video from the gallery. After picking or creating the video, click on Captions from the right panel and let the TikTok analyze the audio.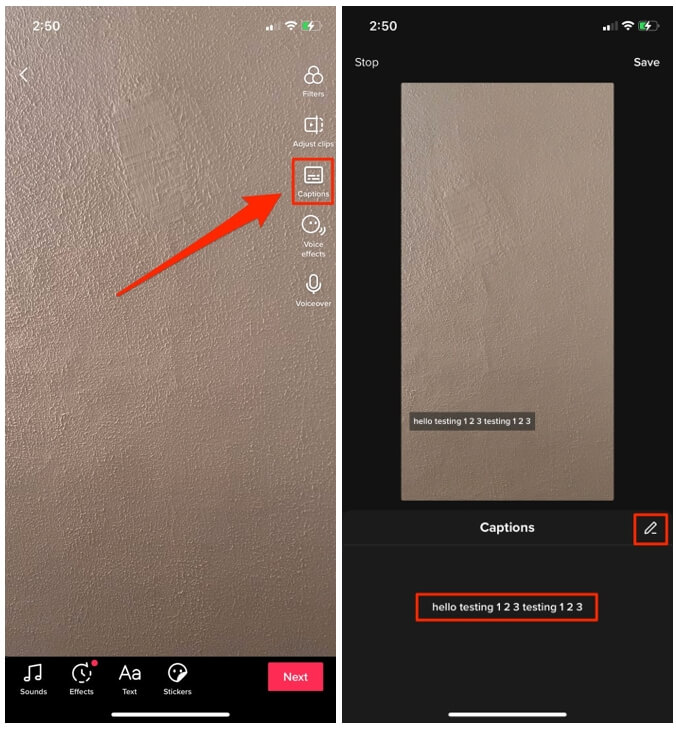 Step 2: Once the analysis is completed, TikTok will generate an Auto caption. Now to edit them, click on the Pencil icon. Make your edits and once you're done, click on Save to save the caption edits you just made. And then click Post to upload the video with captions on TikTok.
Part 3: How to Turn Off Auto Captions on a TikTok Video You're Viewing
When viewing videos on TikTok, many individuals believe that having subtitles is either helpful or required. However, not everyone enjoys or requires this function since it might sometimes obscure your view. The good thing is that you can turn off auto-captions on TikTok, so if you are among those people who would rather see the content without them, you may do so.
To turn off auto-captions on a TikTok video you're viewing, follow these steps:
Step 1: When the auto-captions on the video you're watching are on, they'll appear on the screen.
Step 2: Click on the caption, and the Hide captions appear below or above the auto caption.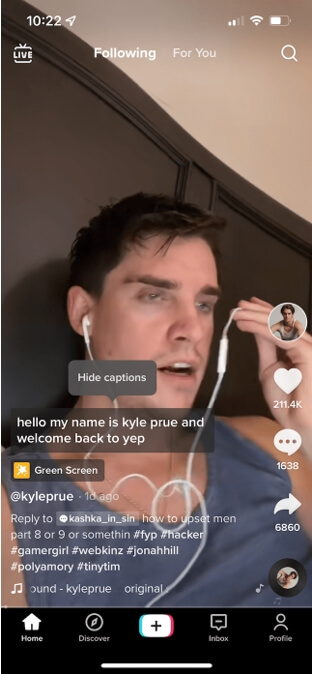 Step 3: Click on the Hide captions to turn off the caption on a TikTok video you're viewing.
Part 4: How to Embed Captions on TikTok Video?
If you upload a video that is somehow difficult to understand without captions or in a different language, you should add a caption to the video. However, the built-in feature of TikTok Auto caption is available to limited countries and sometimes it may make mistakes in deciphering your audio, you need a professional tool to generate auto subtitles to your video and embed them on it. And if you're looking for such a tool, Media.io Auto Caption Generator is your best bet.
Captions and subtitles may be added to your movies to create them more interesting. This is particularly true when making a film in another language. Subtitles may also help you reach a larger deaf audience. So, in any case, don't overlook Media.io, a powerful subtitle generator.
Key Features
It recognizes audio and places it in the video using powerful machine learning
After the automated video captioning, you may alter and change the words and the style to make them more appealing
It is not only free, but it also allows for non-watermarked output
To embed captions to your TikTok videos using Media.io Auto Caption Generator, follow these steps:
Step 1: Launch the Media.io video editor and click Choose Files to upload the video you wish to get the subtitles embedded.
Note: Since you are making a TikTok video, you need to switch the project aspect ratio to 9:16.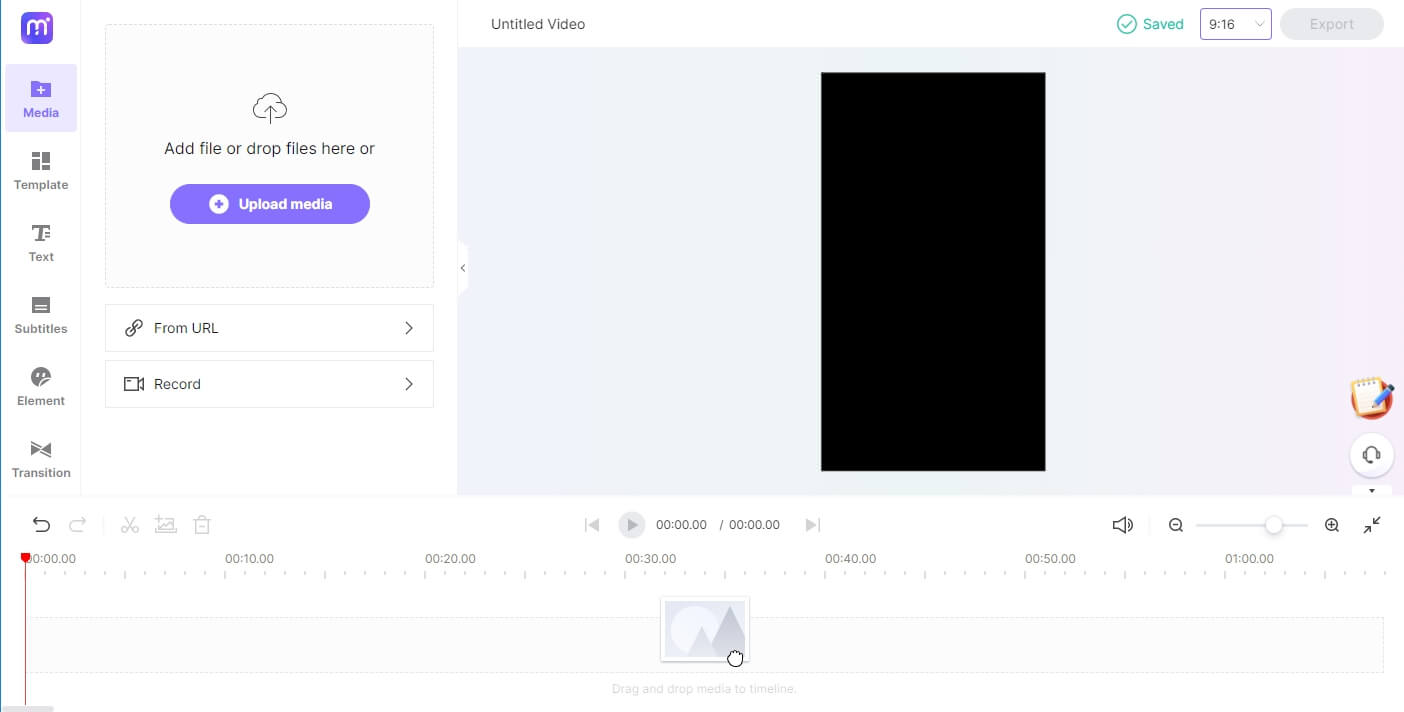 Step 2: Drag and drop the video to the timeline. Click on the Subtitle menu from the left pane, select the target language and press the Start Auto-subtitle button to generate captions/subtitles automatically.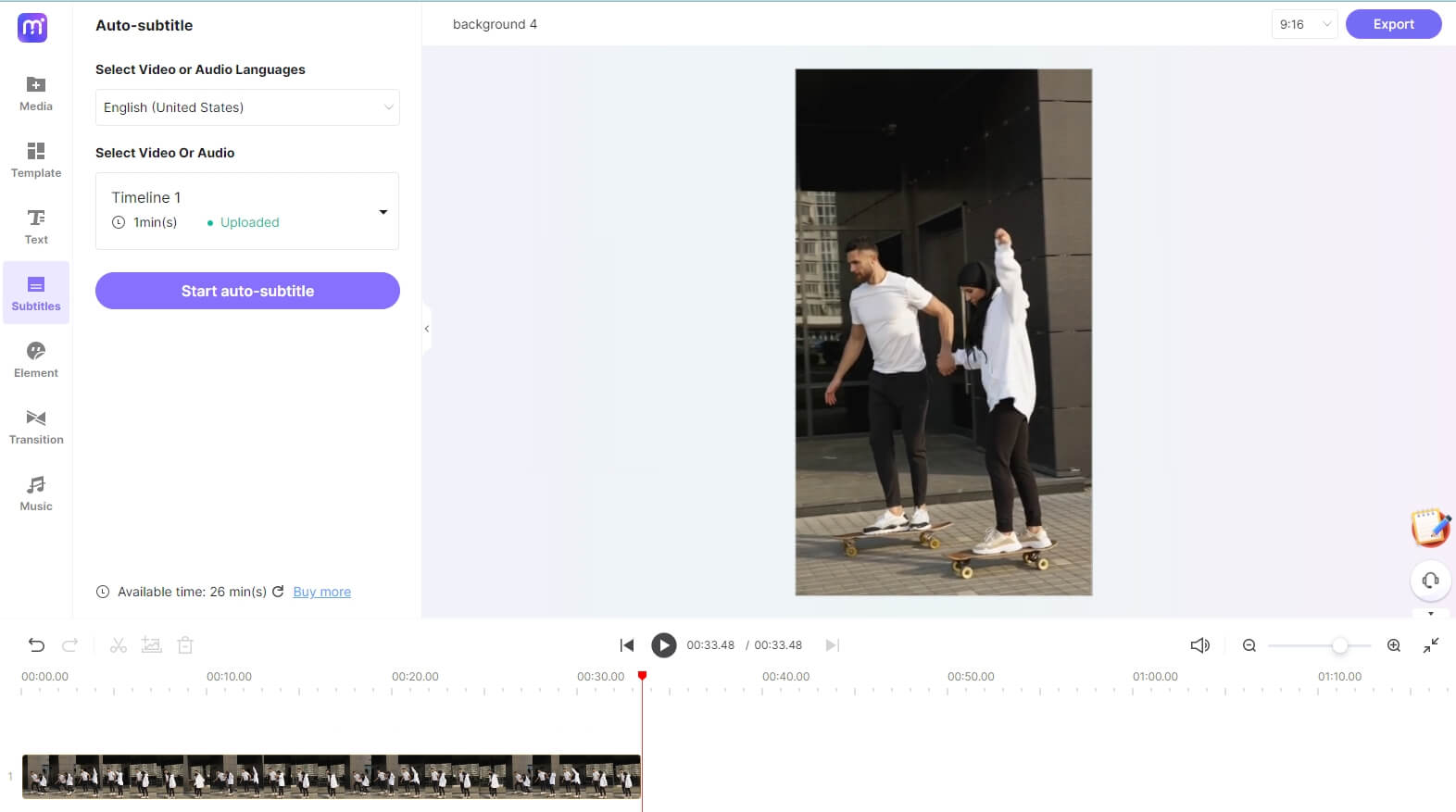 Step 3: Media.io will now begin analyzing the audio and creating subtitles. After loading the subtitle tracks, adjust the words to fix small mistakes or customize the subtitle font style, size, and so forth.
Once captions are generated, you can double-click the captions to correct the mistakes. Click on the Trash and Plus icons to delete or add a new subtitle line.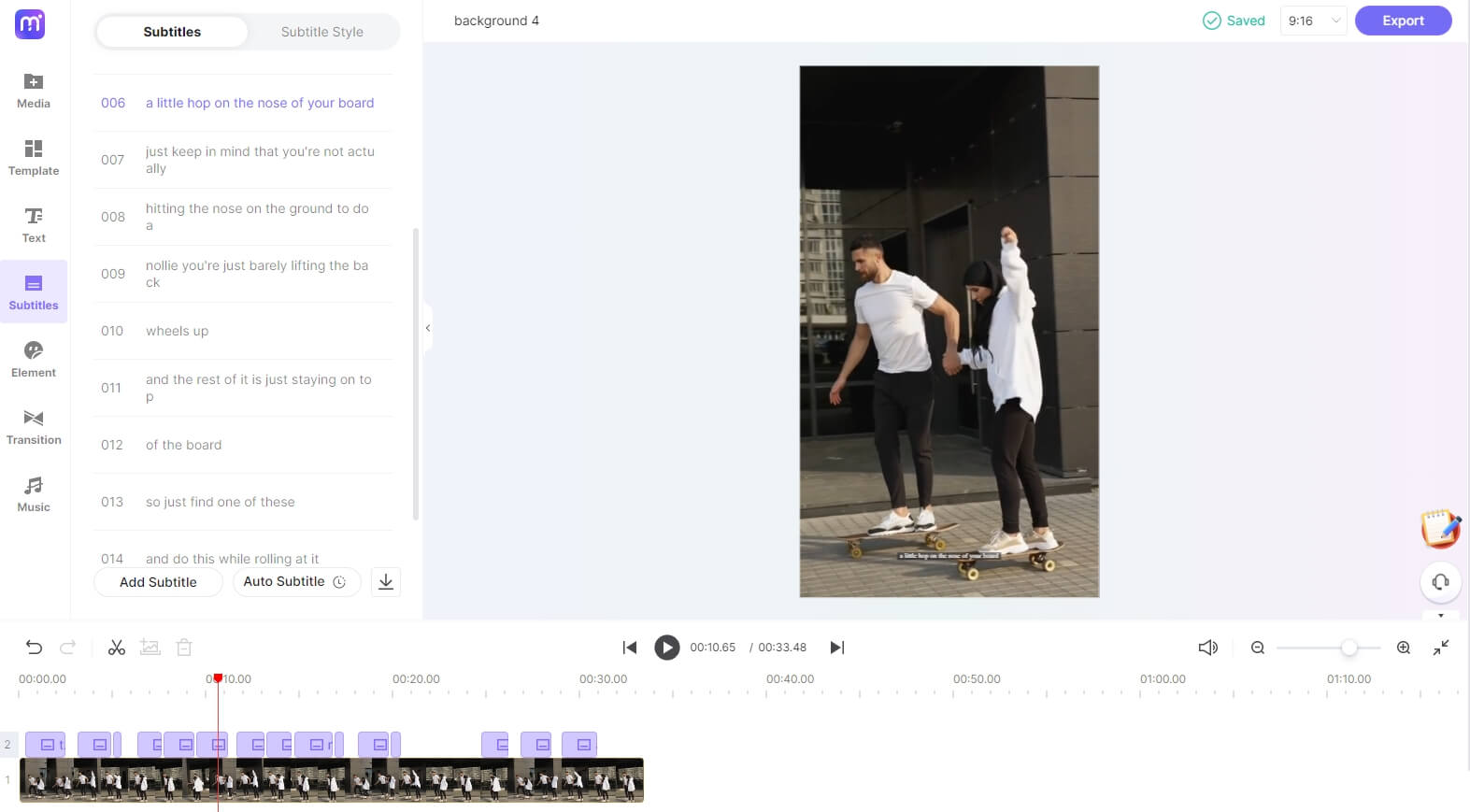 Step 4: When you're finished, click the Export button to save the TikTok video with captions and subtitles embedded.
Note: You can also press the download button from the Subtitle menu to download the generated captions and subtitles in TXT or SRT format.
FAQs about TikTok Captions
1. Can I edit the captions on TikTok after posting?
Unfortunately, after submitting your TikTok, the only option to change your caption is to remove and re-post it quickly. But don't be concerned. You don't have to sacrifice all of your work if you've added a lot of effects, music, and changes to your video. Save the movie and post it with auto-captions.
2. Do you need captions for TikTok at all?
There is no requirement that your videos on TikTok must have captions attached to them. Because some viewers find that videos with captions turn the experience up a notch, including them in your videos may help you get more viewers and expand your audience.
3. Which languages are supported in TikTok Auto Captions Feature?
Currently, the feature only supports English and Japanese, but according to the TikTok manufacturers, they're working on adding more languages to the TikTok auto caption feature.
4. Can I save TikTok video with the auto-generated captions?
No, TikTok doesn't download the auto-generated subtitle with the video when you save it to your phone. However, if the video you're trying to save has the captions embedded, then saving it would mean you'll get the captions.
Conclusion
TikTok is among the most used social media platform. People worldwide can watch your videos on TikTok, which means you need to add captions to your videos so that everyone will understand them. And we hope that you know how to add TikTok Caption to your videos after reading this article. Moreover, we recommend using Media.io Auto Subtitle Generator for embedding captions on your TikTok videos.