TikTok is a popular social media app in the world today. That is because of the exciting videos you find on the app's for-you page. If you are a TikTok user, you will be interested to know that you can add voice effects on TikTok using the voice effects feature. This article will show you how to do voice effects on TikTok when creating videos. Also, you will be shown how to get these voice effects on your draft videos or videos from your camera roll.
These TikTok sound effects allow you to distort your voice to sound however you want it to sound in line with the content you are creating. The purpose is to make TikTok videos more fun and more exciting to viewers.
Now, because some TikTok users struggle with applying sound effects on the TikTok app, we have come up with three unique practical ways through which you can add voice effects on TikTok.
Read on to see our final findings.
Part 1: How to do Voice Effects on TikTok [Traditional Way]
Adding TikTok sound effects is the simple, traditional way of using the built-in effects on TikTok. There are several voice effects on TikTok that you will find helpful in creating TikTok videos.
Below is a list of exciting voice effects on TikTok that you can explore:
Chipmunk
Baritone
Mic
Electronic
Megaphone
Echo
Giant
Low Battery
Helium
Robot
Sound Waves
Vibrato
Synth
All the afore-mentioned voice effects are available for your use on TikTok; so, follow these steps to apply them to your videos:
Step 1: Open the TikTok app and record your video like you normally would.
Step 2: Next, select the Voice Effects feature from the menu at the top right of the app.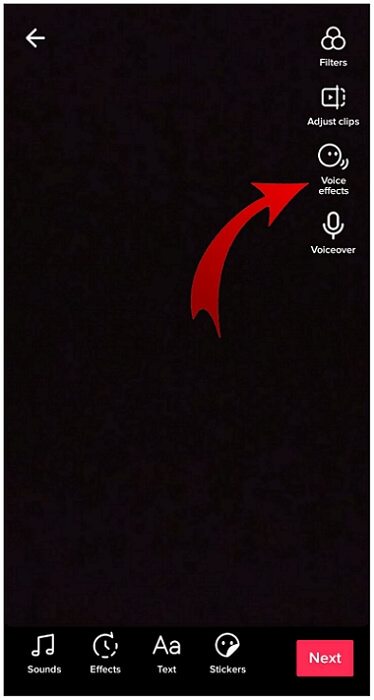 Step 3: An array of voice effects (as listed above) will pop up at the bottom of your screen; choose any voice effect you wish to use for your video editing.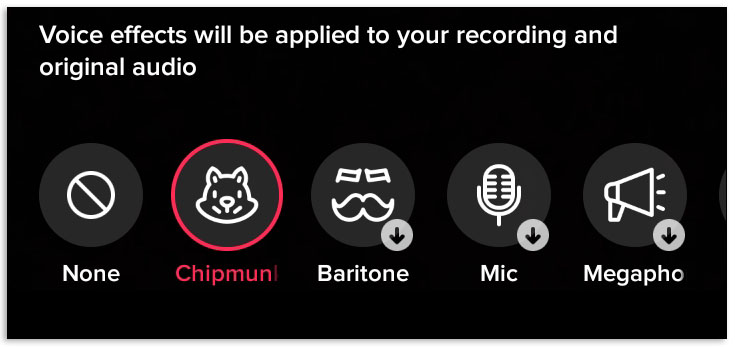 Now you are good to go. Add any other effect you want and post your video.
The method only applies to videos you just recorded and are editing. You cannot add voice effects using this method for other videos from your camera roll or videos from your drafts. But not to worry, the next part will show you how to get voice effects on TikTok for videos already created.
Part 2: How to add voice effects on TikTok [2 Other Working Ways]
As promised, this part will give you two options to add voice effects on TikTok. So, if you have a video in your camera roll that you want to add on TikTok, the options below will prove helpful.
Option 1: for the existed videos (i.e., draft videos)
Follow these guidelines if you want to use voice effects on a TikTok video in your draft box:
Step 1: At the bottom of the app, select Me; then click on Drafts.
Step 2: Choose any video draft you wish to edit.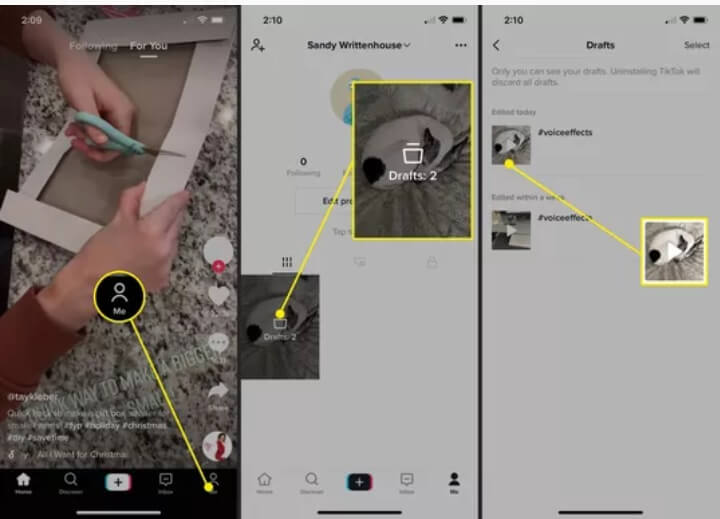 Step 3: At the top left corner, select Back.
Step 4: The video will start playing. You can now choose Voice Effects and edit the voice effect of your choice on the video before posting or save it for later use.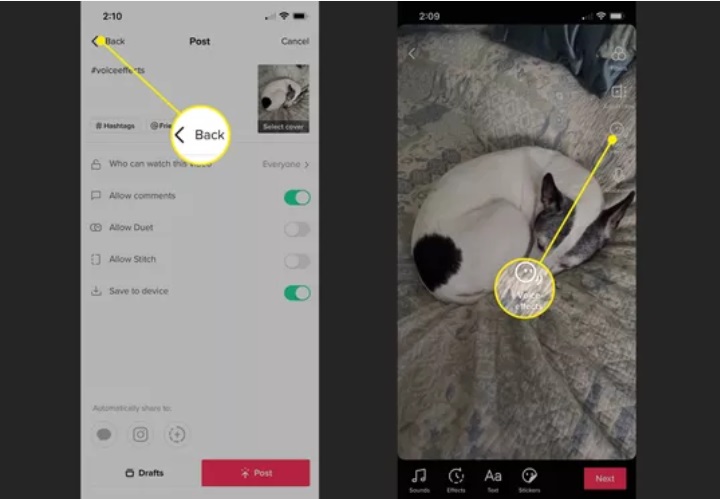 Option 2: Utilize Wondershare Filmora to add a sound effect
Did you hear about the Wondershare Filmora app? If you haven't, then the editing game is about to change because you will be shown how to use the Filmora app to add sound effects to your videos for TikTok. You can do a free trial on the Filmora editing app to get a grasp of what the app is about before you purchase to enjoy its full benefits.
If you want something outside the TikTok sound effects at your disposal, then you will find that the sound library on Wondershare Filmora can be interesting to use. With the steps below, you can add different sound effects to your videos on the Wondershare Filmora app:
Step 1: Import Video
Download and launch the Wondershare Filmora app. Next, select the Import tab and add the video you wish to edit. Alternatively, from the stored location on your device, drag and drop the video to the home window of the Filmora editor.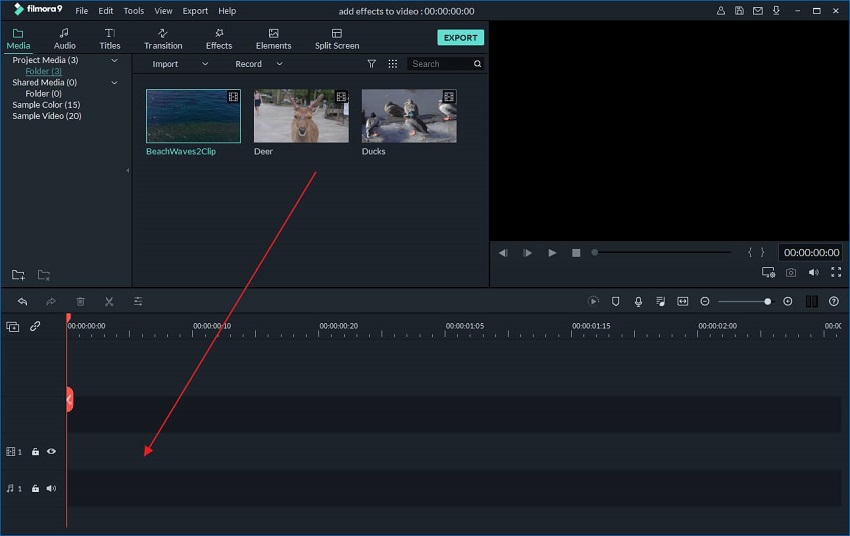 Step 2: Add Sound Effects
Set the video on the timeline by dragging and dropping. A window will appear after you select the Sound option. Sample the different effects using the Play button. The sound effects on the Filmora app include Car, Bell, Alarm, and so on. When you have decided on the sound effect of your choice, hold on to the effect and drag your mouse to the soundtrack section beneath the video. It will become the sound effect for that video.
Adjust the beginning and end times of the sound in the timeline section. Do this and Play to ensure everything is aligned as you want it on the video.
In addition, you can adjust the sound effect by double-clicking it. Edits such as Volume, Fade in, Speed, and Fade out are available for you to decide how you want your sound effect to be on your video. Finally, highlight the sound clip and press Delete on your keyboard if you wish to altogether remove the sound effect for a new one.
Step 3: Export the Edited Video File
Now that you have edited your video, you can export it by selecting the Create option. Next, choose to Format and save in a specific location for later use on TikTok. Then, you can directly upload it to TikTok instead of saving it on your device first. More so, you can also burn your edited video on your DVD, as well as Xbox, iPod, Zune, etc.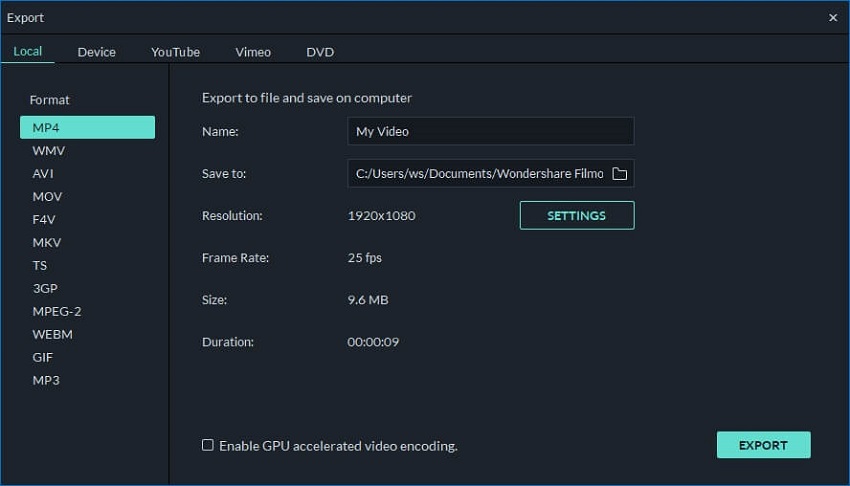 Part 3: FAQs about TikTok Effects [Bonus Tips!]
1. How do I get the Siri Voice Effect on TikTok?
You may have heard the Siri voice reading text on people's TikTok videos, and you are wondering how you can do the same. Here is how to get the Siri voice effect on TikTok: first, film your video and upload it. Type a text on the video and select the text. You will see the Text-to-Speech option; choose this option. Automatically, Siri's voice will read out the text you have added to the video. Be careful to ensure that your video is not shorter than the time it takes for the voice effect to read your text.
Now you can continue your editing and then post or save, as the case may be.
2. Why is the TikTok Voice Effect not working?
If you are struggling with the voice effects on TikTok could be due to several reasons, all of which can be fixed:
Poor Network Connection: Check that your network connection is strong. If it is not, disconnect and reconnect your Wi-Fi after some seconds. You can turn your device to Airplane mode for at least 30 seconds to refresh the internet connection when you retry.
Permission is not granted: Grant TikTok the permission to use your device's hardware functions and features if you did not do that upon installing the app. Go to Tiktok on your Settings and enable the Background App Refresh and Notifications section.
Free up TikTok Storage: If the cache files and data are stored upon the TikTok app, it can affect the voice effects on Tiktok. Hence, it would be preferable to use the TikTok app on your device storage and either Offload App for iPhone or Clear Data for Android.
Using Pre-Created Videos: You cannot use the voice effects feature on the videos you upload from your gallery or camera roll. Thus, you should create the video directly on the TikTok app or use the simple Wondershare Filmora editor to add sound effects before uploading on TikTok.
Outdated Phone Features: Try updating your device by checking for new updates in the Software Update section of your phone's general settings. That can prove very useful in enabling features like voice effects on TikTok. You can also use the TikTok app itself to fix the bugs that may be in the old version you're currently using.
3. How do I mute sound on TikTok?
If you wish to mute your video sound on TikTok to add other sound effects, then the simplest tool you can use is the Online UniConverter. This tool is relatively easy to use, as shown below:
Step 1: Add the video whose sound you want to mute by directly pasting the video link on the tool's home page. You can also select the Choose Files tab to upload the video.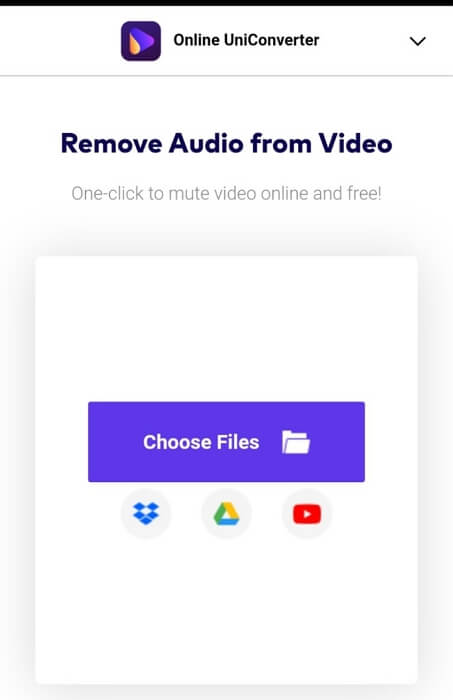 Step 2: Wait for some seconds for the video to load automatically and Mute.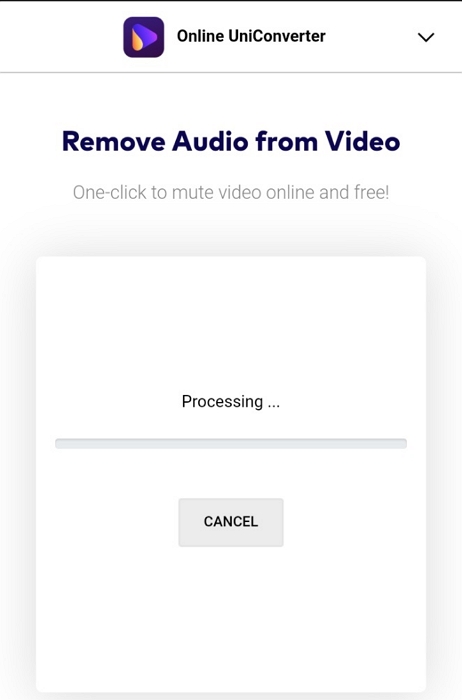 Step 3: Download the video to the device you are using for this process. Other saving options are Google Drive and Dropbox. Again, use what works for you.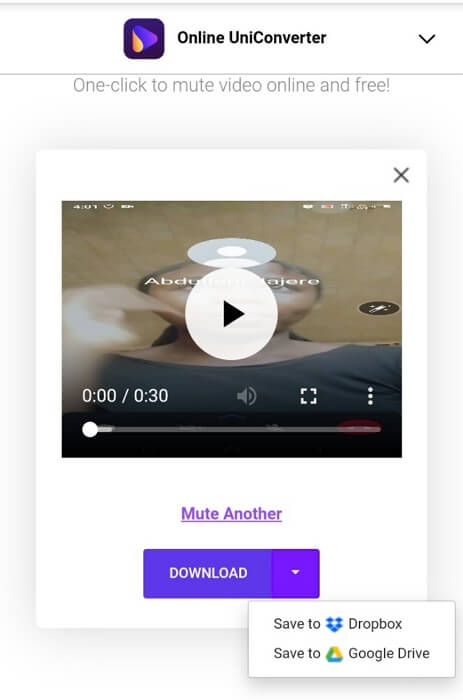 Final Words
Now you can add and use voice effects on TikTok; you can take your video creating process up a notch. It's as easy as the primary editing steps. Just use any of the methods outlined in the article, depending on the type of video you are editing. In conclusion, if you have questions, I bet you have clarity from the FAQs section.