Adding background music to your Instagram stories or posts, have gotten common since the time social media, especially Instagram, has gotten into frequent use. People have been looking for methods on how to add music to Instagram video posts using different techniques and applications. Many applications have been introduced into the market for a specific purpose. With too many in the basket, users usually face difficulty in deciding over the best application for their Android or iPhone that would help them get the perfect addition in their post or story. This article shall discuss the best Android and iPhone applications available in the market, followed by a guide on how to add music to Instagram video story or post.
Part 1. How to Add Music to Instagram Video on Android
Users usually face issues when they talk about the methods for adding music to their Instagram videos. They do not have the perfect guide or the direction to the ideal application that might be available for their Android device and to help them develop the best of videos on Instagram.
InShot
This simple video editor has a much-focused version of video editing features that provides a perfect path to adding music to their video. InShot provides a very specific and elaborated tool for filter addition, video trimming, and video shortening. Its timeline editor has multiple accesses to video and audio channels that help users get data on how to add music to Instagram video Android. This application has been stated a very great platform for developing videos for Instagram, YouTube, and even TikTok. For indulging more into this application, users have the autonomy to select on the subscription packages provided to get to know better about their editing features. These packages vary from $2.99 per month to $9.99 per year or a one-time subscription for $29.99, allowing users to its excessive toolsets and sticker. To understand how to add music using InShot, there is an easy step-by-step guide that needs to be followed: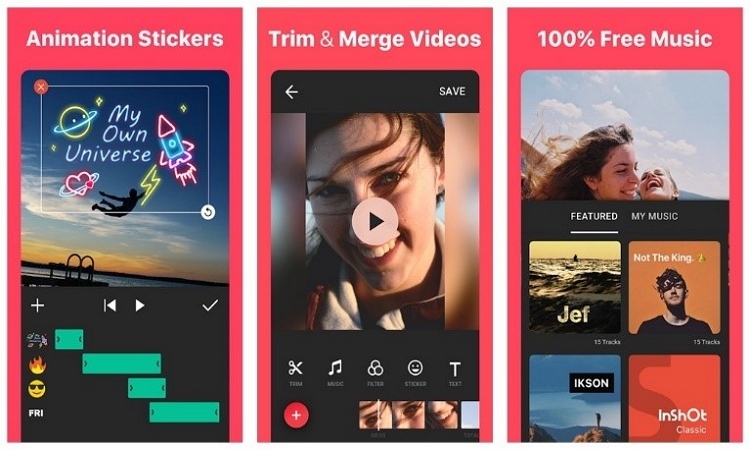 1.Video Importing : Users need to select the Video option under the 'create new' option and upload the video of choice.
2.Video Editing: Users need to select the Video option under the 'create new' option and upload the video of choice.
3. Video Editing: After successful uploading of the video, users can edit, trim the length, add filter and effects or integrate music into the video. The application has an extensive library to offer in effects and audio clips. It still allows adding music of choice.
Part 2. How to Add Music to Instagram Video on iPhone
InShot is a video editing tool that is available only on Android, which brings in need of another application that is available for iPhone and iOS devices. WeVideo comes as the ultimate solution on how to add music to Instagram video iPhone and without using iTunes.
WeVideo
WeVideo has been stated as an award-winning application that perfectly operates for iPhone and iPad and is considered as one of the best applications designed for this purpose. It teaches users on how to add music to Instagram video without iTunes and allows the creation of videos anywhere from the device. It provides 30+ video themes and filters to linger on with special music effects that solve the issue of adding music to Instagram video. Along with that, WeVideo offers a genuine platform for add the soundtracks of your choice or record high-definition voiceover narrations, which tells us to merge music without using iTunes. WeVideo allows video sharing on any platform, including Instagram. With the perfect soundtracks, users can follow the following steps to understand how to add music to Instagram video without iTunes.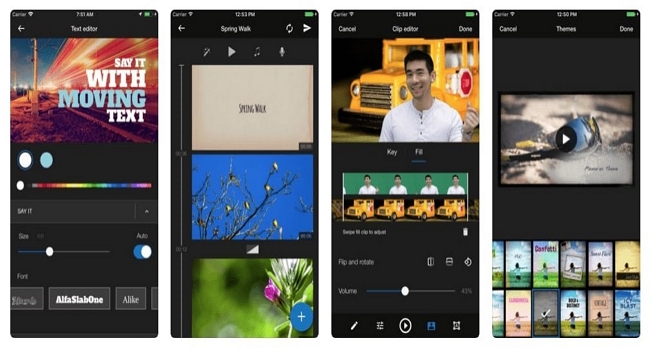 1. Creating the Project: A relevant timeline project is being selected by adding its name. The different screen appears depending on the account type.
2. Adding the files: By tapping the '+' sign, users can import media from the device or any connected account.
3. Music Notes Icon: This icon adds the audio that is to be integrated within the video.
WeVideo has a variety of plans available for different audiences. The significant packages associated with individuals include the Powerpack for $4.99/month, the Unlimited Pack billed at $7.99/month, a Professional pack for $17.99/month, and the Business pack for $29.99/month. This allows users to indulge more into editing videos with excessive toolset.
Conclusion
This article provides a complete set of applications for both Android and iPhone that are considered the best in the business. It also tells us the methods on how to add music onto the Instagram story and posts that users wish to add to their news feed to update the circle of their life updates.