If you want to promote your business these days, you'll have to dive into the world of Social Media. Social networks like Instagram are seeing around 300 million users per month. And its users depend on the opinions of their favorite influencers to decide what they're going to buy and try out. If you want to dip into that market, you're going to have to learn how to write a good business collaboration email to communicate your intentions properly. Learn more about that below.
Part 1. Several Helpful Business Collaboration Email Samples for Your Reference
To start, let's have a look at 5 of the most helpful business collaboration email samples that you can use as a reference to write your very own. These will vary depending on the intentions of the business and maybe even on the influencer that you want to collaborate with. However, as we'll teach you in the next part of this article (where we show you how to write your own business collaboration email) there are factors that stay the same that you can use as a benchmark for what makes a good collaboration email.
1. The 'Introduction' Sample
The sample shown below was used in order to connect with an influencer that a brand/influencer connected with personally. It's used when you're hoping to start an ongoing relationship with an influencer based on shared interests. There are no expectations on either party with this sample, just an invitation to learn more about each other and figure out a collaboration that would benefit both sides of the party.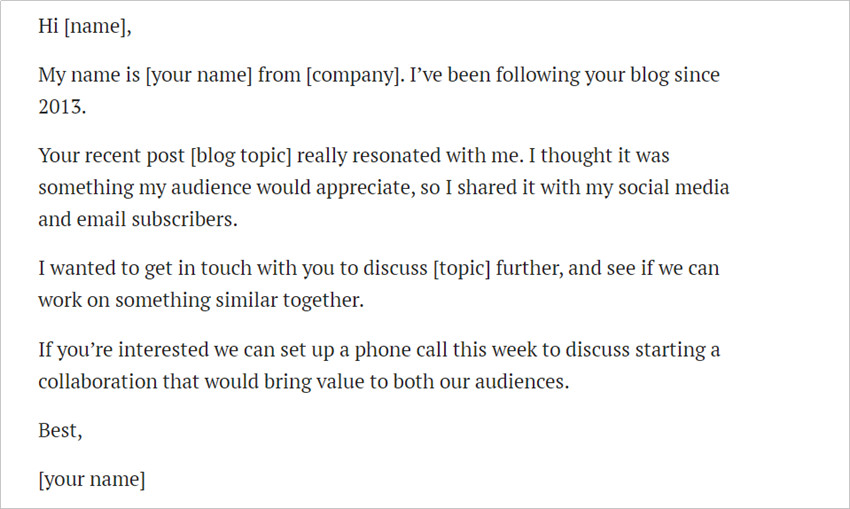 2. The 'Sneak Peek' Sample
This next sample is much shorter than the first. It doesn't even introduce the person or the company sending the email, just the product/service that the influencer may be interested in. It's length, despite looking like it may be lacking, is actually pretty good in that it gets straight to the point. Again, there's no expectations set up here, you're just providing information that the influencer may have wanted to know in the first place (before anyone else.)

3. The 'Follow-Up' Sample
The follow-up sample is for those who may want to re-communicate their pitch for a collaboration after not hearing back from an influencer. This implies that you have already sent an email before (perhaps one more relaxed) and are just confirming whether their silence is a rejection or not. Influencers received dozens of business collaboration emails every week (some even everyday), and it is completely possible they may have accidentally missed your first try. So, there's no harm to trying again!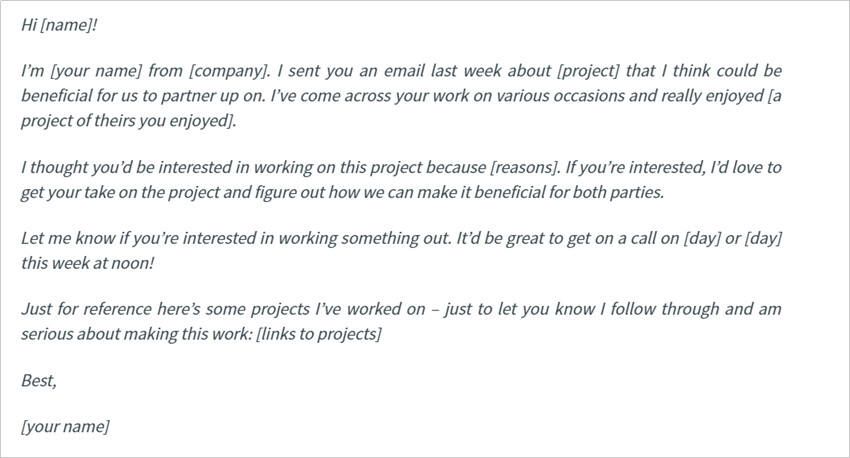 4. The 'FREE Sample' Sample
This next sample communicates that you have a new product that you think the influencer (and their audience) will be interested in. Again, there's no expectations here when it comes to the kind of content that the influencer posts on their social media. You're just giving out free samples of your product and asking if they would be interested in giving out extra samples to their audience as well.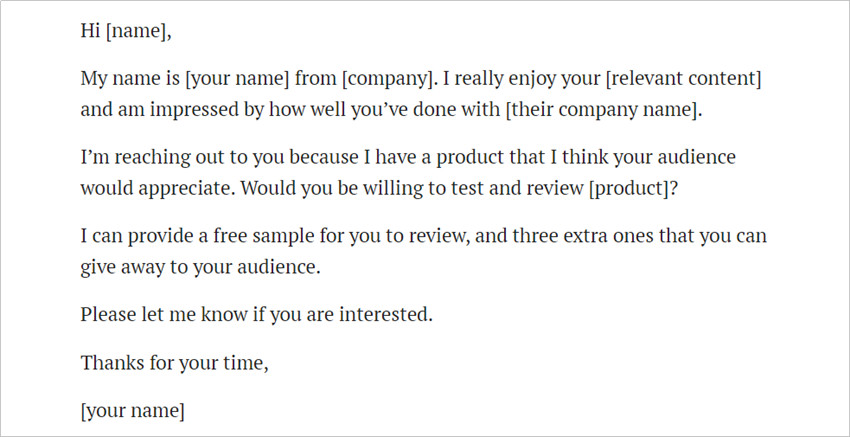 5. The 'Affiliate' Sample
This 'affiliate' collaboration email sample is an invitation over a collaboration where profits will be shared for all the units that the influencer sells (either through an affiliate link or a promo code that the customer needs to apply at checkout for a discount on the product.) It's a great collaboration as it ensures that both sides are benefiting for each sale — which means that you, as the brand, won't have to worry about coming up with a flat fee that the influencer may not be able to meet through their promotion alone.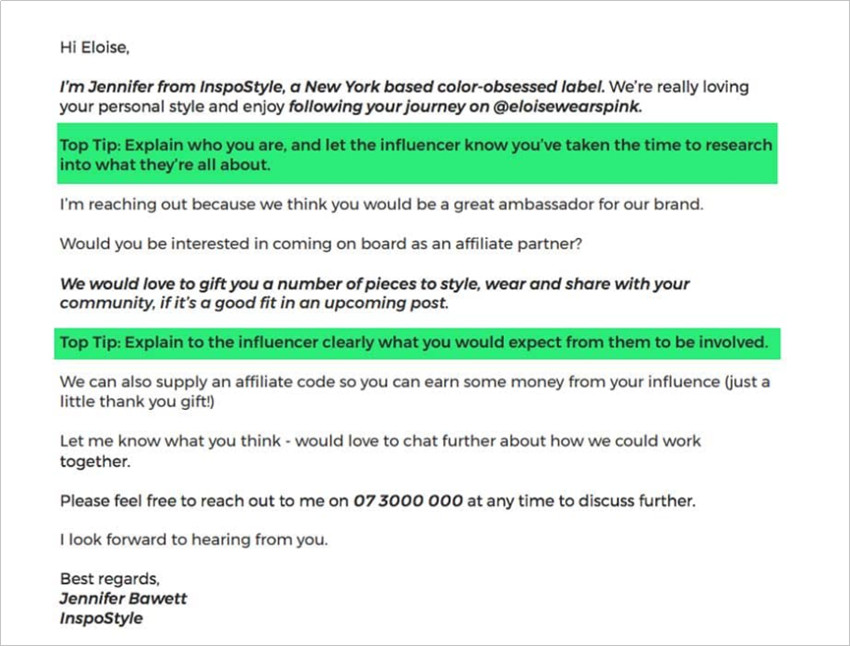 Part 2. How to Write a Good Business Collaboration Email
You may have noticed that there are very notable similarities between all the collaboration email samples that we showed. Well, that's because, even if the words used and the purpose of the email is different, all of them are pretty much the same on paper. We'll introduce InflueNex, an all-in-one influencermarketing platform, to help you write business collaboration email. Continue reading if you want to know what makes a good business collaboration email and try your hand at writing your own!
How to Write a Good Business Collaboration Email with InflueNex
Step 1. The Introduction
Just like any good piece of written-work, a business email starts with an introduction. At this stage of the email, you're introducing yourself, your business, and/or your product. This goes at the very top to make sure that the influencer is provided all the information that they need before considering the rest of your email.
Step 2. The Pitch
The rest of the email is your 'pitch' or 'offer.' What are you offering the influencer for their promotion or work? Is it money? A free sample? A promo-code for their audience? This is the most important part of the email. So, make sure that you consider it carefully.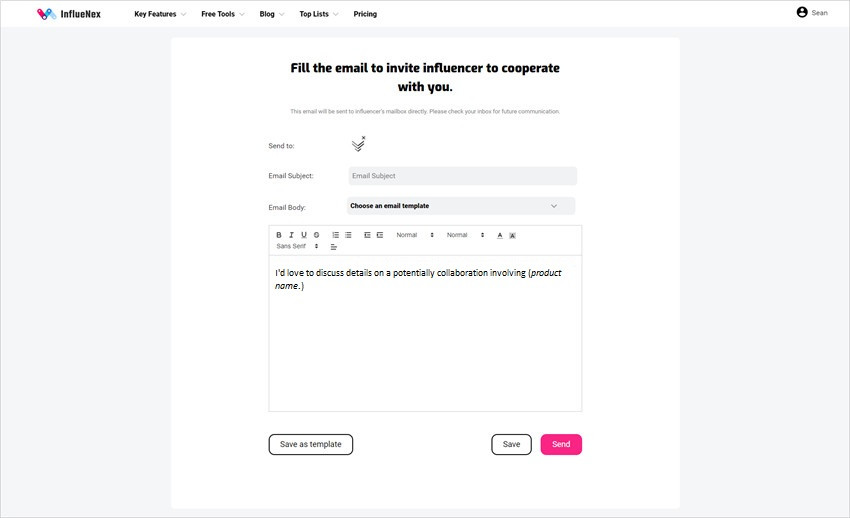 Step 3. Final Touches
And that's it! Believe it or not, that's all you need to make a good business collaboration email. The only thing left to do is make sure that you're using the right tone for your email — professional and respectful.