So, it is important that when you are sending an initiative email for collaborations then your email should be up to the point as well as attractive enough to catch the attention of the reader. However, the first step is to write an apt subject line of the email because that is first and foremost part anyone reads. Also, if your subject line is not well written then it won't create a good impression, no matter how talented you are with your art or perfect with your products. You can check the best email subject lines to write a good and effective email for influencer collaboration.
Part 1. The Best Influencer Collaboration Email Subject Line Templates
The subject line of a collaboration email is like the first impression and thus it has to be the best extract of your email body as well as catchy enough to do half of the convincing work. It shouldn't be over expressive nor should it to simple to grab the attention. To be more precise, how and what you have to write in your subject, you can check these best email subject lines that are discussed further.
The 10 most helpful influencer collaboration email subject line templates
1. To Promote Your Product
Offer for you: n% share in the profit
Benefit – An email with this subject line helps in attracting the influencer if you are presenting the reasonable share in the profit.
2. Advertise on Their Website
Sponsored valuable SEO content on (website)
Benefit – If you are mentioning SEO related offer in the email then it increases chances that you will get a reply mail because every influencer needs better SEO services to increase their rank in market.
3. The Round-Up Invitation
name, Can I feature you in our upcoming roundup post?
Benefit – Tricky but very effective template because it not helps in increasing the SEO of the collaborating influencer but also will add recognition in your post by mentioning a popular influencer.
4. To Give Away Your Product
Free giveaway of (your product) on your Instagram page
Benefit – If you have beauty products then you can add such subject to your email while writing to a fashion blogger. It will not only be helpful for them but also will advertise your product. This kind of subject can vary from product to kind of influencers.
5. Offers that They Can't Refuse
Free subscription for three years of (your product)
Benefits – Just like the previous subject, it could also vary for different products and their related influencers. Like, if you are a game developer then you can send such offer to a gaming influencer because this way they will play for free and will promote your game on their live streams.
6. To Add Their Content or Product on Your Website
Putting your icon collection in front of 10,000+ potential customers
Benefits – This kind of subject line is another SEO strategy which is beneficial for both of you. They obviously won't reject such an offer to increase their audience or customers and in return you will get recognition on your website of a popular brand name.
7. Asking for a Review
Can I send you some free tea with unique blend?
Benefits – Influencers love to give reviews for the products based on their field and type of followers. When they will review your product on their page then you will get more customers.
8. Long-Term Relationship
Exclusive Invite: Earn money as our brand ambassadors
Benefits – Today, almost every popular influencer on social media has been signed by brands as their brand ambassador. So, you can sign up for a long term relationship with subject line and keep promoting your product for years.
9. Pre-Outreach Influencers
Four Dots: Best SEO Tool and WordPress Plugins for 2020
Benefits – You are contact the influencers in advance which will help you in grabbing your place even before anyone else does. However, you need to be sure about the offer because it should be useful and attractive enough for them.
10. Songwriting Seller
Crash my calendar
Benefits – A fun and unique way to send a collab invitation to any influencer is write them a song in which your subject will be the title of the song. Here, you need to note that your influencer should have interest in reading songs and lyrical texts.
Part 2. Most Helpful Tips & Tricks about Writing a Good Influencer Collaboration Email Subject Line
Whether you are a business man or a social media influencer, as per the statistics the average number of emails an individual or an organization will receive everyday can be somewhere between hundreds to thousands which actually depends upon the popularity of that influencer or organization. What if you want to send a collaboration email to influencers? What is the possibility that your email will be read by them or even if they see how likely they are to open it. That is the point where you subject line lays its magic by alluring the reader and makes them to read the entire email.
So, it is important that your email should be precise and also correct for which you can follow some important tips discussed below.
Helpful Tips and Tricks about Writing Influencer Collaboration Email Subject Line
1. Use InflueNex to Get Connected and Reach Influencers
Not every time, creative words and high standard grammar is enough to write a perfect subject. You also need to be sure that who you are writing the email. If your influencer deals in food and beverages selling or blogging then you will need to a put good restaurant email subject lines. Also, you need to be sure that you get the best influencer of your field and for that you can use InflueNex.
This platform lets you find the best influencer based on country, genre, no. of followers and nine other filters to get your perfect match. After getting the match you can get connected to the influencers and write an impressive collaboration mail.
2. Keep It Simple and Brief
Your subject line should be the extract of your entire email body or at least it should be related statement to the email body which could convince the reader to read the entire mail body. For this, you need to make sure that the subject line should not be too big or too descriptive; just a few friendly and welcoming words are able to do the job. No one would like to read lengthy subject line in the notification, so if it is small, brief and simple then there would be more chances that your email will be opened and read too.
source: https://mention.com/blog/influencer-outreach-examples/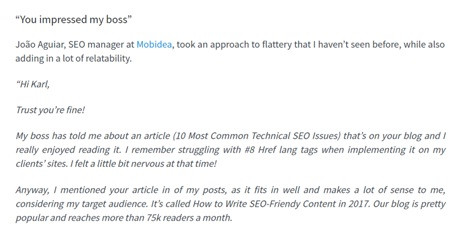 3. Show Urgency
You need to add a line that shows some urgency like put up some limited time offers and give them offer of marketing partnership. However, you need to remember the fact that when you are emailing for collaboration to big influencers then you might not be the only one giving such offers, so you need to be whatever you are writing you are able to deliver that. If you couldn't then you might end up having bad terms and will get blacklisted from any further contact.
source: https://artofemails.com/partnerships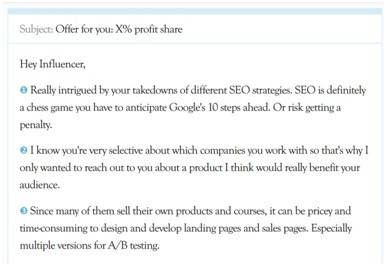 4. Let Them Feel Special
Who doesn't want to feel special about themselves and simple and little compliments can make anyone's day. If they are familiar to you then you can add a sweet and simple compliment in the subject but no flattering. You need to know where the thin line lies between perfect compliment and over flattering. It is recommended that while writing such a subject, you should use smaller phrase and very simple words.
source: https://blog.mailup.com/2018/09/writing-effective-subject/?pd=e497086177273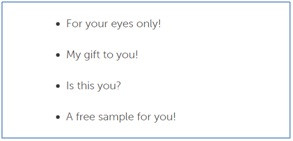 5. Avoid No-Reply Emails
Sending a no-reply email would be like preparing the email and its content with lots of effort and then sending it to the trash because no one really reads such emails. As these emails add No-reply tag in the subject, so when a reader will see it then they will automatically ignore it which obviously you do not want to happen. Thereby, for the best, you should never use such email formats.