YouTube offers a very cool feature which allows YouTubers to know about the demographic location of their followers. Demographic also helps users to know more about their follower age and gender so they can do something different for the specific age group people. YouTube audience demographics is feature can be used for any YouTube channel even if the channel is not yet ready for the monetization. Including YouTube there are several other ways available to know demographics of YouTube followers which we are going to discuss in this article today.
Part 1: How to Know Your YouTube Audience Demographics with YouTube Analytics
YouTube demographics option is directly offered in the YouTube where you can simply find demographics of any YouTube channel for free. This is very easy to find the demographic data while using YouTube and everyone can use the feature if they don't know much about the technical things. Let's see how to view YouTube channel demographics using the official YouTube website.
Know your YouTube audience demographics with YouTube Analytics
Step 1: Firstly open YouTube and then login to your account using the login credentials. Now at the top right side of YouTube interface click on your profile icon then hit "YouTube Studio" option which was previously known as creator studio.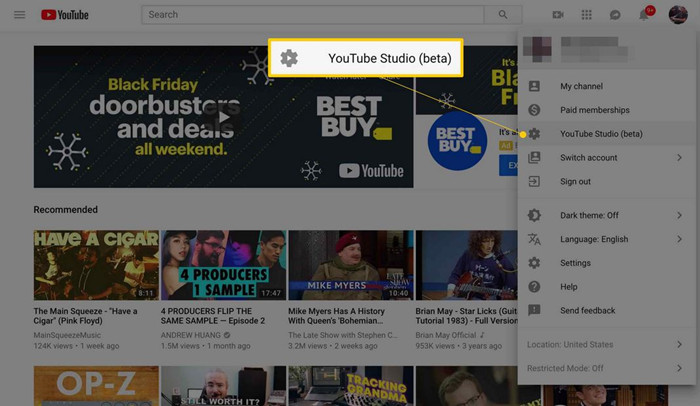 Step 2: Now at the left side pane of YouTube channel click the "Analytics" button. In the YouTube analytics you can see comments, sharing, likes, dislikes, traffic source, devices, content, watch time, demographic many other things related to your channel.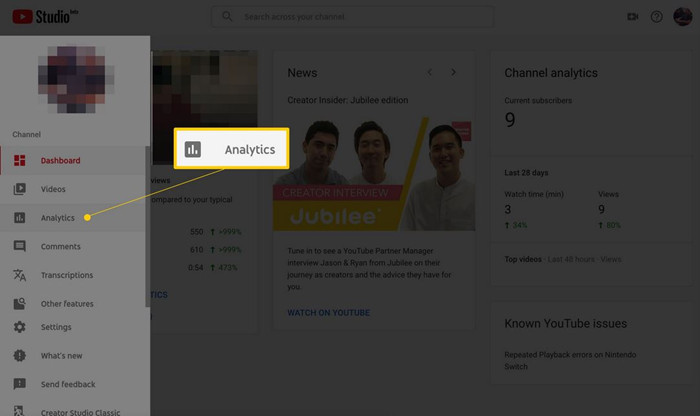 Step 3: YouTube Demographic will be displayed like the screenshot below and you can observe what type of audience is following you.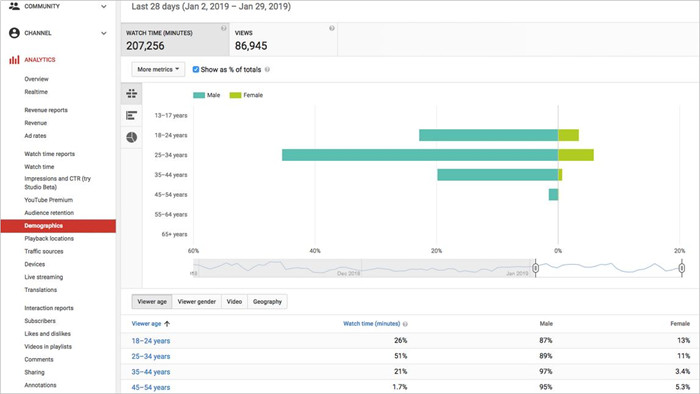 Part 2. How to Know Your Competitors' Channels Better
InflueNex is a third-party but very powerful website which helps users to quickly do all necessary research about their YouTube channel. You can do research related to your channel as well as for the other users which are your competitors. You can view your competitor detailed information and work accordingly to get more popularity for your own channel. This website has database of near about 2 million influencers worldwide. You can easily find mostly all niche influencers on this website very quickly with just few clicks.
Key Features of InflueNex
InflueNex is very easy to use as compared to any other online demographic website.
With few clicks of your mouse you can quickly search near about all niche influencer profiles.
The website offers you to refine search results using over 8 filters.
It allows you to connect with influencers directly.
How to use InflueNex to view demographics of a YouTube channel
Step 1. First of all open the website and create an account on InflueNex by clicking the I'm a Creator or I'm a Brand button. If you have an account already, you can click the Login button to enter InflueNex and start using it.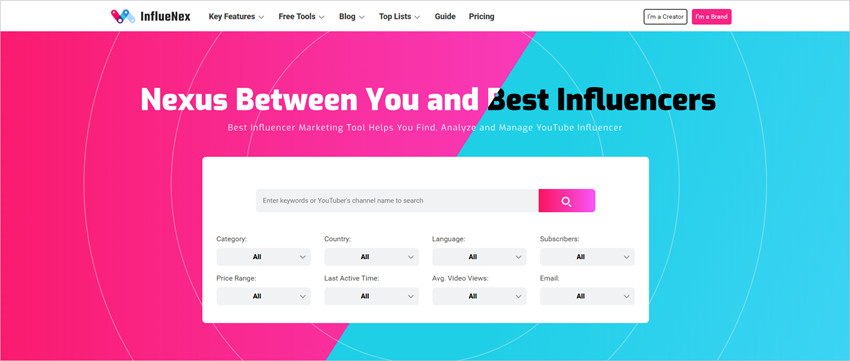 Step 2. Now enter your keyword and apply the necessary filters to refine results. You can select filters from category, country, language, email, price range, average vides video, last active time, etc. Using these filters will make your search more accurate. After making up the settings, hit the Search button to start searching for influencers.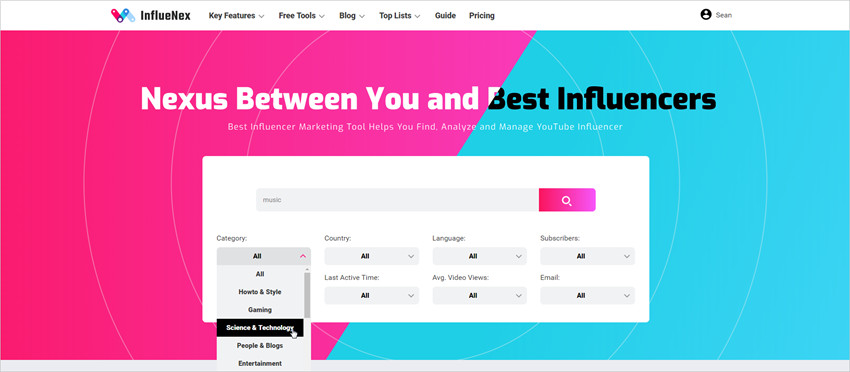 Step 3. InflueNex will display all the matched results below the searching column. You can scroll down to browse the list, which shows the basic information of the influencer.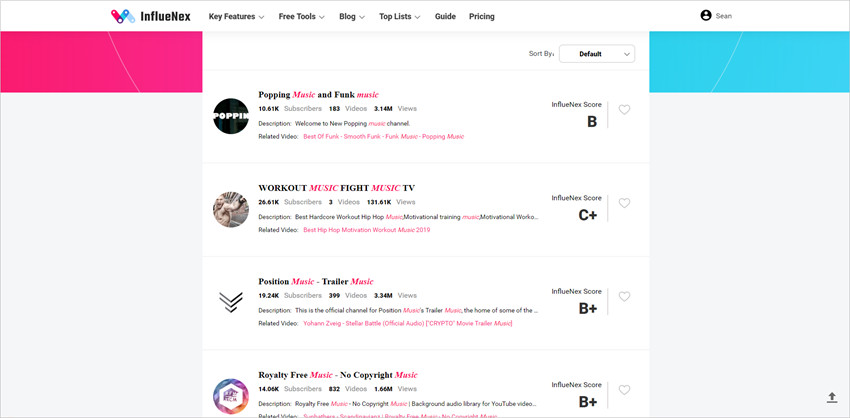 Step 4. When you find an influencer you're interested in, you can click the name of the influencer to view the detailed information of this influencer. The audience demographics of this influencer will be displayed at the bottom.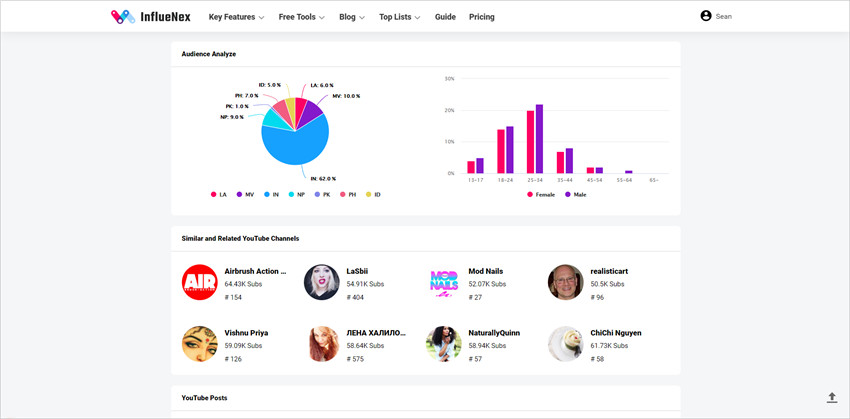 Part 3: Other Helpful Tools to Know YouTube Audience Demographics
1. Social Bakers
URL: https://www.socialbakers.com/
Social Bakers website is a very powerful YouTube channel demographics tool that allows you to view data of channels more than the YouTube analytics. YouTube analytics only works on your own channel but using this website you can easily view details of other YouTube channels as well. This website mainly shows the popular YouTube channel but there is search option provided that allows you to search any YouTube channel and view demographics of YouTube channel.
Pros:
The website offers several options to view other users' channels to work according to your competitors.
It works using artificial intelligence.
You can find users from several different industries.
Cons:
Paid plans of the website are very costly.
Unable to search the accurate results.
Website works very slowly.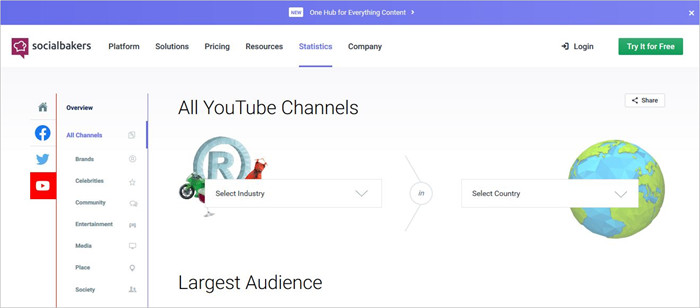 2. Tabular Insights
URL: https://tubularinsights.com/
Tabular Insights website is also a tool where you can find YouTube channel demographics just by entering the few keywords. This website is not only able to find demographics of YouTube but you can also it to create strategy for your own YouTube channel. You can view millions of YouTube channel demographics with the help of this website. This website is free for some research but for the professional research you need to go for premium plans.
Pros:
It allows you to view YouTube video demographics for free of cost.
Easy-to-use website.
Find all results online without any software.
Cons:
You can't find the accurate results.
Sometimes it shows irrelevant results.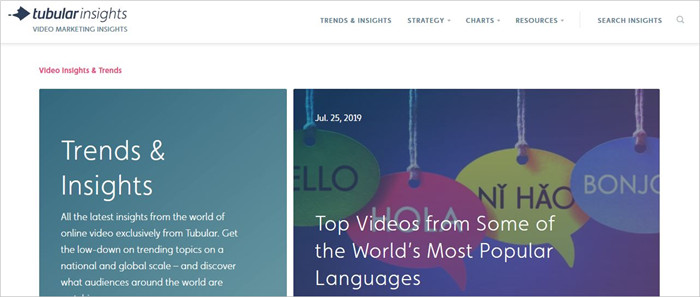 3. Upfluence
Upfluence is a very popular influencer platform for doing research about the influencers of different social media channels. This website also offers you YouTube audience demographics with the result of influencer profiles. Upfluence website offers over 3 million influencer data from various social media platforms. The website also offers you software with the same feature as they are available on website so you can do research offline without using internet.
Pros:
Website is easy to use and offers you over 3 million influencer database.
It offers profiles from Instagram Facebook, YouTube and several other platforms.
Cons:
The paid plans are much cost and cost you around 800$ per month.
The interface is not easy to use for new users.
Good for the professional companies only.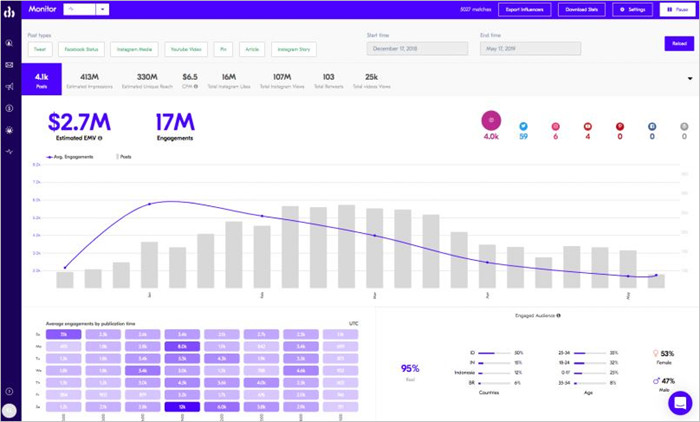 4. NeoReach
NeoReach is another popular option where you can view YouTube analytics demographics just by entering few keywords. This website is founded by CEO Jesse Leimgruber to help people to look at their competitors profiles. This is also a very nice way to make a connection between the brands and influencers to make a good collaboration for the promotion of brands. The website has thousands of subscribers which are hiring influencers using the platform.
Pros:
This website has over 3 million influencers registered in their database.
It uses AI to find and determine the results.
The website learns from the searches and provides you better results next time.
Cons:
Still the website needs so many improvements.
Just like the other paid plans are very costly.
Sometimes it offers you fake email addresses of influencers.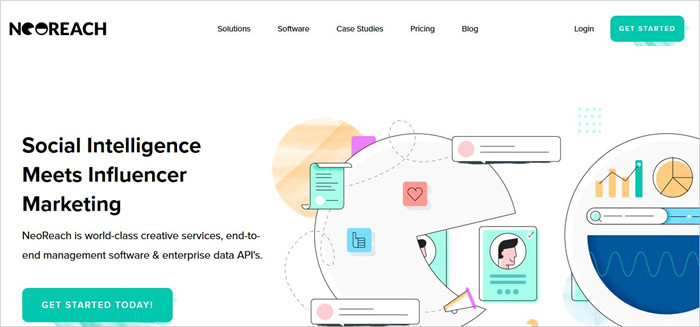 5. AspireIQ
URL: https://www.aspireiq.com/
AspirelQ website is also a powerful platform for the YouTube target audience demographics data. This platform was already developed with several powerful tools when it went live first time but after that website has done lots of changes in the interface so make it better for the users. Before few years AspirelQ was offering few tools which were never offers on their competitor websites. This is the reason why this website got lots of popularity among the worldwide users.
Pros:
There are many powerful tools available which are not available in any other website.
It got overall 4.3 ratings.
The interface of the website is user-friendly.
Cons:
The website is still not able to product the accurate results for the search terms.
You can't search a single influencer without sign up.
The website hides the paid plans so you can't compare it with others.