TikTok is one of the most popular social media applications nowadays and it is used by almost all age groups. This application comes with the artificial intelligence based built-in templates that allow users to create beautiful and impressive videos. This application is downloaded by millions of users worldwide to create short videos and share them on social media with their friends and families. Besides creating videos, now TikTok is also used by brands for doing marketing of their products and services. Brands communicate with the influencers on TikTok who has millions of followers and ask them to promote their products and services. If you are also looking to contact TikTok influencers then you can go through this article to know how to get in contact with tiktop influencers.
Part 1. Easiest Way to Write a Collaboration Proposal Email
InflueNex is an online influencer finding service which is used to find the right influencers from the millions of database. This website also offers you a collaboration proposal Email option where you can write anything and connect with the right influencers directly without making any effort. InflueNex has millions of influencer database on the website, and you can find the influencers from different categories and send them a collaboration proposal Email.
Key Features of InflueNex
InfluNex offers you several categories to find the right influencers, such as how to, gaming, technology, etc. You can discover influencers for any type.
The website has the easiest to use interface and allows you to apply over eight filters to find the right influencers for collaboration.
You can directly get the Email address of the influencers.
It allows you to view score, followers or subscribers, and a number of videos.
You can get near about all kind of information about the influencers using the website before connecting with them.
How to Write a Collaboration Proposal Email with InflueNex
Step 1. Create an Account on InflueNex
First, open the InflueNex website and then create a free account by clicking "Create an Account" at the top right side using your Email, name, and password.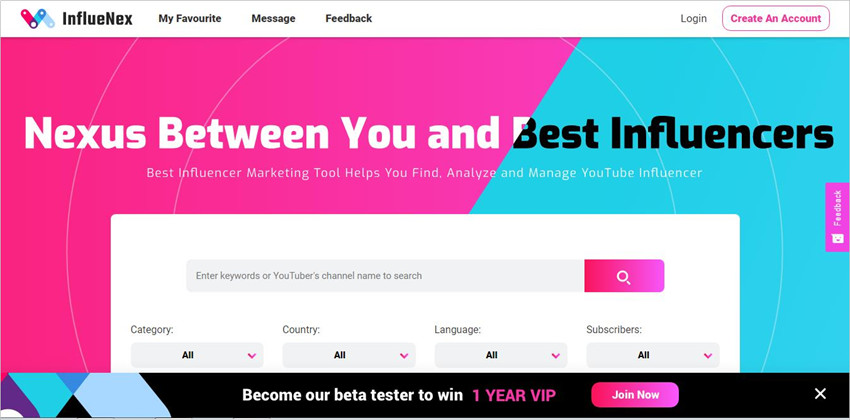 Step 2. Locate an Influencer
Once you are the main interface, click on the blank search box and type any keyword related to the influencer you want to connect. You will see several results related to the keyword, then click on the "Search" button.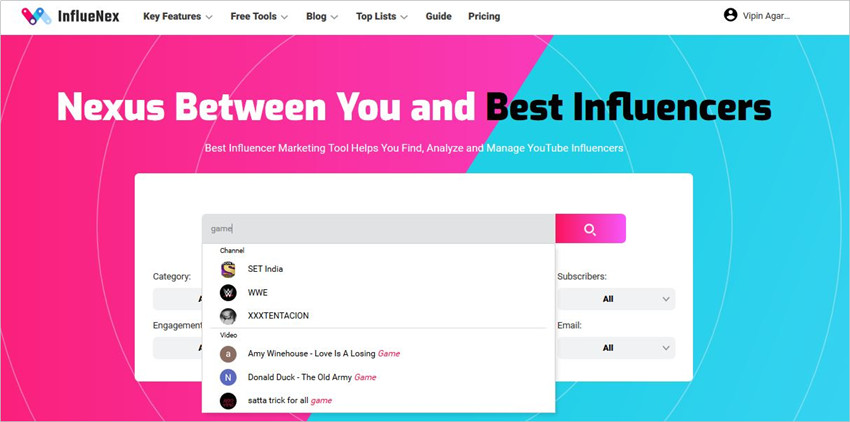 Step 3. View Searching Results
Now you will see thousands of results on the interface, so click on any result to view the complete profile of influencer.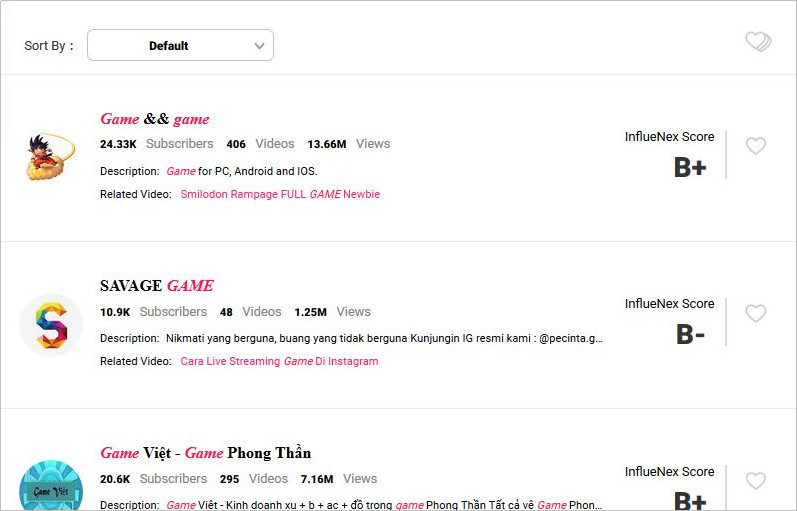 Step 4. Enter Dashboard of an Influencer
Now the details of influencers will open in a new tab. From there, you can see posts, views, subscribers, estimated price range, and many more other things to understand the details about the influencer.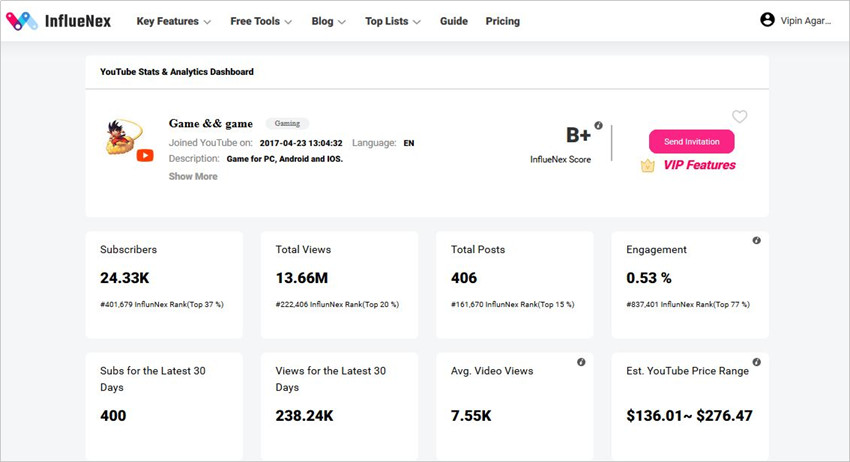 Step 5. Click Send Invitation Button
To write a collaboration proposal Email to the influencer, you need to click on the "Send Invitation" at the top right side, which is available on the top right side.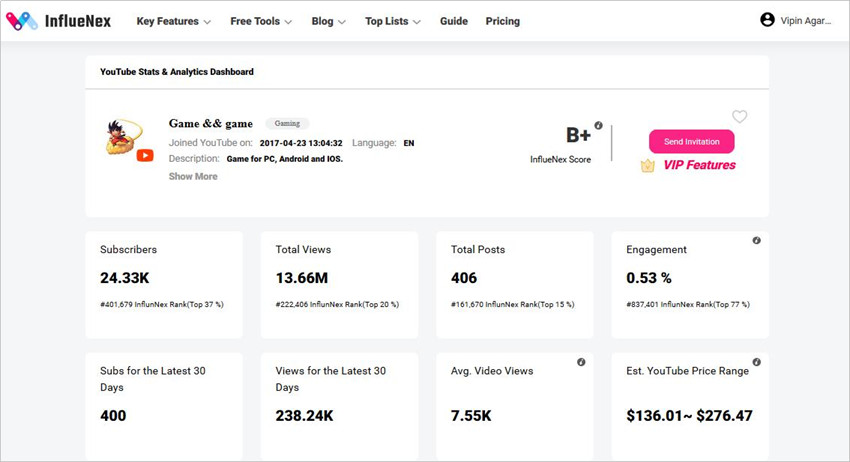 Step 6. Write Collaboration Proposal Email
On the next page, you will see the option to write the Email to the influencer. It will be directly delivered to the influencers Email inbox. This is the way about how to write a collaboration proposal cold Email to the influencers using InflueNex website.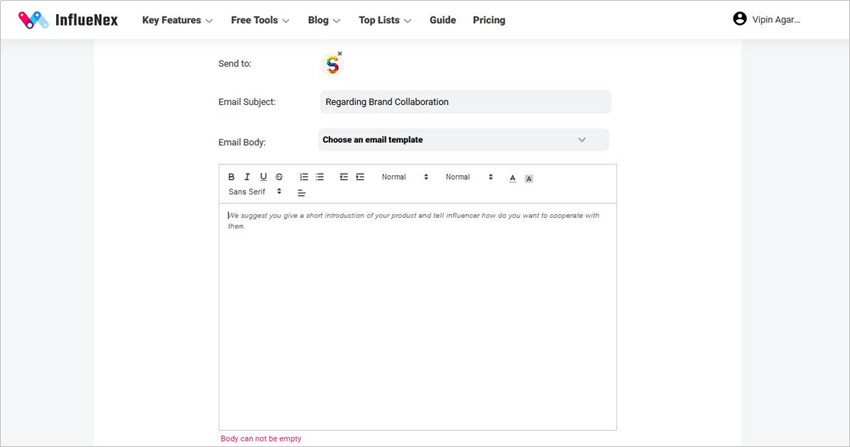 Part 2. Tips & Tricks about Writing a Collaboration Proposal Email
Tip #1. Get Knowledge about the Target Customers
Before connecting with any influencers and sending a collaboration proposal Email, you must know about your target customers. This is an essential step because without knowing your target customers, you can't understand which category influencers you need to reach. For example, if your product is related to mobile or another tech item then you need to reach out to the how-to bloggers and technical reviews influencers.
Tip #2: Find the Right Industry Influencers
This is also very important to keep in mind while looking to connect with the influencers. If you are in the technology industry and connecting with the fashion industry influencers, then this is very bad, and you won't get any benefit from this connection. So, before doing anything, make sure to do proper research about the industry of the influencers as well. You need to find the influencers who are working within the same industry.
Tip #3: Attractive Offers
Mostly influencers work to earn money as well as to make a reputation in the online world. So, when you first time connects with the influencers, then you need to show something different from others so they can take a proper interest in your product or service.
Tip #4: Do Not Offer the Things they don't like
Whenever you write a collaboration proposal Email to make sure not to offer them the things which they don't like. Instead of writing the partnership Email for the cash or percentage, you can ask them to send a gift in your first mail or provide a free sample. Usually, influencers like to receive the free samples, and they take it as their regard.
Tip #5: Provide the Best Subject in Mail
You can think that how many Emails you receive daily in your Email box and how many of them you open. So, whenever you write any Email, make sure to provide the best title because this is the first thing that will be shown to the influencers. If you write the best title, then the chances of opening the Email by influencers become higher.
Part 3. 5 Helpful Collaboration Proposal Email Samples
Connecting with the influencers through their Email-id is simple, but when it comes to impressing them with your mail, then this is very tough. In that case, you need to follow proper guidelines and then connect with the using perfect content. Here we are going to share some of the best collaboration proposal Email samples with you about how to write collaboration proposal cold Email.
Sample #1. Asking the Influencers about your product promotion
Whenever you connect with influencer to promote your product or service, then you can follow the below collaboration proposal Email sample. You can write a subject with your percentage offers just like written in the below image.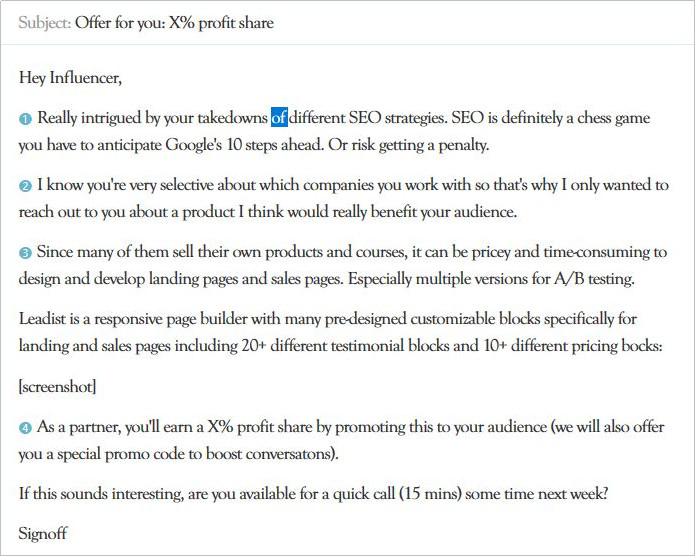 Sample #2: Asking for the relevant traffic
When you ask the influencers about getting the relevant traffic on your website, which is related to the influencer's topic, then you can go for the below sample and write mail accordingly. This is the best collaboration proposal Email sample for you.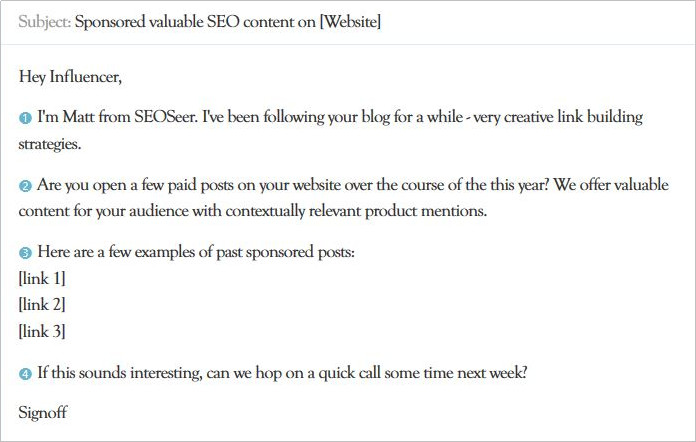 Sample #3: Asking for Your Product Review:
If you like to invite influencers to write a review about your product you sent them, then you need to send a free sample product first and then send some free mail first. Finally, if they show any interest in your sent product, then you can ask them about the product review using the collaboration proposal Email sample below: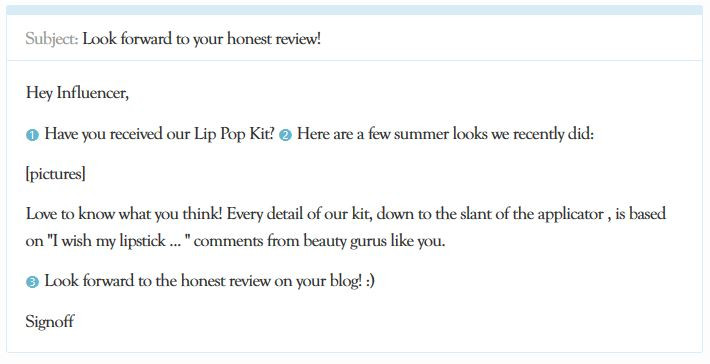 Sample #4: Ask Influencer to become your Brand Ambassador
If you are impressed a lot with the influencers profile and looking to make long term collaboration with them, then you can ask them to become a brand ambassador for your products. To send the first mail for asking about brand ambassador, you can follow the below template.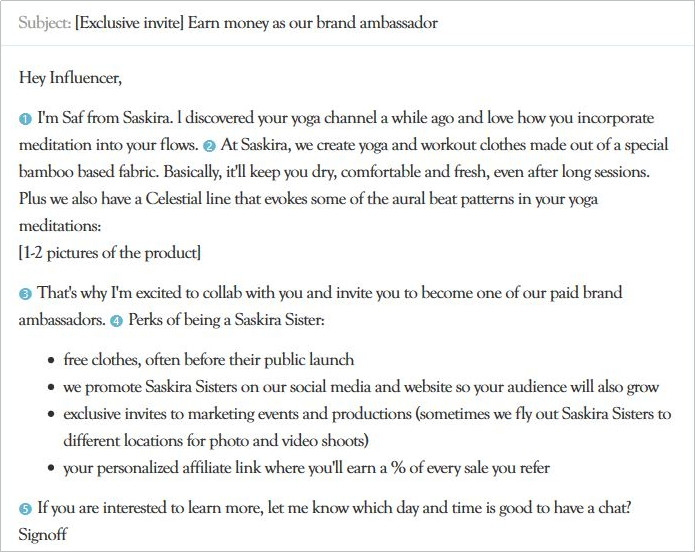 Sample #5: Gently Remind the Influencers about Your Product Promotion
Mostly influencers receive hundreds of Emails daily about the different products and services from worldwide businesses. There are chances that they may not remember the product review mail you send me before. In that condition, you need to remind them about writing your review again, and you need to be very gentle in your reminder mail. The below is the sample about how to write a collaboration proposal cold Email to an influencer for reminding your brand promotion.