India has the largest active viewership on YouTube due to its large population. This has given rise to a lot of Indian YouTubers over the past few years and they have grown exponentially. A lot of companies have been teaming up with Indian brands and have been taking advantage of the wide audience they have to offer. The chances of your product being successful, automatically gets increased when you have such a large audience while doing influencer marketing campaigns. Indian YouTubers contact can be easily obtained by using various methods like business emails, social media messages and specialized influencer outreach tools. The number of options you have among Indian YouTube influencers is very diverse and you can find great influencers for collaboration for every niche of tools and products.
Part 1. Easiest Way to Contact Indian YouTubers
There are a lot of ways to contact Indian YouTubers for collaboration and the easiest of them all is using InflueNex. This is an all-in-one online tool for influencer marketing campaign that helps you to find some of the top YouTube influencers from around the world and directly contact them using the influencer outreach program, offered by the tool. This tool has a plethora of feature that will make the functioning of your influencer marketing campaign a lot smoother and easier than ever before. It provides ratings for every influencer, which can be used to understand the reach of the YouTuber. It also offers, detailed insights into the channels so that you can know the average views that the influencers get so that you can set your goals and plan accordingly. This is a must have tool if you are planning on starting a new influencer marketing campaign for your company.
Key Features of InflueNex:
InflueNex provides InflueNex Score to all the influencers on the platform for your overall impression.
You can use this tool to see deep insights about any channel and understand the audience base they have.
Advanced filters helps you to make your influencer search more specific.
InflueNex offers a built-in influencer outreach tool that helps to contact influencers directly.
InflueNex provides a influencer management tool that helps you to manage influencers with customized groups.
How to Contcat Indian YouTubers with InflueNex
The following step-by-step guide will show you how to easily contact Indian YouTubers for collaboration using InflueNex.
Step 1. Enter keywords in the search box to search for YouTuber
To start the process, open InflueNex website on your computer and sign up on InflueNex. After that, enter the keywords in the searching box to search for a YouTuber you want to cooperate with.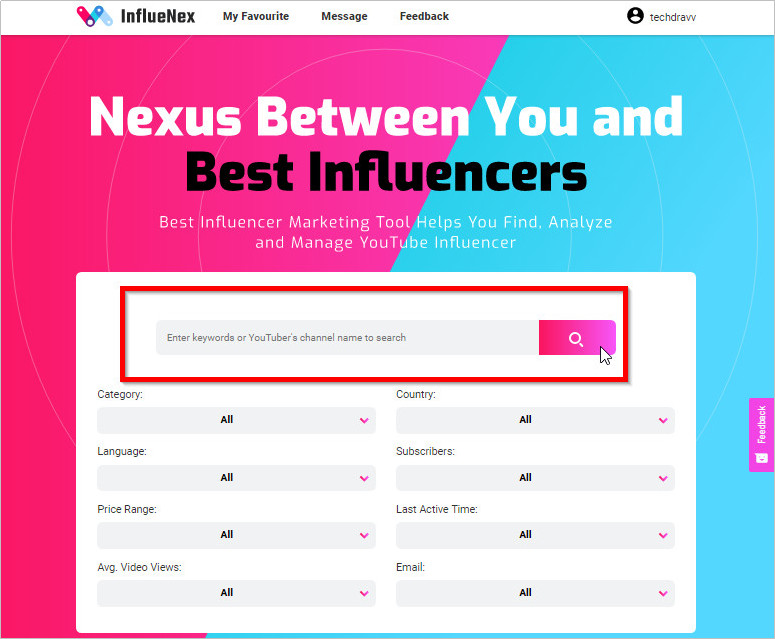 Step 2. Apply filters to specify your search results
Just below the search box, you will see 8 filters. Set the filters according to your preference by selecting average views, fee, language, location etc. Once you are done with it, click on the search button to continue.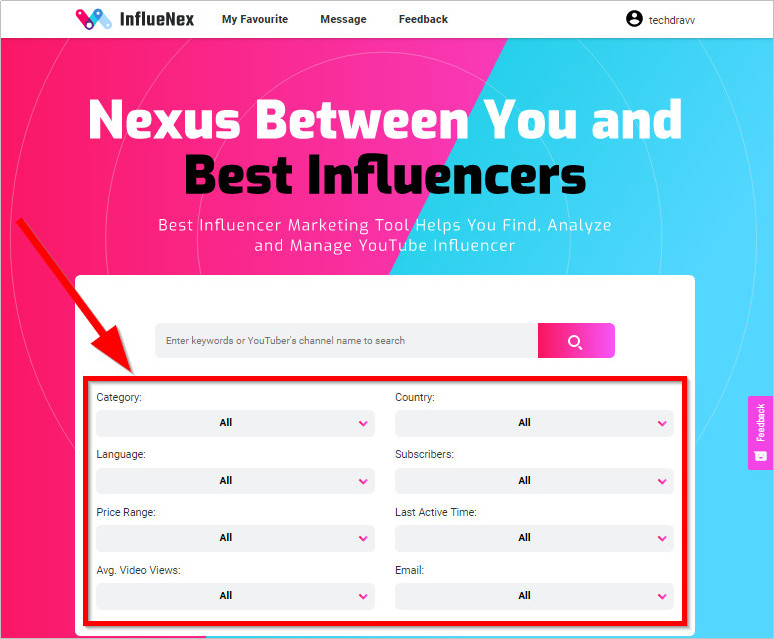 Step 3. Click on the channel name
After clicking the Search button, you will get a list of the YouTubers that match your requirements. Choose an influencer you want to collaborate with from the list, and click the name of the influencer.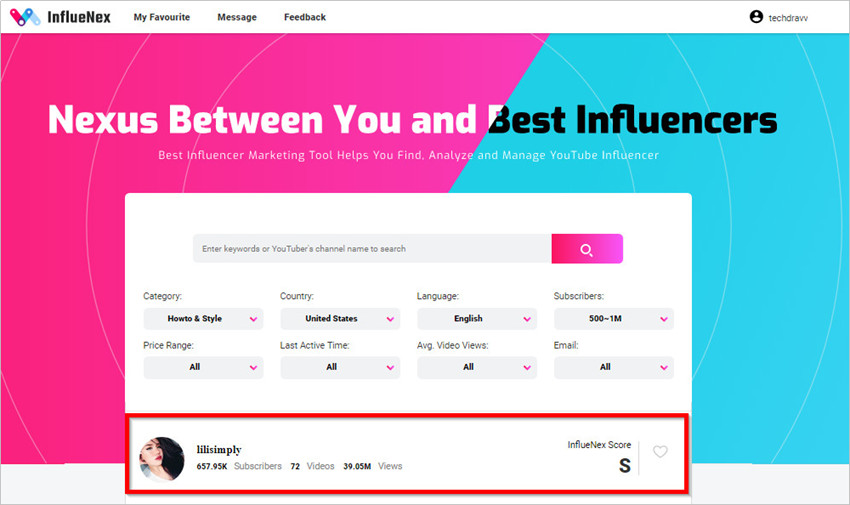 Step 4. Go through their statistics and send invitation
Once you click on the channel name, you will be taken to the channel dashboard. There you will find all the relevant information related to the influencers including their average earnings, their ranking, subscribers, average views and a lot more. If everything meets your requirement, click on the Send Invitation option on the right side of the name of the channel.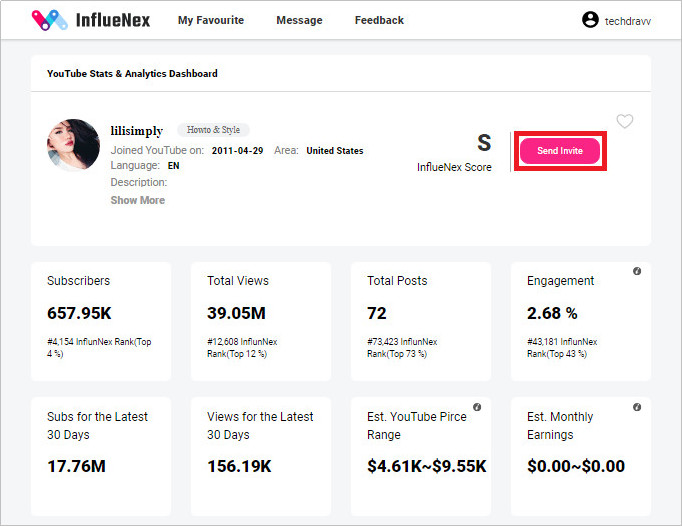 Step 5. Send them the message you wish to convey
After clicking the Send Invitation button, you will be redirected to a new page where you can finish your collaboration email. You can paste your collaboration email template here and correct content. After finishing the collaboration email, you can save the colloabration as a template so you can use it enxt time. If the influencer find your request interesting, the influencer will contact you in short time.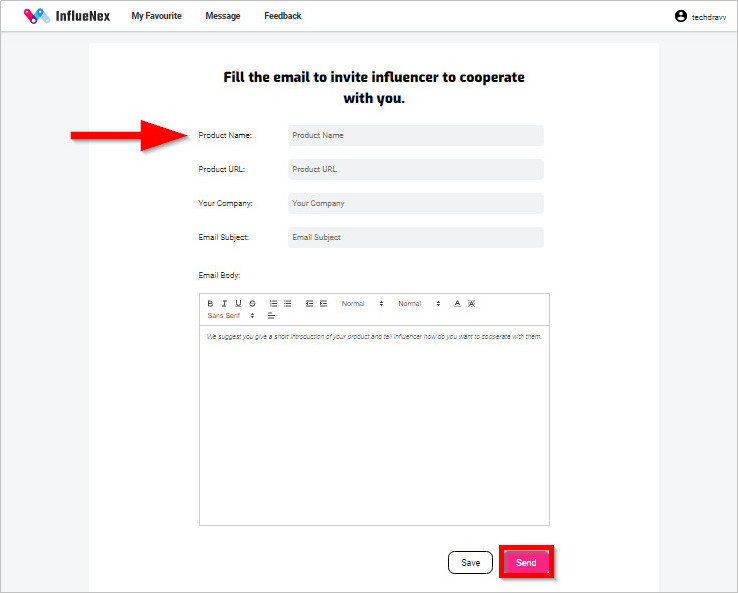 Part 2. How to Contact Indian YouTubers on YouTube Directly
Indian YouTubers play important roles for collaborations in influencer marketing campaigns. Due to their high viewerbase, Indian YouTubers take strict measures to prevent their contact details from coming in public. This makes the process of availing contact of Indian influencers a bit tough. But YouTube has got an interesting feature that can easily get you the official business email address of any influencer you want to connect with, and it's the most direct way to get connected with the Indian YouTubers. But contacting Indian YouTubers with this method will cost a lot of time, because you can only contact 1 influencer at a time. In the following guide, we're going to introduce how to contact Indian YouTubers directly.
How to Contact Indian YouTubers Directly
Step 1. Search for an Indian YouTuber on YouTube
Firstly, you'll need to open YouTube website. No go to the search bar and enter the name of the YouTuber to search for the influencer you'd like to cooperate with.

Step 2. Open the Indian YouTuber's Channel
Once you search for the YouTuber, you will get a large list of channels. Scroll through them and search for the YouTuber that you want to contact. Click the name of the influencer to enter their profile page.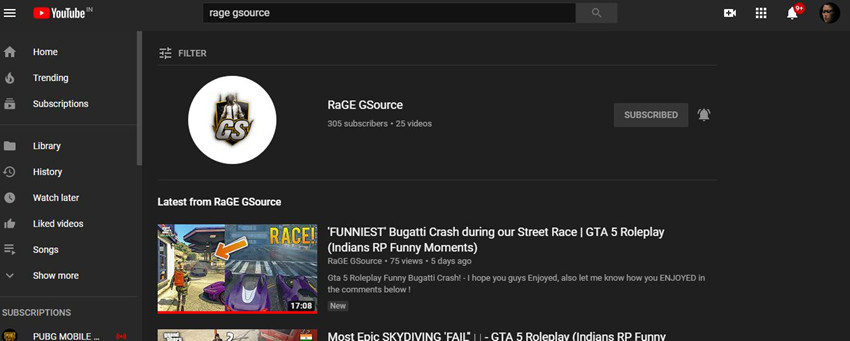 Step 3. Go to the about section
After opening the Indian YouTuber's channel, you'll need to go to the About section of the influencer. In About section, you can see the View Email Address option. Click on the option and verify you're not a robot, then you can see the influencer's email address.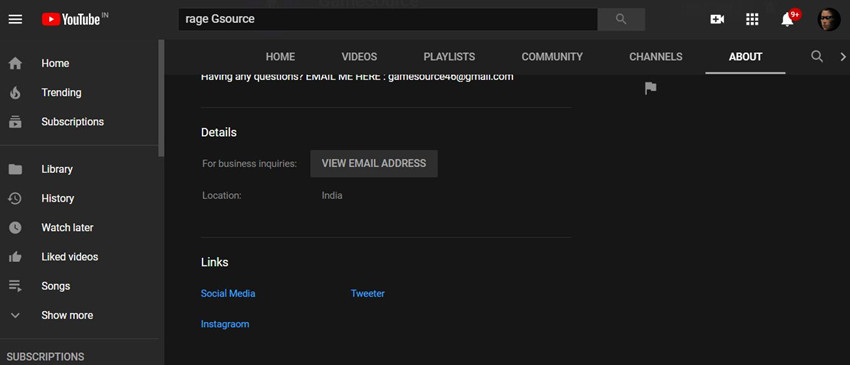 Part 3. Helpful Tips & Tricks about Contacting Indian YouTubers
Indian YouTubers have a large number of followers, which makes the brands want to promote their products with Indian influencers. However, when contacting Indian YouTubers, you may find it difficult to convince them for collaboration. In this part, we're going to introduce several helpful tips and tricks about contacting Indian YouTubers, which can help to improve your success rate.
5 Helpful Tips & Tricks about Contacting Indian YouTubers
1. Show respect
One of the main points to consider while contacting Indian YouTubers is to show them respect that you have for their work. If you start of your message with a nice compliment, it will have a very good impression on the influencer and he will be more interested into reading further. Make sure that you do not try to discredit them in anyway while contacting them as no one likes negativity and when you are trying to convince anyone to work with you, this will definitely break the deal. If you are generous towards them, you will be earning their trust and increasing your goodwill in the market. Using professionally written email templates for influencer outreach can help you to get an idea about how you should be approaching Indian YouTube influencers.
2. Offer them good returns
Due to the large audience that they have to offer, Indian YouTubers deserve good amount of return for their services. Make sure that you are offering them significant amount of return that will be enough to convince them. While sending the message, make sure you clearly mention what you want from them and what they will be getting in return. If the offer that you make is good enough, YouTubers will love to work with you and it will help you to establish a long term relationship with them along with helping you to establish yourself as a credible brand to work with. This will also help you to motivate other influencers to work with your brand.
3. Feature them or their posts on your social media accounts
This is a great way to earn the respect and trust of the YouTubers as when you feature them or their posts on your own handles on social media, you will be giving them free promotions. If the influencer that you want to collaborate with has recently achieved something or has done something that is commendable, do not hesitate to post a congratulation post on your account by tagging them. This will make them feel good and they will get to know about your brand. If they reply to your posts, you will also get a lot of exposure. You can also share their latest videos with your audience and once you approach them for collaboration, they won't be able to reject you due to the appreciation and love you have been giving them on your social media handles.
4. Be active on their social media posts
Nowadays, every YouTuber has accounts on multiple social media platforms to interact with their followers. They regularly posts updates about their life, achievements and personal photos on these accounts. Make sure that you are actively participating on their posts by liking and commenting on it. This will make them recognize you as a loyal follower of their channel and will leave a good impression on them. Also be sure to be active on their YouTube channel. This is very important as YouTube is their main platform. Regularly drop a like and comment on their videos so that they can notice your efforts you can also share their videos on your own accounts to gain their trust. This will help you to establish a healthy business relationship and you will be able to easily convince them for your own influencer marketing campaigns whenever you want.
5. Send them free goods with proposal email
Who doesn't like free goods? If your company is related to software development, send them a free account and if you make certain type of good, send a sample to them when you send them a proposal. When the Indian YouTubers receive the free sample, they'll make the video more clear. Everything from your plans, details of the products, details about your company, your achievements and the return that they will be getting should be clearly explained in the email. Also give them a few free samples to do a giveaway for their subscribers. This will help you to gain their trust along with getting respect from their audience as well.