In 2018 alone, over $5 billion was spent on Instagram marketing. This number is expected to rise by several billion more in the next following years. It just goes to show how much money brands are willing to spend on promoting their products and services on social media, which makes it all the more important for you, as an influencer, to learn how to contact brands for potential collaborations. There's no reason to hold back if you know that you're the right kind of person for the job — the worst they can say is no, but compared to the potential benefits, the risk is worth the effort.
Part 1. How to Contact Brands as Influencers Easily
As an example of how you can go about contacting brands as an influencer, we've chosen Spotify as our example. Spotify doesn't actually work with influencers for promotion, but they do have a contact page available that you can check out if you have something to bring up to them — most businesses have this, in fact. So, it's just a matter of taking what you learn from this demonstration and putting it to use with the brand you actually want to collaborate with.
How to Contact Brands as Influencers
Step 1. Locate the Brand's Business Contact Info
The best place to find a brand's business contact information is through the ABOUT US or CONTACT page of their main website. Spotify, as an example, displays their business email several times in their "About Us" page.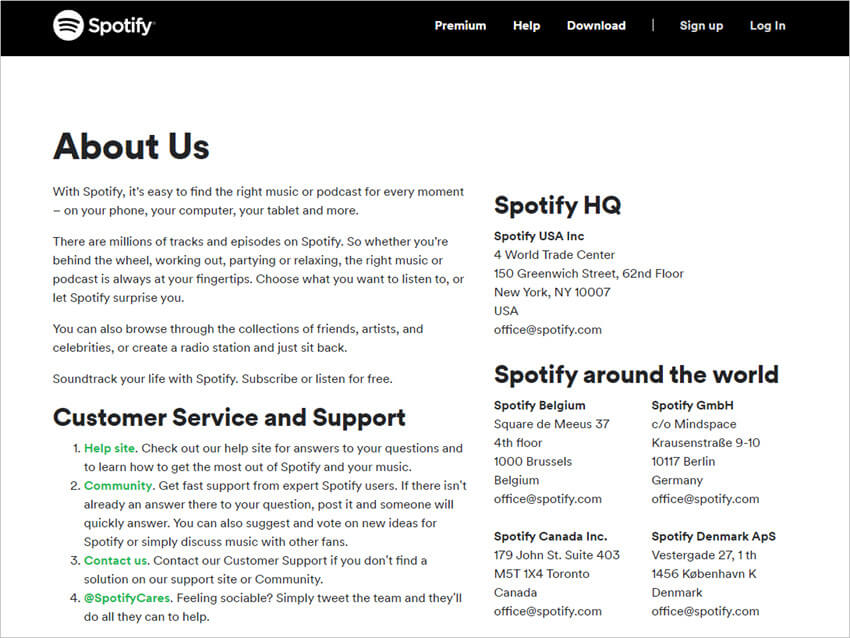 Step 2. Use an Email Service to Contact Brand
Of course, if you want, you can use a general email service like Gmail or Yahoo Mail in order to contact the brand. However, there is an option of trying out one of the many outreach tools available online as well. It's up to you which option you choose in the end.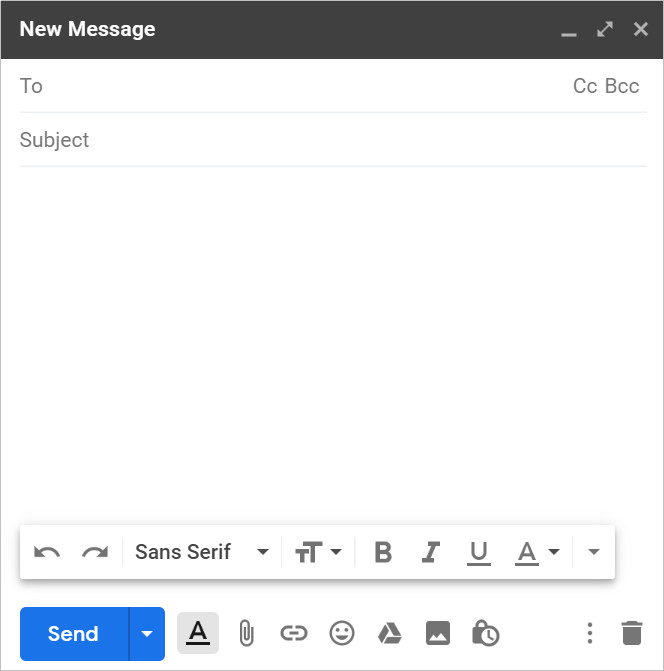 Part 2. Helpful Templates You Can Use to Contact Brands
If you're at a loss at what to actually say in your email, then here are 10 helpful templates that you can use in order to contact brands as influencers. These have all been sourced online and are completely FREE to use. So, don't be afraid of changing things it up to match the kind of message or tone you want to send to the brand of your choosing.
10 Helpful Templates for You to Contact Brands as Influencers
1. Template for Starting a Relationship with a Brand
Source: https://blog.zine.co/how-to-pitch-yourself-as-an-influencer-to-brands
This template has everything that you could possibly need in order to start a relationship with a brand. It shows knowledge of the brand and its products and it links your social channels (which the brand will want to look through in order to prove your influence.) If you're not looking for anything too fussy and want a template that is very to-the-point, then this is the one to try.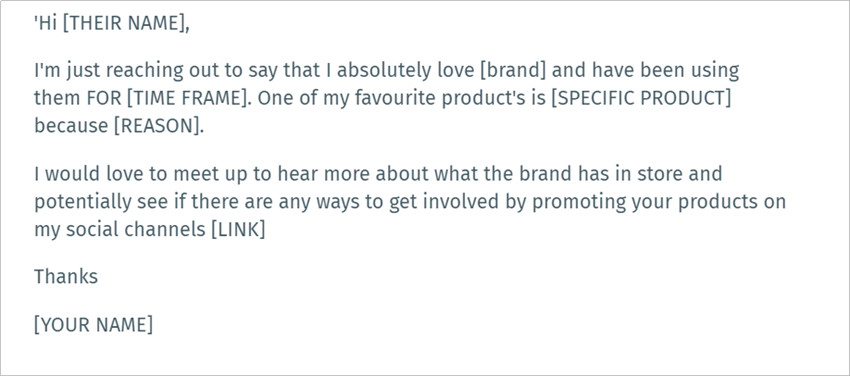 2. Startup Template
Source: https://blog.zine.co/how-to-pitch-yourself-as-an-influencer-to-brands
This next template is a little more personalized. Not only does it begin with an introduction to the writer's relationship with the brand they are targeting, but it also demands that the writer provide details on their influencer (not just link to their channels.) This template is effective in the sense that, you can market yourself as a 'top-ranking' influencer as much as you can. Which, although it may seem overly confident, is a great way of telling the brand that you are the right person for promoting their product.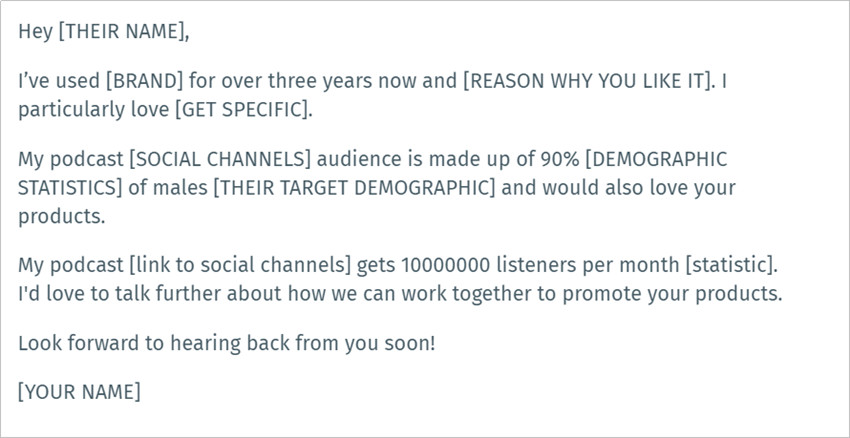 3. Template for Requesting a FREE Stay
Source: https://blog.zine.co/how-to-pitch-yourself-as-an-influencer-to-brands
This template introduces a very specific kind of collaboration between businesses and influencers. It's a request for a FREE stay at a hotel (or other forms of lodging), in exchange for a promotional post as well as a review of their stay. A lot of influencers are doing this these days, and while not all businesses will provide this service, it's not a bad way of saving up during a trip.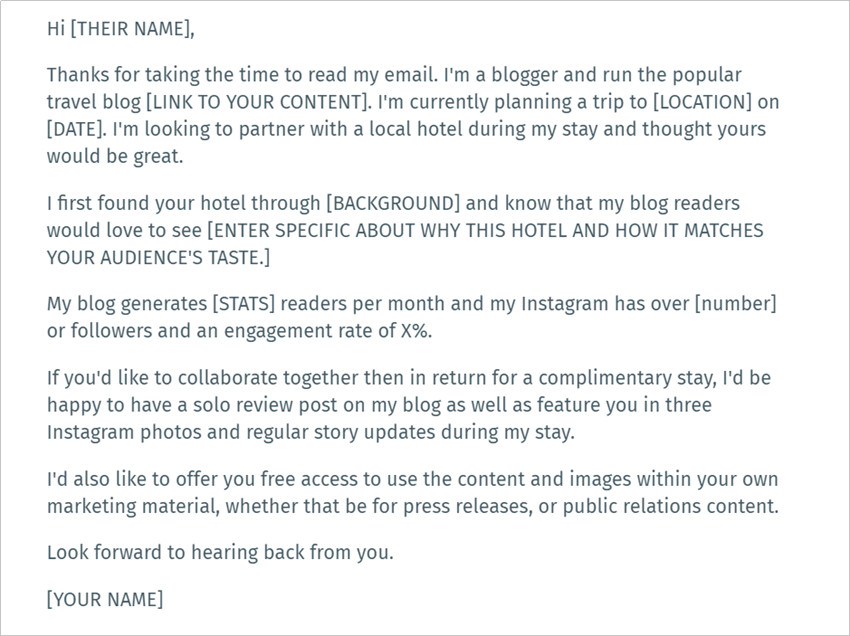 4. Template for Product Collaboration
Source: https://blog.zine.co/how-to-pitch-yourself-as-an-influencer-to-brands
This is another one of those highly personalized templates — if only because you'll actually have to prove that you do talk about the brand's product often. Still, if you are able to manage to provide that proof, you can expect to make quite an explosive introduction. Brands appreciate it when influencers use their product, and, more likely than not, your history will endear you to them, and perhaps even open up avenues for a big promotional campaign.
5. Quick Product Collaboration Request Template
Source: https://www.graciefrancesca.com/2018/01/pitch-brands-collaborations.html
This is a great template for just getting your message out there. It's only a paragraph long, but it doesn't spare anything when it comes to the important details. That is, that you have a history of organically talking about the brand's product (which brands love) and that you've used, and enjoyed, said product (which means that you will review or promote the product very positively.)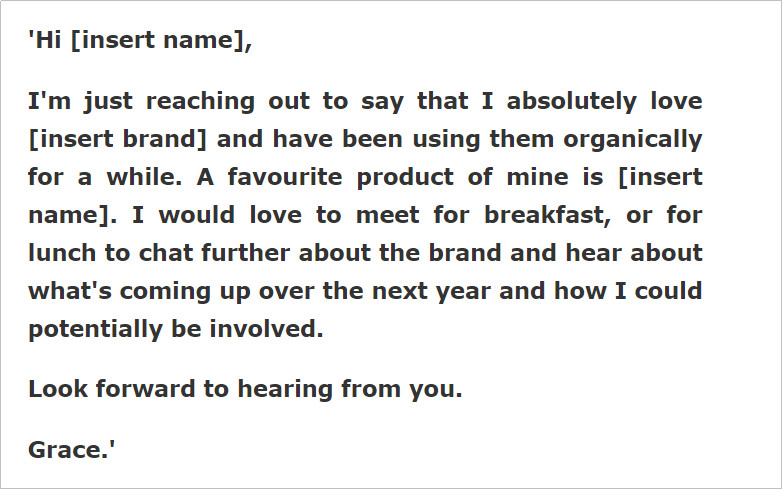 6. Template for Complimentary Stay
Source: https://youbabymemummy.com/blogging/how-to-pitch-brands/
This is another template for requesting a FREE stay at a hotel or lodging. However, unlike the previous template, it was designed to be more detailed. It's also very courteous, which is always good when requesting things like this — as mentioned, not all hotels are willing to do this, after all. So, it's best to keep open when requesting for such stays.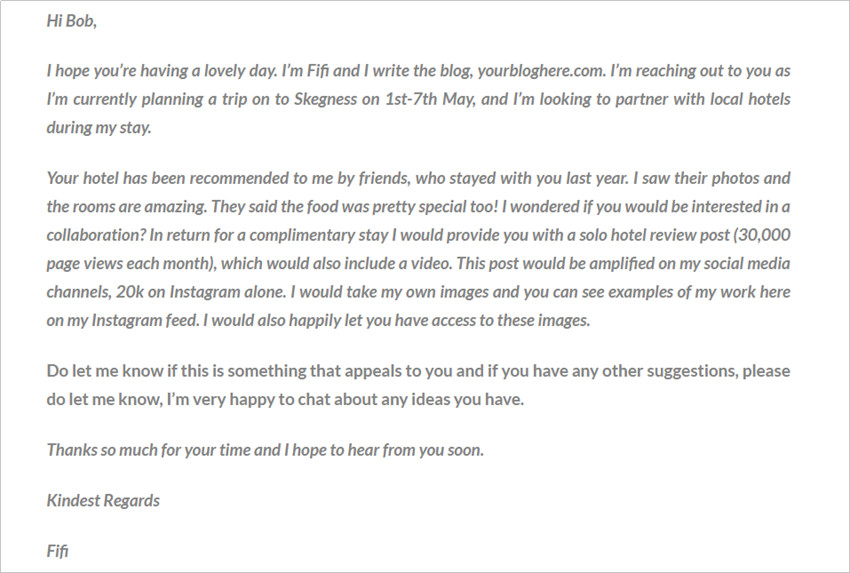 7. Template for Open Collaboration
Source: https://youbabymemummy.com/blogging/how-to-pitch-brands/
This is another template that forces the user to be very detailed about their profitability (influence-wise) — which is a good thing. After all, in order to persuade the brand that you're the person that they should hire for the promotional campaign, you have to actually tell them why that is. It also ends with an 'open' invitation, rather than one that is strictly for the promotion of this or that product (which is a good way of telling the brand that you're ready for anything.)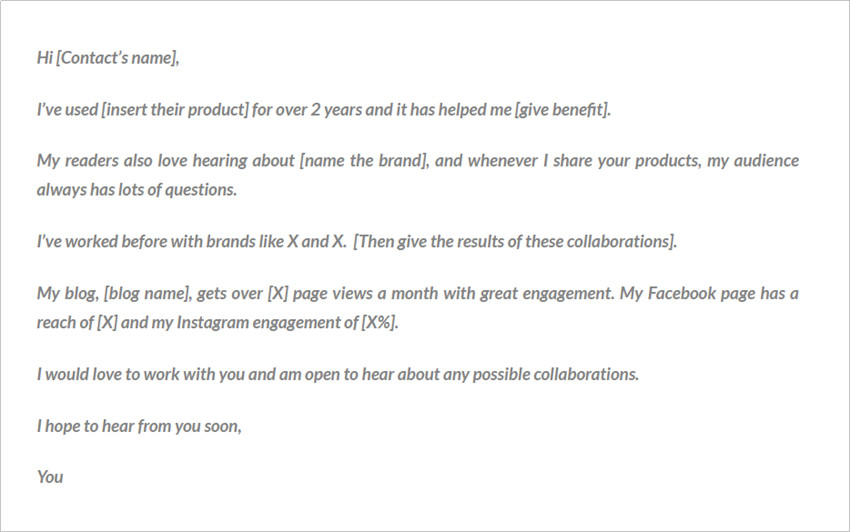 8. Template for Video Collaboration
Source: https://mag.octoly.com/how-to-write-a-pitch-letter-that-gets-a-brands-attention-e7db0d3f7a93
This next 'template' is more of a sample than an actual template. However, it's a good base to follow nonetheless. In the letter, the writer tells the brand what kind of video they want to make and how they believe it will work for a collaboration. It's a subject that would have probably come up later anyways, and telling it now just means that you are very well prepared for what's to come and are excited about the potential campaign.
9. Template for Consumer Requested Collaboration
Source: https://medium.com/better-marketing/how-to-successfully-pitch-brands-as-a-micro-influencer-on-ig-f75e2d7c818d
In this template, the writer tells the brand, outright, that their audience has been wanting to hear more about their product. This is a smart request as it will tell the brand that your audience actually cares enough, or are interested enough, in what they're selling (which may equal more sales for them.)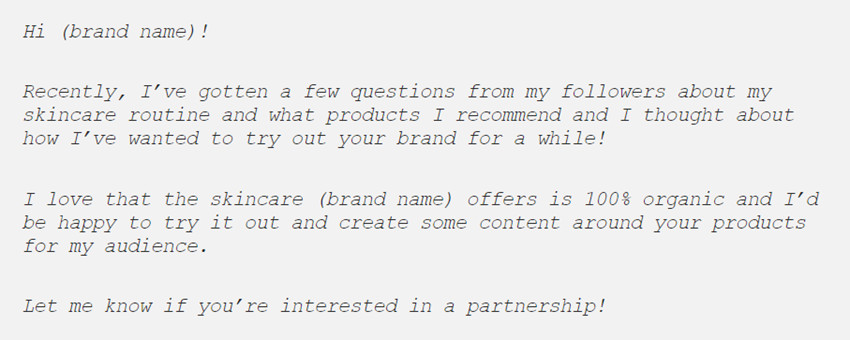 10. Template for Solving a Problem
Source: https://medium.com/@thehuntswoman/pitching-brands-as-an-influencer-9edbdb501345
When a brand is proud of their product, this is the template you may want to send. In this email, the influencer is requesting that the brand provide products that they believe will solve their problem and if so, it's only to be expected that that same influencer will be speaking of them positively in the future.