Interacting with influencers is considered as one of the most important task while you are planning to promote your online business. It is very essential that you use proper and engaging social media collaboration email template to impress influencers. In case you are new to this task then it is recommended to consult internet as there are several templates present which will aid you in boosting your relationship with influencers with just single Email.
Part 1. Top 10 Social Media Collaboration Email Templates
Collaboration email templates provide you aid in outreaching to large number of influencers who will help you in advertising your products and services. Thus, it is very essential that you should make influencers clearly aware about the reason due to which you have planned to reach out to them. This is the reason why your Email should be concise, persuasive, clear and relevant. In the long run influencers will help you to improve off-site SEO, increase credibility of brand and also save working capital of the company.
10 Most Helpful Social Media Collaboration Email Templates
1. First time contact template
This is the template which will provide you an aid in making first impression on your influencer. You will also get an opportunity to provide little information about your organization in brief. Through this Email template it can clearly be inferred that if an influencer will work for you then even he or she will get benefit.
Benefits
You get a chance to compliment influencers for their previous work, thus you make them aware that you are one of follower.
Through this email template you also get a chance to invite them for a formal meeting where you can discuss about business.
You can say your message in a precise manner which will save lots of your time.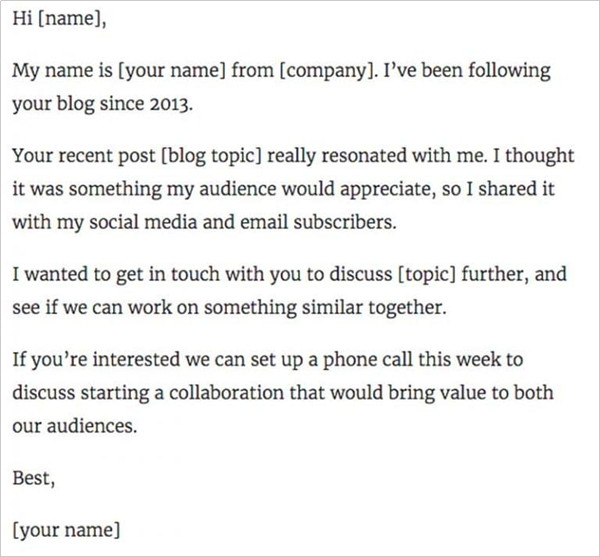 2. Opinion template
This is a social media collaboration email template where you can ask influencers about their views for your products, services or site content. Opinion template can even be send to several influencers at a time. This provides you an upper hand in publicizing your website and you also get to contact several influencers who have similar interest areas.
Benefits
Through this template you get a chance to showcase your company's assets to influencers so that they can get engaged.
You can also showcase an influencer that the endeavor can also make him or her quest blogger for your web portal.
This template also provides vindication that you have done all the hard work and want influencer to check it out.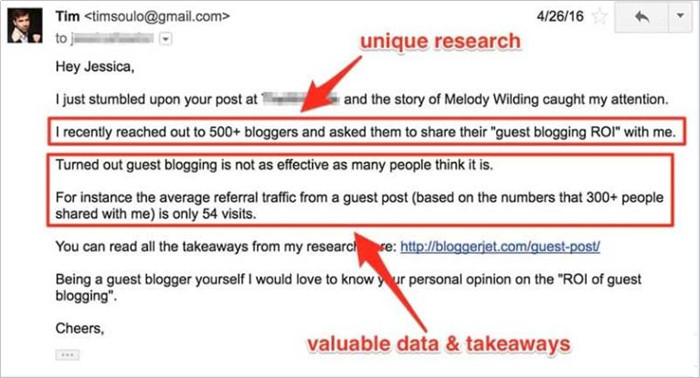 3. Email for free of cost template
With this Email you can offer products so that they can be tested by influencers before general public. This is also considered as a genuine way to lurk influencers to work for you and promote your products. Initially you have to introduce your company and your present brand image; you then also have to provide a genuine reason about why you want to outreach a particular influencer.
Benefits
It in an indirect way to promote your products and services during initial phase.
You also make an influencer aware that you believe in him or her as they can provide correct information whether your product or services will be up to the mark or not.
In the long run influencers will also become loyal to your firm and they will start to advertise your products and services to their followers.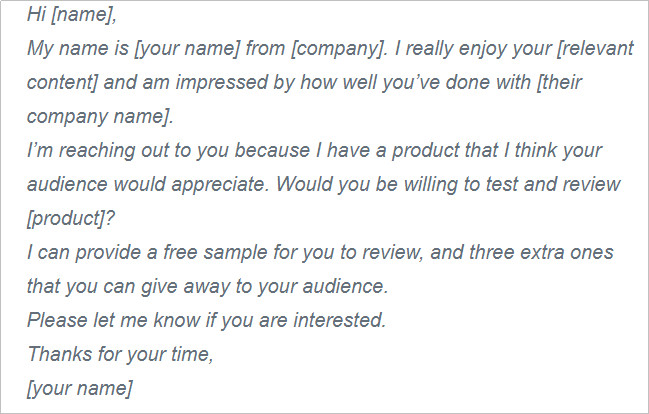 4. Template for affiliate marketing
At present, affiliate marketing is high in demand and by providing similar opportunity to influencers you get a chance to establish great relationship. When you invite an influencer for affiliate marketing program then you are required to mention about benefits beforehand. In the starting of this template you get a chance to inform influencers that why in the first place you are planning to hire them.
Benefits
You get to collaborate with influencer who has similar area of interest as of yours.
This template will also give you an opportunity to create a long lasting relationship with influencer and increase your revenue and profit.
You will get large number of buyers, not prospective customers, thus your revenue will get increased exponentially.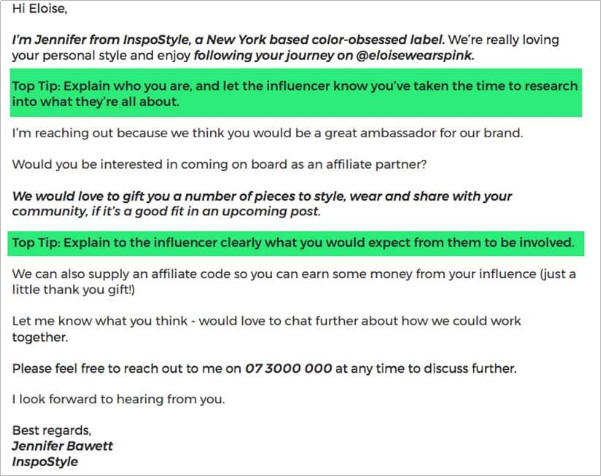 5. Event invitation Email template
Through this social media collaboration email template you get a chance to make your influencers aware about the main motive of the event. You should also provide lists of corporate heads and influencers who will attend the formal party, this will motivate influencers. It is very essential to mention policy regarding discounts and free coupons in the invitation.
Benefits
You get a chance to showcase your corporate clout and strength to your influencer which will woo them.
Through this Email template it is very easy to get influencers of your choice since they love to attend events and make new connections.
You also get an opportunity to focus on several influencers at a time and get them at your corporate event.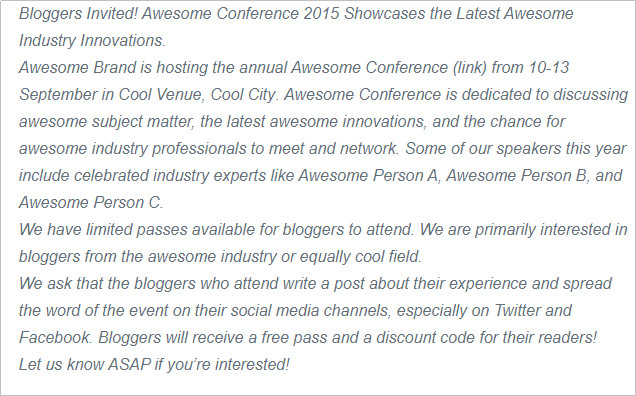 6. Template for follow-up
It is a formal email template with the help of which you can contact influencers with context to business. You are supposed to make influencers aware that you follow their work and share similar area of interest. The template also offers you a chance to mention time and date on which an influencer can contact you if he or she wants to establish great business endeavor.
Benefits
You get to focus on influencers even after you have taken their services, this will create great relationship.
Follow-up template is also used for influencers who didn't respond to your query initially; more than 50% influencers tend to respond through this template.
It is considered as one of the friendliest ways in which you can outreach to your influencer.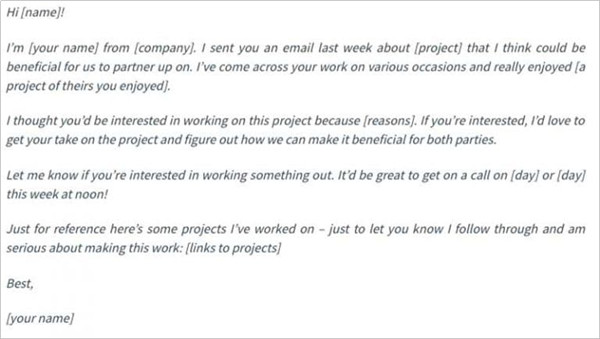 7. Template for beta testing
With the help of this social media collaboration email template you can consult influencers at the time you are launching added feature of a product or new product altogether. The format of this template is very easy to follow and in the long run it will aid you to contact large number of influencers for your products and services.
Benefits
Through this template influencers will make you aware about the shortcomings or great features of your products.
This way you can do necessary changes before providing the product to the general public.
It is also considered as a genuine way to make informal relation with influencer which will provide you aid in future to contact them.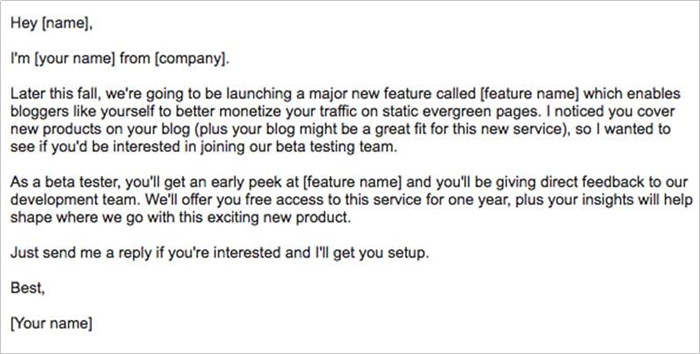 8. Template for expert roundup
This is one of the greatest template which provide you an aid in collaborating with several influencers at a given time interval. Through expert roundup you get a chance to consult influencers who are expert in optimization techniques to create engaging content. The template also uses catchy subject line which will influence your influencer to open and read it.
Benefits
Due to roundup template you will get more customers for your products and services which eventually provide you higher revenue.
Indirectly, you can also lure influencers to work on your behalf.
You can project every influencer to become expert to share your firms' services and products with his followers.

9. You'll get featured template
With this email template you can create immediate, engaging connection with influencers of your choice. You have to make them understand that what your brand has for them when they will promote your products and services to several users over the internet. This template will also give you an opportunity to promote your company's products and services to expert influencers on a large scale.
Benefits
This is considered as one of the most engaging template which is adored by many influencers.
You will get multiple influencers to review and propagate your services and products to their followers.
Experts will then provide you genuine tips for social-media marketing.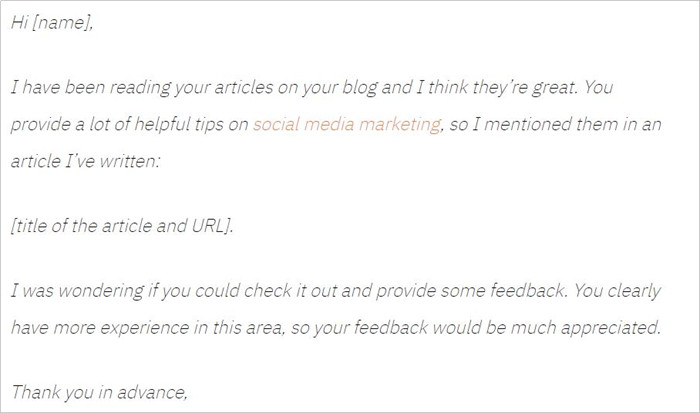 10. Sneak peek email template
This type of template is very useful for those organizations that are planning to launch a brand new product to its audience. One of the best attributes of this email template is that its format is really precise and to the point.
Thus, you get to say your side of story without much difficulty. This strategy is highly recommended by companies as it provides them an opportunity to showcase their influences type of relationship which they are seeking for. With this strategy you get a chance to focus more on the demands of your influencer which in the long run will help you to gain large number of customers in future.
Benefits
This Email template will help you to make great relationship with your influencers which will lasts for long time.
You also make them feel special which motivates influencers and they then help you by providing genuine review about your services and products.
It is very easy to follow the format of this template and you will also be able to get favorable influencer for your upcoming project.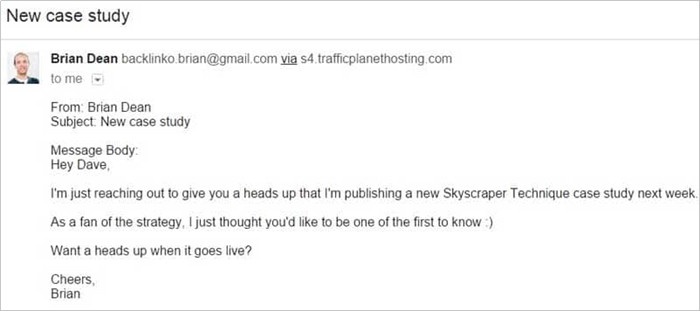 Part 2. How to Use These Social Media Collaboration Email Template
InflueNex is one of the most powerful influencer tracking and reach out tool that a lot of large as well as small businesses are using nowadays. This tool has a very clean and simple user interface that can be easily understood and operated without needing to have any special skill set. This tool allows you to search for any influencer across YouTube and other social media form and have a look at their past performances; reach, ranking and you can even compare them with one another. This is one of the rare tools that allow you to directly contact any influencer you want through inbuilt email features. It also features a vast library of email templates for collaborations which can be used to make better impression on the influencer you wish to collaborate with. The social media collaboration email template is carefully made by experts in the field of influencer marketing.
InflueNex is a feature loaded tool for influencer marketing purposes. The following are some of the best features that it offers to the user:
1. Search for your favorite influencer
The most important feature of this tool is that it allows you to search for any content creator across the world to make sure that they are available to collaborate. It also allows you to directly send a request to them and if they accept it, you can move on further to talk about it.
2. Influencer analytics
This is another useful feature of influenex as it allows you to take a deeper look into the performance of the influencer on the platform he is active on, past influencer marketing track record and a lot more. You can also check their fan following and reach to make sure that they will be fit for your requirements.
3. Large database of YouTube influencers
One of the biggest advantages that users get by using InflueNex is that, you can find every YouTuber on this tool. It boasts of a very large database of influencers which makes it easier and more convenient for you to understand who you want to collaborate with. It gives you choices so that you can compare multiple influencers with one another and decide the better alternative.
4. In-built influencer engagement features
One of the primary features that every influencer marketing tool must have is the feature to allow users to interact directly with the influencer from the tool itself. This feature is present in InflueNex and you can use it to contact influencers and collaborate with them.
5. Collaboration email templates
InflueNex also has a vast library of some of the best social media collaboration email template that you can use to make sure that your first impression on the influencer is positive. You can find a lot of creative templates that can easily be downloaded in your hard drive and can be used after subtle modifications related to the details, addresses and your name etc.
6. Manage the influencers
If you are in touch with multiple influencers on the website, you can easily manage them using InflueNex. InflueNex helps you to create a centralized platform from where you can manage and interact with the various influencers that you have collaborated with.
How to use the email collaboration feature of InflueNex
InflueNex allows you to directly interact with any influencer that you choose over email. You can use this inbuilt feature to get in touch with the influencer easily. The following is a step by step guide to using InflueNex's email collaboration feature.
Step 1. Send the invite
Once you have decided which influencer you want to go for after analyzing their track record, you will have to click on the send invitation button that is presently on the upper corner on the right side of the influencer's home page. Once you do that, you will be redirected to the message sending page.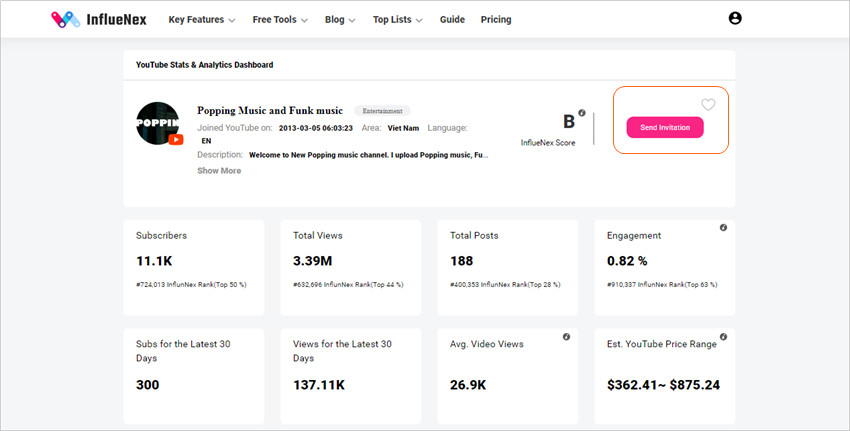 Step 2. Edit the collaboration email according to your requirement
Now you will be on the email page, here you will have to edit the subject according to your preference, it is advised that the subject should be well written to enhance the click through rate. Then you will have to type the main body of the mail. It can include the offer you are providing, the returns they will get and the whole detail of the collaboration along with your contact details. You can also save the email as a draft and use it later for other influencers as well.
Step 3. Send the Email
Now that you have completely edited the email according to your requirement, you will notice a send option on the lower right side of the screen. Click on it and your message will be sent to the influencers. The contact will be automatically saved into the messaging centre so that you can easily access it in future.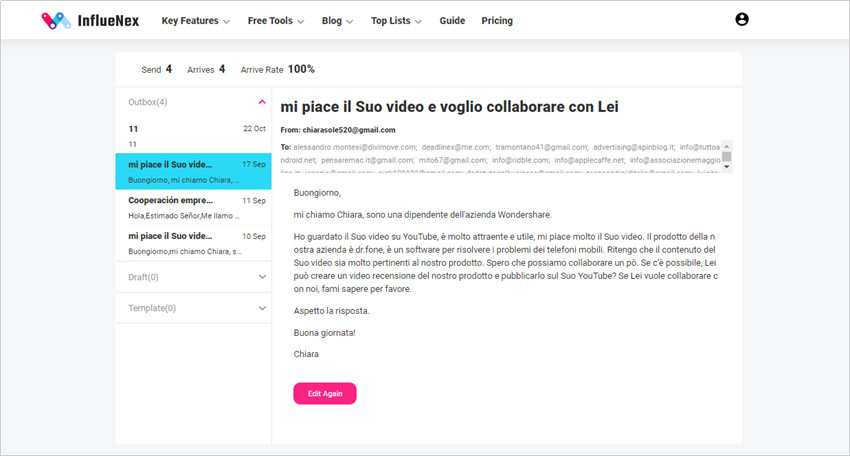 Step 4. Contact multiple influencer at a single time
InflueNex allows you to get in touch with multiple influencers from a centralized infrastructure. This is a great way to save time and efforts. You can create a group from the options and then you will have to add the influencers that you wish to collaborate with. After that, you need to click on the email icon in the group, the template will appear on the screen, edit it and press the send button.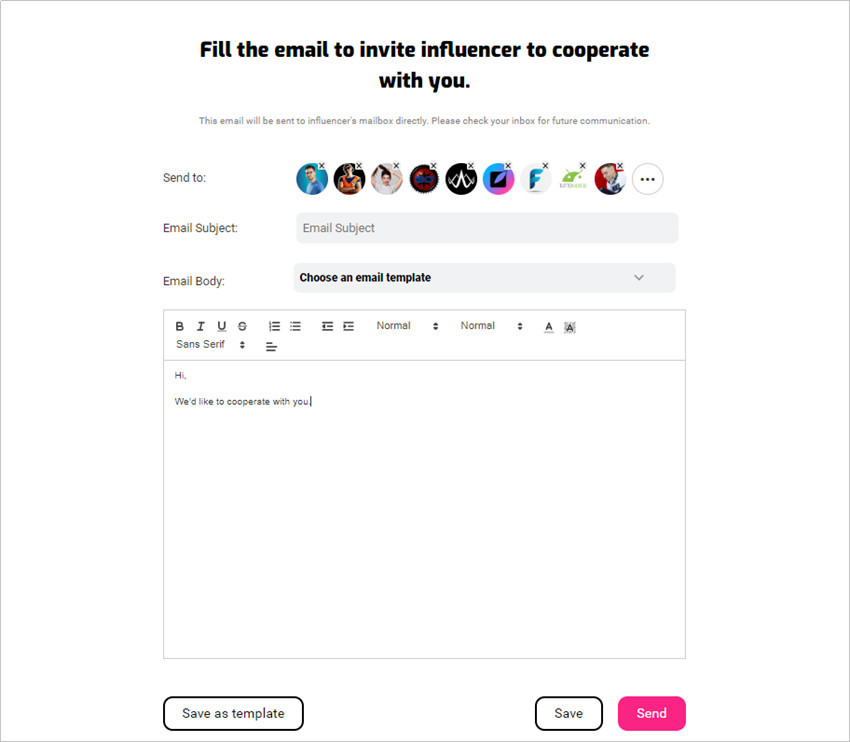 Step 5. Use the templates
InflueNex offers you a lot of well written templates with pre written subject and email body. You can customize it to suit your needs and directly send it as well. This saves a lot of time and also adds professionalism to your email.