YouTube has become one of the best places for influencer marketing campaigns. This is why businesses are constantly trying to get in touch with some of the top YouTube influencers in the market so that they can get the most out of their campaigns. Contacting a YouTuber privately for a business proposal isn't the easiest task as it is very tough to get their contact details due to privacy reasons. There are many ways to get contact details of these influencers but you will have to be very accurate and to the point to convince them. In the paragraphs below, you will be introduced with various methods about how to contact YouTube channel owner. You can use these methods to contact influencers from YouTube and to make your brand successful.
Part 1. Easiest Way to Contact a YouTube Channel Owner
If you are looking for a way to contact YouTube channel owner, there are a lot of ways to do so. The best and most reliable way is to use InflueNex for this purpose. InflueNex has a vast library of YouTube influencers which you can easily search and get in touch with by using the Influencer outreach program. InflueNex also allows you to compare multiple influencers among each other and to view their rankings so that you can make an informed decision about which YouTube influencer will be best suited for your requirements.
Key Features
Influenex allows users to search for YouTube influencers by simply entering the keywords in the search box given in the tool. You can also make your search more refined by applying filters related to fee, demographic, number of subscribers etc.
It provides ranking for influencers which can be used to analyze the effectiveness of any influencer you search for.
This is one of the very few tools that offer outreach program, you can use it to directly contact any influencer you want.
You can create a group of multiple influencers for your marketing campaign on this tool. This will keep all your influencer marketing communications organized properly.
This tool also has various features that will help you to keep track of your ongoing campaigns.
Step-by-step guide about how to contact YouTube channel admin
The following is a step by step guide about contacting a YouTube influencer using Influenex-
Step 1. Search for the influencer
The first step is to enter the keywords in the search box provided on the home screen of the tool. You can enter the name of the channel or even paste the link to a certain channel and it will present you the most suitable results accordingly.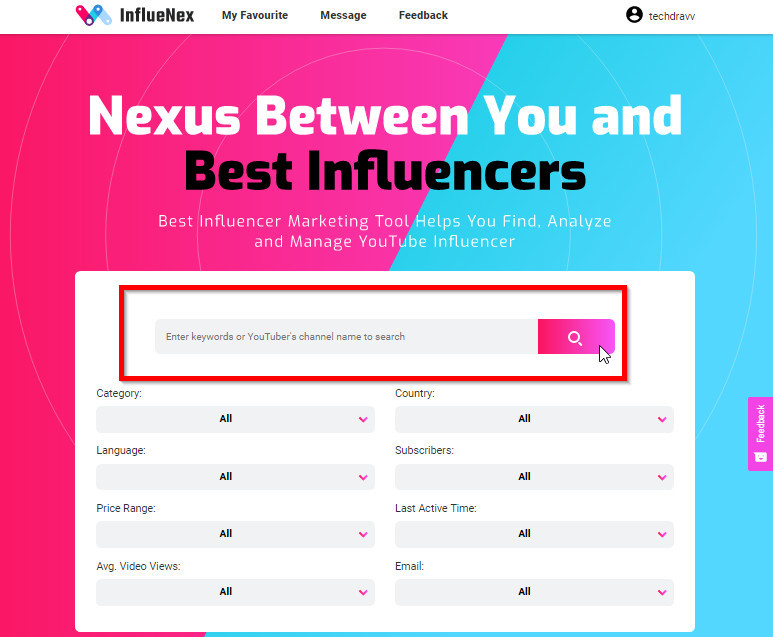 Step 2. Use the advanced filters to refine your search
You will notice several parameters like category, subscribers, location, language etc. given under the search box. Enter the required details in those parameters to make your search more accurate and to save a lot of time as well.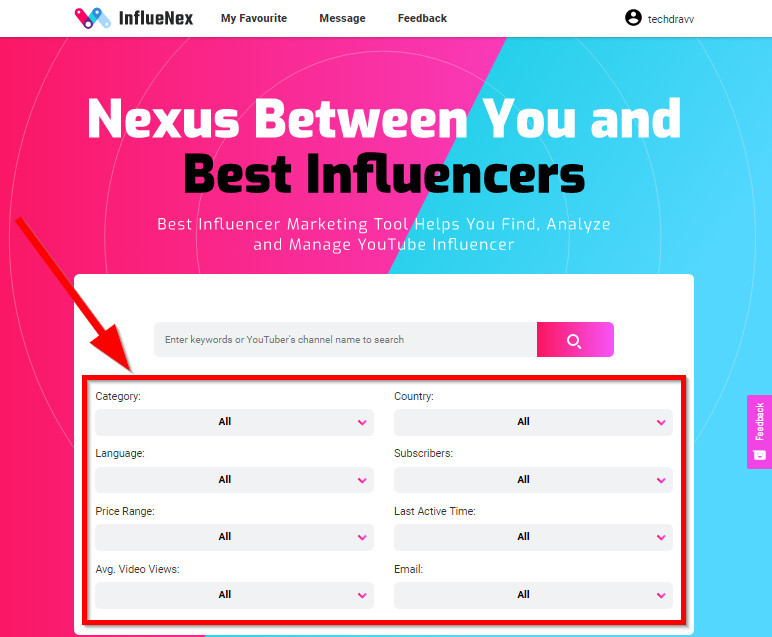 Step 3. Select the influencer you want to connect with
After entering the keywords in the search box, you will be given a list of influencers that are most suited to the keywords. Select the one you want to work with by clicking on their name.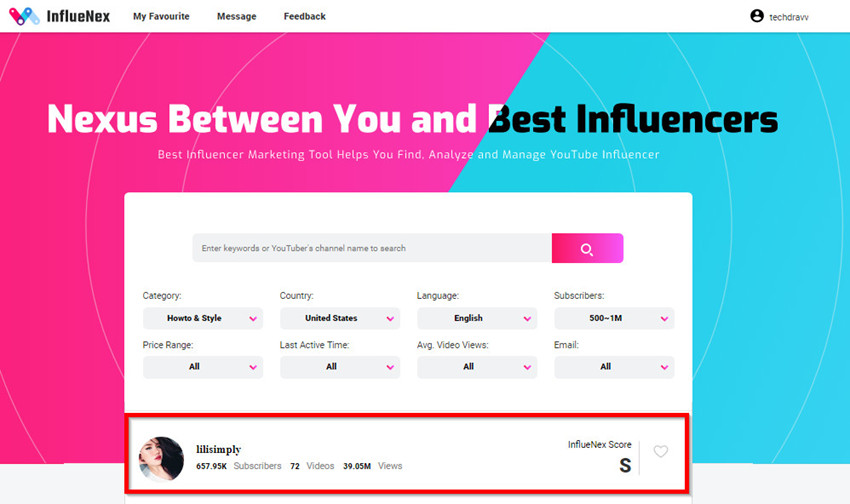 Step 4. Send invite for connecting with the influencer
Now that you have had a look at all the insights of the influencers, you will notice a send invite button on the screen, click on that to initiate communications with them.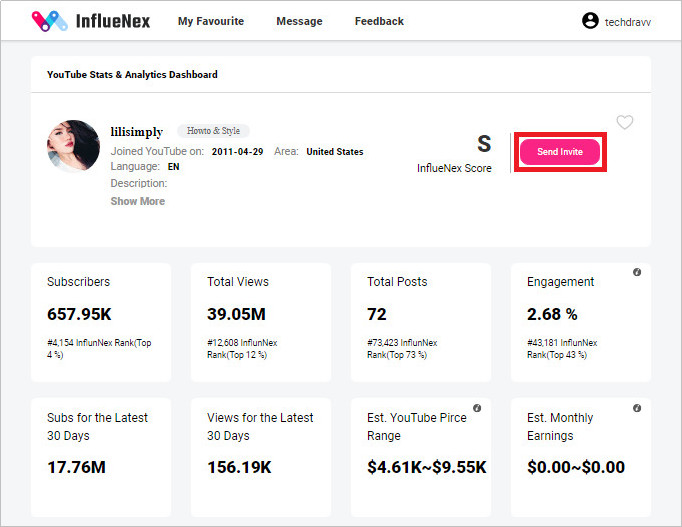 Step 5. Enter all the details in the Email template
Now that you have clicked on the send invite button, you will be redirected to an Email template. Fill in the necessary information about your firm and your plans along with proper contact details and click on send.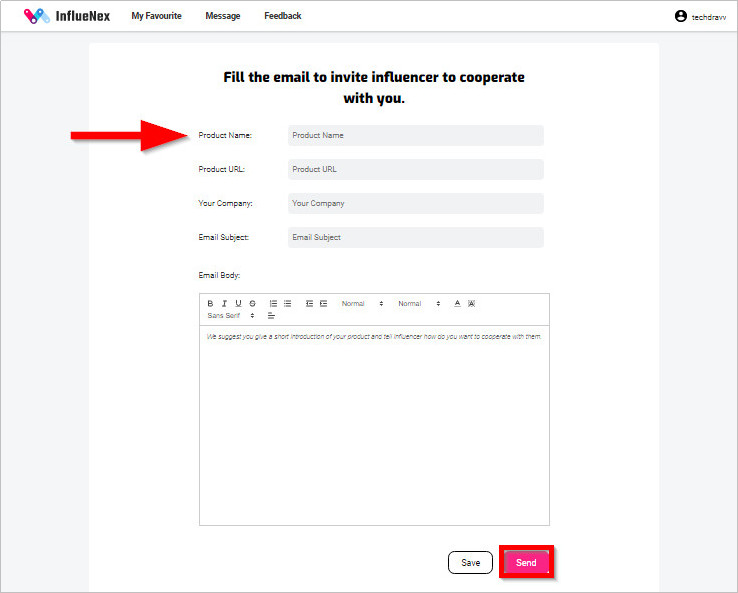 Part 2. How to Contact YouTube Channel Owners with Traditional Way
When it comes to contacting the channel owners on YouTube, it isn't the easiest of the tasks. The traditional method for doing so is to avail the business email address of the Influencer and sending them a detailed Email with all the necessary details. Sending a proper Email to the influencer is considered to be professional and will leave a lasting impression on them and will also motivate them for working with you.
The following is a step by step guide that will make you understand how to avail contact details of YouTube influencers-
How to Contact YouTube Channel Owners with Tradtional Way
Step 1. Search for the influencer you want to collaborate with
If you are familiar with using YouTube, simply go to the search box and search for the YouTube influencer that you want to partner up with.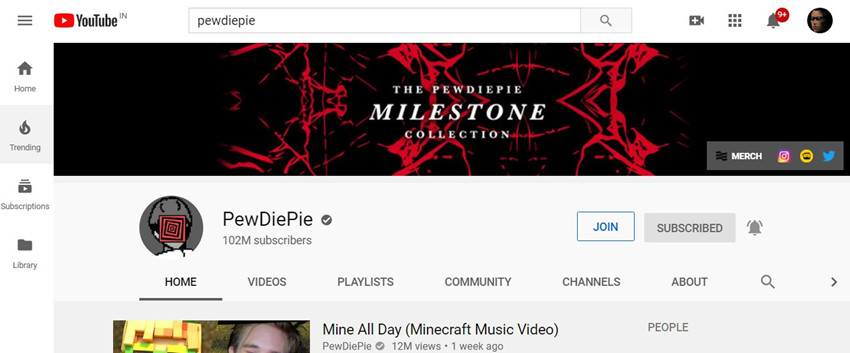 Step 2. Go to their about section
Once you have opened the channel of the influencer, look for the about section on their channel. You will find that option on the right hand side of the screen. Simply click on it and you will notice a view email address option listed there.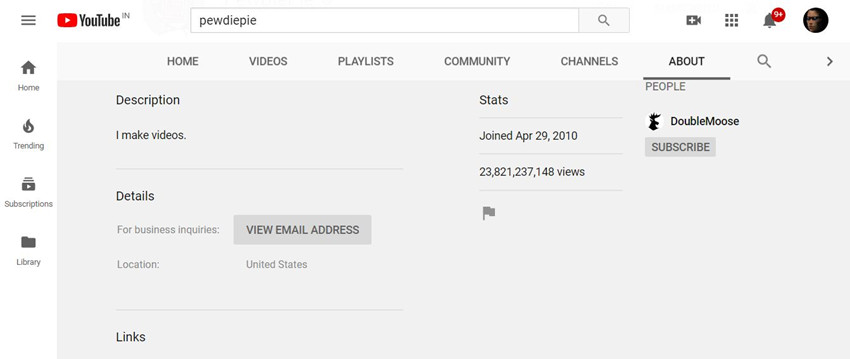 Step-3) Click on view Email Address
Now click on the view email address option. The website will give you a captcha to test if you are a robot or not. Confirm it and you will have the Email address on the screen. Use it to send a proper email to the influencer with all the necessary details about the proposals along with your complete contact details and information about your products.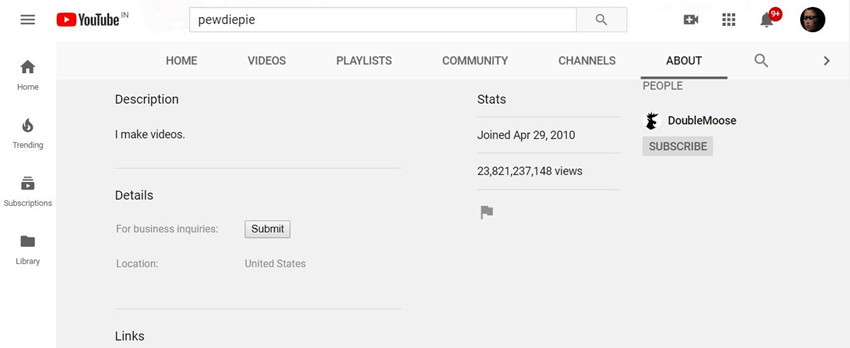 Part 3. Is It Possible to Contact YouTube Channel Owners on Other Social Media Platforms
Nowadays YouTubers are increasingly becoming more and more active on various social media platforms like twitter and Facebook. This is because they want to stay connected to their loyal followers over these platforms so that they can talk to them, reply to their comments and also to make their audience even wider than before. This has made these platforms a great way to get in touch with some of the top YouTube influencers that are currently active in the market. Contacting YouTube influencers on social media is a lot easier than other traditional method as you can simply text the influencers in the chat box features of these platforms.
Taking Facebook and twitter as an example, the following are the steps that you can follow in order to get in touch with the influencers-
How to Contact YouTube Channel Owners on Facebook
Step 1. Search for the influencer from the search box
The first step is to search for the influencer that you wish to collaborate with. This can be done by entering their name in the search box given in these platforms. There are many fake profiles of influencer and you should make sure that you avoid selecting them by checking for blue tick marker. Once you search for them, select the right profile to continue.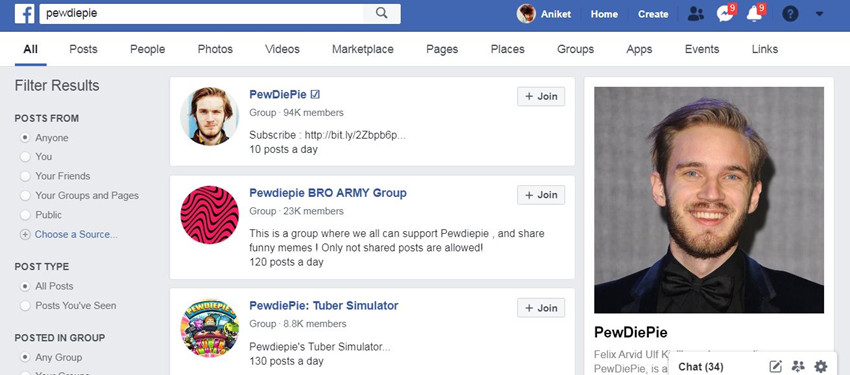 Step 2. Post on their timeline
Now that you are connected with the influencer, you can post on their timeline regarding the collaboration proposal. If you are using twitter to connect with them, you can tweet the proposals by tagging them in the tweet.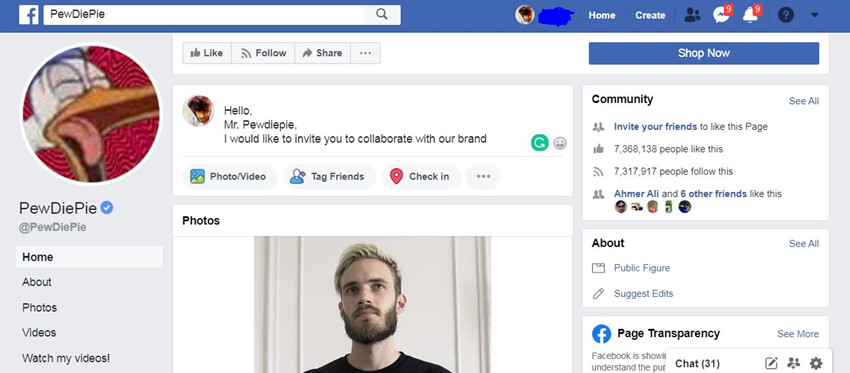 Part 4. Helpful Templates for Contacting YouTube Channel Owners
There are many templates available on the internet that can help you in contacting YouTubers in a professional way. These templates can be downloaded from internet and can be used without any issue. These templates are professionally written and all you will have to do is to fill in the necessary details and send it to the respective YouTube influencer that you wish to collaborate with.
The following are some of the most commonly used templates for contacting YouTube influencers-
1. Let us start a relationship template
This is a great template if you are willing to start a long term relationship with the influencers. Under these templates, the influencers are properly complimented for the work they have been doing and are then slowly introduced with the plan of your influencer marketing campaign.
Benefits:
It is a perfectly balanced template that does all the things properly in a balanced way.
It also compliments the influencers, which significantly increases your chances of teaming up with them.
They are easy to modify and will save a lot of time for you.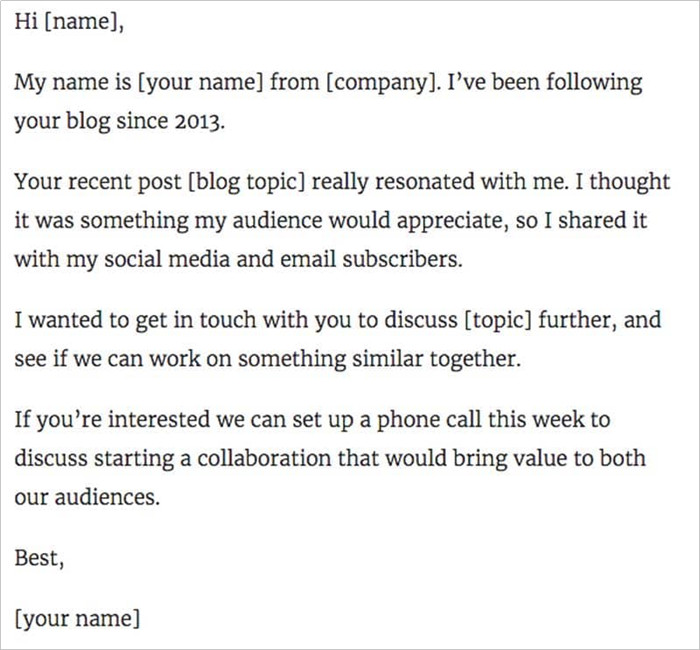 2. Sneak peek template
This is a very popular influencer outreach template among top brands. Under this template, the influencer is given a sneak peek into the development of an upcoming product or services. The person sending these emails drop subtle hints about their plans that entices inquisitiveness among the influencers and makes them interested in working with you.
Benefits:
These templates are made to make people interested in your offerings and have a high chance of convincing the influencers.
You can easily find these templates and they can be molded according to your preferences without any issues.
The best thing about these templates is that there is no risk of your product being leaked to the public.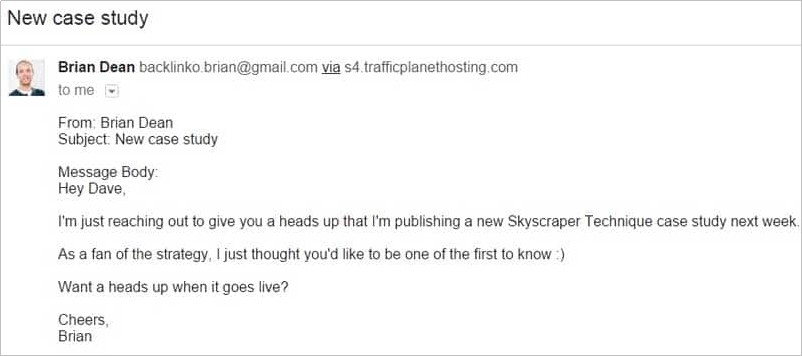 3. Beta test email template
This template is heavily used in the technical field and developers often use these templates to invite influencers to test a new application or a new feature in an existing application. These templates do not disclose the complete details about the project and maintain the confidentiality of your project.
Benefits:
These are perfect for technical YouTube influencers as it creates interest for your project in the mind of the influencer.
These are short and precise templates that are mostly straight to the point.
You can find these templates on various website and even make your own if you want as they are very simple and easy to make.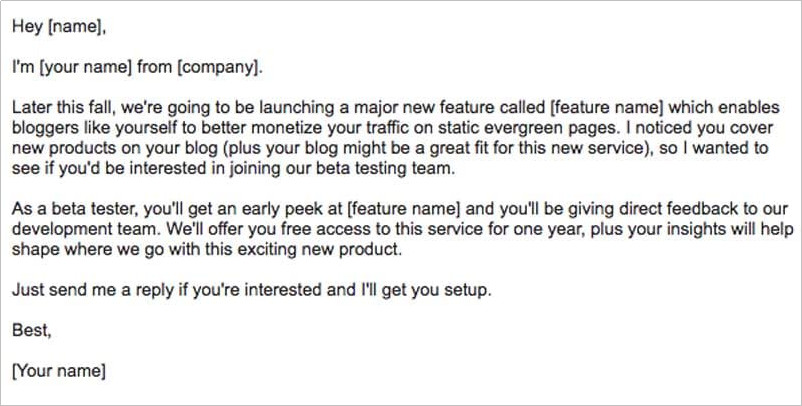 4. Templates asking for opinion about your product
These are no nonsense templates that are always exactly to the point. You can use these templates if you are planning to send out review units to influencers so that they can share their honest views and opinions about a certain product. These templates are always to the point and will clearly mention the intention behind the email, which saves your time as well as the time of the influencers.
Benefits:
These templates have well researched data in them, making them informative as well as interesting to read.
These type of emails have a lot higher chance of getting you a reply from the influencer and they will surely want to work with you.
They are easy to modify and are very versatile, making them fit for usage in all the influencer marketing proposal scenarios.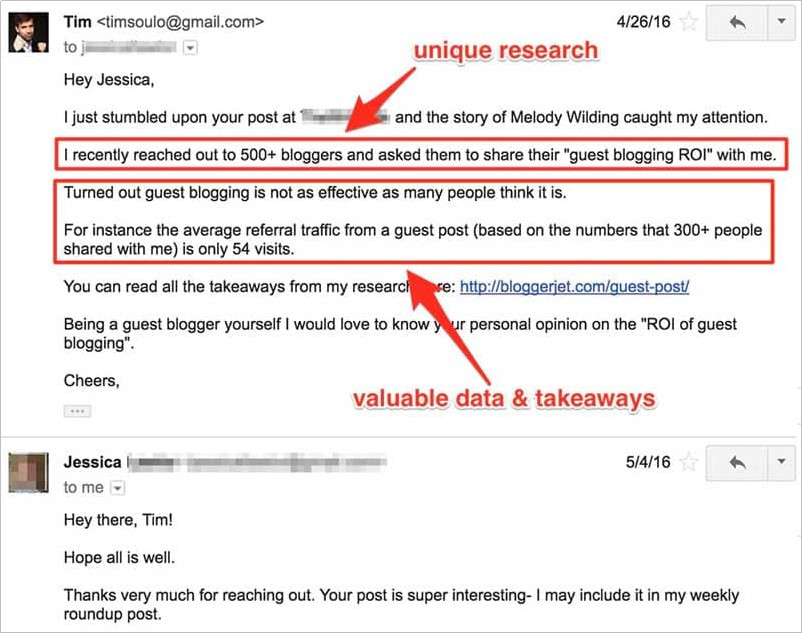 5. The expert template
These are considered as the best email template by experts when it comes to influencer outreach. These templates have complete details about your plans, brand as well as the product or services that you are trying to promote. These templates will also have the offer for the influencer with details about what they will be getting in return of their services.
Benefits:
These are very well written templates and are considered to be a proper proposal of initiating business relation.
These templates leave a very positive impact on the influencers and will provide you better results.
They are easy to find on internet and can be used by small modification for any purposes.