After months of teasing and leaking, the Google Pixel 5 released date is finally out. Google announced that it would introduce Google Pixel 5 with 5G connectivity on September 30, 2020, at its Night Launch event. Released alongside this Google 5G phone is the Google Pixel 4A, a direct upgrade to the controversial Google Pixel 4 and Google Pixel 3a. So, let's find out whether Google Pixel 5 lives up to the hype.
Part 1. Google Pixel 5 Specs & Features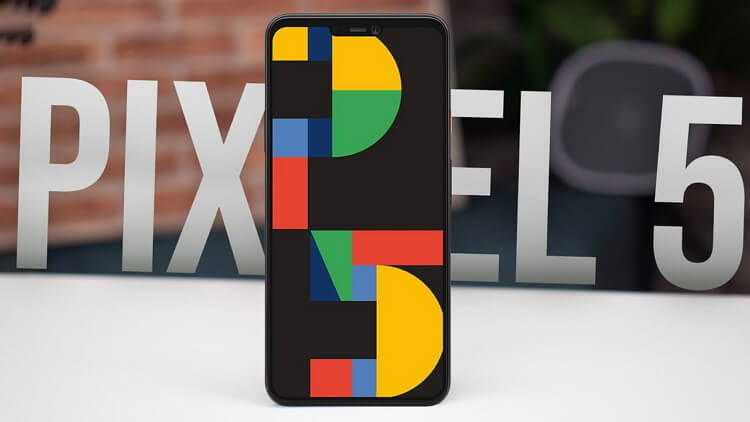 Below are some of the Google Pixel 5 features to expect:
Google Pixel 5 Display: 6" 1080 x 2340 pixels
Google Pixel 5 Camera: 16MP ultra-wide and 12.2MP primary sensor
Google Pixel 5 Battery: 4080mAh Li-Po
Google Pixel 5 OS: Android 11
Google Pixel 5 Chipset: Qualcomm SDM765 Snapdragon
Part 2. Google Pixel 5 Release Date and Price
As I've said, the Google Pixel 5 release date was on September 30, 2020. However, the phone will be available for preorders as of October 15, 2020. You can get in Google's web store or on most retailers in the UK, US, and Australia. As for the Google Pixel 5 price tag, it starts retailing at $699/£599. Therefore, it's by no means a cheap smartphone.
Part 3. Google Pixel 5 Design & Display
The Google Pixel 5 design doesn't necessarily set the world alight. Compared to the latest smartphone flagships like iPhone 12 and Samsung Galaxy S20, Google Pixel 5 falls slightly short. That aside, the phone feels natural in hand, thanks to the soft rounded corners and aluminum construction with a matte finish. On the back, it features a fingerprint reader and a raised dual-camera bump on the top-left corner. The phone is available in two unique colors – Just Black and Sorta Sage (green).
Moving on to the Google Pixel 5 display, it doesn't disappoint with its 6" Full HD OLED panel. The phone offers a display resolution of 2340 x 1080, with 432ppi (pixels per inch). That's significantly higher than the iPhone 11's 1792 x 828 resolution and 326ppi density. And as expected, the display offers always-on support and is protected by a tough Corning Gorilla Glass 6. Add in the 90Hz refresh rate that makes the full capacitive touchscreen faster and smoother.
Part 4. Google Pixel 5 Camera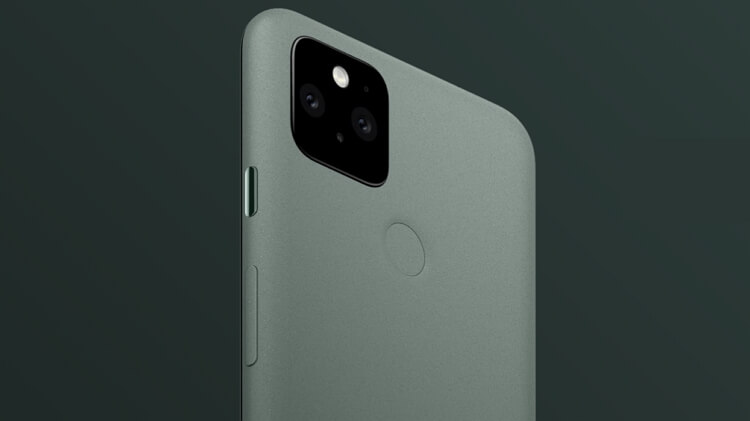 As evidenced in our latest review of iPhone 11 vs Samsung Galaxy S20, most high-end smartphones have 12MP primary cameras. That said, the Google Pixel 5 camera lives up to the tradition with its slightly advanced 12.2MP primary sensor. You can also use the front camera to take 8MP selfies on the go. These specs are similar to what its predecessor, Google Pixel 4 camera, offers. However, Pixel 5 takes it a step further with its 16MP ultra-wide. It the first Pixel to ship with an ultra-wide sensor alongside the Pixel 4a 5G. The sensor offers an impressive 107-degree angle of view for broader coverage in a single shot.
Like in the Google Pixel 4a camera setting, Pixel 5 comes with the all-important Night Sight mode for shooting in Portrait mode. This should come in handy when taking pictures in blurred backgrounds and low-light areas. Pixel 5 also provides three image stabilization modes. It features the Cinematic Pan for an ultra-smooth panning and to slow down videos. The Active and Locked stabilization modes, on the other hand, will help you capture faraway still shots and counter heavy movements. Simply put, Pixel 5 boasts arguably the most advanced camera system in the smartphone realm.
Part 5. Google Pixel 5 Software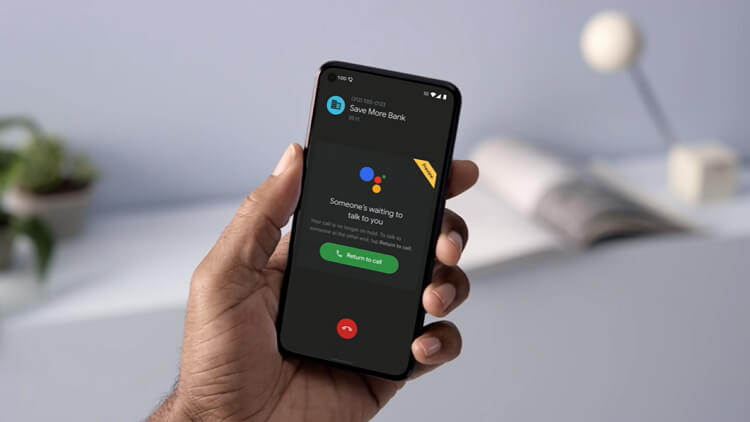 Unsurprisingly, Google Pixel 5 runs on Android 11. But the main takeaway here is the Qualcomm Snapdragon 765G processor, which ships with other high-end brands like OnePlus 8 Pro. This powerful chipset offers a smooth and quick performance while running any game or app. It's baffling, though, why Google didn't fit the phone with the latest Snapdragon 865, which is faster and more powerful than the 765G processor. It also goes without saying that the Google Pixel 5 fits a massive 8GB RAM. That's significantly bigger than what you'll even get in most mid-range desktops and the popular iPhone 11 models.
As for the upgrades, the phone supports 5G connectivity, making it a breeze to stream videos, music, and games. The Pixel 5 also features the all-new Google Assistant with Duplex-powered 'Hold for Me' function. With this feature, the Assistant will do the waiting work for you when you're making a call to any customer support number. This smart voice assistant will listen for you and give an alert once a representative becomes available. You can even enable or disable it. Sadly, the Hold for Me feature is only available in the US currently.
Part 6. Google Pixel 5 vs. Google Pixel 4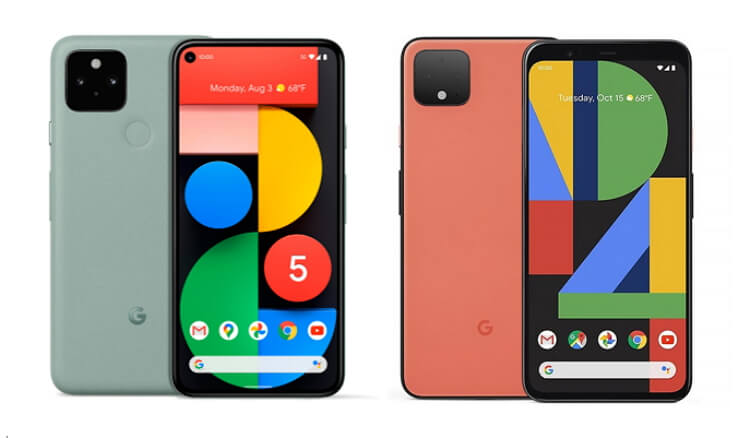 Google introduced the Google Pixel 4 in October 2020. Ideally, that's one year for the company to make notable upgrades. Surprisingly, it's the Pixel 4, which boasts a powerful processor – the Snapdragon 855 chipset. It also has the Pixel 5's unique features like wireless charging, 12.2MP primary camera, and an IP68 rating.
As for the upgrades, the Pixel 5 brings 5G network support and a 16MP ultra-wide camera. Also, its improved 4080mAh battery capacity blows out the Pixel 4's tiny 2800mAh. If you add in the Pixel 5's 8GB RAM compared to the Pixel 4's 6GB, I find it a worthy upgrade.
Below is the Google Pixel 5 vs. Google Pixel 4 comparison table:
| Features | Google Pixel 5 | Google Pixel 4 |
| --- | --- | --- |
| OS | Android 11 | Android 10, upgradable to Android 11 |
| RAM | 8 GB | 6 GB |
| Display | 6" 2340 x 1080 pixel resolution | 5.7" 2280 x 1080 pixel resolution |
| Protection | Gorilla Glass 6, IP68 rating | Gorilla Glass 5, IP68 rating |
| 5G Connection | YES | NO |
| Battery capacity | 4080mAh | 2800mAh |
| Colors | Sorta Sage, Just Black | Oh So Orange, Just Black, Clearly White |
| Processor | Qualcomm Snapdragon 765G | Qualcomm Snapdragon 855 |
| Storage | 128GB UFS 2.1 | 64GB, 128GB |
| Camera | 8MP front, 12.2MP rear main, 16MP rear telephoto | 8MP front, 12.2MP rear main, 16MP rear ultra-wide |
Part 7. Where to Buy: Google Pixel 5 Best Deals
It's evident that the Google Pixel 5 sale is ready to take the market by storm. Take note that the price begins at $699 in most online stores.
$699 for Google Pixel 5 at Amazon
$699 for Google Pixel 5 at Verizon
$699 for Google Pixel 5 at Google Store
$649 for Google Pixel 5 at Best Buy
$699 for Google Pixel 5 at B&H
The Take-homes
The 4800mAh battery capacity, 5G connectivity, and 16MP ultra-wide sensor are the game-changers here. By getting the Pixel 5, you'll also enjoy a bigger display with a superior pixel resolution. In short, Google Pixel 5 is worth every penny of the hefty $699 price tag.
Pro Tip: If you have a huge photo collection in your digital camera that you'd like to view on your phone, you'll have to convert Raw to JPEG or PNG. So, download Wondershare UniConverter. With this Mac/Windows app, you can convert any photo format to PNG, JPG, TIFF, BMP, or GIF with all original quality. What's more, it comes with a robust Transfer tool to help you export data to external devices in a heartbeat.
Below is how to convert photos to JPG:
Step 1. Open the Image Converter tool
Install and open Wondershare UniConverter and then click the Toolbox tab. Now press the Image Converter function to open it.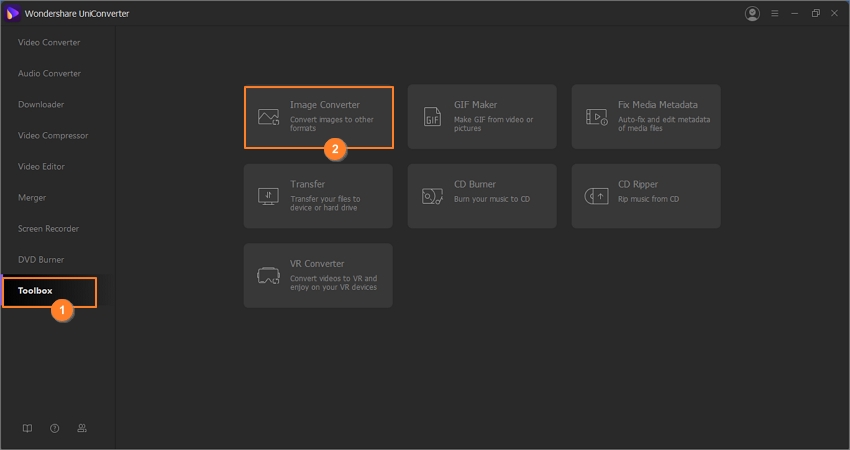 Step 2. Upload photos
Next, drag-and-drop your image files on the Image Converter window. Alternatively, press the Folder button to open your local storages to upload files. You can add directly from your connected camcorder.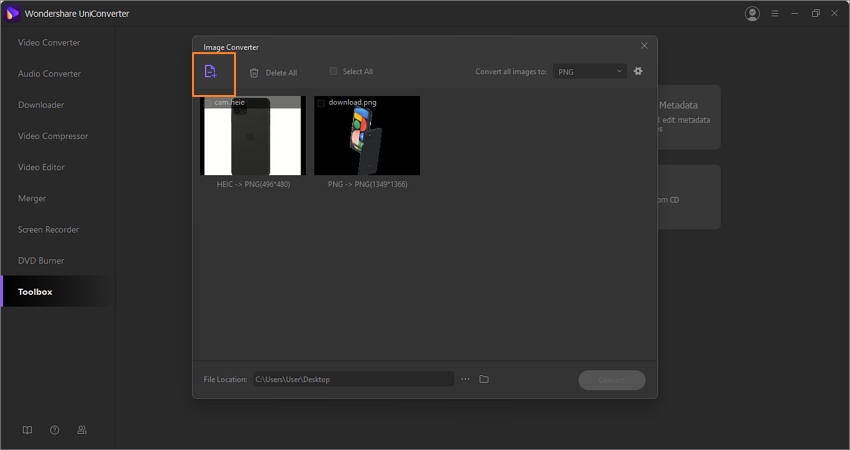 Step 3. Customize files
Select your pictures and then click the Settings button on the upper-right corner to set the image quality and custom size. Click Ok if satisfied.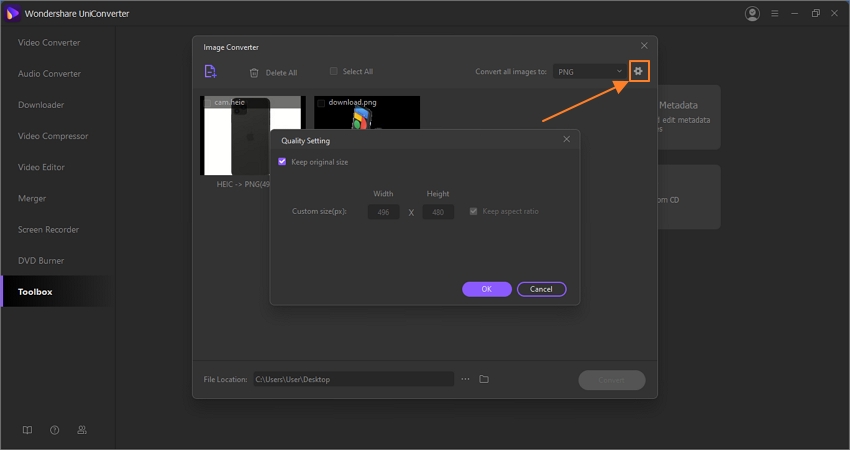 Step 4. Convert images
Tap the menu beside the Setting button and choose JPG as the target format. Lastly, click Convert. That's all!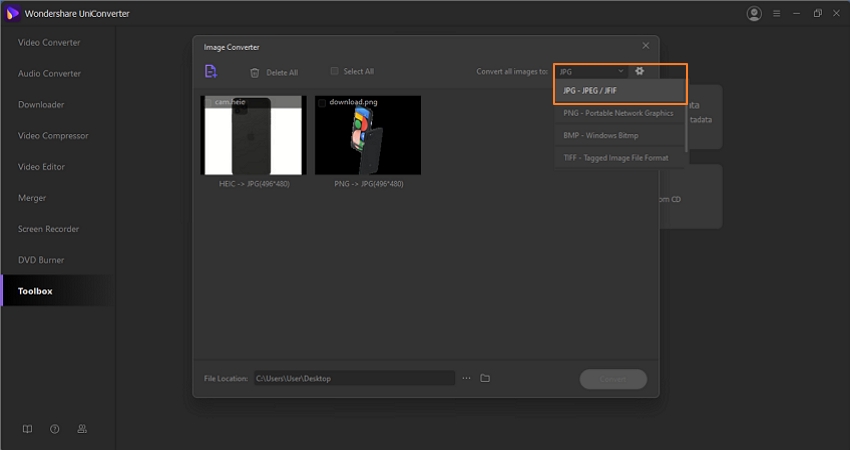 Wondershare UniConverter
Directly convert videos to MP4, AVI, MKV, and other 1,000 formats without quality loss at 30X faster speed.
Convert videos to devices such as iPhone, iPad, iPod, and Android phones directly.
Edit videos with advanced video editing functions, like trimming, cropping, adding watermarks, subtitles, etc.
Download/record videos from YouTube and other 10,000+ video sharing sites.
Burn videos to DVD or Blu-ray disc to play with your DVD player.
Support additional functions like Video Compress, VR Converter, GIF Maker, Fix Video Metadata, etc.