This year has been a reasonably glamorous year for Google. The company managed to roll out its latest 5G smartphones – the Pixel 5 and Pixel 4a 5G. Google also celebrated the 15th anniversary of its popular Google Map. In doing so, the company released a brand-new version of the Google Maps app. Not only the new app logo is redesigned as a simple shape of map pin made up of Google brand colors, multiple new features are offered too. So in this article, we'll discuss what's new with the app, and I'll also be sharing some helpful tips along the way.
Part 1. New Tabs on Google Maps Upgraded Layout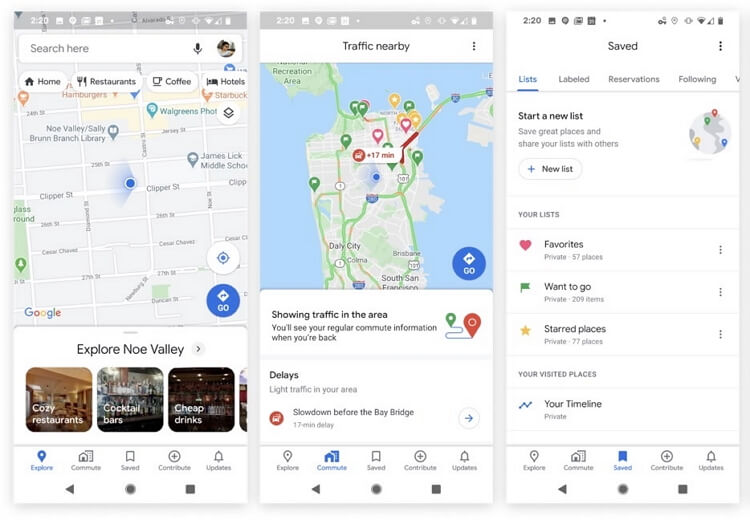 After you download the latest Google Map app and open it, you will be greeted with popups that show you where certain things moved in Google Maps. One of the most significant change to the app's layout is the new tabs you'll find at the bottom - Explore, Saved, Commute, Contribute, and Updates. Hitting the Explore tab will bring up a window that invites you to discover the area you are in or searching for. You can drag up the window to check various areas of interest to explore, such as restaurants, bars, resorts, and etc. After setting your preference, Google Maps will recommend what you are most likely to be interested in. A new useful feature - Events- is also added. You can add your interested event to your calendar or save it under the Saved section, with some description or thoughts about it. The Commute tab houses your daily commute information. For instance, you can find how the current traffic is looking comparing to how it normally is and the predicted travel time. This can help you make adjustments ahead.
Moving to the Contribute section, there you can rate places where you recently visited, add photos and reviews. You can also report wrong info to help Google Maps improve. And the last section Updates is a cool one. You'll see various things from local news to local suggestions, and trending places. When you find a place you want to go, hit the want to go bookmark icon and it will be saved to your list.
Part 2. More Colorful Maps and Street-level Details

The Google Streetview feature allows you to explore the world and see natural wonders. This year, Google shades maps with more colors based on satellite imagery. The refined color paletteto make it easier to distinguish between natural features in the environment at a glance. For example, a dense forest will now appear as a dark green while patchier shrubs may appear as a lighter green.
In addition, Google also redesigned maps to offer more detailed street data of select cities such as London, New York, and San Francisco. Users will enjoy real-time information of particular street sidewalks, pedestrian islands, and crosswalks. With the help of Google satellite, the Google Street View function will help you navigate big cities on foot or using a scooter or bike. The supported cities will even show the exact width and shape of the road.
Because you're likely to use your phone on the streets, below is how to search for a specific place with Android/iOS Google Maps:
Step 1: Open Google Maps and then search for a place, building, or location.
Step 2: At the bottom of the window, tap the place's name and then navigate down to choose a picture labeled Street View.
Step 3: After reaching your destination, tap Back.
Part 3. Popular Times and Live Busyness Information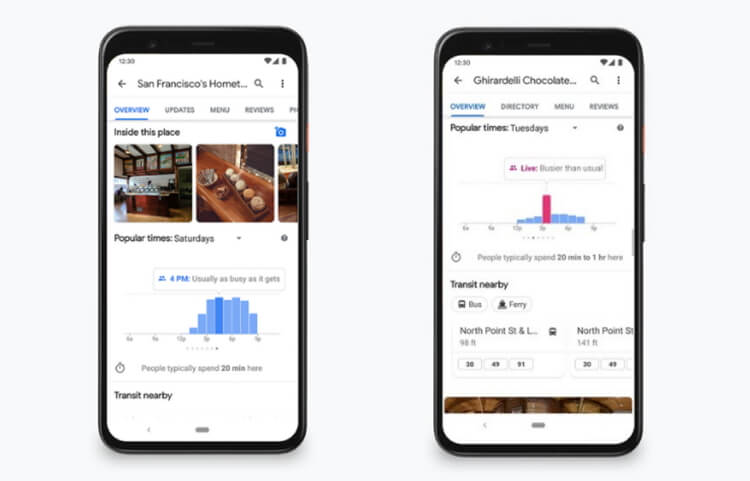 Have you ever experienced the pain when you rush to grab a quick bite duing lunch break, only to find out that the restaurant you chose is packed and there's nowhere to sit? Or have you ever met the long line of a grocery store that derailed your plans when you just need to pick up one item? To solve that problem, Google Maps launched popular times and live busyness information features that let you see how busy a place tends to be in a specific moment. This information has become particularly helpful during this pandemic for the practice of social distancing. To gain busyness insights, Google analyzed recent location history data to calculate how busy a place typically is for every hour of the week. It helps people make adjustments in time and stay safe during Covid-19.
Part 4. New Covid-19 Layer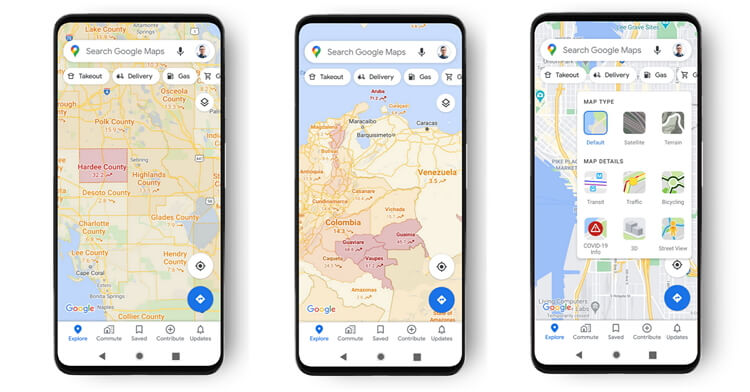 During this troubling Covid-19 period, the world needs a helping hand in tracking the pandemic's spread. Well, Google Maps' latest update allows you to track the spread of Coronavirus in counties, states, and some big cities. You'll now know the average number of confirmed cases within seven days in a specific area. The result is calculated from an average of 100,000 people per location. The tracked area is color-coded with an icon to show whether the cases are increasing or decreasing. The feature is also available on iOS.
To activate this feature, run the Maps app on your mobile device and then click the Layers button on the upper-right corner. Now press on Covid-19 Info, and you'll see a 7-day average of Covid-19 cases per 100,000 people in a particular area. Remember that this data is currently available in all the 220 territories and countries that Google Maps supports.
Part 5. Mapping wildfires with Satellite Data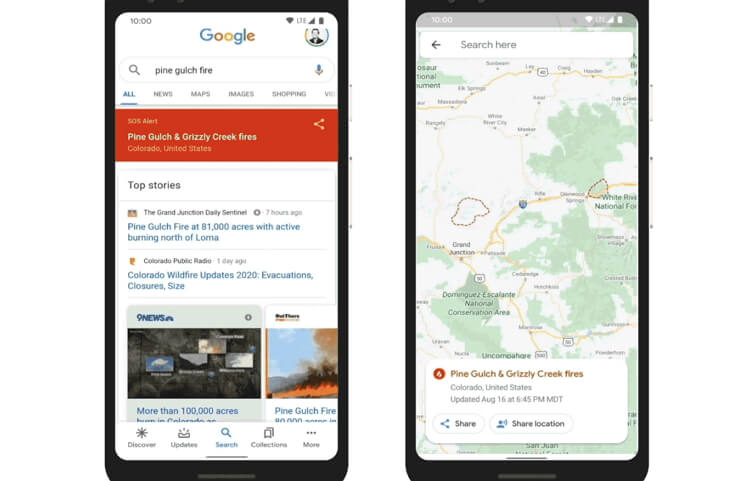 This is another critical Google Maps update that has the potential to save lives. Google Maps now allows you to stay ahead of wildfires, thanks to its real-time satellite data from the NOAA (the US National Oceanic and Atmospheric Admiration). NOAA uses a group of satellites to track weather patterns in the US. The satellites' infrared cameras monitor the earth's surface temperatures to identify hot spots.
According to Google, you can see the precise wildfire locations with hourly updates. Now that's perhaps a bit too slow to help out during a devastating firestorm such as the 2018's Camp Fire that left more than 80 people dead. Nonetheless, the update can come in handy when tracking slower blazes. You'll also receive a real-time warning if you're approaching an active fire.
Part 6. Google Map vs. Google Earth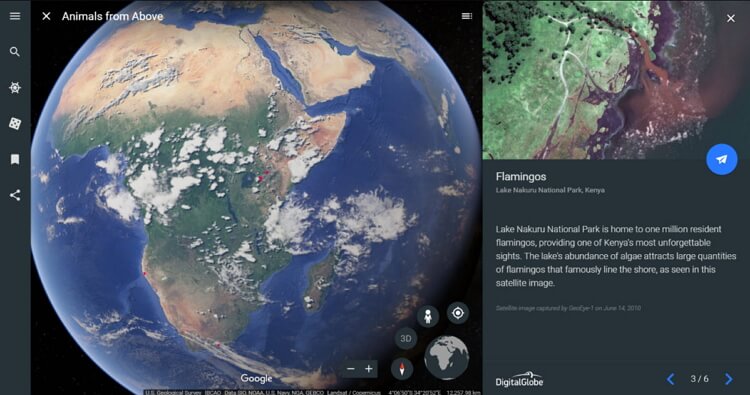 I know you're probably wondering what's the difference between Google Maps and Google Earth. Firstly, Google Maps and Google Earth search functions handle similar tasks, although in different ways. While Google Maps is mainly for routing and arriving at destinations, Google Earth is for exploring. You'll get an advanced satellite view to open the earth wide open with the latter. Not that Google Earth also includes a Streetview, though not as detailed as Google Maps. So, if you're looking to find a new pizza place, use Google Maps. But if you want to explore cities and buildings, Google Earth download is the way to go.
Surprisingly, Google Maps supports 3D imagery, as well. Like on Google Earth, the Google Maps 3D imagery allows you to travel worldwide and enjoy 3D images of select places like New York, Mont Blac, the Grand Canyon, and more. For instance, you can use Verne: The Himalayas app to quickly explore the Himalayas. You'll control Verne – a 500-foot Yeti as you climb Mt. Everest, ride jetpacks, chase yaks, skate across icy lakes, and so on.
The Bottom Line
I'm confident that you've learned a thing or six about the new Google Maps. The update enables you to find places or buildings quickly and easily. Not only that, but the Covid-19 data can also be a real lifesaver if you're traveling to another town. And not forgetting the real-time traffic data places the whole world right inside your pocket.
Pro Tip: Want to convert between all video file formats for free and with top-quality? Use Wondershare Online UniConverter! This website is straightforward to use and supports video formats like MP4, 3GP, MTS, M2TS, VOB, MOV, etc. All you need is to import your local videos or from cloud storage like Google Drive and Dropbox and start converting. Apply these easy steps:
Step 1. Open the Video Converter
Open Wondershare Online UniConverter on your web browser and then tap Online Tools. Now choose the Video Converter function under the Video section.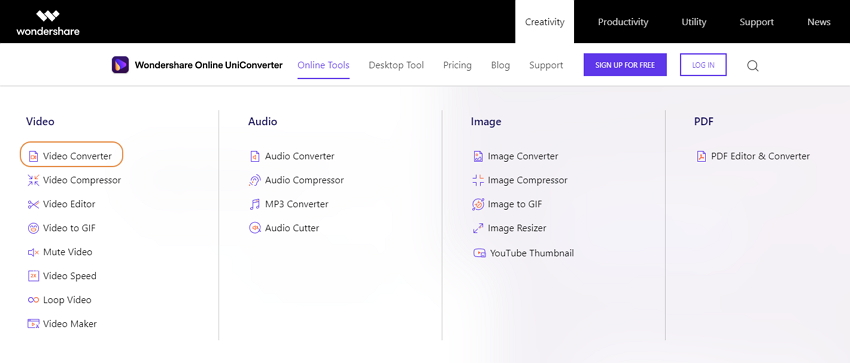 Step 2. Upload and choose a target format
Next, click the Select Files button to upload a video file or files and then open the Convert to menu to select an output video format. You can also convert video to audio.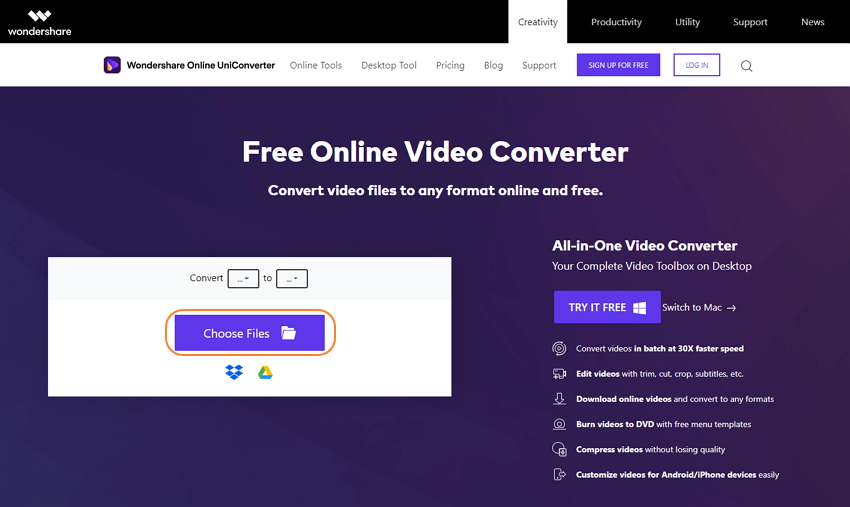 Step 3. Convert and download
Finally, tap the Convert button to start converting your videos. When the process is complete, tap the Download link to extract your new video file.