Animated GIFs have earned remarkable popularity across social media platforms. And in a bid to move with the trend, and be exciting and engaging, WhatsApp has incorporated WhatsApp animated GIFs. They are unlimited and get updated every time to enable the users to spice up their otherwise dull chats.
You may have viewed and forwarded several WhatsApp GIFs. But did you know that it is easier to create and edit GIFs or that at the comfort of WhatsApp itself, or other third-party apps, you can come up with great GIFs, whether you are using Android or iOS?
In this article, we'll take you through detailed steps on how to add a GIF to WhatsApp. You will then later get to know some of the best apps used to create WhatsApp animated GIFs, knowing how to make a GIF on WhatsApp.
Part 1. How to Add GIF to WhatsApp on iPhone and Android
Using GIF in WhatsApp chat is simple, as long as you know how to do so. The feature has been a bit hidden. It may take time to locate it as it is not that straightforward. Luckily, below are detailed steps on how to add animated stickers to WhatsApp. We will be using the iPhone device in this guide. The good thing is that the steps involved are similar on both Android and iPhone devices.
Method 1: Add Your GIF to WhatsApp
You may have accumulated GIFs on your phone over time. Maybe, you had received them from others, created them on your own, or downloaded them from online sources. In such cases, here is how to add GIF on WhatsApp;
Step 1. Launch WhatsApp
Open the WhatsApp application on your device. Again, open the specific conversation that you would want to add the animated GIF.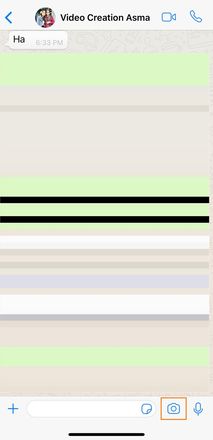 Step 2. Find the GIF Files
Click on the + sign that is present on the left side of the chats field. A window will then pop up. And on some options availed, opt for Photo/Video Library.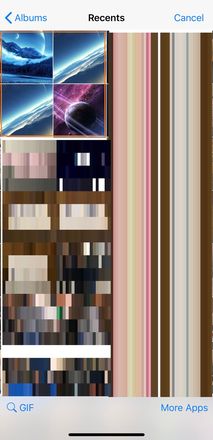 Step 3. Select a Suitable GIF
Select the GIF file from the Camera roll and click on send. If it's a clip you want to transform to GIF, trim to appropriate display on preview and then toggle the blue icon to GIF. This will transform the trimmed video to GIF, from where you can send it like normally.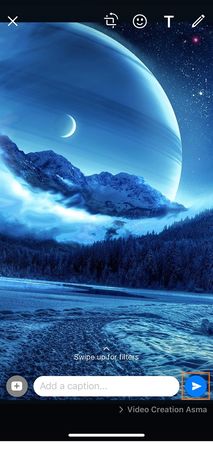 Method 2: Add GIF on WhatsApp using GIF Feature (Tenor GIF Keyboard)
Step 1. Go to the + shaped icon in the chat field and select Photo/Video Library from the pop-up window.
Step 2. Opt for the GIF option with a magnifying lens shape that will be availed at the bottom of the page. A variety of GIFs will be shown on the screen. You may also search for a suitable GIF on the search option. When you locate a suitable file, tap on it and later click on the send icon.
Part 2. 6 Recommended WhatsApp GIF makers - create free GIF stickers for WhatsApp
Media.io Online Gif Maker is one of the best free WhatsApp Animated Sticker makers. You can use it on any device without downloads. It allows you to convert your media files into a GIF within seconds, and download to your device or save to Dropbox, and share on your WhatsApp chats. That said, you can convert images in formats such as PNG, JPEG, JPG, WebP, and BMP into Gifs. It's Video to GIF feature helps in converting videos in many formats like MP4, WebM, MPEG, AVI, 3GPM, etc, to stunning Gifs. Interestingly enough, you can copy and paste the link to a favorite video you want to use as Gif, then convert it on Media.io within seconds. Indeed, you can have fun online conversations with family and friends using Gifs you create with this unique Gif Maker.
System platform: Web-based, across all platforms.
Pros:
Gif customization is allowed as you can adjust the frame rate of the Gif, resolution, size, duration, etc., to suit your preferences.
Works across all devices and platforms that have good internet connection.
Cons:
It is dependent on a good and stable network connection.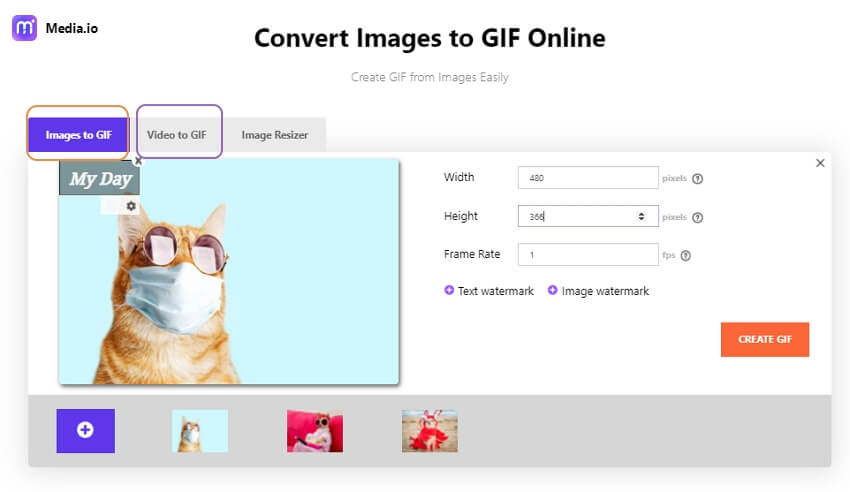 The WhatsApp GIF maker lets the users create or identify awesome GIFs in an animated background. These GIFs are customarily updated daily, and hence you will be sure of finding something newer every day. This application has a lot of categories such as birthday gif, latest gifs, sad gifs, and love gif, among others. Users can sort GIFs from old to new or new to old based on their desires. And once the appropriate file has been identified, you can either add it to favorites or save and then share it with friends and family.
System platform: Android
Pros:
Great collection of GIF in all categories.
Available for free.
Cons:
It can be uneasy for new users.
It is a bit slow.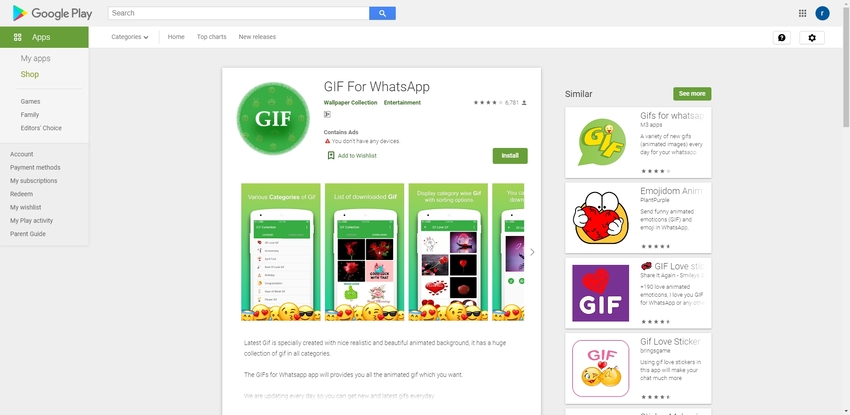 For WhatsApp-Funny gif gifs
It is a new free GIF downloader for WhatsApp capable of creating awesome GIFs from pictures or enabling users to find appropriate GIF files from preexisting ones. The GIFs availed are unlimited, available for free, professionally made, and awesomely displayed. Its categories range from slow motion, pets, celebrities, girls, kids, and many more others. And after identifying a suitable GIF, one can either add them to a favorites list, share them across social media, or store them in their phone storage.
System platform: iOS
Pros:
It is easy to use.
It enables users to find GIF from the keyboard through keyword search.
Cons:
Limited integration as it can be shared to Facebook only.
Weird behavior like showing that there is a message and not specifically indicating where it is.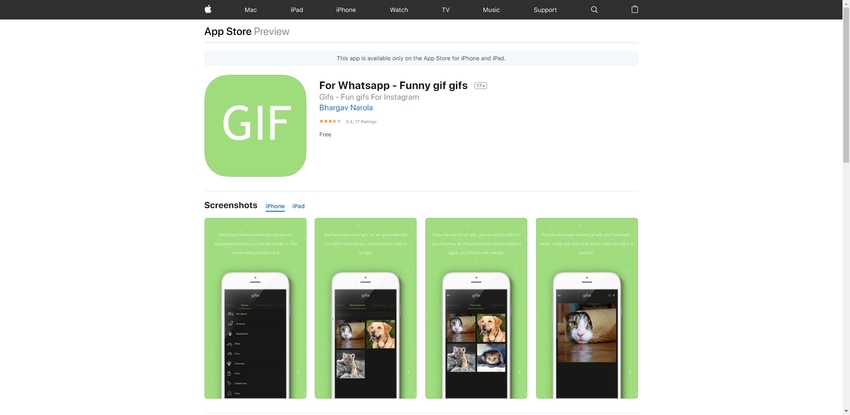 Developed by Tenor, GIF Keyboard enables the users to enhance conversations through WhatsApp animated GIFs and hence deliver an emotion, inside joke, or smart response in the best possible way. You can identify a suitable GIF from the pool through typing in some texts, using an emoji, or based on the top trends. GIF Keyboard is compatible with most of the top social media platforms such as Facebook, Whatsapp, email, iMessage, and Messenger.
System platform: iOS
Pros:
Provides a personal pack for users to save and organize their GIFs.
Well compatible with reputable social media platforms like Facebook, Snapchat, and Twitter.
Cons:
Unreliable keyboard application.
The packs may malfunction.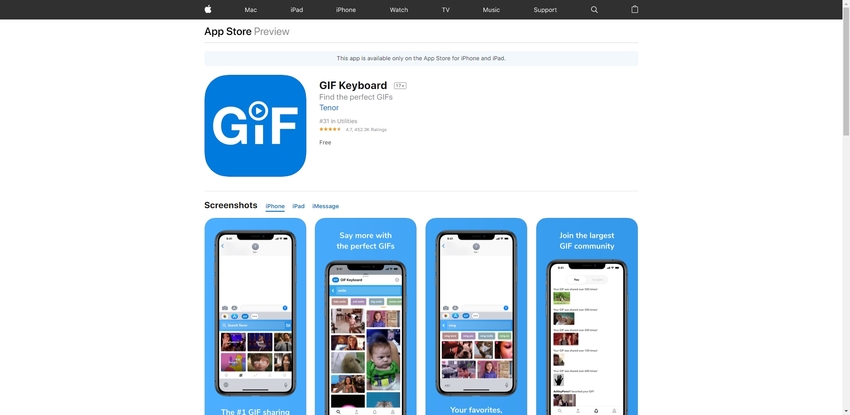 Here comes an app with a vast collection of GIFs. GIPHY claims to possess the most extensive selection of GIFs and stickers. Using this application is super-fast but yet very simple. And on its latest update, GIPHY has incorporated the keyboard extension feature for iOS 11 or higher that enables users to access GIFs straight from the keyboard. This makes it possible for users to share GIFs in apps that accept media as it is the case with WhatsApp.
System platform: iOS and Android
Pros:
Smooth integration iMessage.
Find GIF based on most trending.
Cons:
Few GIF editing options.
Keyboard feature not available on iOS 11 or lower devices.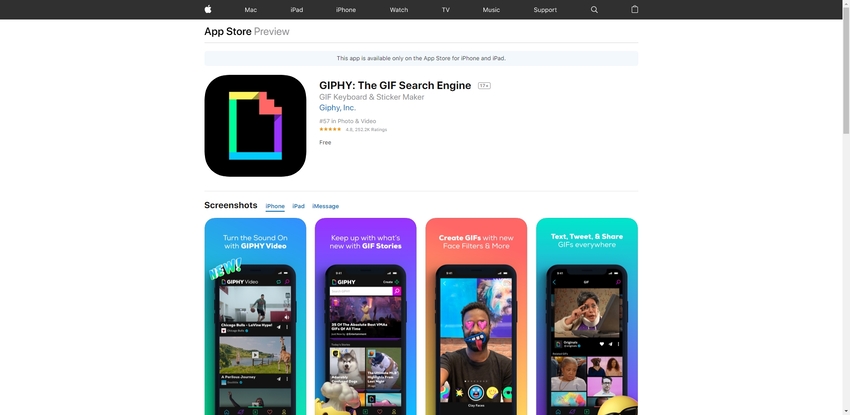 GIF Wrapped was developed with GIF connoisseurs in mind. This application supports the drag and drops feature, enabling users to export GIF files to be used in various tasks easily. GIF Wrapped is also synched with iCloud and Dropbox, and hence users can store their favorite GIF files for later use or have a backup in case the ones stored on the devices get lost. The application has got a premium version which is equipped with more powerful WhatsApp GIF editing capabilities.
System platform: iOS
Pros:
Simple interface to learn how to use.
Fun-filled and with an impressive display.
Cons:
The direct GIF saving feature works limitedly.
Hangs a time especially when synchronizing GIF files.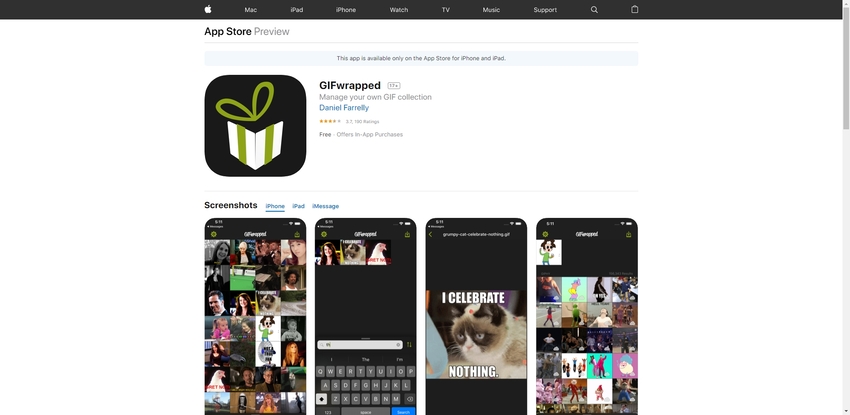 Summary
GIF is an excellent ingredient to online chats, especially in this century. While WhatsApp has availed inbuilt features to find, edit, or create GIFs easily, some amazing animated GIF makers can perform that task pretty well. Hopefully, you are now well aware of how you can make and send GIF images for Whatsapp.
If you need a GIF creator for Windows/MacOS, then you can't miss Wondershare UniConverter GIF Maker for uploading media files in batch without limitations. Make a funny GIF today and share it to WhatsApp, iMessage, or others. Cheers!
Wondershare UniConverter
· It has the simplest user interface (UI) that allows people with less or absolutely no technical skills to convert images and add effects to them.
· Lossless quality conversion supported at a super-fast speed.
· It allows you to transfer videos from computer to iPhone or Android mobiles without using iTunes.
· It has many other tools in the Toolbox window to create GIF animation for WhatsApp, burn media to CD/DVD, compress videos.
· It allows you to burn video and other media files to DVD as well.