Looking to join the entertaining TikTok world but don't know where to start with the username? Exploring excellent username ideas for TikTok? This is the right place to be. Finding a username that impresses a TikTok viewer can be an unexpected challenge. That's because someone on the platform has already taken the TikTok username you have in mind. Fortunately, there are millions or even billions of creative, catchy, and rare usernames to use. And that's why I'm going to share this long list of some cool TikTok usernames for 2021. You'll also learn how to get more views on TikTok by changing and using an appropriate username.
Part 1: What is the so-called good TikTok username?
Before listing our well-researched TikTok username ideas, let's first discuss what makes the perfect social media username. So, what's an ideal TikTok username? Well, it depends on several things. Below are a few tips:
1. Creativity
These days, creating a new email address with your full name is difficult enough. And the same applies to TikTok, where your name isn't that unique, probably. So, whether your TikTok account is for personal or business use, it's essential to ensure that the username is catchy, creative, and unique. For instance, you can play around with your middle name and your favorite pastime. In short, don't go generic.
2. Be short and concise
It's a good practice to use the shortest TikTok username possible. That's because viewers are more likely to read short, catchy usernames than long and complex ones. In an event where your username has already been assigned to another TikTok user, try using an initial. For example, if your name is Washington Nash Glen, use @WashingtonNGlen as the username. The idea is to keep everything short and precise while maintaining originality. If possible, the characters should not exceed 20.
3. Maintain originality
Originality is also critical. In fact, this cuts across both commercial and personal social media accounts. That said, when creating a TikTok account, you'll be auto-assigned a username. But it's always a good idea to edit the name to something more personal and original. In other words, the new name should be in sync with what the TikTok account is about. For a business or celebrity account, the brand identity is of utmost importance.
4. Use a similar username across all social media channels
When it comes to celebrities and business brands, TikTok usernames should at least match what is on other social media platforms. Take Rihanna, for example, who uses Rihanna (@Rihanna) on TikTok, the same name she uses on Twitter. This makes it seamless for her loyal and new fans to find her brand on the two platforms. So, all in all, build your brand across all social media accounts.
5. Avoid offensive language
Most importantly, a TikTok username shouldn't be offensive or use vague language. It's understandable that you're looking for a good time on TikTok by creating a funny account to share some funny videos. However, using offensive words on your TikTok username doesn't make it funny or grow viewership. So, keep it professional and adhere to the app's terms and conditions.
6. Add a professional bio
As you create or edit your TikTok username, you'll see a section for adding a bio. While this isn't important in a username, it's still vital to add it since most users ignore this essential piece of information. A brief bio describes who you are and what the TikTok account is all about. A fresh-looking biography is undoubtedly an excellent idea to add to your TikTok account.
7. Use a profile photo
Even with a killer TikTok username, your account won't get as many followers as you want without a nice profile pic. A profile picture helps viewers quickly find your TikTok account while ensuring it isn't a spam site. If it's a company account, use the brand logo or design. Remember, there's no need to include the company's name in the profile picture.
Takeaway tip: After changing a TikTok username, note that you can't change it again for the next 30 days.
Part 2: 50 cute/funny/aesthetic/cool/rare TikTok usernames ideas [ultimate list]
In this section, we will list some good TikTok usernames based on categories like cute, funny, aesthetic, cool, and rare. Remember that a good username can motivate a TikTok viewer to tap the Follow button on your TikTok page. So, assuming you're planning to share cute videos like playing with elementary school children, dancing to some music, or feeding a kitten, some cute username ideas for TikTok will come in handy. Whichever the case, here is our ultimate list:
| Cute | Funny | Aesthetic | Cool | Rare |
| --- | --- | --- | --- | --- |
| Cute Sky | RockyToad | Lemon Glow | CenterStage | DarkSun |
| Foolish Admin | 404Error | Goragola | Somethingsgottagive | DeathHeaven |
| Heart Warmers | Bubbles | Yulululu | CrossBoarderCousins | GardenCrown |
| Chocolaty Queen | ScaryMommy | Bvtterish | BadChatty | Doiknowyou |
| Happy Times | DoveGirl | Akshizzo | FreshFace | Cyberlord |
| Night Music | Dimples | Rajaxxuk | InternetMonster | Cyberworker |
| Chill Wildlife | Crush | Luciosavii | FeatureSwag | Alienation |
| Scooby Cute | SpellBounded | Keithxxo | LoveSeeker | Areyouokay |
| Cutie Pie | RareRips | Hillaryy | GreedyFoodies | Notinthemood |
| Twins for Fashion | DonaldDuck | Hvneymoon | MissCupCakeAngel | AwayAlready |
Part 3: How to change TikTok username?
As said earlier, TikTok auto-assigns new users a username and profile name after setting up an account successfully. But can you change username on TikTok? Yes, it's allowed to change TikTok username to something more personal. You only need a few seconds to change the username on the TikTok app. Just note that you must wait for at least a month to change the TikTok username again.
Below is how to change TikTok username:
Step 1. Tap to run TikTok app on your Android or iPhone and then press the Profile button located at the bottom-right corner.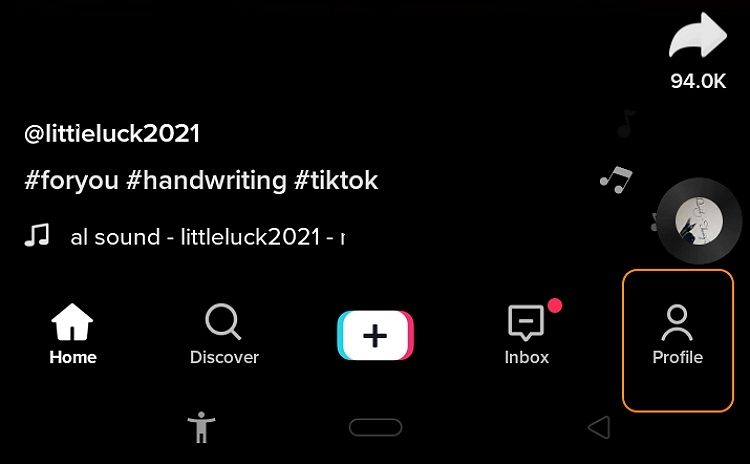 Step 2. Now tap the Edit profile button and then click Username.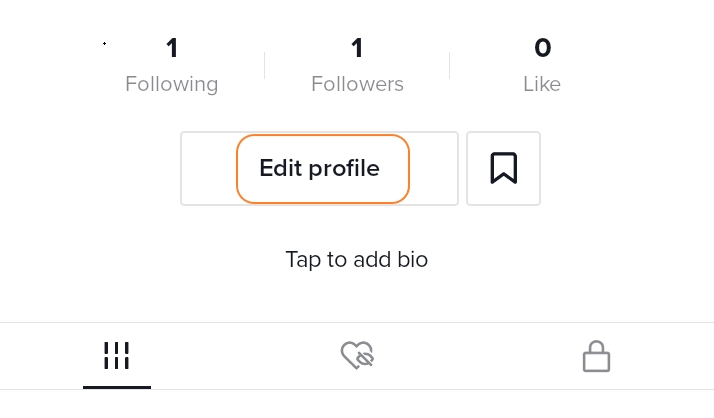 Step 3. Erase the old username and enter a new one before clicking Save to apply the name change.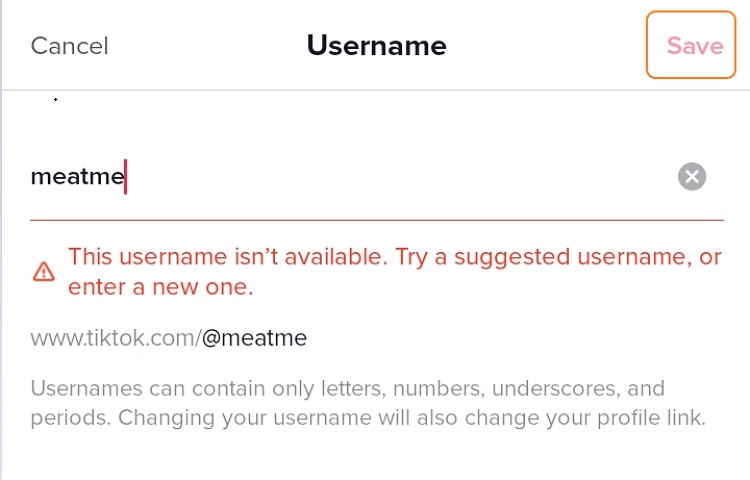 Step 4. You'll also see options to change your profile photo, profile video, and profile name.
Conclusion
We hope that this guidepost has helped you find a cool but unique TikTok username. Just stick to the tips above to create a username that will increase viewership into your account. You can also draw some much-needed inspiration from the TikTok username list above. And, of course, proceed to change your TikTok username to something more attractive and creative. Thank me later!