Even if you have the best HD TV installed in your living room, you'll still need backup from surround sound speakers to get the ultimate movie-watching experience. With a surround system, your movies will immediately become more immersive, songs more entertaining, and games becoming realistic. So today, we want to have an insightful look at the best wireless surround sound speakers that are worth your money and attention.
2 Rockville RockSlim Black Surround Sound Speakers
Specs:
80W RMS power handling.
120W peak power handling.
5.25" woofer with 0.5" dome tweeter.
Up to 20 kHz of frequency response.
Let me start with one of the most flexible surround sound speaker system – a pair of Rockville RockSlim Speakers. These speakers are slim but packed with a remarkable amount of features. For starters, the sleek, beautiful design makes it perfect for your bedroom, living room, or even kitchen. Also, it uses ABS construction material for unrivaled protection against dust or damage. What's more, the 5.25" woofer with a 0.5" tweeter ensures that you enjoy crisp sounds and powerful bass.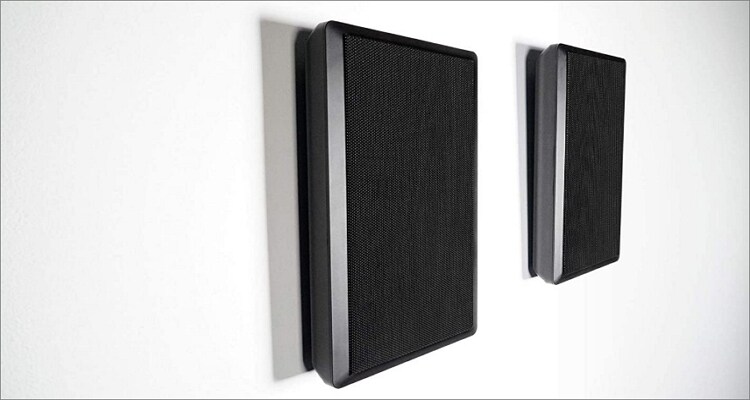 Acoustic Audio AA5170 Home Theater System
Specs:
700W of system power.
Up to 20 kHz of frequency response.
5 input and output channels.
Inbuilt Bluetooth receiver.
Packed with up to a massive 700W of system power, the Acoustic Audio 5.1 Bluetooth Speaker System is certainly no pushover. The powerful subwoofer comes with dual rear and front speakers, and a center channel. Although using the remote control sucks, it features a reliable Bluetooth connectivity, rendering the remote useless. Moreover, it has front panel controls adding to the much-needed flexibility.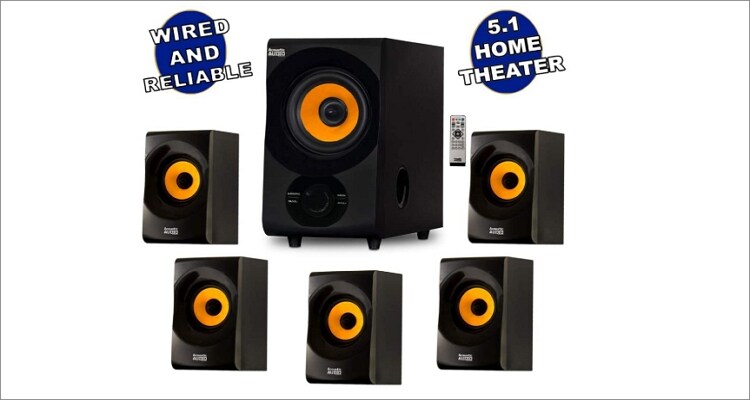 Sanus Adjustable Height Speaker Stand
Specs:
Support satellite and surround speakers.
Adjustable height up to 38".
Customizable mounting methods.
Integrated wire channel.
From Bose and Samsung speakers to Vizio and JBL speakers, the Sanus Adjustable Speaker Stand is the perfect fit. For starters, it comes with a dual adjustable stand that can be customized from 28" to 38". Also, the heavy cast iron construction material at the bases offers excellent stability for your regular or bookshelf speakers. Furthermore, you'll get an incredible 5-year warranty, plus 24/7 customer support.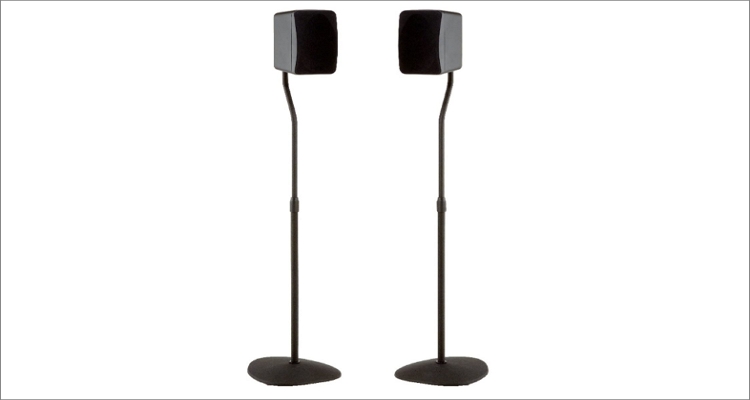 Logitech Z906 5.1 Surround Sound Speaker System
Specs:
165W subwoofer.
5.1 digital surround sound.
Up to 1000W of system power.
THX-certified.
With a 1000W peak power, you'll enjoy a powerful and immersive bass using this Logitech 5.1 Surround Sound Speaker System. It comes with a 165W subwoofer, dynamic center channel, and satellite speakers for crystal clear tones and deep bass. Even better, it features up to six digital and analog audio sources for connecting your MP3 player, game console, laptop, and more.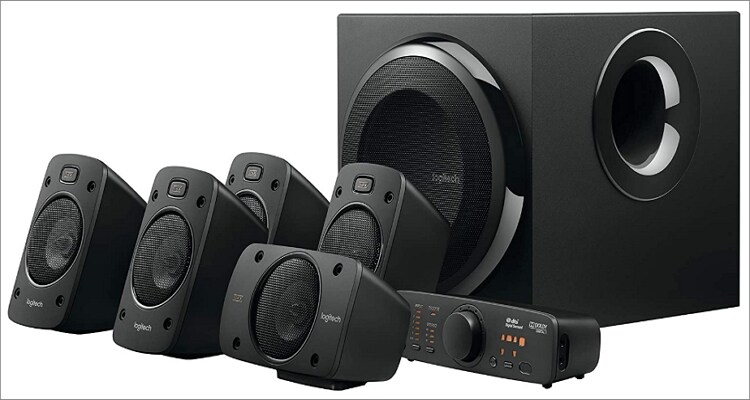 Polk Audio T50 150 Watt Home Theater Tower Speaker
Specs:
5.1 home theater setup.
Compatible with most AV receivers.
150W peak power.
Up to 24 kHz of frequency response.
The Polk Audio T50 isn't your usual floor standing speakers. It's beautiful, powerful, and comes with a 1" tweeter, dual 6.5" bass radiators, 6.5" driver, and of course, the main woofer. If you correctly set up this combination, you'll enjoy a well-balanced and natural sound that reaches all corners of your room. Also, this home theater system is affordable, with a price tag of $119, making it a steal for that price.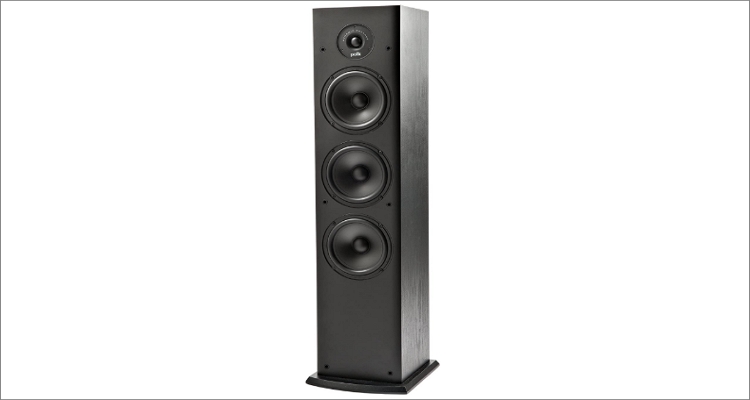 Klipsch R-41M Powerful Derailed Bookshelf Home Speaker Set
Specs:
4" spun-copper IMG woofer.
1" aluminum LTS tweeter.
Up to 200W of power handling.
Up to 21 kHz of frequency response.
Klipsch has managed to carve a name in the competitive home stereo market, thanks to its high-end devices like the RB-51 II. This surround sound system offers high-quality movie and music performance in its small bookshelf design. It features a 5.25" high-output woofer and a 1" horn-loaded tweeter for an accurate and non-tiring sound. And lest I forget, its highly efficient design offers more output with less energy.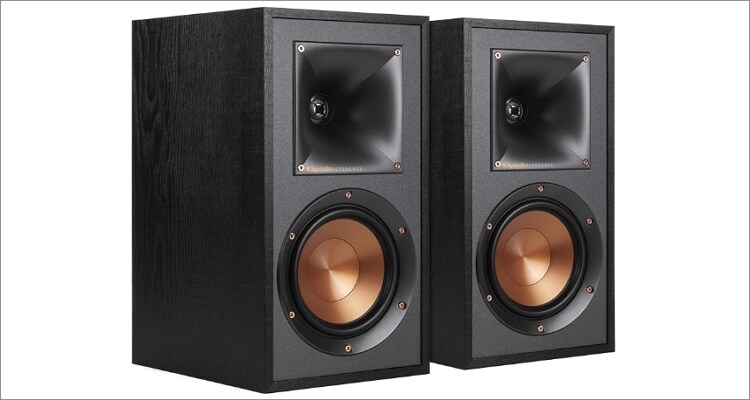 Edifier R1700BT Bluetooth Bookshelf Speakers
Specs:
Bluetooth-enabled.
2 AUX input and 2 RCA output connectivity.
MDF wood construction.
2-year warranty.
Edifier R1700BT Bluetooth Bookshelf Speakers is one of the best wireless surround sound speakers you can buy at $150. One, it features a high-quality MDF wood finish that will perfectly blend with your home décor. Two, it offers dual AUX inputs and dual RCA outputs for flexible connectivity. And three, the Bluetooth connectivity makes it the perfect fit for your computer, tablet, or phone.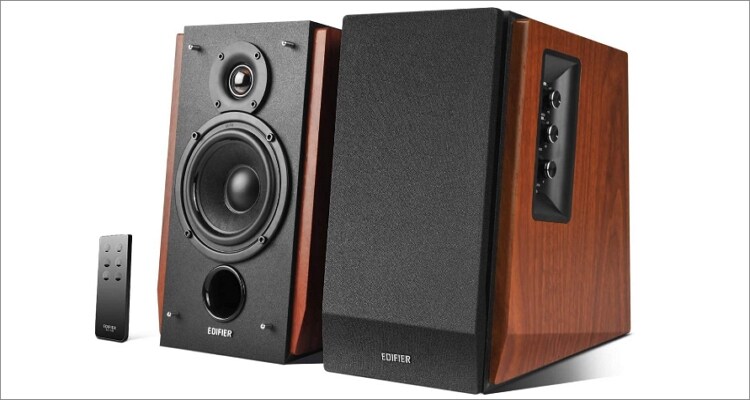 Polk Audio T15 100 Watt Home Theater Bookshelf Speakers
Specs:
5.1 home theater setup.
Keyhole for wall mounting.
100W peak power.
Up to 24 kHz of frequency response.
The Polk Audio T15 provides a 5.1 home theater setup with dual floor standing speakers, dual bookshelf speakers, and a subwoofer. Here, you'll enjoy an immersive surround sound, thanks to the 5.25" driver and 0.75" tweeter. When setting up your 5.1 home theater system, the mountable bookshelf speakers should be used at the front while the surrounds stay at the rear. This way, you'll enjoy clear vocals and rich bass, enough to fill your medium-sized room with unmatched entertainment.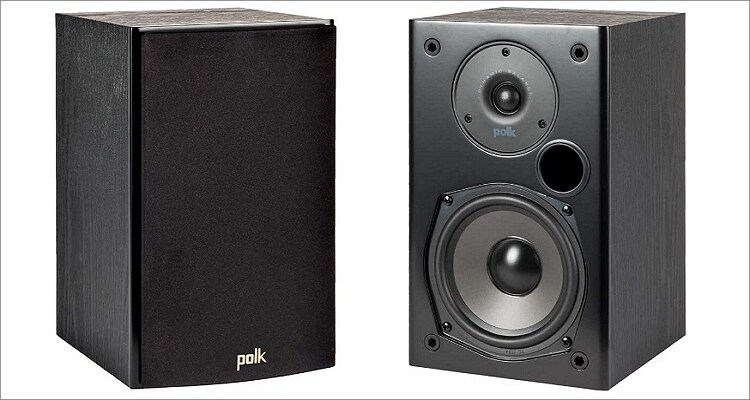 Specs:
Bluetooth 5.0 transmission.
Advanced Digital Signal Processor.
3" full-range drivers.
3 equalizer modes.
This powerful soundbar will deliver around sound in your living room or bedroom with minimal fuss. It features dual bass ports and 3" full-range drivers for more in-depth, richer bass. In your living room, it will fit perfectly below your TV as you control the three distinct equalizer modes for music, movie, and dialog. Not to mention the multiple wired and wireless connections.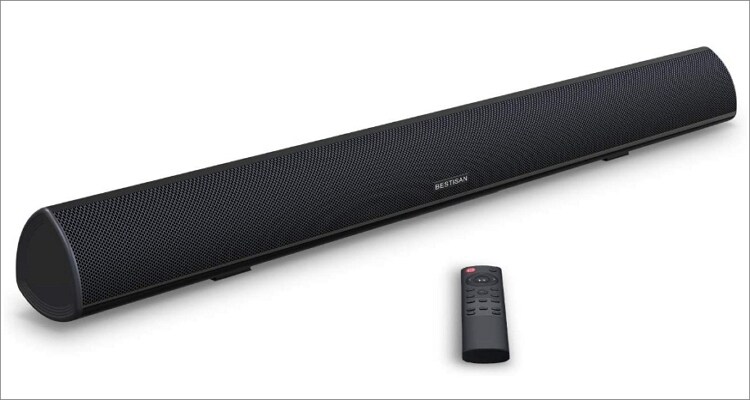 Klipsch Black Reference Theater Pack Surround System
Specs:
5.1 home theater system setup.
Wireless high-fidelity subwoofer.
Linear Travel Suspension (LTS) tweeters.
Keyhole mount for satellite speakers.
Lastly, you can fork out $419.99 to purchase this 5.1 home theater system. Although this is slightly on the high side of things, it's definitely worth the money. First and foremost, the Black Reference Theater Pack comes with stylish aluminum tweeters for the cleanest sound possible. Also, the wireless subwoofer delivers room-filling low frequencies as each satellite speaker adds to the cinematic sound. And another thing, you can mount the satellite speakers using the keyhole mounts.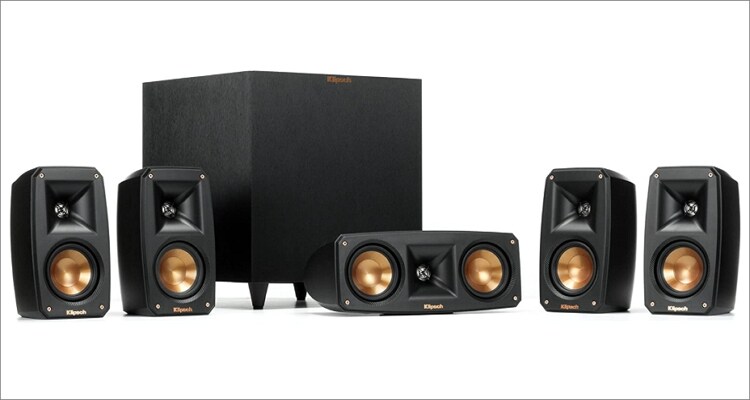 The Summing Up
Whether you're looking for surround sound speakers or a robust soundbar, these are the best options for you. Keep it in mind, however, that it's not entirely about the budget, although this plays a vital role in your search too. For example, you must decide whether you need a 9.1, 7.1, or 5.1 system. So, select wisely!