Nothing can be more satisfying that sitting back to relax and watch your favorite movies on your big HD TV. It even gets better with projector screens, which offer more significant images that makes your TV look like child-play. So, if you already own a projector and your wall isn't good enough, you can close your eyes and spend a few bucks to purchase these top-class projector screens.
Elite Screens Yard Master 2 Series
Specs:
Available in 90'' to 135''.
9000W PMP0.
Durable aluminum framework.
16:9 aspect ratio.
Elite Screens is undoubtedly one of the pioneers of the screen projection scene. This brand has been around since 2004, and its projector screens are tailor-made for outdoor movie theatres. That said, the Master 2 Series screens come in size 90 up to 135" with a 16:9 aspect ratio. Also, it contains rear and front projection models, with the former made to withstand high contrasts. Not to forget the 160-degree viewing angle that will make your movies a joy to watch anywhere in your living room.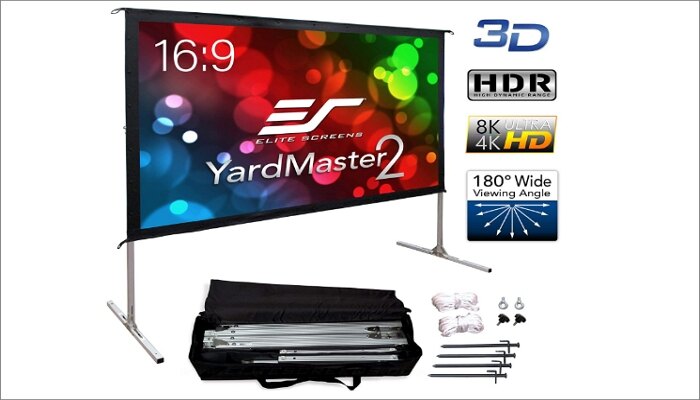 Elite Screens Manual B 100-INCH
Specs:
16:10 aspect ratio.
53" x 84.5" viewing size.
2-year warranty with lifetime tech support.
160-degree viewing angle.
Armed with an advanced 4K Ultra HD viewing and 16:10 aspect ratio, the Elite Manual B 100" is designed to perform. It delivers sharper and crisper visuals for casual visualization as the black material at the back screen keeps light penetration at bay. It also features an aluminum frame with an auto-locking system for ultimate durability and flexibility. Plus, you can manually wash the MaxWhite screen material using soap and water.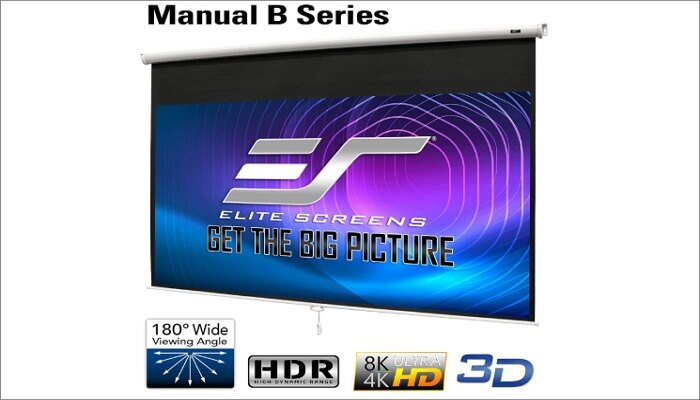 P-JING 120" Projector Screen
Specs:
16:9 aspect ratio.
58" x 104" viewing size.
1080P full HD.
Lightweight at 2.2 lbs.
The P-JING 120" Projector Screen offers high-quality video and captivating brightness. It's lightweight, weighing in at 2.2 pounds and is easy to set up and fold. Also, this projector screen incorporates a 16:9 aspect ratio on its 120" Ultra HD surface, thereby assuring you of a comfortable watch. As for the build material, it uses high-quality polyester fabric that's known to offer durability and stability. It's also vital to note that the screen is simple to clean up using a wet cloth. The only drawback is the lack of a stand.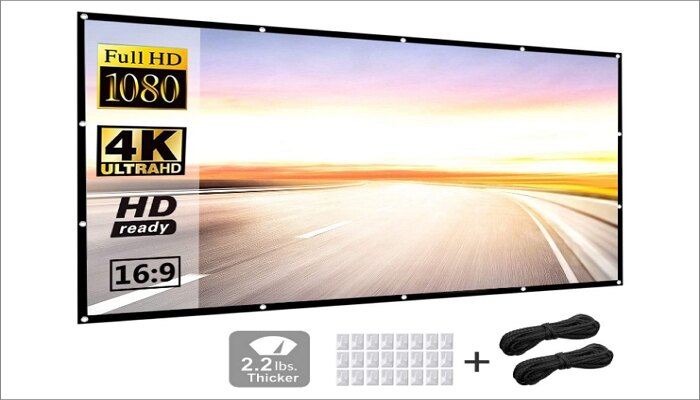 Camp Chef Outdoor Entertainment Gear 92"
Specs:
16:9 aspect ratio.
80.5" x 45" viewing size.
Supports 3D and 4K Ultra HD viewing.
Durable Oxford nylon.
The fact that this projector screen comes with a carry bag, four guy lines, and four frame stakes should make you include it in your camping backpack. That aside, the 92" oxford nylon is meant to withstand high-resolution pictures, while maintaining top-notch color quality. The screen assembly is also quick and easy. Just tighten the straps on the provided frames, and you're ready to start enjoying. Furthermore, it's lightweight nature of 16lbs makes it easy to carry around.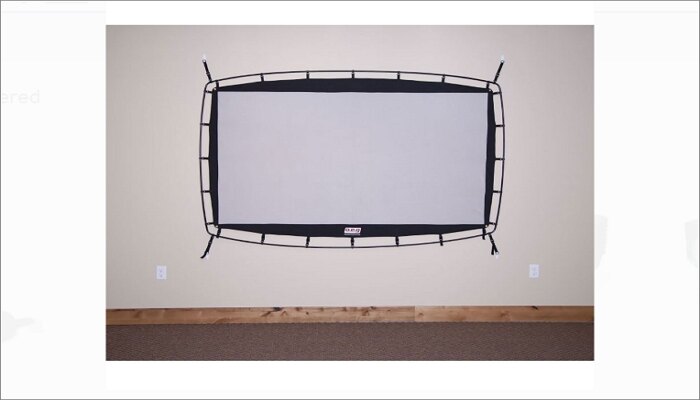 Camp Chef Outdoor Entertainment Gear 144"
Specs:
126" x 71" viewing size.
16:9 aspect ratio.
Reliable 600D x 600D Oxford nylon.
Includes a carry bag, 4 x frame stakes, 4 x guy lines.
If you find the Camp Chef 92" to be too small, you can use this massive 144" projector screen, instead. Similar to the former, it offers high-quality 3D and 4K Ultra HD viewing to keep you entertained on your backyard. The reflective oxford nylon material also offers enriched colors with high-resolution imagery. What's more, the powder-coated steel frame stakes and guy lines are straightforward to set up. Definitely worth every penny.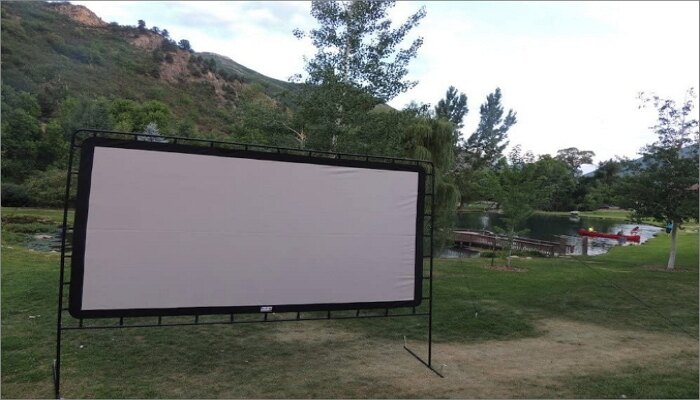 AmazonBasics Outdoor Projector Screen 120
Specs:
16:9 aspect ratio.
180-degree viewing angle.
Lightweight aluminum frame.
Opaque white fabric screen.
The 180-degree viewing angle of the AmazonBasics is simply too hard to pass by. This, coupled with its black-bordered opaque white fabric screen, ensures that you have a movie-watching experience like never before. Additionally, the lightweight aluminum frame, easy assembly, and the carrying case make it perfect for your outdoor activities. You don't even need any additional tools to set it up. Another thing, it's multipurpose design is ideal for multiple applications.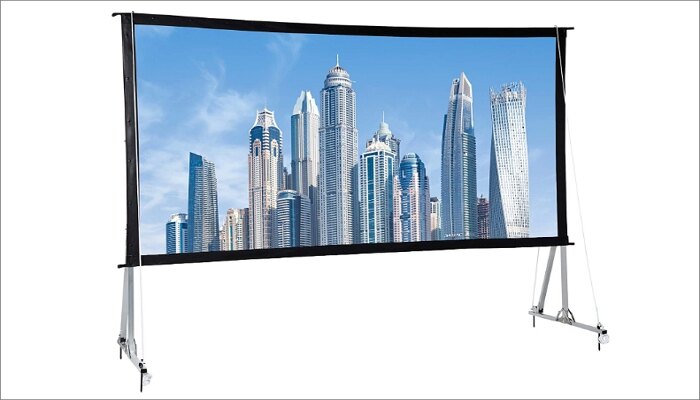 STR-169120 Silver Ticket 120" Projector Screen
Specs:
109.25" x 1.25" x 63.63" viewing size.
16:9 aspect ratio.
Active 3D and Full HD viewing.
Secure mounting brackets.
The Silver Ticket 120" Projector Screen is certainly not new to movie buffs. It comes well-packaged, and the assembly is quick and easy. The tensioning rod and the half gain off-center viewing ensures maximum cinema-quality viewing experience on the 3D/FULL HD screen. In addition to that, the heavy-duty aluminum frame is smooth and durable. Lastly, the 160-degree viewing angle and 1.1 gain ensure no resolution loss whatsoever.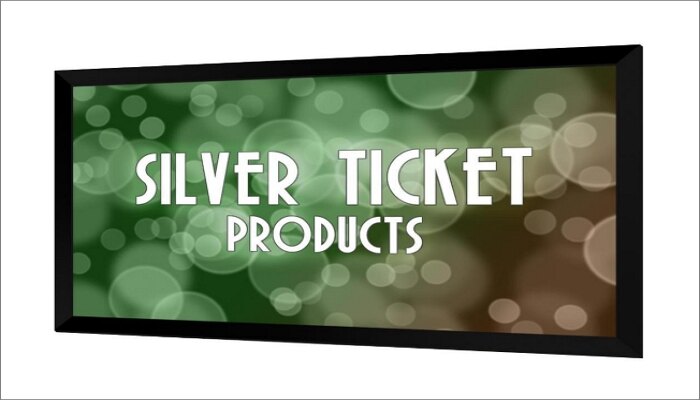 TaoTronics Projector Screen with Stand
Specs:
1.1 gain with 160-degree viewing.
96" x 72" screen.
Wrinkle-free PVC construction.
Quick 2-minute set up.
The TaoTronics Projector Screen is undeniably one of the best projector screens money can buy. With its 1.1 gain and 160-degree viewing angle, you'll enjoy a wider viewing angle on a less reflective and clearer screen. Also, it will take you a maximum of 2 minutes to set it up if you follow the manual instructions keenly. Moreover, the sturdy tripod support stand offers unrivaled stability. However, it's recommended not to use it in windy environments.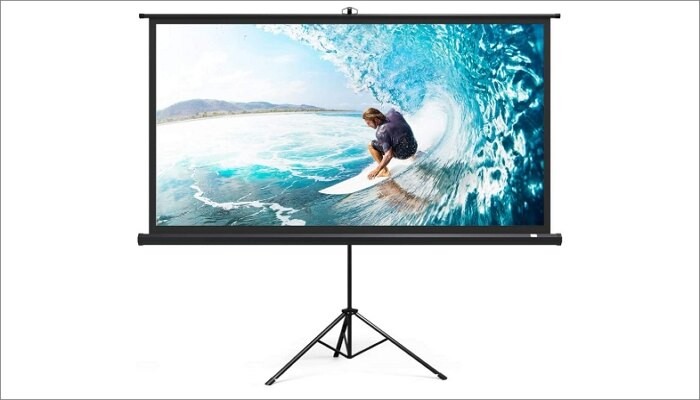 VIVO 100" Projector Screen
Specs:
92" x 49" viewing.
16:9 aspect ratio.
120-degree optimum viewing range.
Matte white surface with black backing.
With a 120" optimum viewing range, you can easily dismiss the VIVO 100" Projector Screen. However, where it lacks in angle viewing, it makes up for it is with high-quality construction material of black background and white matte finish. The black background prevents light penetration for vivid images. Also, it's quite easy to set up and dismantle. Another thing, it's universally acceptable with DLP, LCD, and LED projectors.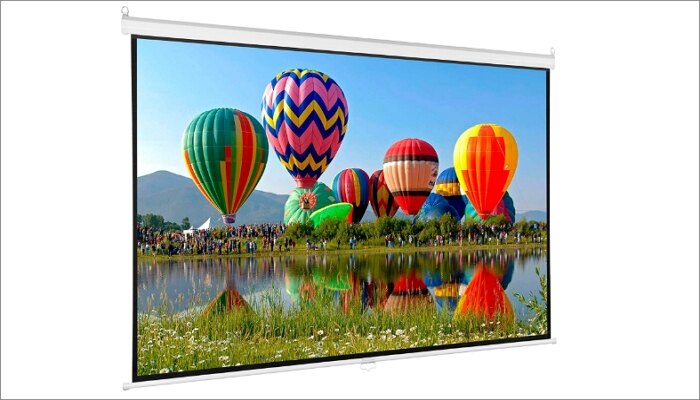 NEIRBO 150" Metal Projector Screen
Specs:
130" x 73'' viewing size.
PVC material with metal coating.
2.4 gain.
For 4K 1080P 3D.
If you like holding work meetings and seminars, here is something to help you out. First of all, the 2.4 gain on its 130" x 73" screen offers an impressive extinction ratio. Also, the horizontal and vertical viewing angles are extensive, with an outstanding 98% uniformity. Furthermore, the grey metal coating is anti-composite and anti-reflective. But more importantly, cleaning it is super-duper easy as you only need to scrub using a soft cloth.
Conclusion
Overall, there is something for everyone here. It doesn't matter whether you're after a vast viewing angle or a unit with a stand, these projector screens should get you sorted. It all depends on your intended use and pocket size. So, get one of these and turn your living room into a home cinema.