Why is digital asset management software needed?
As the world has nearly digitalized, getting familiar with the digital asset management software is a necessity. As the businesses are growing, assets, or files in the form of PDFs, PNGs, JPEG, photos, images, animations, email attachments, podcasts, videos, transcripts, GIFs are usually stored online in different places such as google drive, pen drive, emails, etc.
To bring together such valuable information and documents in one place, digital asset management software are of great help.
Also, there is a security and access control given to them which are handed over to relevant authorities only. Right from creating to archiving is possible through Digital asset management software. It enables secure monitoring and management of digital assets.
Numerous free digital asset management software is readily available online with excellent branded features.
URL - https://brandfolder.com/

This software provides higher security for digital assets and is cloud-based. It helps in storing everything right from videos, images, to logos. Training is granted 24x7 in person, through a webinar, live online, and by documentation process.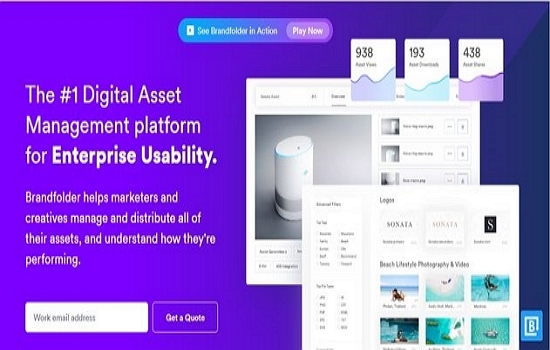 Price :
Performance by Capterra:
Pros:
Very flexible and controlled software.
Easy to search and locate files because of metadata search.
Sharing of entire assets is possible with robust privacy controls, CDN embed links, and user-specific permissioning.
Highly secured.
Cons:

URL - https://www.adobe.com/

This is the most used digital asset management software used worldwide, mainly by marketing and IT professionals. The designing, maintenance, and customization of different websites are done through adobe experience manager.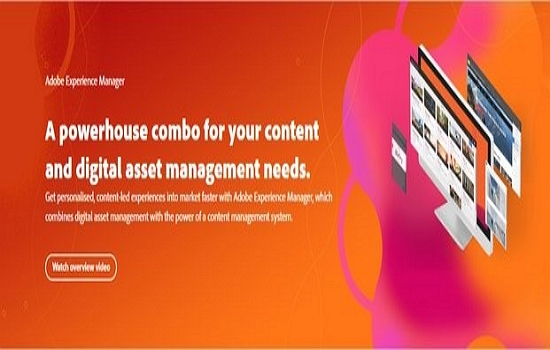 Price:
Performance by Capterra:
Pros:
It integrates with different platforms with its inbuilt feature.
Social media is controlled and managed.
Metadata helps easy search possible.
Tagging of managers, digital asset managers are easily done.
Cons:

URL - https://www.hypercms.com/en/digital-asset-management/

It offers both free digital asset management as well as content management software. It is very beneficial for enterprises and organizations. Images, photos, videos, files, audio, presentations, documents are stored, managed, retrieved, searched, and shared by this software efficiently.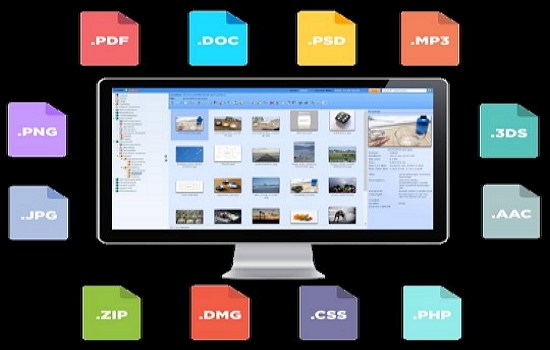 Price:
Free version is available.


Performance by Capterra:
Pros:
It sends large files to clients and can be accessed easily from any part.
It is supported by mobile phones as well as tablets.
Cons:
The tool is complicated to understand.
URL - https://bit.ai/

This is one of the world's powerful and new-age digital asset management software. Individuals and businesses can create, collaborate, and organize all their digital assets data at one place and accessed from any part of the world.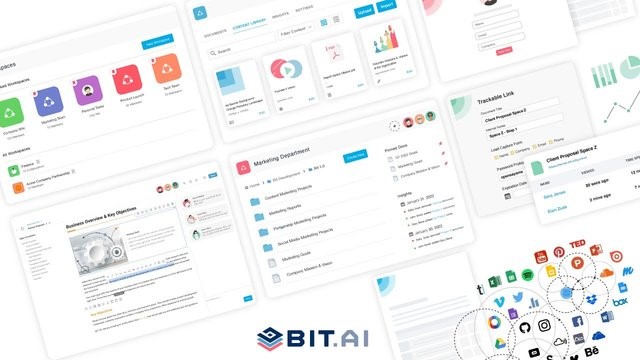 Price:
Free trial includes up to 5 members, pro plan starts at $8 per member/mo., business plan starts at $15 per member/mo. and the enterprise plan starts with personalized.
Performance by Capterra:
Pros:
Easy to use, navigate, and access files.
Offers higher security, live sharing of documents, password protection,
It offers astonishing content management abilities and document link tracking.
Advanced search with keywords, tags, sources, titles, descriptions, etc., content control, workspace division, cloud upload is possible.
Linking of cloud accounts without quitting the platform.
Cons:

URL - https://www.pcloud.com/digital-asset-management/

An easy to use and secured cloud storage through TLS/SSL encryption. Files can be shared in several ways. It is best for photographers and for videos to store and transfer their data safely. The Premium plus plans are very useful for users that exchange very large files regularly while the premium plan is for sharing comparatively less large files than a premium plus.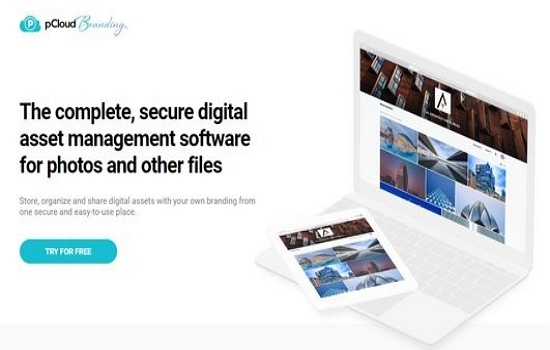 Price:
Free trial is available for 15 days. Lifetime - Premium plans (500 GB) starts with $175 and Premium Plus (2TB) plans starts with $350. Their yearly plans are $47.88 and $95.88 respectively. File management, file versioning, file backup, sharing, security, and digital asset management are some of the important features of Pcloud.
Performance by Capterra:
Pros:
Highest level of security.
The sharing and integration of files are easy.
Cons:
Intelligence back Digital asset management
URL - https://signup.intelligencebank.com/trial?type=marketing

The marketing creative contents and processes are integrated with the use of intelligence back digital asset management software. The files are stored, shared, and centralized easily. With the advanced AI metadata tagging and "on the fly" file transformations, personalization campaigns are channelized across the social media. New features and enhancements are rolled out as per customer requirements.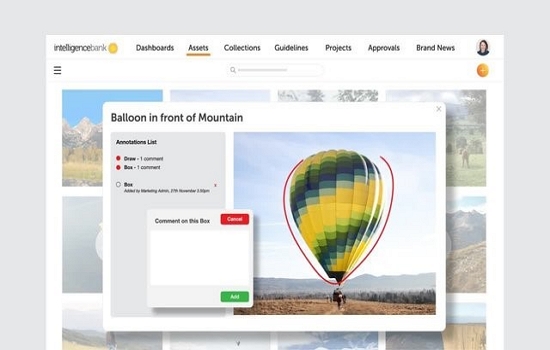 Price:
Free trial for 15 days , later paid plans.
Performance:
Pros:
Advanced search, global filters, and metadata have helped in finding content quite faster.
Bulk creative assets are easily uploaded with automatic keyword tagging.
Large files can be mailed easily to registered and external users.
A well-integrated workflow and is based on SAAS.
Efficient and effective management of documents.
Efficiently tracking and analyzing public links.
Cons:

URL - https://libris.photoshelter.com/

It is a cloud-based digital asset management software that eases uploading, organizing, sharing, and managing digital media assets. It gives good security to the documents and files. Sharing of sheets, doc files, images, and videos can be easily done. The software is mostly used by medium to large scale companies.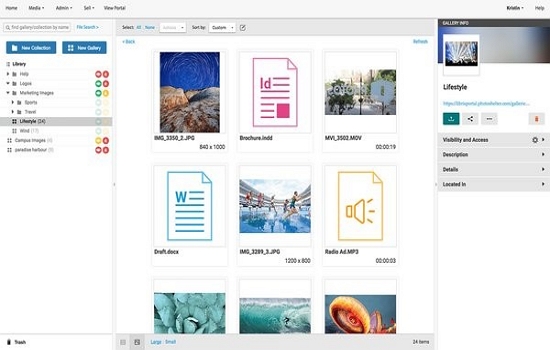 Price:
Free trial period of 14 days, later basic to professional to enterprise can opt.
Performance:
Pros:
Easy to access all documents in one place.
Password protection is highly guaranteed that confirms security.
Things can be shared with internal or external users.
Cons:
The process of uploading is slow.
Mobile phones are not a good choice for this software.
URL - https://www.phraseanet.com/en/

Phrasenet is an open-source, free digital asset management software offering a whole set of creating, managing, and organizing digital content package. The latest release of Phrasenet is 4.0.11 as of Feb 2021. It is compatible with mac, windows, clouds but not on the iPhone and iPad. An elastic search engine is used for searching files, information, and documents.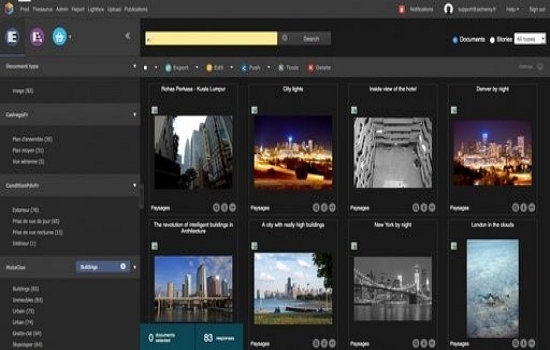 Price:
Performance as per Capterra:
Pros:
Management of metadata, asset library, advance search feature, data assets can be shared and categorized well.
Help users to manage media and images files.
Exporting, importing, organizing, filtering and creating databases is easily done with advanced tools.
Cons:
Summary
Uploading, storing, retrieving, organizing, downloading, sharing, searching, reports, and analytics, adding metadata are some of the salient features of digital asset management software, and selecting one depends on an individual's requirement.