Transcribing spoken words, music, and other speech noises into a printed or written format can boost your content delivery approach and make your movies more readable and enjoyable. A video's auditory track can be translated into text using transcription software, either by voice dictating or file transcription. It eliminates the need for labor-intensive and time-consuming manual transcription. Read about the best transcription software for 2022 to get the ideal option for your company.
Part 1. Top 10 Best Transcription Software to Convert Audio to Text
Here are our best picks for the top audio and video transcription software available today. Each software has been reviewed carefully, followed by a presentation of its features and pricing plan.
An all-in-one toolkit, Media.io is the first pick on our list of the best transcription software for Windows, Mac, Linux, Chromebook, iPhone, and Android, and it's an automated transcription software. It shows an excellent accuracy between 90-95%, which becomes trustworthy for many users.
It is essential to generate text for the video so that the audience can grasp the information it conveys. You can transcribe audio and video files into a variety of languages with the Media.io Transcription app's support for multilingual transcriptions. These languages include Spanish, German, English, Italian, French, Portuguese, and Dutch.
The Media.io Transcription tool supports almost all of the prevalent file types for input, including MP4, MOV, AVI, WMV, MKV, 3GP, FLV, MP3, M4A, FLAC, WAV, WMA, and AC3. What's more, you can now translate the transcribed texts into other languages.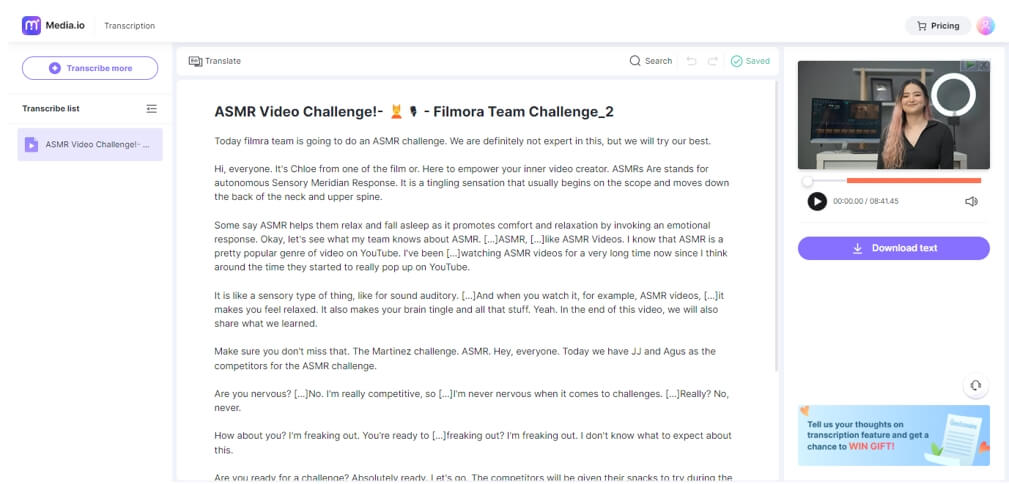 Features List
Media.io can instantly evaluate the audio using voice recognition and create the transcription in seconds or minutes.
Media.io's AI voice recognition engine provides 90% or higher transcription accuracy.
The Media.io supports numerous audio and video formats for transcriptions.
there are multiple languages on offer such as German, English, Spanish, etc.
The program is designed to do automatic transcription of the audios and videos.
Pricing: Free for the first 10 minutes as trial, then.
Pay-as-you-go plan costs from $2 /hour to $4.99/hour, based on the length you purchased.
Basic Plan costs about $9.99/month for 120 minutes, plus other rights such as uploading larger files
2. GoTranscript
Founded in 2005, the platform now boasts a worldwide network of 20,000+ transcription and offers automatic transcriptions. It works for both Windows and MacOS, and also for Android and iOS. The business has some big names on its customer list: Forbes, TechRadar, Netflix, and more. Ordering has never been easier, thanks to the user-friendly interface.
Customers of GoTranscript can leave comments for customization of speaker labels, timing formatting, asking for certain punctuation rules, etc. When you place an order, your files are divided and sent to a team of transcribers to work on. It can transcribe multiple languages of content, such as English, Spanish, French, etc. and is up to 99% accurate.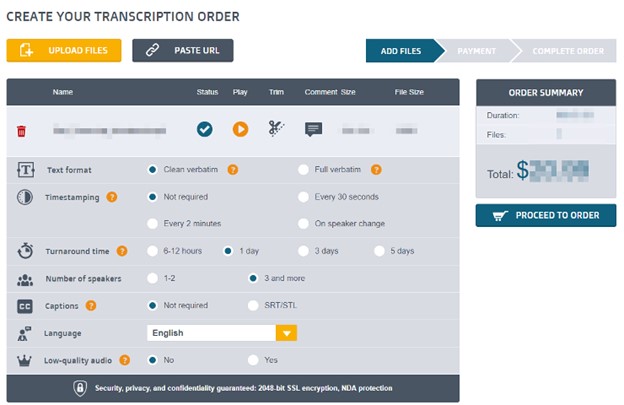 Features List
It ensures a high level of quality and accuracy of human services.
Over 60 languages can be translated, transcribed, captioned, and subtitled.
Regardless of the size of the job, the turnaround time is fast.
Unlike other automated transcription services, GoTranscript enables customization by clients.
Pricing:
Foreign subtitles from $8.50 per minute
Transcription from $0.77 per minute
Captions from $1.11 per minute
Translation from $0.06 per word
3. Rev
Sound to textual conversion services from Rev includes human and AI-generated transcriptions, compatible for both Windows and Mac. It is supports multiple file formats such as mp3, mp4, wav, ogg, aiff, etc. When it comes to captioning and subtitling services, Rev has you covered. It can handle your file from start to finish with a 99.9% accuracy rate.
All your Zoom meetings, virtual conferences, and video presentations can be automatically transcribed and subtitled by Rev, enabling manual transcription and captions in 15+ languages, such as Spanish, French, Dutch, etc.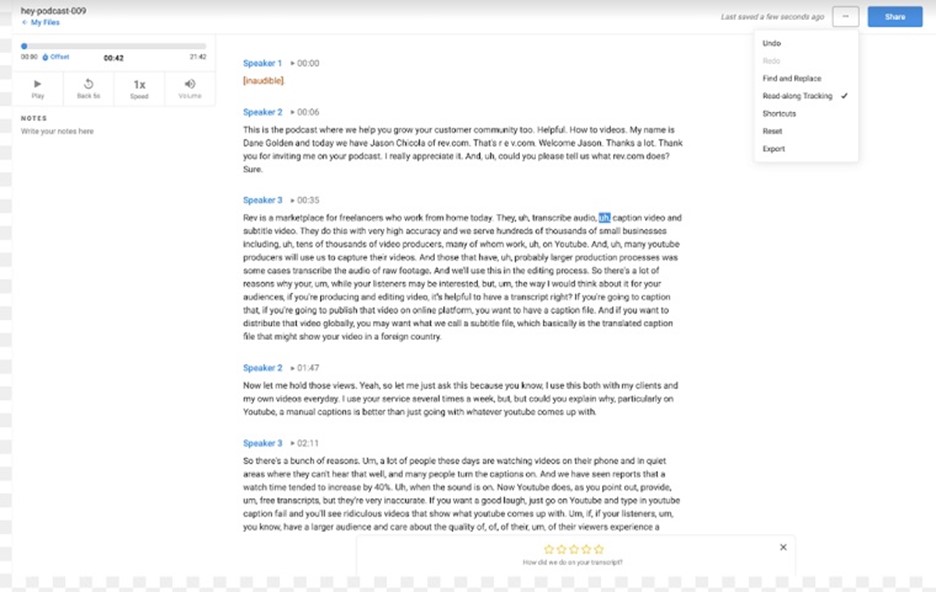 Features List
Professional typists create excerpts for your videos and audios.
Tools for modifying transcripts.
Get subtitles for your videos in English or 15 other languages worldwide.
AI-powered transcription
Zoom's live captioning is 90% correct.
Pricing:
Manual Transcription – $1.25 per minute
Foreign Subtitles – $3-7 per minute
Automated Transcription – 25 cents per minute
Automatic Live Captions for Zoom – $20 per host
English Captions and Subtitles – $1.25 per minute
4. Otter.ai
Transcription software Otter is a popular choice for many users. Recommendation: This platform is excellent. Playback speed, real-time annotations, exporting files, and more are all commendable features. It is compatible with multiple file formats such as mp3, mp4, wav, ogg, aiff, etc.
The New York Times, Wired, Mashable, and TechCrunch have all written about this software. Students, instructors, and employees of Nonprofit Educational Institutions, Accredited Primary, Secondary and Tertiary Institutions, School Districts, and Regional Service Agencies are eligible for the use of this software, which is up to 90% accurate. Whether you are a Windows user or a Mac one, you can use this software to translate more than 30 languages.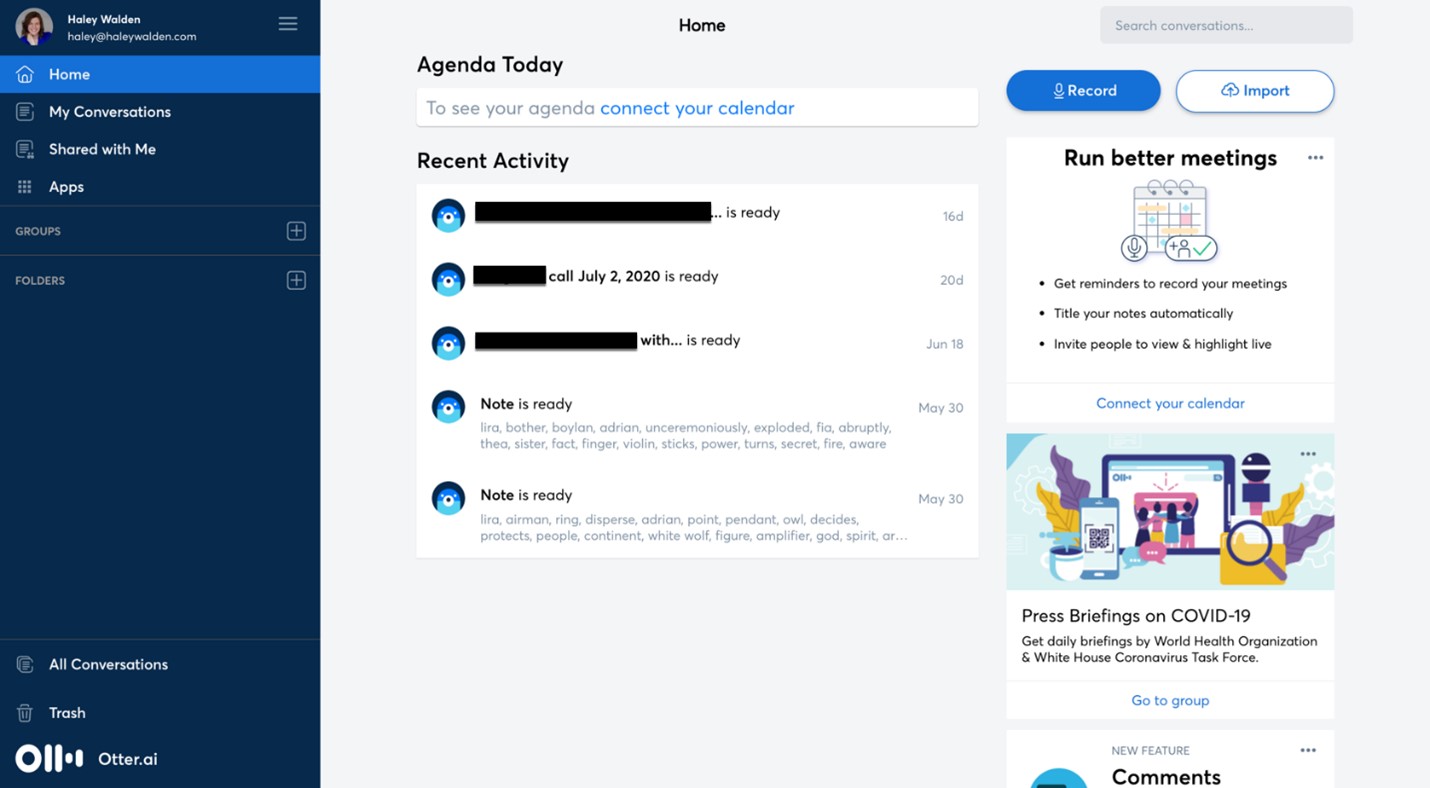 Features List
Various formats can be exported in bulk.
In addition to TLS and AES-256 encryption, the app offers single sign-on and two-factor authentication.
Stream audio and video notes in real-time.
Change the rate of playback.
Pricing:
Pro: $12.99 per month
Enterprise: Custom Pricing.
Business: $30 per user per month
5. Trint
Transcribing human speech into text in up to 34 languages is easy using Trint's AI-based audio transcription software. As a Mac and iOS user, Trint is a great tool since it works perfectly with both operating systems. Trint's smartphone app allows you to enter phone numbers, submit files to Trint, examine transcripts, and download files straight to your smartphone or tablet via the app itself.
It is compatible with multiple file formats such as mp3, mp4, wav, ogg, aiff, etc. Whether interviewing, an archive, or a phone conversation, Trint can rapidly transcribe audio and video data. Trint boasts a 99 percent accuracy rate for AI-based transcription, with multiple languages on offer for transcription.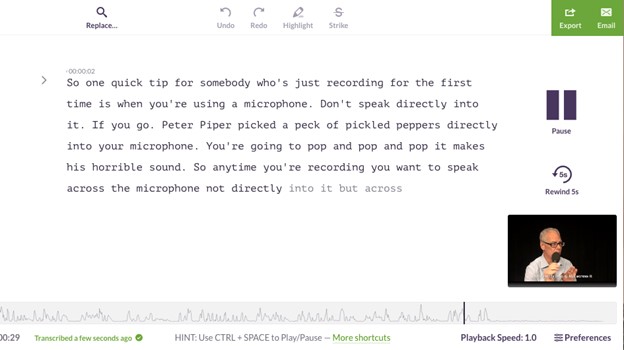 Features List
Create textual material from audio and video.
Use a variety of formats to distribute completed documents.
In 31 different languages.
Document-editing software
Certified data protection.
Pricing:
Starter: $48 per month
Enterprise: Customized pricing.
Pro Team: $68 per user per month
Advanced: $60 per month
6. Happyscribe
Transcription and audiovisual translation service Happyscribe supports files in many languages. It's automatic transcripts are typically 85% correct and are completed in about 5 minutes on average. It is compatible with multiple file formats such as mp3, mp4, wav, ogg, aiff, etc.
Transcripts can be exported in just about any format you can think of, and you can post and import videos of any length or duration from other services like YouTube and Vimeo. An interactive editor makes it easy to fix transcription errors, add timestamps, fix grammar inaccuracies, or designate portions for translation. For Windows and Mac users, you can use this software to translate over 50 languages.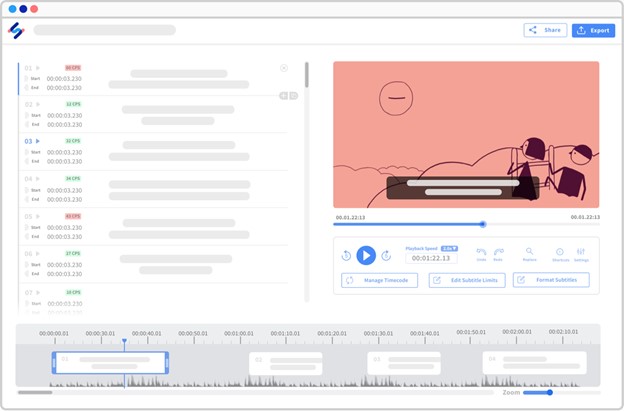 Features List
It is possible to upload files of any length and in any size.
Transcription and subtitling can be done in a wide variety of languages by using this feature.
Import data from other systems.
Spaces where several people can work together in harmony.
Pricing: After a 10-minute free trial, €0.20 per minute.
7. Descript
Another automatic transcription software, Descript is among the finest video transcription software compatible with Mac and Windows. The platform claims to be able to provide human-powered and automated transcription that is 95% accurate. It is compatible with multiple file formats such as mp3, mp4, wav, ogg, aiff, etc.
For the most part, everyone who utilizes this cloud-based platform like the variety of options it provides. It is strongly suggested that you use this program. Descript's sole limitation is that it doesn't currently work on mobile devices. The only way to get it is to use your computer's desktop. It isn't available for mobile phones. Transcribe to over 40 languages using Descript.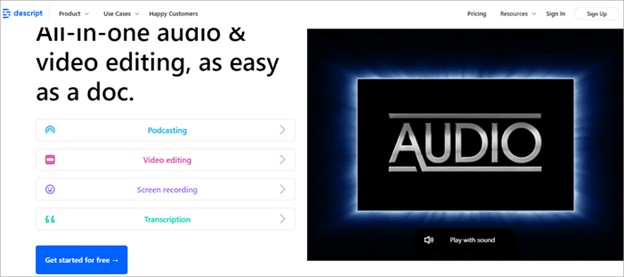 Features List
Compliance with Type 2 data security requirements of SOC 2.
Tools for recording, mixing and editing audio and video content are readily available.
Your employees will benefit from in-person instruction.
Automated tools detect and remove filler words such as you know, like, etc.
Pricing:
Creator: $12 per editor per month
Pro: $24 per editor per month
Enterprise: Custom pricing.
8. Otranscribe
oTranscribe is an excellent transcribing tool that can be used from any web browser and provides both human and automated transcriptios. You won't have to pay a dime to use it. You can use the transcription software on your phone or laptop to transcribe your audio file in one of up to 24 different languages. It is compatible with multiple file formats such as mp3, mp4, wav, ogg, aiff, etc.
The Guardian, The Next Web, and other media outlets gave the program a glowing evaluation. Only MO3 and WAV files can be uploaded to oTranscribe. As a result, you will not be able to access your files from a different device. In addition, you can only keep 100 transcripts in your account. It has 95% accuracy and is available for both Mac and Windows users.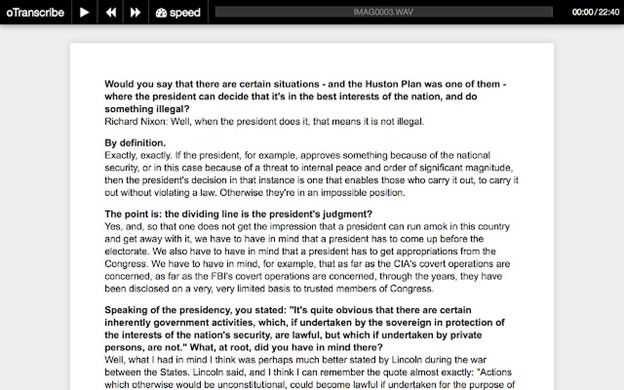 Features List
There is no need to worry about losing any of the recordings you have made.
Markdown and plain text can be exported to Google Text.
Make use of the excellent player to play back your videos.
Transcripts are saved to your browser automatically.
Pricing: Has no paid version; free to use.
9. Transcribe by Wreally
Transcribe by Wreally is a solution for specialist transcribers which offers foot pedal integrations and automated text expansion instructions to help speed up your work process with its 90% accurate and 20 languages that it supports. It is compatible with multiple file formats such as mp3, mp4, wav, ogg, aiff, etc.
To use the tool offline, you must always be signed in to your account. Audio and video files are supported, as well as the ability to export to Word, PDF, and various other transcribing formats. Some options are available for automated machine transcription, voice typing with dictation, or self-transcription using tools such as slowed-down audio, auto-loop, and foot pedal operation.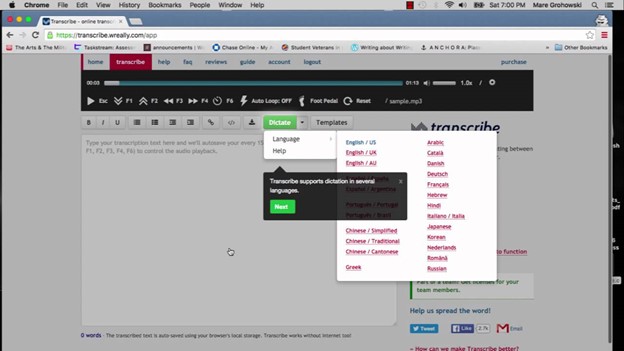 Features List
enables the feature of foot pedal integration.
It can get your audio automatically paused and resume while editing.
Securely deletes your media file once you're done editing.
The editor also works in offline mode.
Pricing:
$6 per hour for automatic transcription
$20 per year for pro versions
10. Sonix
Automated transcribing service Sonix was voted the best in 2019 because of its 99% accuracy and the fact that it supported so many languages, such as English, Spanish, Chinese, etc. Speech-to-text algorithms that are among the best in the business transform audio and video sources to text in seconds. Sonix is a transcription service that works with podcasts, interviews, presentations, and more.
Sonix uses cutting-edge AI to transform audio into text. It is compatible with multiple file formats such as mp3, mp4, wav, ogg, aiff, etc. Get started now for free. Automated transcription software employing machine learning to convert audio to text correctly was Sonix's market leader at the time.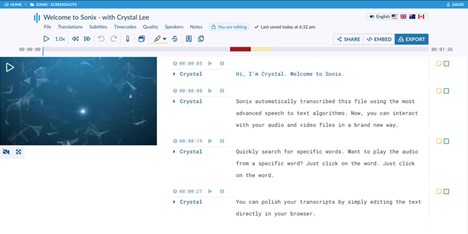 Features List
Audio to text conversion automation tools.
Communication, file-sharing, and publication tools are all included.
Translate your translations into 30 languages from across the world for free!
To automate the process of adding subtitles to your movies
Pricing:
Standard: $10 per hour
Enterprise: Custom Pricing
Premium: $5 per hour + $22 per user per month
Part 2. How to Choose the Transcription Software?
Here are some of the factors that you need to take into account before choosing the ideal transcription software:
Accuracy
A 90 percent accuracy rate is typical for the finest transcribing tools. However, the quality of the recording and the models of machine learning used by a program can also affect how accurate it is.
Cost
With a normal task, you can choose from monthly plans for small businesses or content creators; but if your task is heavy and includes extended recordings with plenty of information, you might look into bespoke plans.
Audio Quality
The idea is to employ high-tech microphones and capture each participant one at a time. A second issue is that many smartphones don't have quality records of phone conversations, making transcribing problematic. For this reason, making a one-time investment in a digital voice recorder is worthwhile.
Supported Accents and Languages
The transcription software should support multiple accents and languages. If the software you're looking at doesn't support more than 25 languages, we don't think it's worth all the trouble. Look for the one that supports as many.
Background Noise Cleanup
Your transcription won't be listen-worthy. They have a background noise coming. Ensure that your transcription software has a background noise cleanup process to offer clear transcription to the users.
Privacy Policies
When transcribing private information, check privacy regulations and be cautious of phishing attempts. To learn about the encryption methods used by the app, check out the privacy settings.