If you want to create songs but can't come up with anything, you can try a song lyrics generator to get some inspiration.
In this article, we have listed some useful lyric generators using artificial intelligence. Most AI lyric generators tend to be web-based and user-friendly.
10 Best Free Online Song Lyrics Generators for Songwriters
#1. Masterpiece Generator
Website: https://www.song-lyrics-generator.org.uk/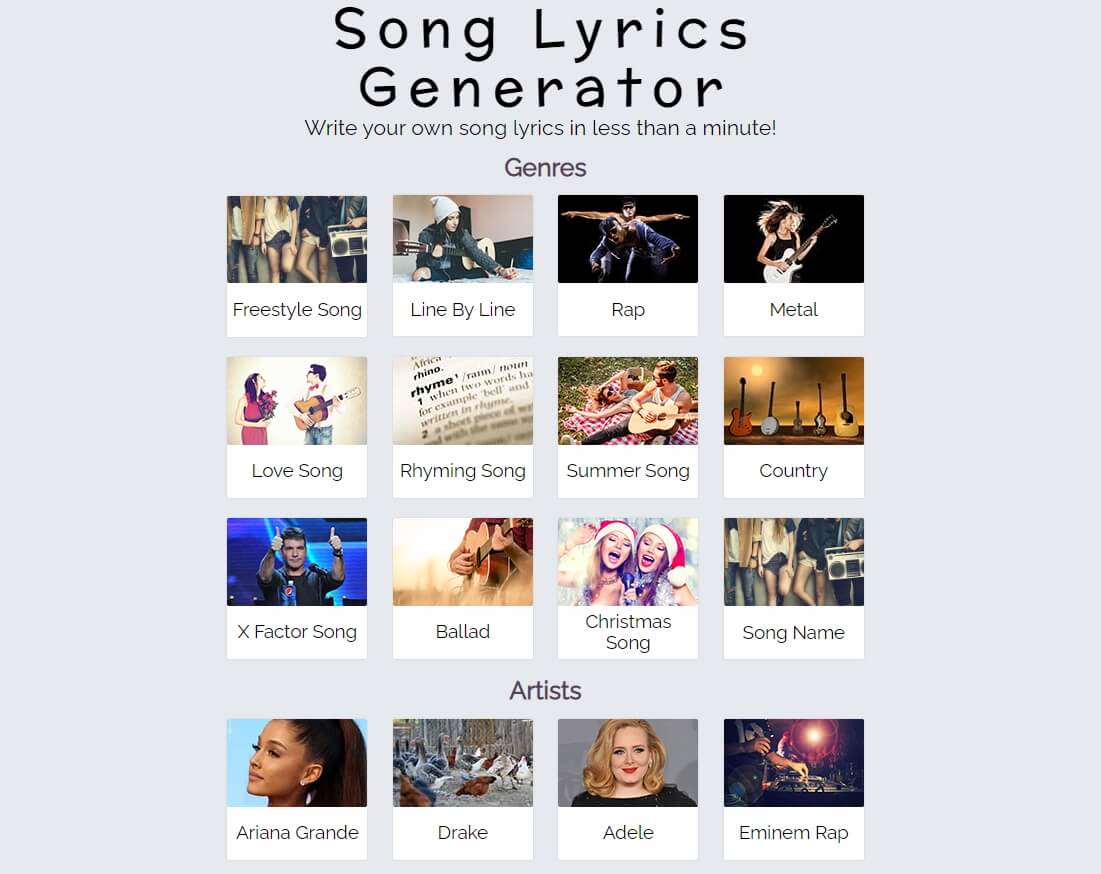 It's a set of tools for generating content, such as songs, profiles, names, storylines, and poetry. One of the resources it offers is a song lyrics generator. Song lyrics may be written in less than one minute with this online tool. It has a wider variety of genres than any of the other competitors.
Unlike other lyric generators, the song lyrics generator from Masterpiece Generator lets you create lyrics in the manner of your favourite musician. It can generate lyrics for a wide range of musical styles, including rap, metal, country, and even ballads. There are a variety of artists you may emulate musically, such as Adele, Drake, Taylor Swift, or One Direction.
Pros
Multiple artists and genres to choose from
Free and quick to use
Cons
#2. Lyrics Do Not Exist
Website: https://theselyricsdonotexist.com/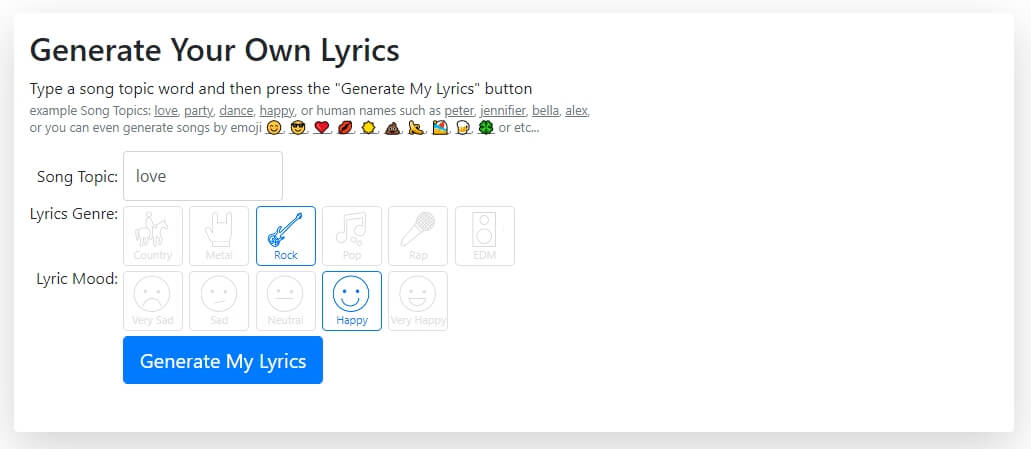 AI-based lyric generator Lyrics Do Not Exist offers a limited set of functions, many of which may be beneficial in the right circumstances. Writing unique lyrics for a wide range of themes is easier because of the neural network it employs. Enter the song topic, choose the genre and mood for the lyrics, and then click the Generate My Lyrics button on the page to generate lyrics automatically. You'll be able to download your lyrics for free after that.
With this AI composer, you may choose from a wide range of subjects, like love, party, dancing, happiness, and human names. To the best of our knowledge, this is the only website that lets you compose songs entirely out of emojis.
Pros
Various lyric genres and lyric moods are available;
Free to use
Cons
#3. BoredHumans
Website: https://boredhumans.com/lyrics_generator.php

BoredHumans has about 50 fun pages with artificial intelligence. One of them is their amazing lyric generator. Machine learning was used to teach artificial intelligence to generate lyrics based on a large collection of songs.
For those who need an easy way to come up with new song lyrics, this is the tool for the job. Song lyrics may be created in under 10 seconds by clicking on the page's Generate lyrics link. The lyrics it generates are completely unpredictable. They aren't a carbon replica of anything else.
Pros
Easy to use
Unique generated lyrics
Cons
Generate lyrics randomly without any customization
#4. RapPad.co
Website: https://www.rappad.co/songs-about/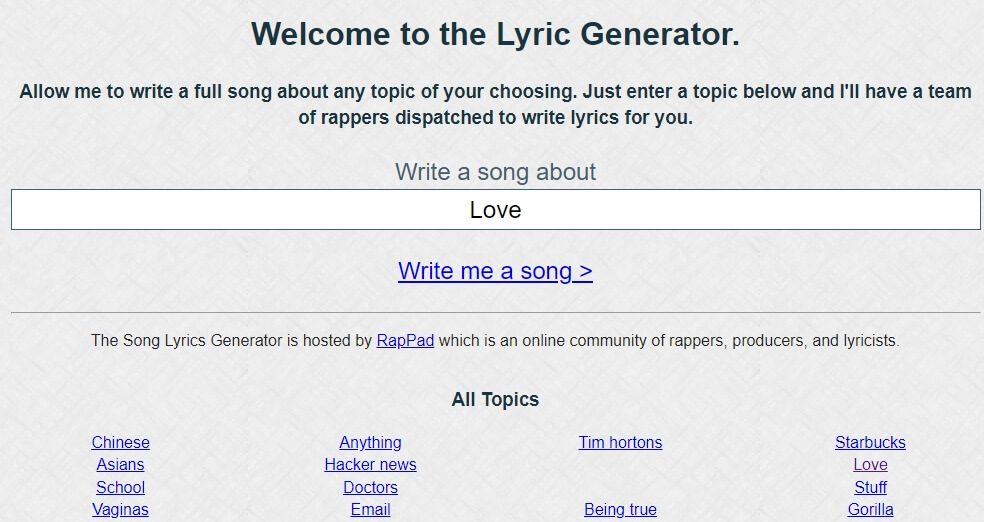 RapPad.co, a website for rappers and lyricists, hosts this lyric generator. Using the online lyric generator for songs is a cinch! Just think of a word that relates to the subject matter of the lyrics you wish to create. There is a list of topics on the website as well. Pick one from our rap lyrics generator's selection if you're stuck.
The UI is basic and straightforward. There is no extra button on the page. This rap lyric generator generates lyrics based on a subject you specify. There are no limits on the lyric count.
Pros
Generate rap songs
Customizable music genre
Cons
The user interface is not intuitive
#5. Anticulture.net
Website: https://www.anticulture.net/

Random lyrics, French rap lyrics, music, and essays may all be created on this site. There's no cost, and you don't have to sign up. This may be a good place to get ideas if you want to create songs. It's a cinch to create your lyrics now, thanks to this handy online tool. This website will generate random lyrics for you when you click the make art button. However, there is no way to change the results by inserting keywords in this lyrics generator.
Pros
Different genre lyrics
Free sign-up
Create songs
Cons
Unable to customize lyrics
#6. Rytr AI Songwriter
Website: https://rytr.me/use-cases/song-lyrics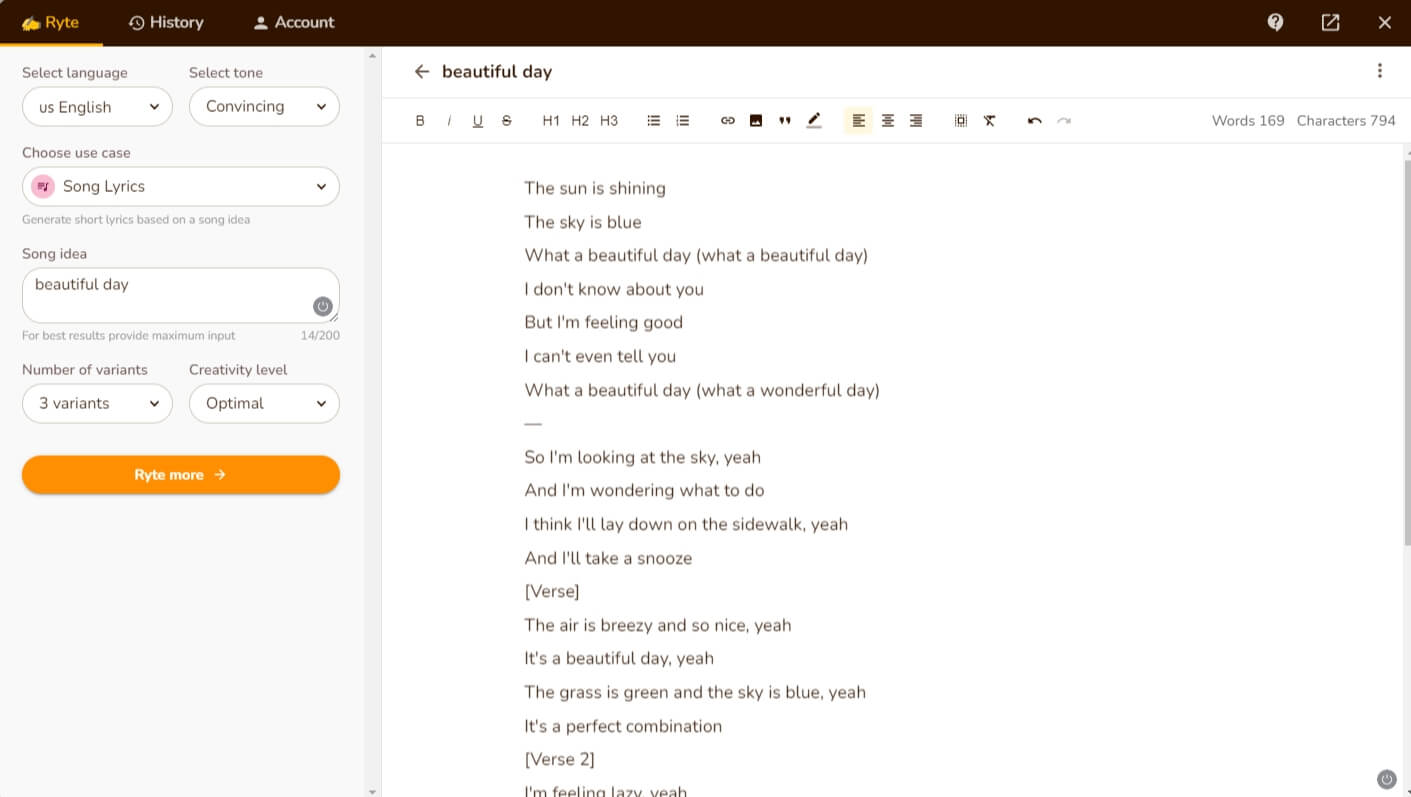 Rytr AI Songwriter can generate lyrics in multiple languages, and it can be used for a variety of purposes. You will need to create a Rytr account to use the Rytr service. Free users are limited in how much text they can generate each month. This is a great tool for creating great song lyrics. The songwriting tool allows you to write a song idea and help you develop an original song. The results are impressive, so you can relax and not worry about it. If you want to write great lyrics for your song, you should visit this website.
Pros
Up to 500 characters
Free sign-up
Various genres
Cons
#7. Mathi Gatti Lyric Generator
Website: https://lyrics.mathigatti.com/

If you're looking for an easy way to produce a song's lyrics, try out the Mathi Gatti Lyric Generator! After you input your keywords and choose your degree of inventiveness, it takes around 2 to 3 minutes to complete the process. Songs that used to take hours to compose may now be found in the blink of an eye. Mathi Gatti, who trained OpenAI's GPT-2 language model on songs, created this AI lyric generator.
Pros
Generate a song themed on the keyword.
Free to use
Intuitive interface
Reduce repetitiveness in the results.
Cons
#8. Deep Beat
Website: https://deepbeat.org/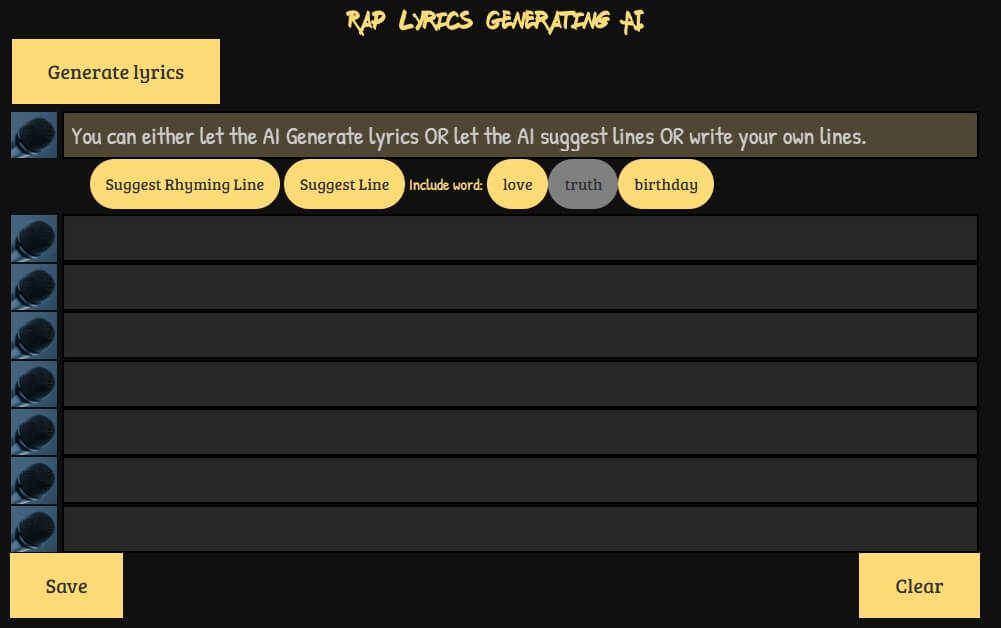 Deep Beat is an online music lyrics generator that produces lyrics at random for your favourite songs. It does not cost anything to use and is easy to comprehend. You can click the Generate Lyrics button to get the lyrics randomly. Or click the Suggest Line or Suggest Rhyming Line buttons to create lyrics line by line. Continue reading by picking a line that interests you and read on. The song lyrics need to be stored at that point.
Pros
It's free to use
Write and record rap songs.
More alternatives for creating lyrics
Cons
This online lyric generator may not respond sometimes
#9. Song lyrics generator
Website: http://songlyricsgenerator.com/
Songlyricsgenerator.com has excellent lyrics variety. It's artistic and easy for songwriters. This website's UI is straightforward, and users don't need an account to get song lyrics on this site.
Select the genre of songs you'd like to write, such as a break-up song, a love song, and a metal song, and then follow the instructions on the screen and answer the questions step by step.
Pros
Straightforward UI
Create lyrics
No need to sign up
Cons
#10. Lyrics
Website: https://www.lyrics.com/song-lyrics-generator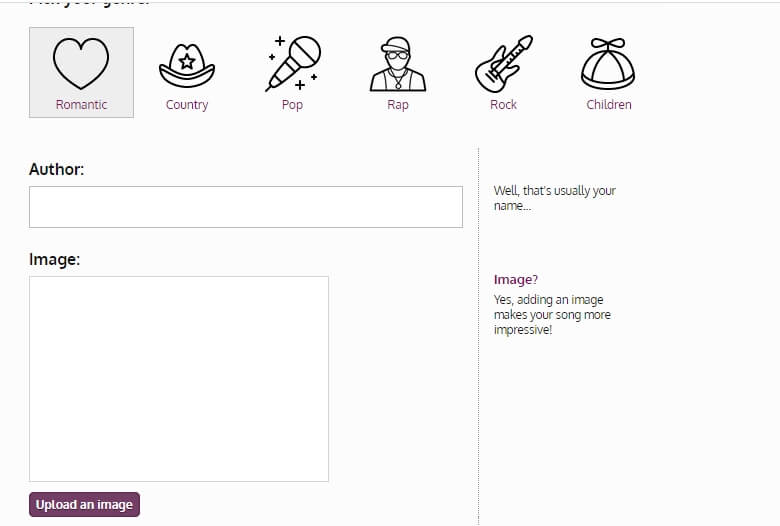 Lyrics.com is a website that generates lyrics for songs, much like others. However, if you're seeking a service that can rapidly produce lyrics for personal events like marriage anniversaries or birthdays, this is a great choice.
Using your terms, you can compose amazing songs and rap here. The website also allows you to choose the name of your song. For the site to send your freshly created lyrics to your email address, you must also enter your email address in the 'email address' box.
Pros
Customizable music genres
Cons
FAQs about Song Lyrics Generator
1. What is a song lyric generator?
Song lyric generator is a tool for songwriters provided by music technology, which is a welcome development. Tools like song lyrics generators may be a great source of creativity and inspiration.
The first step in writing a song is developing some basic song ideas using these lyric generators if you don't already have one. The second benefit of song lyrics generators is that they allow you to experiment with new musical genres.
2. Can I use lyrics generated online for commercial purposes?
It depends. Some online lyric generators allow you to use the generated lyrics for any purpose. But keep in mind that in most cases, permission and appropriate licensing are required for the usage of any music. You must have a sync license and master license to utilize commercial music. For non-commercial projects, you should always get permission from the copyright holder before using any protected content.
Conclusion
The web-based AI lyrics generators can create random original lyrics and provides songwriting inspirations to some degree. As a result, it's pretty popular among music enthusiasts and composers.
We have also listed some professional song lyrics generators above. Hope these generated phrases can inspire dozens of song lyrics.