1The way you present your phone to the world shows how you reflect your mood. The presentation of the phone comes in the form of wallpapers, back cases, and even the ringtone. If you are feeling down, the chances are that you will pick a sad wallpaper with a darker tone. If you are feeling upbeat, then you want to select the most cheerful and motivational iPhone 11 wallpaper available. If you are having trouble finding the right iPhone 11 lockscreen wallpaper for you, we can help you with that. Read on this detailed guide on where to find the best iPhone 11 wallpaper in 2022.
Part 1. Top 10 Most Popular Websites for iPhone Wallpapers
iPhone lockscreen wallpaper definitely showcases the personality of its user. Wallpapers make the background of your phone attractive and enhance your user experience. Unfortunately, setting your preferred wallpaper isn't as simple. Apple doesn't allow you to make any picture as the iPhone's wallpaper. Moreover, original iPhone wallpapers are not as cool as they should be. But you can seek help from third-party platforms or apps available on the Apple App Store to add beautiful and scenic pictures as the iPhone's wallpaper. No matter you are looking for a cute iPhone wallpaper, a funny wallpaper, or a motivational wallpaper with quotes, we've got you covered. Here, we have compiled a list of the top 10 platforms that provide the best iPhone 11 wallpaper.
When looking for beautiful wallpapers or images, no one could miss Pinterest! It is an open social media platform that has a massive gallery of awsome wallpapers, especially its unique motivational wallpapers which you can find no where else! If you are an individual who are striving for inspiration or striving to inspire others, then we suggest discover Pinterest's best wallpapers with motivational quotes and brighten up your iphone background with these decorator must-haves.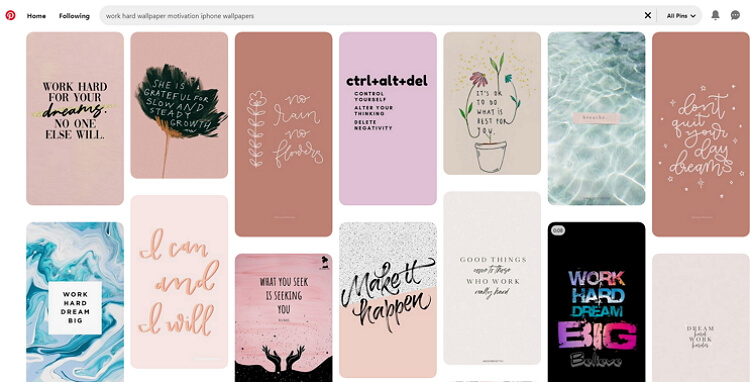 Pros:
A massive gallery of wallpapers that are free and accessible;
An excellent platform to view a wide variety of pictures other than wallpapers.
Cons:
Not a dedicated platform for iPhone wallpaper download.
Magic Screen app is an excellent platform to customize your wallpaper. You can install Magic Screen from the Apple App Store for free. The app also offers you to add collage layouts, stickers, and text masks. Try this app and make your iPhone lockscreen more creative and fun!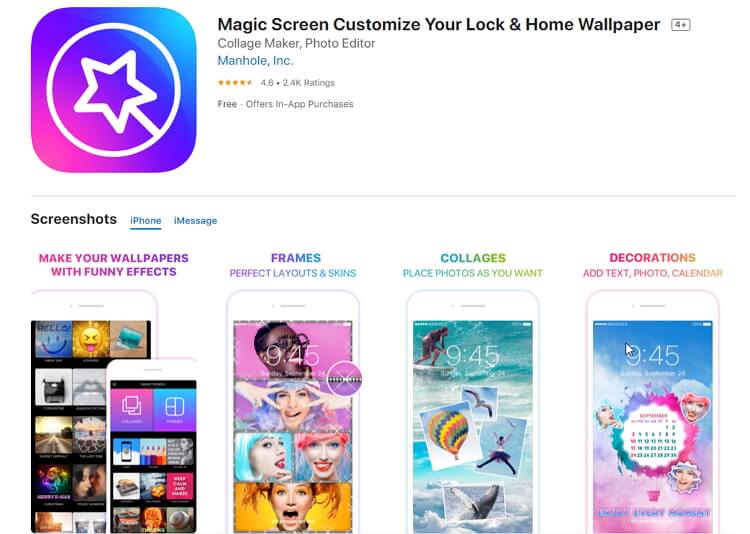 Pros:
Offers to customize wallpapers for iPhone 11.
Provides a wide variety of editing choices.
Cons:
No built-in customer support set-up.
WLPPR is another third-party app service to offer aesthetic iphone wallpaper. The developers for this platform constantly update the app's collection, adding more breathtaking space wallpapers and galaxy wallpapers for you to choose. The app also allows the users to sync any previously downloaded wallpapers across different devices.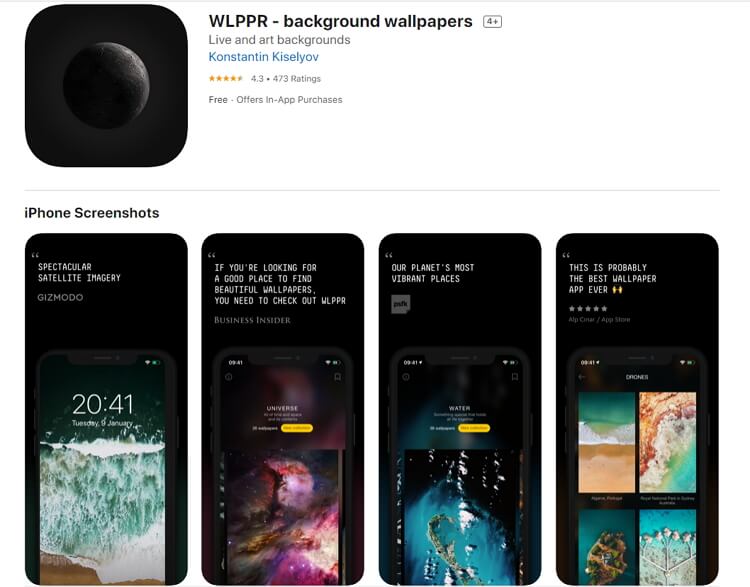 Pros:
It has a brilliant and smooth UI.
It allows users to share images with friends via social media platforms such as Twitter and Facebook.
Some of their best galaxy wallpapers are not available for free.
Cons:
Some of their best galaxy wallpapers are not available for free.
If you wish to add wallpapers to your iPhone in 4K, Retina, and HD quality, then Everpix Wallpaper App is the one for you. The service offers numerous nature wallpapers for free that enhances the look of your iPhone's lock screen. Imagine the summer vibe brought to you when looking at your favorite flower wallpaper, or your best memories of a hiking trip reminded of by a mountain wallpaper. So what you are waiting for? Try Everpix Wallpaper.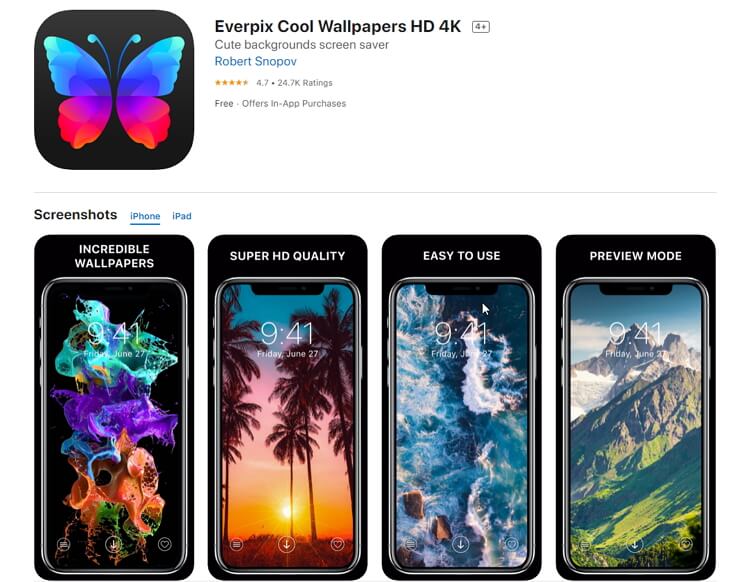 Pros:
Brilliant customer support service.
Cost-effective subscription plan.
Cons:
Ads could be distracting with the free version.
If you are tired of adding the dull old scenic wallpapers for your iPhone's background and wish to switch to a cool trippy iphone wallpaper, try Icon Skin and Themes app. With the app, you can customize your wallpaper with high-quality images. You will get each wallpaper in HD, no matter if the design is default or customized.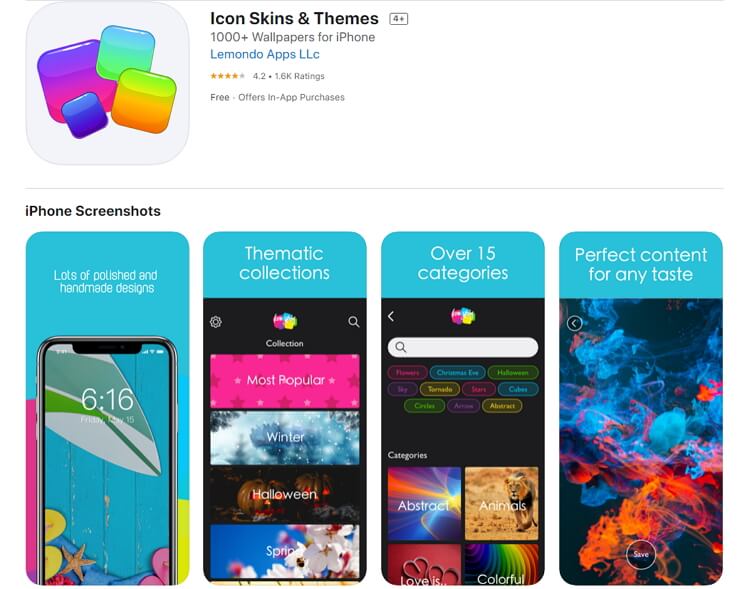 Pros:
App gets regularly updated.
Cons:
The app interface looks a bit messy with many trippy wallpapers.
The fans of live camera-work should give Unsplash app a try. It is because professional photographers constantly add pictures to this community-based app for free use. It allows users to download the images and set them as their iPhone background. Unsplash's beautiful beach wallpapers and cute animal wallpapers are my favorite and most recommended.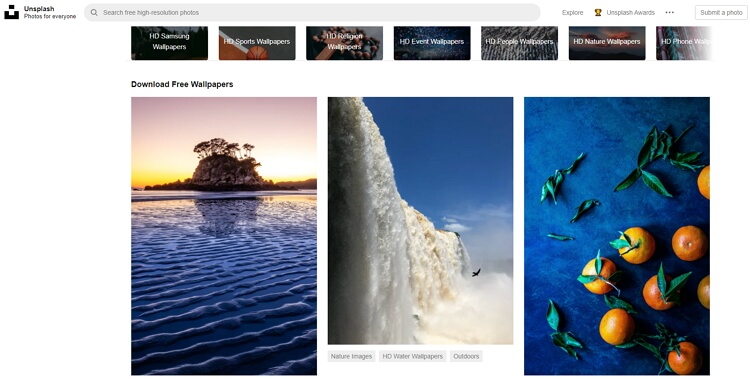 Pros:
Easy and user-friendly platform.
Quality images taken by the professional photographers are available for free.
Cons:
No editing feature is offered.
If you wish to set a moving wallpaper for your iPhone's lockscreen, look no further. Available on the Apple App Store, Live Wallpaper for Me App offers a wide range of animated wallpapers with a user-friendly UI. All the wallpapers are divided across different categories on the app.
Pros:
Live wallpapers are regularly updated.
Provides an intuitive interface with multilingual support.
Cons:
The app doesn't incorporate well with older versions of the iPhone, such as 5C.
If you wish to set a moving wallpaper for your iPhone's lockscreen, look no further. Available on the Apple App Store, Live Wallpaper for Me App offers a wide range of animated wallpapers with a user-friendly UI. All the wallpapers are divided across different categories on the app.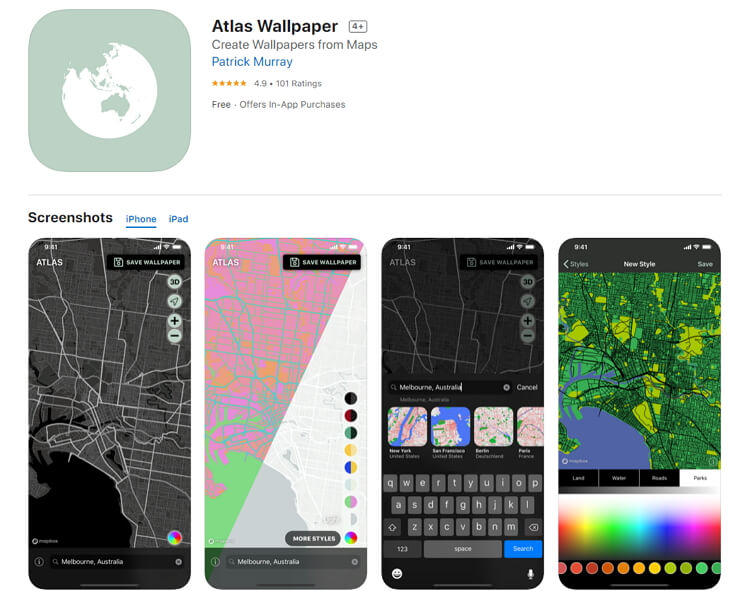 Pros:
Offers to customize iPhone wallpapers with world map;
The customization process is easy.
Cons:
One-dimensional app to download pictures.
Walli is another community-based platform to download cool and beautiful wallpapers for iPhones. They carefully select image work by top graphics artists from all over the world and upload to the app. They are also using this way to promote many undiscovered illustrators, graphic designers, photographers and photo editors to get visible and known to people. When you explore their app, you will think you finally find the right palce for wallpapers!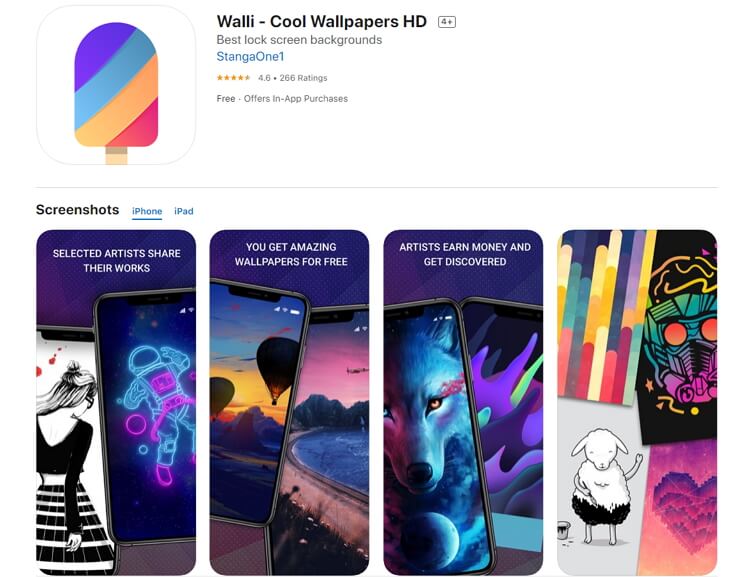 Pros:
The brilliant UI allows searching for your favorite design easily.
Wallpapers are available in different sizes.
Cons: The app is not regularly updated.
The app is not regularly updated.
As stated earlier in the article, our phones wallpapers reflect what we are feeling at the moment. Looking at photographs feeds our melancholy. It allows us to imagine the long-gone moments in our heads and make us feel worthwhile.
Vintage wallpaper is a romantic nod to the past. If you wish to feel the vibes of the good old times, then try downloading iPhone 11 wallpapers from the Vintage Wallpapers app. You can set the wallpaper downloaded from the app on both the home screen and lock screen of your iPhone. It has an intuitive interface that presents a slideshow feature to view the wallpapers without using your finger.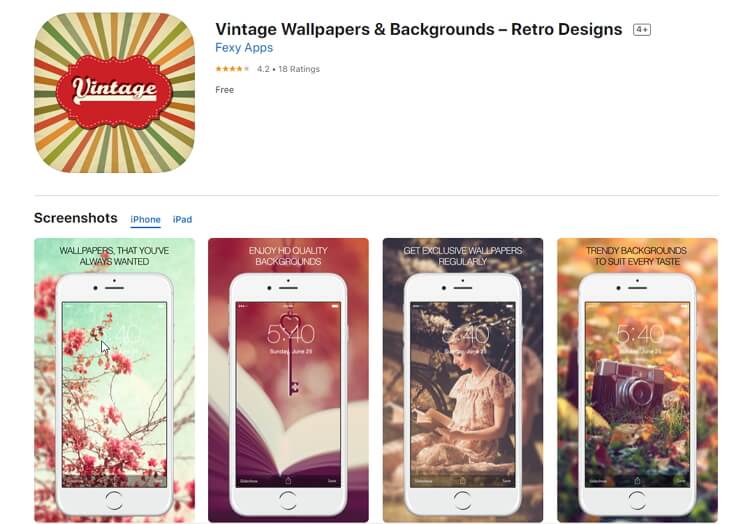 Pros:
Entirely free.
Enables share wallpapers social media apps such as Facebook, Twitter, and Instagram.
Cons:
Needs to add more wallpapers.
Summary
Now you know the top 10 app or websites to download attractive wallpapers for your iPhone, free of cost. Each platform is reliable and works fine with all the active versions of iPhone.No matter device you are using, you may come across file incompatibility issues. If you wish to remedy such a situation, then you need to change the file format of the audio or video. For that, you can use the UniConverter by Wondershare. The program is available on both macOS and Windows. Moreover, it supports more than 1000 file systems. Follows the steps to discover powerful features with Wondershare UniConverter:
Step 1: Run the UniConverter on the computer and access the Toolbar section.
Step 2: Click on Image Converter.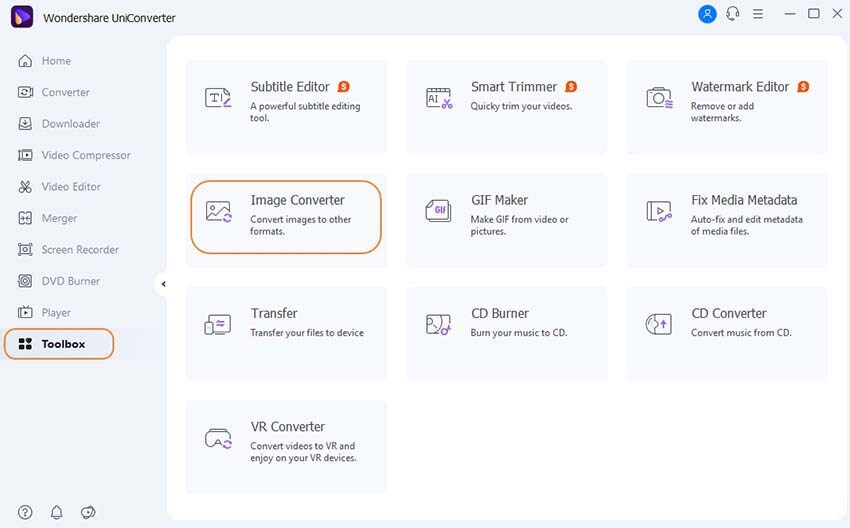 Step 3: Upload the image by clicking on the + icon.
Step 4: Select the File Location and Output Format for the image.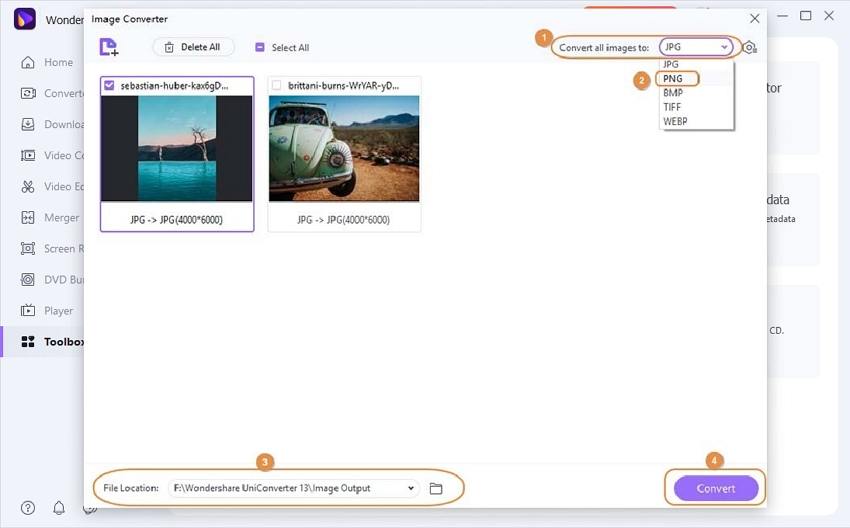 Step 5: Click on Convert to start the conversion process.
Wondershare UniConverter
Directly convert videos to MP4, AVI, MKV, and other 1,000 formats without quality loss at 90X faster speed.
Convert videos to devices such as iPhone, iPad, iPod, and Android phones directly.
Edit videos with advanced video editing functions, like trimming, cropping, adding watermarks, subtitles, etc.
Download/record videos from YouTube and other 10,000+ video sharing sites.
Burn videos to DVD or Blu-ray disc to play with your DVD player.
Support additional functions like Video Compress, VR Converter, GIF Maker, Fix Video Metadata, etc.