When it comes to podcast apps, iPhone users have a variety of great options. iPhone offers both built-in and third-party apps for its users to enjoy all kinds of iPhone podcasts. If you do not know what podcast apps for iPhone are available, or you are having trouble finding the perfect postcast app that is the best for you, don't worry, we have you covered. In this article, we list the top 10 podcast apps for your use. Moreover, if you want to convert or download podcasts, we provide a comlete guide for you to convert the audio to any file format that would be most compatible with your device(iPhone, iPad, and PC).
Part 1. iPhone Podcast – Best podcast apps for iPhone? (Updated for 2020)
Podcasting allows users to listen to live or recorded audios online. The audios are typically in the MP3 format, and you can extract them from various podcasting apps or websites.Here, we provide you a complete list of 10 best apps that allow you to listen to podcasts on iPhone easily.
It is a free-to-use podcast app for iPhone users that is available on the Apple App Store. The app supports smart speed, audio filtering, and voice boost. Moreover, its updated version allows users to skip the intros and outros of podcasts.
The only downside of OVERCAST app is that ads would pop up unexpectedly, which you can remove only by in-app purchasing.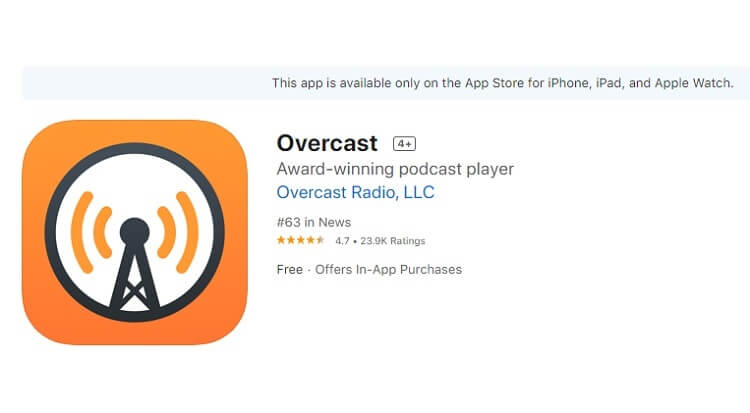 Who hasn't heard of Spotify? It is one of the best digital music service in the world to listen to the music of your favorite musician. They have recently added a Podcast section as well. The app's well-selected podcasts are available for free for iOS users.
Spotify also launched its Sound Up programme to support underrepresented podcasters, especially female podcasters of color in the US, UK and Ireland, Germany, Australia, Sweden, and Brazil. Spotify's Sound Up programm has been able to connect listeners with different cultural backgrounds and inspire a new wave of socially-minded podcasts. Additionally, you can also request to list your own podcasts on the Spotify's audio-streaming platform.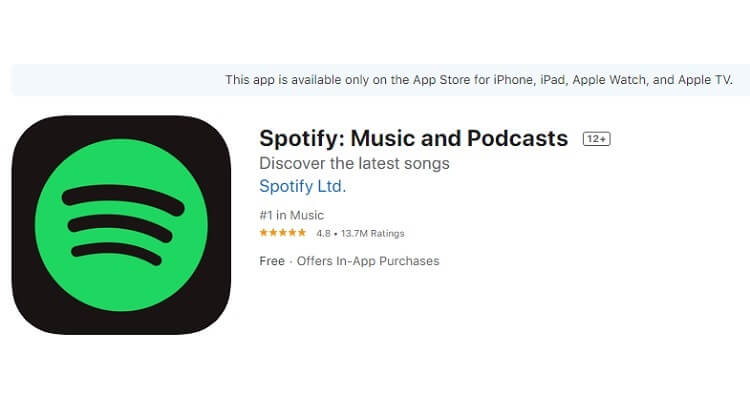 Breaker is not only a reliable app to listen to podcasts with iPhones, but like SoundCloud, it shows what type of content your friends are listening to. It is also cost-free with an approachable and intuitive interface. You can even speed up the podcast if you are not a fan of the discussions' lengthy silences.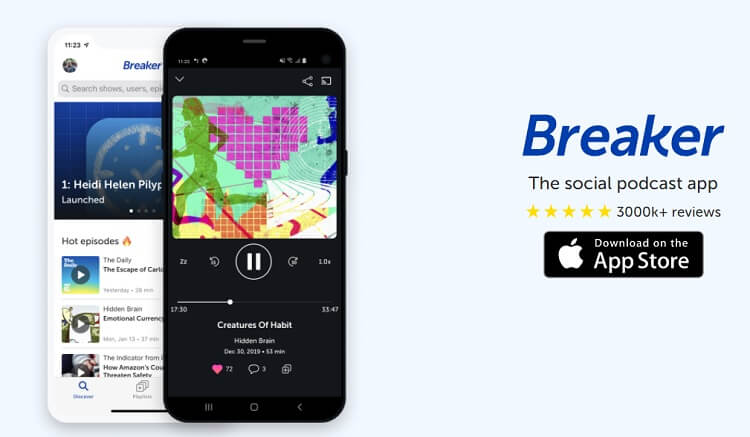 If you are looking for a light and user-friendly app to listen to your favored podcasts, then look no further as ListenApp is the one for you. It is free and offers a completely ad-free experience for all iPhone users. You can download and listen to any episode of the podcast you want at any time. It also allows you to toggle the playback speed and create a custom queue of the preferred podcasts.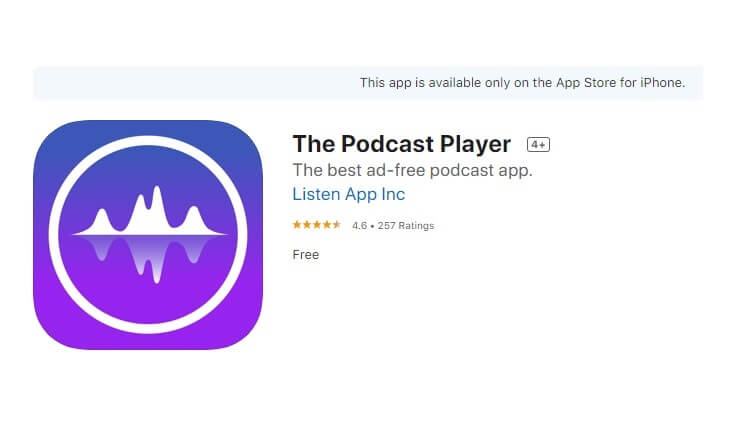 The best thing about the Castro Podcast app for iPhone is its interface. It allows you to queue or archive any episode of the podcast. Moreover, you can sync the app with iMessage and Apple Watch to get the latest news.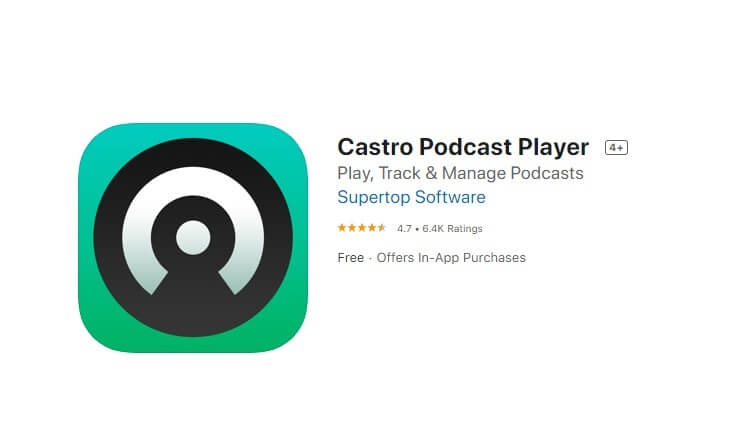 With easy-to-use controls and a simplistic interface, you can use Castaway to access all the top and new podcasts. It offers you to download and stream episodes and even adjust the playback speed to your comfortable rate.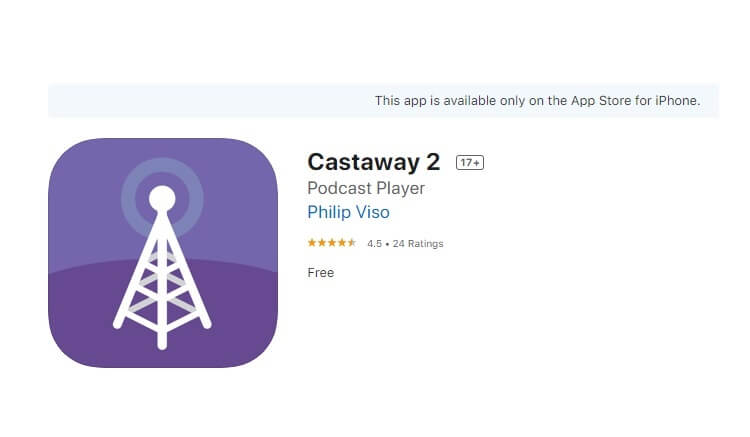 It is an awesome app to have, especially if you do not like missing out on the latest episode of your favorite podcast. PodCruncher allows you to sync the audio track with your computer and download them to listen in your leisure time. There is no download size limit with the app.
You can also manage and create new playlists to filter and group episodes. Still, you would need to purchase the app from the Apple App Store for a minimal amount.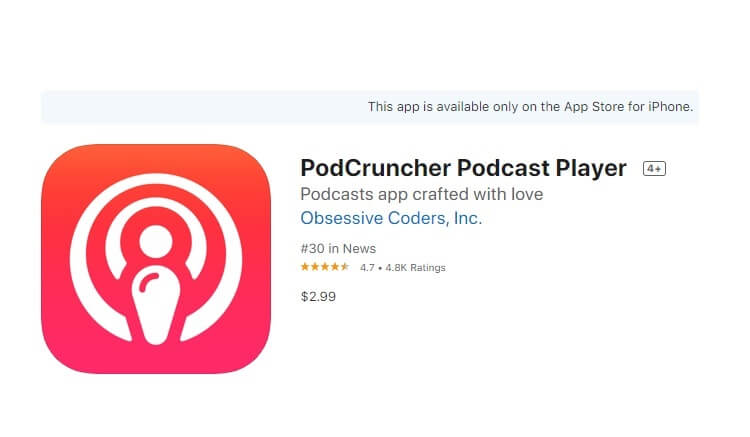 It is a cool podcast app for iOS users available for a small cost of $2.99 from the Apple App Store. The app's powerful interface will allow you to manage and listen to podcasts in the best possible way.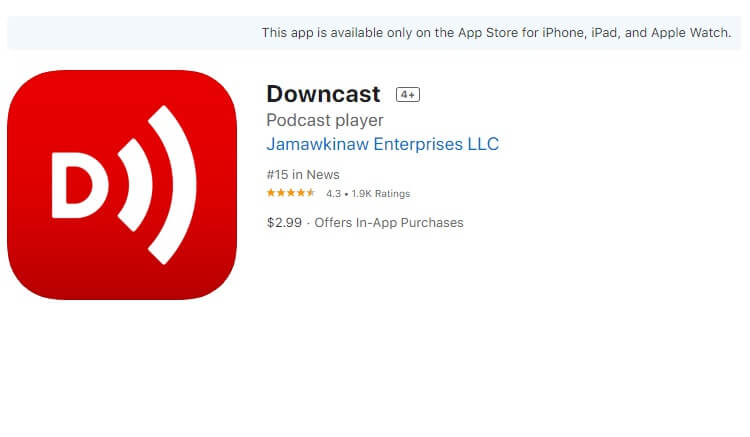 If you have trouble finding the preferred podcast episode, then we suggest using Pocket Cast for iOS, which has one of the best directory layouts. It is so simple that you can access any podcast by tapping only a few times. Apart from it's beautiful UI design, you can download the app for free with Pocket Cast. The app has a powerful playback feature that enables you to select any speed from 0.5 to 3x.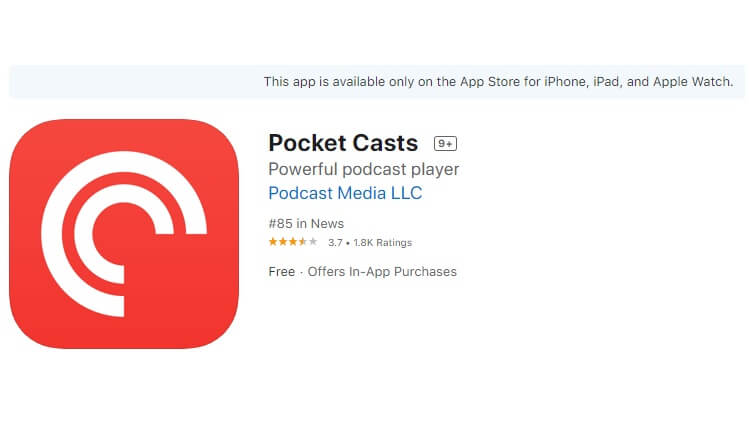 Last but certainly not the least in our list of the best podcast app for iPhone, iCatcher allows you to download and watch any podcast. You can create a custom playlist by filtering out any podcast or its episodes.
iCatcher provides you with the option to pick variable playback speeds. Moreover, you can play/pause and jump the podcast forward or backward 30 seconds with the app. You can also download the podcast and listen later when you have an unstable internet connection.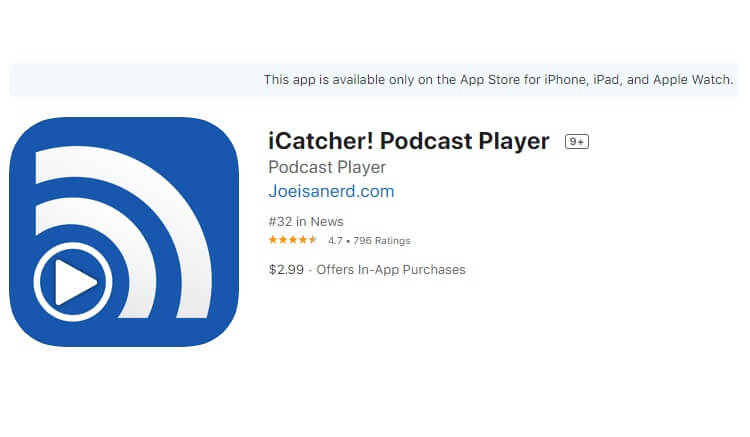 Part 2. The Best Audio Converter Tool to Convert Podcast Format
When you download the podcast on your device, no matter a PC or phone, chances of the file system of the audio being incompatible with the device are high. Under such circumstances, we recommend changing the format of the audio podcast with the UniConverter by Wondershare.
The reason is that the app's ability to support more than 1000 audio and video file systems. It also has additional virtues such as video editing, compression, and conversion. You can also convert images with the program.
Here is the method to convert the audio format of the podcast with the UniConverter.
Step 1: Open the Application:
Open the program on your Mac or PC. Click on the Image Converter tab on the left and add the audio track.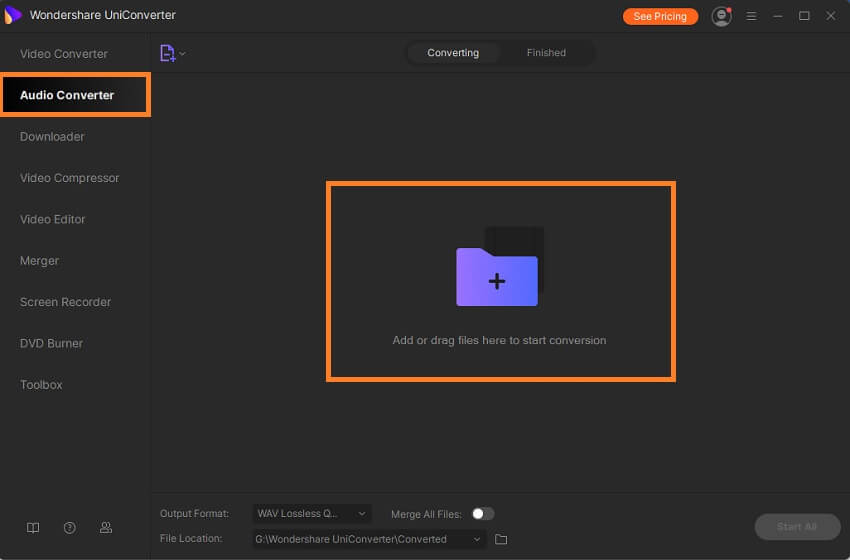 Step 2: Select the Output Audio Format:
After importing the audio, click on Settings and select the format you wish to convert the audio. Click on Create. Select the File Location to store the new audio and move to step 3.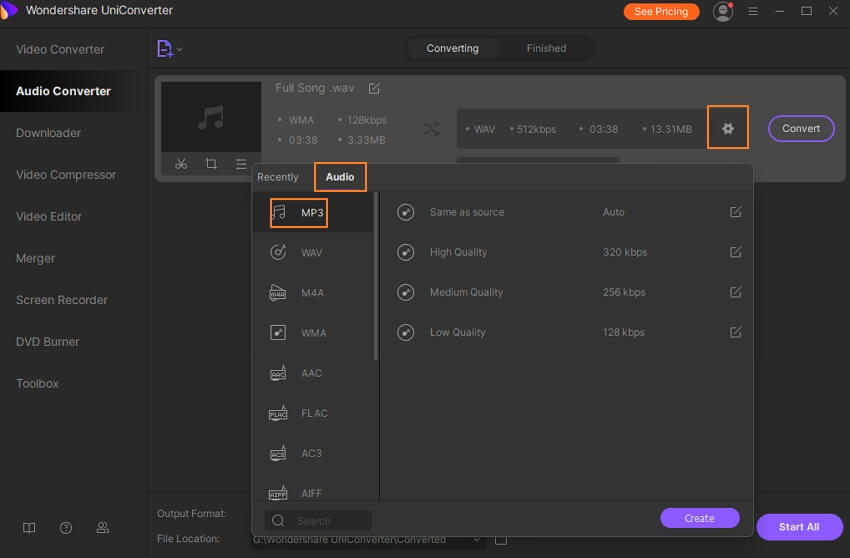 Step 3: Convert the Audio:
Click on the Convert tab to start the conversion. You will find the converted file inside the selected folder.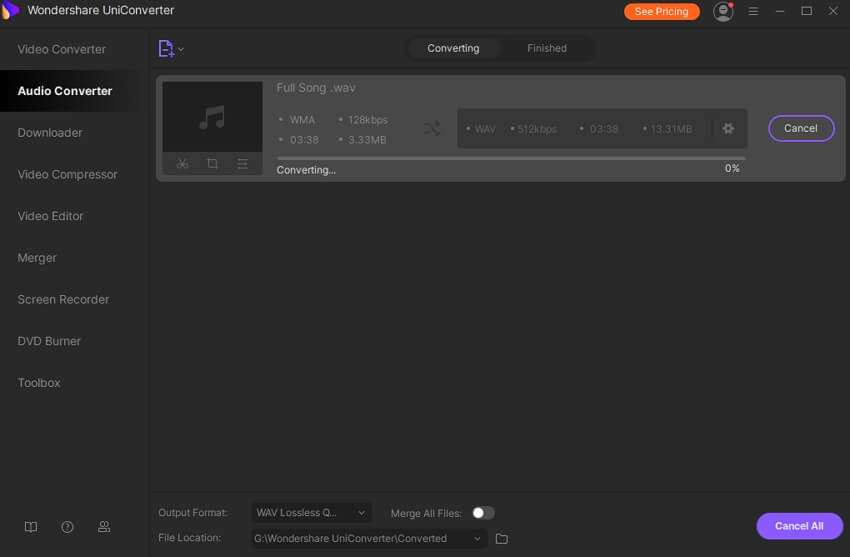 Summary
After reading this guide till the end, you must know about the best podcast apps for iOS and the fundamental difference between them. It is entirely up to you on which app is best compatible with your requirements. Besides, if you want to download the podcast and find its file format undesirable. In that case, you can choose the service of the UniConverter to change the file system.
Wondershare UniConverter
Directly convert videos to MP4, AVI, MKV, and other 1,000 formats without quality loss at 30X faster speed.
Convert videos to devices such as iPhone, iPad, iPod, and Android phones directly.
Edit videos with advanced video editing functions, like trimming, cropping, adding watermarks, subtitles, etc.
Download/record videos from YouTube and other 10,000+ video sharing sites.
Burn videos to DVD or Blu-ray disc to play with your DVD player.
Support additional functions like Video Compress, VR Converter, GIF Maker, Fix Video Metadata, etc.