Why is free music making software in demand? How to select the best one?The reasons why best free music making software are considered may depend on a person, his need, and style. Some ought to be beginners; hobbyists might use it to explore their hobby, some as living without straining wallets much, etc. They bring out fewer burdens financially at the initial stages of learning music. Music-making software free download facility is available directly on their respective websites. Purchasing digital audio workstations provide a great user base and real-time experience. It's essential to take into account the features of the application before choosing a suitable free music making software. Getting a reference from a friend who has already tried upon one is another good idea to select a daw (digital audio workstation). Trial versions are always free; hence before opting for an expensive one, they help in keeping with the industry standards at the learning stage and also to understand the instrument.

URL - https://www.apple.com/mac/garageband/

this is one of the best, designed for mac, equipped with all necessary features and programs. It's free to download for mac users. An expanded sound library that has instruments, guitar and voice presets, session drummers and percussionists, realistic amps, and their effects, provides a lot of freedom for creativity. Human sounding drum tracks can be produced. Drummer features with 28 beat-making drummers and 2 percussionists. The modern design has enabled with touch bar features for MacBook pro to learn, create, and share incredible music to the world. It is a great way to produce music and play it on mac. There is also a garage band app for iPhone and iPad.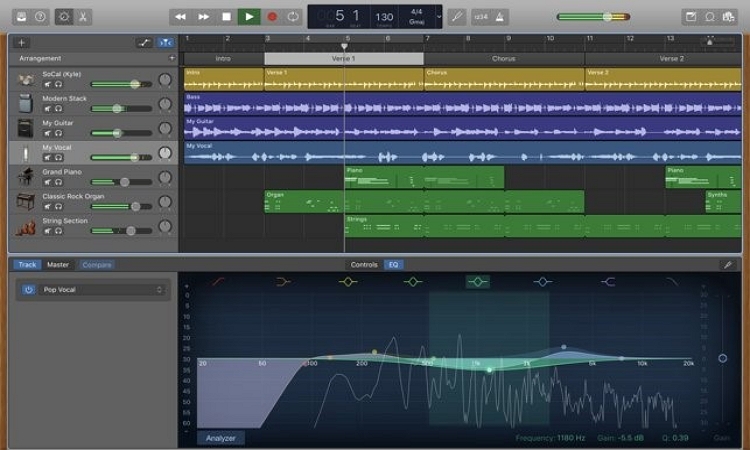 Platform:
Pros:
The best instrument for mac os users to enter into a music production world.
Multiple genres styles, drummers, easy controls, and full-fledged sound library with features.
There is a whole lot of audio units plug-ins and effects.
An easy to understand simple interface.
Cons:
Songs up to 255 tracks per song can be produced.
Features like midi export are lacking.
Not for any other operating system.
URL - https://soundation.com/

If you want free music making software similar to garage band for your pcs, the foundation is the right choice. Music production and recording can be done on this program easily. The produced and recorded music can be circulated via CDs and the internet. It includes many sophisticated desktop applications. It comes with various audio tools for different genres and styles. It comes with features such as 1 four real-time effects comprising of filter, reverb, delay, degrader, phaser, etc. ; various daw tools such as trim loop, cut, copy, paste, time-stretching, pitch-shifting and many more; 4 sample players such as sam-1, gm-2, drum machine, SPC; and 5 virtual synthesizers such as simple, mono, supersaw, the wub machine, and noise.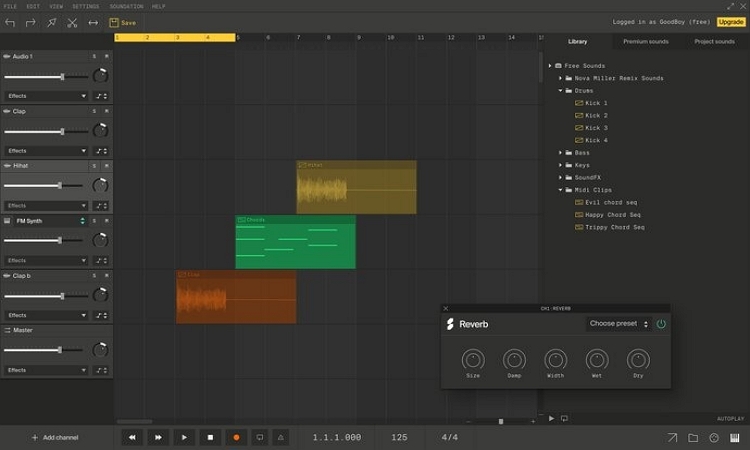 Platform:
Pros:
It has easy to use interface.
Files can be saved, uploaded, and downloaded.
700 royalties free sounds and loops are available.
Cons:
Slow internet connection is not suitable
Basic library of loops.
URL - https://www.audacityteam.org/

It is a free open source, cross-platform audio software, available for recording and sound editing. It is compatible with any operating system. It helps in recording live audio through a microphone, computer playback, tapes, and recorders can be converted into CDs or digital audio; the pitch of the sound can be changed. 16, 24, and 32 bit formats are supported.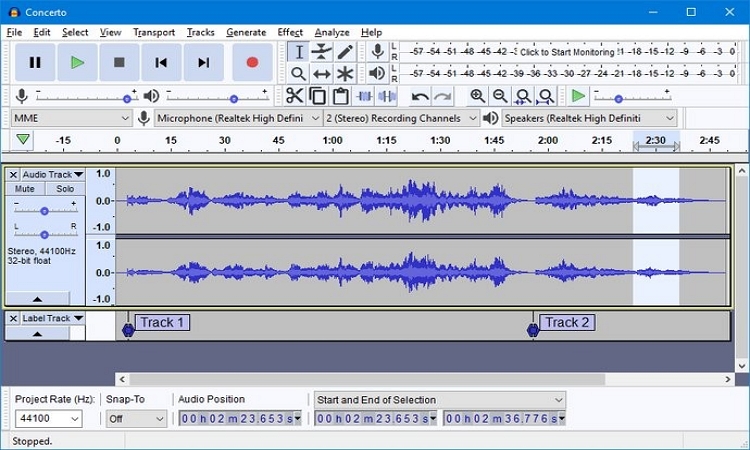 Platform:
Windows, linux/gnu, mac, and other os.
Pros:
Wide variety of controls.
Multiple tracks, recording, composition, and editing.
Trimming, copying, and pasting sounds together.
Importing and exporting sound files in different formats.
Ladspa, lv2, nyquist, vst, and audio unit effect plugins are supported by audacity.
Cons:
Interface is difficult to understand.
No tutorial available to understand the full usage of the complicated system.
Third-party plugins are required.
URL - https://www.rosegardenmusic.com/

This is one of the best free music making software for beginners using linux, based on a midi sequencer. It is a complete package of music production, editing, and recording.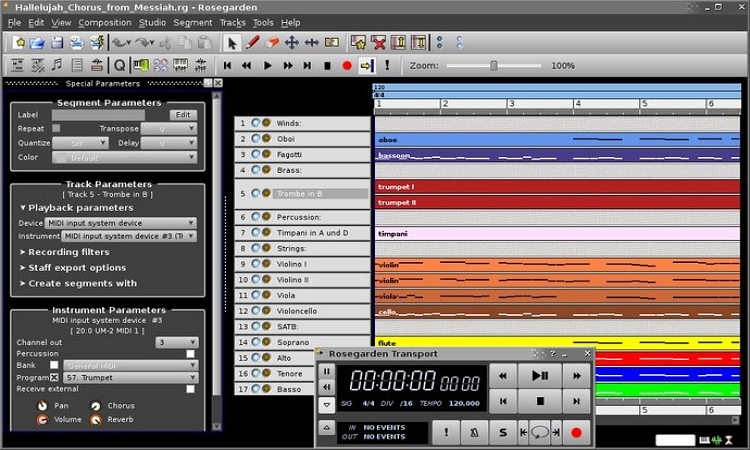 Platform:
Pros:
Recording and editing notes can be done naturally with inherent features.
Midi ports, programs, controllers can be easily managed.
Audio recording, different effects, mixing.
Midi tracks can be played through hosted synths.
Cons:

URL - https://www.bandlab.com/products/cakewalk

Cakewalk by band lab is free music making software for beginners, and also, all the leading features can be downloaded easily on windows. In comparison to cost, it is one of the best digital audio workstations. Cakewalk had given its product sonar that had a multi-track recording, midi, editing features. Later part of the cakewalk was acquired by band lab, who continued to develop free daw.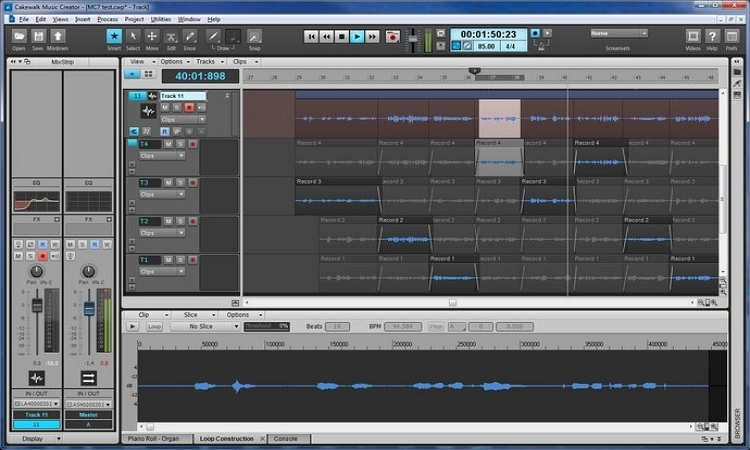 Platform:
Pros:
Sound writing tools, editing, mixing and mastering tools.
Unlimited midi and audio tracks.
A complete package of editing tools.
It can be uploaded to youtube, cloud, and many other social media sites.
Cons:
Compatible for windows 10 only.
Interface is difficult to understand.
Summary
There's no doubt all established, organized, and mainstream music-making software costs heavy burden on the wallet. However, there are many free options available for different devices and platforms, which again has pros and cons, depending on mixing, ministering, and producing music. Few mentioned above are some of the best ones, out of which rosegarden, Garageband, band lab cakewalk, and audacity and foundation good choices. Always choose the one that is available to any operating system platforms and also know its scalability.