Apple sold over 50 million AirPods in 2019 alone, and the figure is estimated to hit the 100 million mark by 2021, at least according to Statista. Well, it's not a coincidence because the AirPods compress all the exciting features of a powerful over-ear headphone into smaller earbuds. However, the pods don't come cheap. Even worse, the charging case that it comes with falls short of essential protective measures. So today, I've compiled some reliable AirPod accessories to give your earbuds a headstart. Just remember that most are not compatible with the updated AirPods Pro.
Specs:
Tested IP67 waterproof construction.
Shock and drop resistant.
Detachable carabiner.
Compatible with lightning connector.
One of the most critical AirPod accessories is a carrying case. After all, what's the point of buying such expensive earbuds when you can't maintain them? That said, the Catalyst Case uses Silicon sealing RBS construction that ensures military-grade protection against liquids and impact. It also features a detachable carabiner that makes it extremely portable plus adding that extra security. Another issue, the smart design offers seamless access to the lightning port.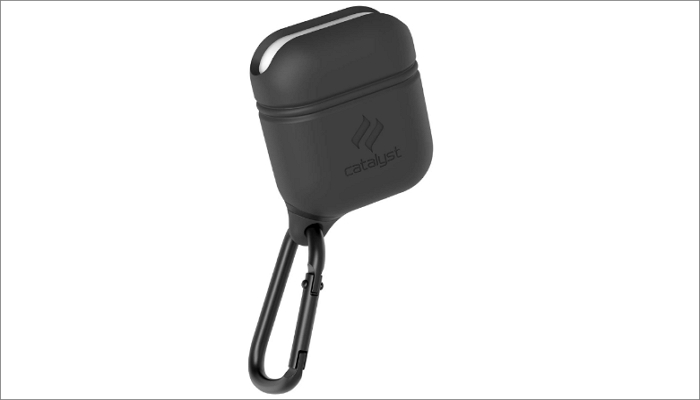 Airpod Skins Protective Wraps
Specs:
Fits inside the charging case.
Easy to install.
Adhesive vinyl material.
Lifetime warranty.
If you think that purchasing the Catalyst Case alone will protect your pods from aging, you're wrong. That's because as you use your earpods, they undergo the typical wear and tear. Therefore, getting protective wraps is a smart option. These accessories use premium resistant adhesive vinyl construction that guarantees comfort, style, and durability at the same time. It also fits seamlessly with all AirPod earhooks, straps, eartips, and charging cases. Moreover, it offers zero electronic interference, allowing you to enjoy original quality music.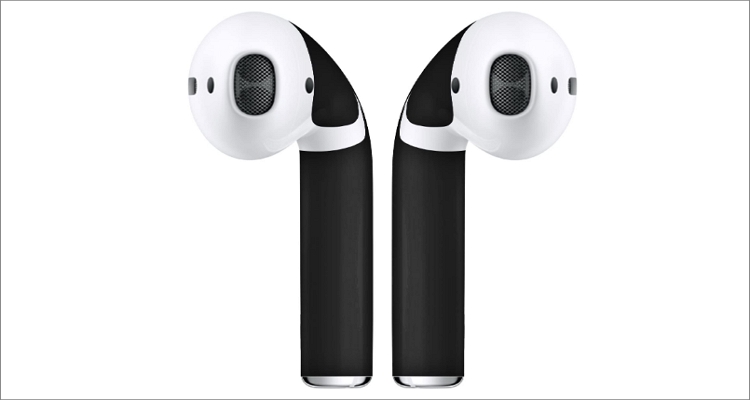 mophie - Wireless Charge Pad
Specs:
Advanced Qi wireless technology.
7.5W of quick charge.
Rubber coating.
Compatible with AirPods and iPhone.
The mophie – Wireless Charge Pad is optimized to make your AirPod and iPhone charging pretty quick. It features a rubberized, non-slip finish that ensures the perfect placement of your pods without any scratches. After placing, this wireless charge pad will immediately detect your device and start transferring it's up to 7.5W of power with supersonic speeds. It also features an over charge protection system that controls temperatures and prevents over-charging.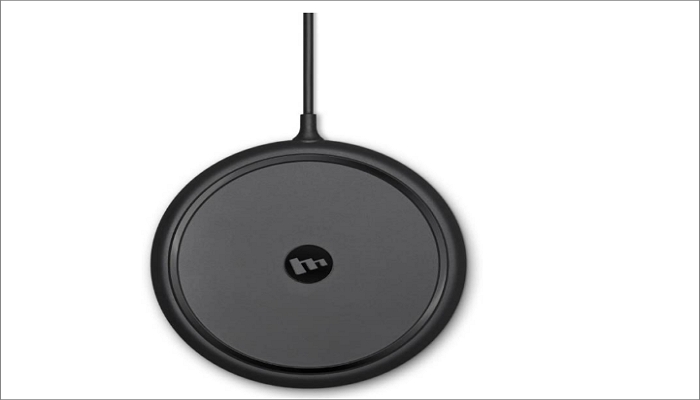 Twelve South AirFly | Wireless Transmitter
Specs:
Advanced Bluetooth 4.1 technology.
Seamless AirPod pairing.
8+ hours of battery life.
Micro USB charging.
This wireless Bluetooth 4.1 device can connect all AirPods and wireless headphones to any compatible entertainment system. It doesn't matter whether you're in a fitness center, restaurant, or anywhere else, all you need is to plug in your headphone jack to a source and enjoy the music or TV shows. Even better, it offers more than 8 hours of playtime when fully charged. It certainly does what it is designed to do.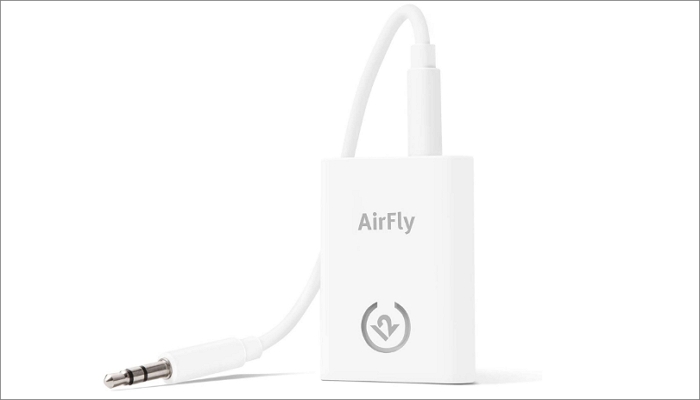 PodSkinz Keychain AirPods Case with Carabiner Compatible
Specs:
Slim fitting design.
Easy installation.
Features a carabiner.
Shock and impact resistant silicon material.
If you've previously lost a pair AirPods due to impact, grab this PodSkinz case for $5.95 only. You'll be shocked by how effortlessly your AirPods will fit inside, and the carabiner and lanyard will keep it secure in a place of your choice. As for the construction material, the silicon layer is thin and protective enough against drops and shocks. And perhaps the best thing you can get from PodSkinz is the friendly customer service.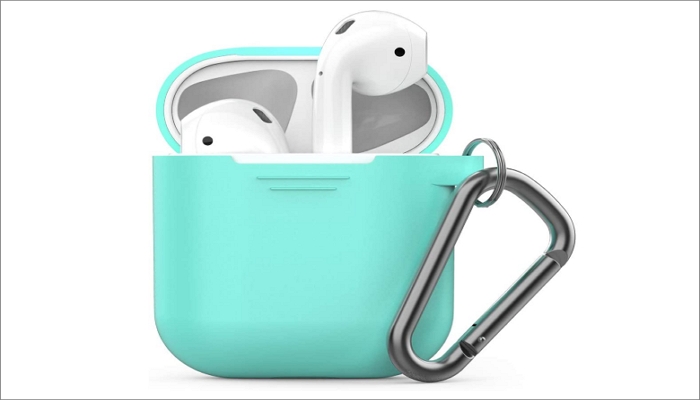 Spigen RA100 Designed for AirPods Strap
Specs:
Simple installation.
Compact and lightweight.
Clip design for storage and organization.
Durable TPU (Thermoplastic polyurethane) material.
Spigen products are famous for their excellent quality and price range as it is the case with these AirPods straps. The high-quality silicone construction material is unique because it's smooth and won't irritate your skin. The strap is also made using durable TPU that is lightweight, compact, and sleek. And since the strap is short, you won't experience the messy cords draped over you. If you add in the quick assembly, I find this accessory to be quite irresistible for athletes.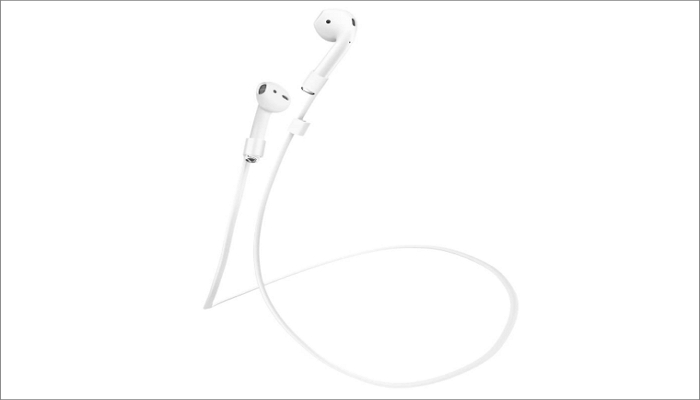 AhaStyle 2 Pairs AirPods Ear Hooks
Specs:
Passive noise reduction design.
Durable premium silicon material.
Available in large and small sizes.
Come with a storage pouch.
Are you tired of constant pains due to wearing your AirPods for long? Get these ear hooks. These hooks will deliver immediate results, thanks to their unique design, smooth silicone construction, and size variations. To add to that, the AhaStyle Ear Hooks reduce ambient sounds, allowing you to enjoy rich bass and crisp stereo. And above all, you'll get a cute silicone storage pouch to keep your AirPod and hooks away from dirt and scratches. It's a win-win scenario here.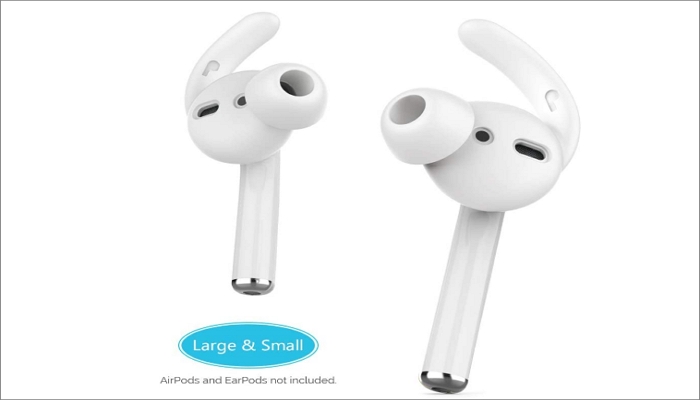 EarBuddyz Ultra Ear Hooks
Specs:
Improved noise isolation.
Smooth and durable silicone sleeves.
Includes a stash pocket with carabiner.
Available in multiple sizes.
You can also try the EarBuddyz ear hooks to sort out your ear pain and noise-isolation issues. They are stylish, durable, and comfortable on the ear, thanks to the smooth construction material. The ear canal tips create some decent noise isolation, although not the perfect you can get. Additionally, the sound quality will improve tremendously as the bass will be more advanced.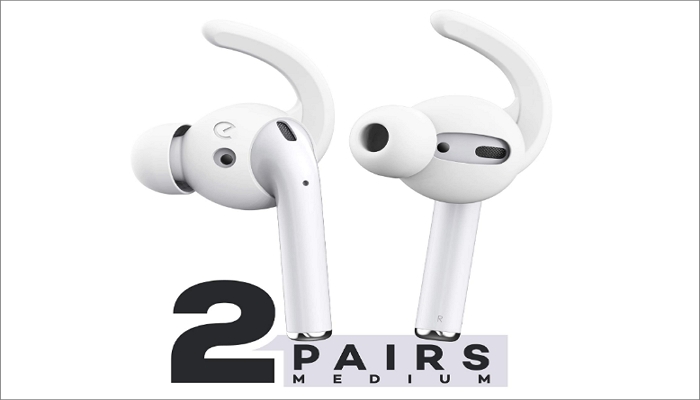 ZenPod - Spinning Case for Apple AirPods
Specs:
Premium Nappa leather finish.
Impact-resistant polycarbonate frame.
For all AirPods.
Steel bearings.
If durability is on top of your AirPods carrying case search agenda, the ZenPod – Spinning Case has you covered. It comes in an exterior premium Nappa finish that includes an impact-resistant polycarbonate frame with steel bearings. If you put these features together, you'll enjoy unrivaled protection for your expensive AirPods. On the flip side, the fidget spinner doesn't spin effortlessly because of the steel material. But that minor blip aside, it's a helpful spinning case.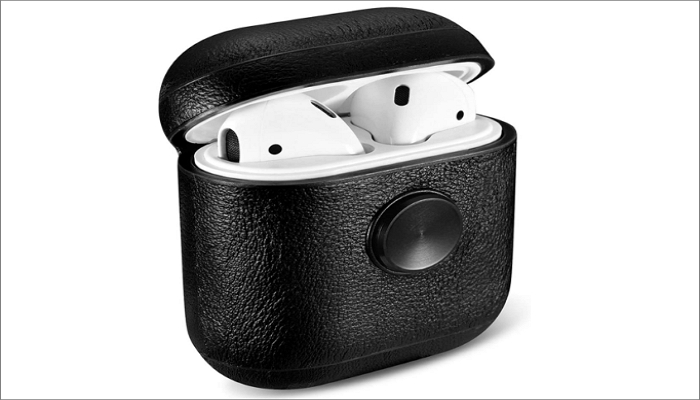 Specs:
Hook-shaped design.
TPU construction material.
Easy installation and removal.
1-year replacement warranty.
Few AirPod accessories on the market will come with a 1-year replacement warranty and 30-day money-back guarantee. Well, the Elago AirPods Ear Hooks offers just that on top of its unique features. For starters, the construction material and design use the durable and smooth TPU that ensures it stays hooked to your ears for long periods. The hook-shaped design also helps to keep it secure. And as if that's not enough, each hook comes with a hole punch to connect it your clips or straps and hold them together.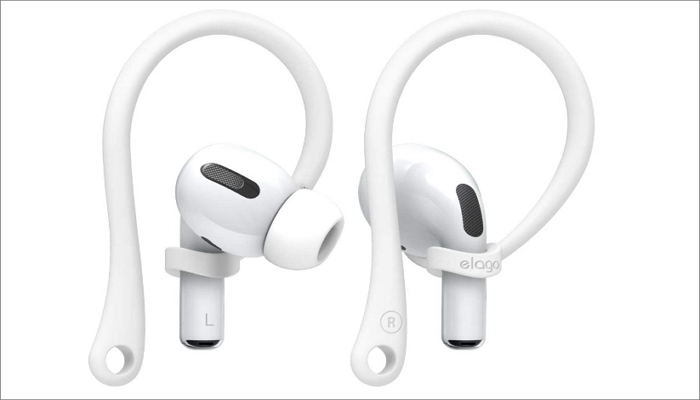 The Sum Up
As you can see, it doesn't have to be an expensive affair to get the best out of your Apple earbuds. With these AirPod accessories, you'll enjoy a clearer sound, unmatched comfort, and total security of your AirPods. And as I've said earlier, most of them aren't compatible with the AirPods Pro model.