Here you are with a bunch of cool pictures and video clips you have transferred to your PC. You want to make an excellent presentation of these shots in the form of a slideshow to show your family, friends, or even a school project. The big question is how to create a slideshow on Windows 10. Even more important is the question of the best slideshow maker to use or even a slideshow maker for Windows 10.
The answer is all in this article. Yes, you can create a slideshow on your Windows 10/PC, and we will give you the best free slideshow maker you can use to achieve your aim. You will be exposed to its unique features, as well as steps on how best to use the tool to create slideshows on PC for free.
Part 1. FAQ: Can I make a slideshow with Windows Media Player?
Let's begin with this frequently asked question: Can you make a slideshow with Windows Media Player? The simple answer is No. To understand why you cannot use your PC's Windows Media Player to create slideshows, you need to know what a Windows Media Player is used for in the first place.
Windows Media Player (WMP) is a Microsoft product designed as a free inbuilt part of the Windows operating system to enable users to view photos, play videos, and music from a music library collection or a CD plate. You should note that the Windows Media Player does not support playing audio and video from a DVD. Thus, WMP is the default media player for all Windows systems. It implies that if you are asking this question, you are using a Windows computer.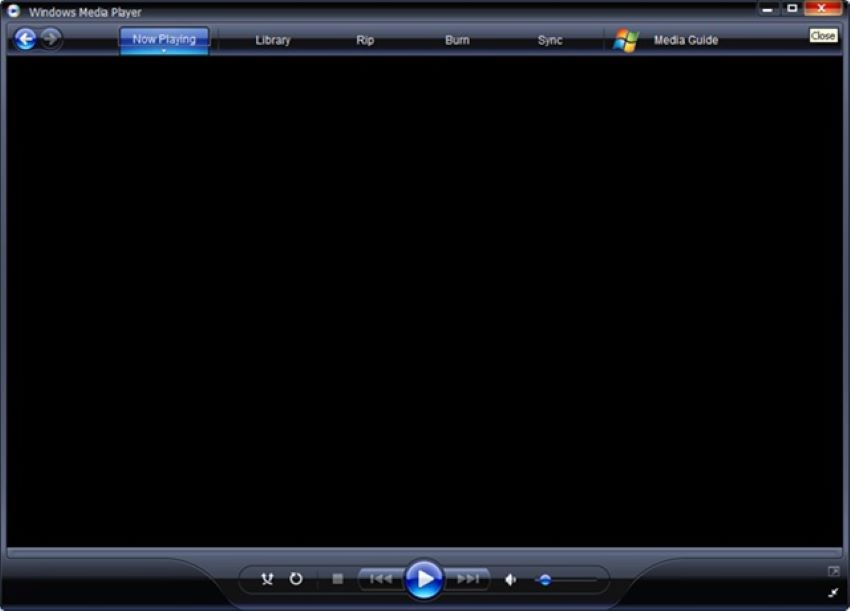 Going by the above, Windows Media Player has not been designed to create slideshows even though you can use it to organize your media collection. It is only for playing music and videos, so you need software or an online tool to create slideshows on your Windows computer.
Part 2. Create a slideshow on Windows 10 with software
software suggested for you to create a slideshow on Windows 10 is the Wondershare DVD Creator. Wondershare DVD Creator is a powerful yet simple tool that meets all your DVD needs; you can call it the ultimate DVD toolbox. It lets you burn videos of different formats to all the popular DVD types. With the video editor that has been built into this tool, you can edit the videos you have burnt into the DVD. It is also flexible as it allows you to customize the video using templates that suit your theme.
More importantly, the Wondershare DVD Creator is a slideshow maker that can be used easily on your Windows 10. Here, you can add background to your slideshow, change the transition settings, duration of each photo or video clip, rearrange the order of images, and burn the final work into a DVD for onward presentation.
Here is how you can use the Wondershare DVD Creator to create slideshows on your Windows 10 computer:
Step 1: Run Wondershare slideshow maker
Launch the software on your PC and select "More DVD Tools". It will give you access to the software's toolbox.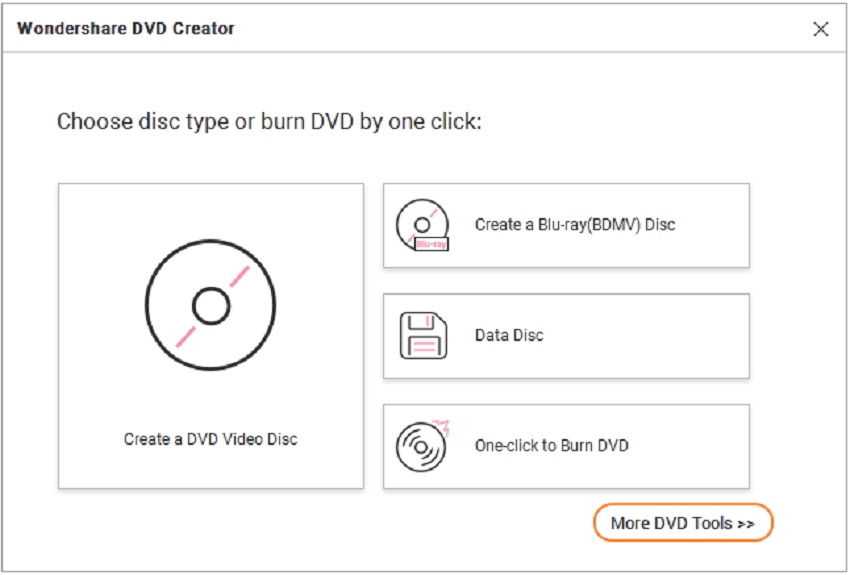 Select "Slideshow Maker".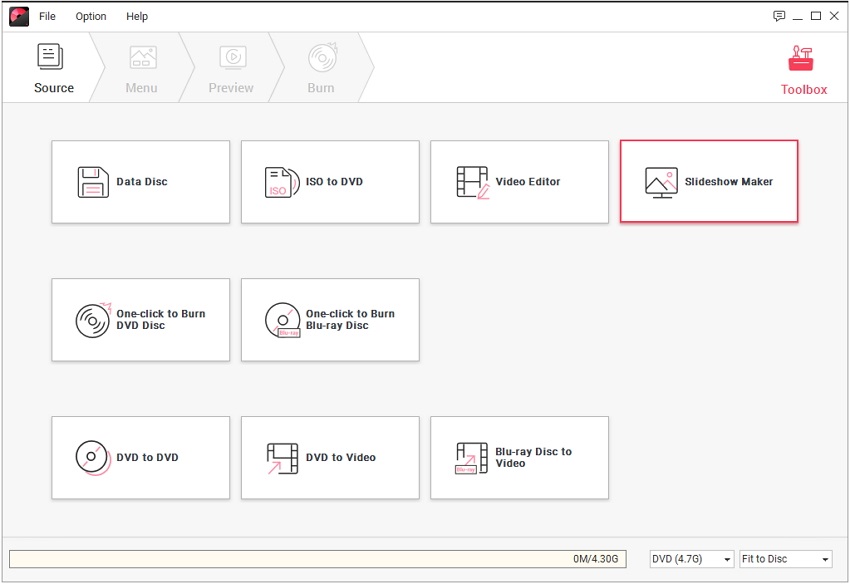 Step 2: Add photos to create slideshow
Click the plus icon to add the photos you want to use for the slideshow.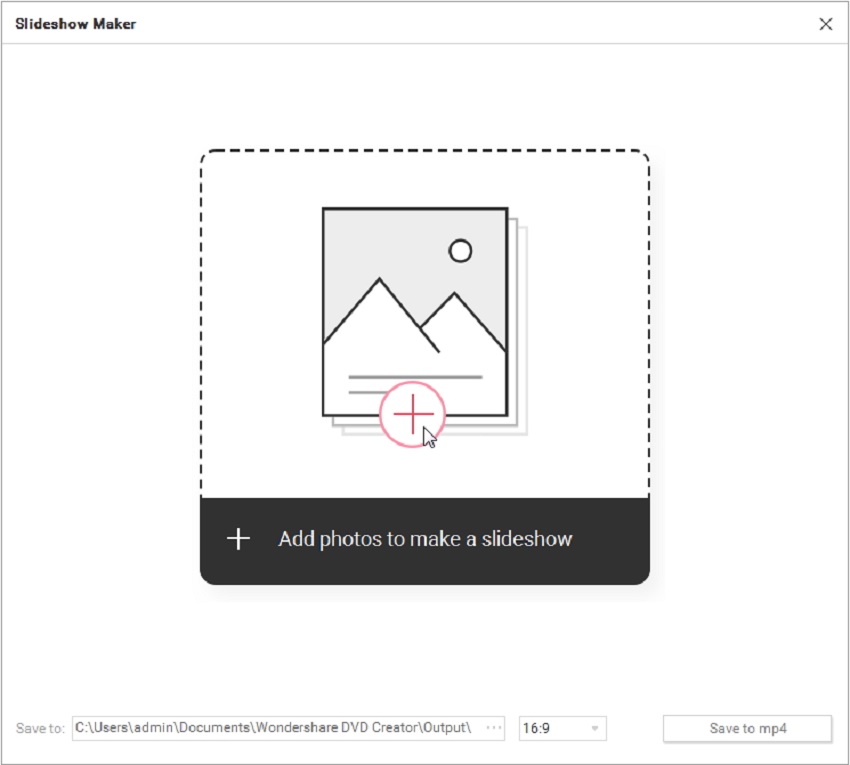 You will see the thumbnails of all the images you have added arranged sequentially on the right panel of the page.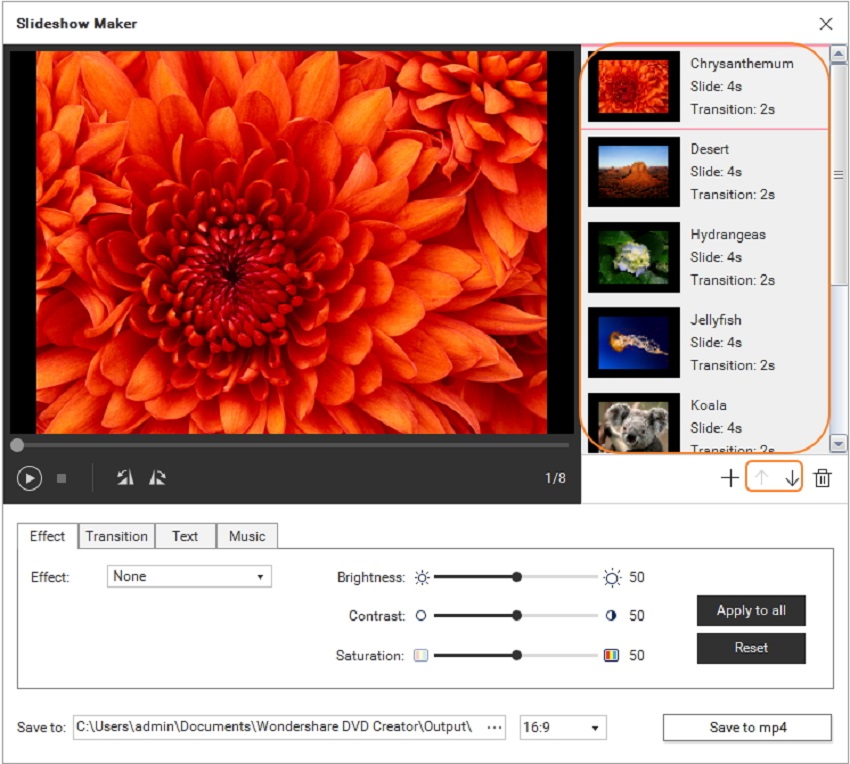 Step 3: Edit slideshow photos
The list of editing features allows you to add music, add effects, edit the transitions from photo to photo, and add or edit text on your slideshow. Have fun with it!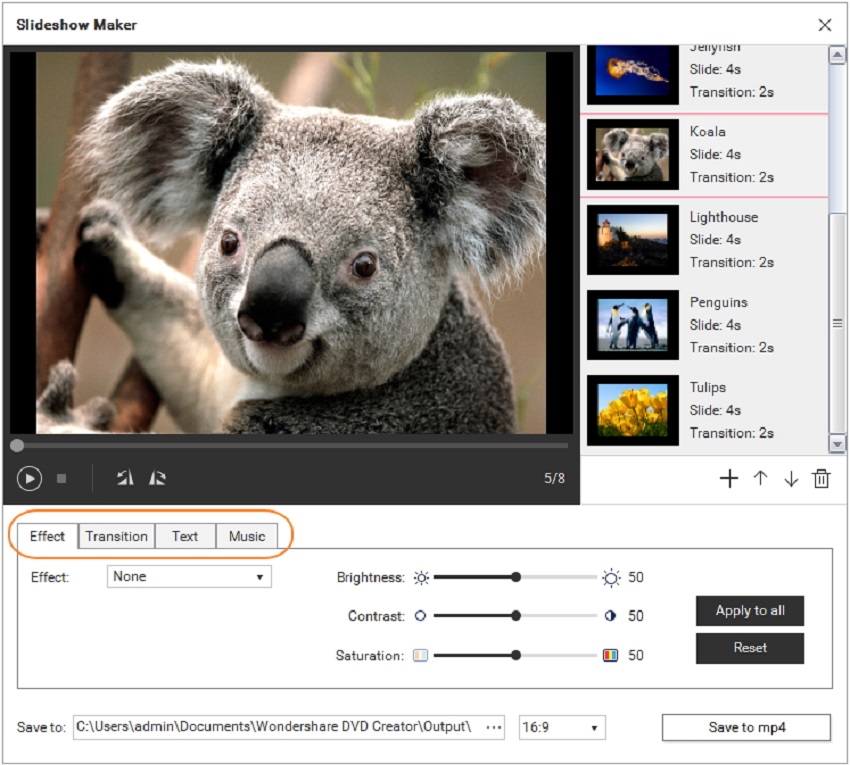 Step 4: Save the edited slideshow
Besides the "Save" button, click the ellipsis sign to select the particular folder you want to save your final work to; then proceed by clicking "Save to mp4."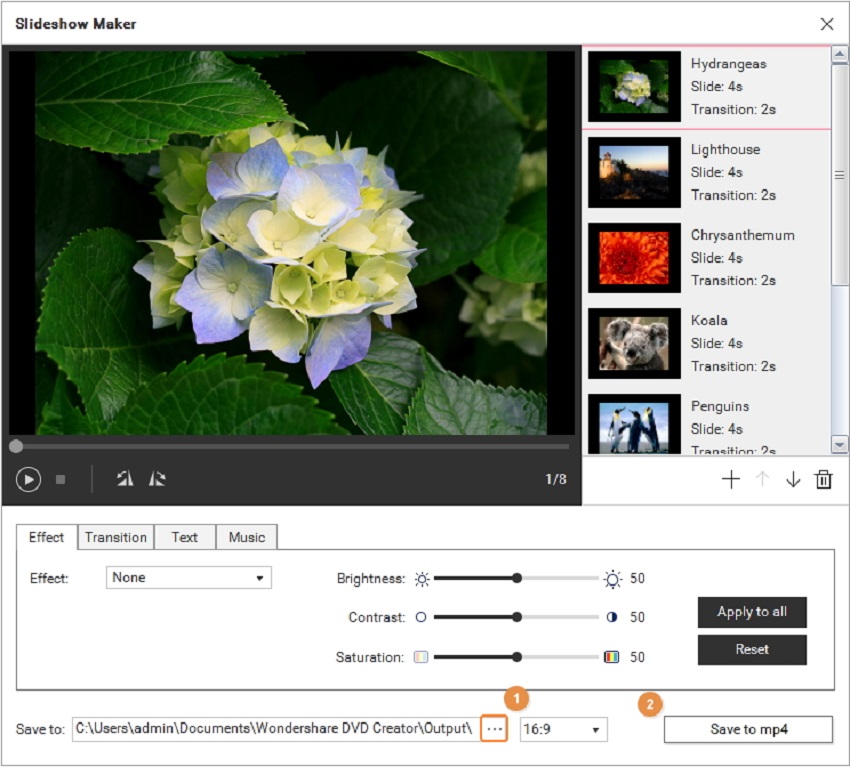 Once it is saved, you will receive a pop-up message showing you it's completed and letting you view your work in the "Open the file" button.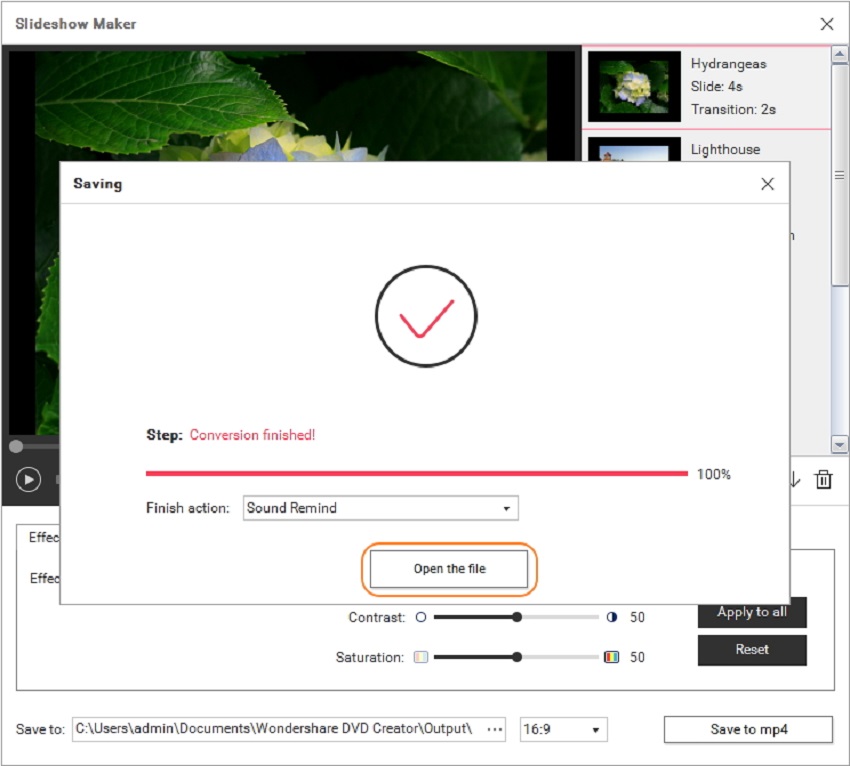 Part 3. How to make a slideshow for PC users with online tool
Although third-party software seems like the next option since Windows Media Player cannot create slideshows on PC, there are disadvantages or drawbacks to using third-party software. For instance, the software requires downloading, and if you have limited storage on your PC, this could pose a problem for you, especially since you will still need the space to download the edited video slideshow. Another disadvantage is the time spent downloading, launching, and running the software. It is not so ideal for urgent situations or speeds generally.
What, then, is the solution to this challenge? An online tool is the best alternative to downloaded software for creating slideshow on Windows. What is more recommended is the use of a free online slideshow maker for PC. With an online tool like UniConverter Slideshow Maker, you are assured of the fast, easy creation of slideshow on your Windows computer. You do not need to download any app to use it, so you don't have to worry about space consumption.
Online UniConverter Slideshow Maker is an online free tool designed by Wondershare to create picture and video slideshows. It is an online-only tool that is simple to use, which means you do not have to download any app to use it. You do not need to register before using this tool for the first time, although to increase your limits, you are advised to register on the site.
How to Create A Slideshow with Music on PC
Other features of Online UniConverter Slideshow Maker include the following:
It works on both Mac and PC, so you don't have to be concerned about the tool not working on your Windows 10.
It is a free tool that supports many different music formats such as WAV, MP4, and MP3. You can add and edit the music of your choice to be the background music as your pictures roll by in a slideshow.
It is simple and easy to use. Using simple clicks, you can merge short clips or photos to form a slideshow on the UniConverter Slideshow Maker.
This tool lets you preview your edited video slideshow before you finally export it to storage or share it on your social pages.
Aspect ratios feature has the default aspect ratios for popular websites like YouTube, Facebook stories, Instagram channels.
This tool supports different file formats for exporting your slideshow video. The formats include WMV, MKV, MP4, M4V, WebM, MOV, MPG, AVI, 3GP, and FLV.
Your privacy is protected on the UniConverter Slideshow Maker tool as all your uploaded files get deleted after twenty-four hours of upload. This prevents others from obtaining your media for their personal use.
Steps to create a slideshow on Windows 10 using Online UniConverter Slideshow Maker, go to the Wondershare website on your browser and follow the steps below:
Step 1: Upload the files
To upload the photos or videos you want to create the slideshow with, drag them from your system storage onto the UniConverter home page. Alternatively, you can click on "Choose Files" to select the media you want.
Step 2:: Make a slideshow
Now it's time to make the slideshow using the features or toolbox on UniConverter. Rearrange the files, so you want them to appear, customize the duration of each clip, add background music. Give your work the general theme and feel you want.
Step 3:: Export your final video
Once you are done editing the slideshow, preview it. If you are satisfied with what you have done and there is no need for any change, you can export it to your Google Drive, PC storage, or Dropbox.
Conclusion
If you want to create a slideshow on Windows 10, you need third-party software or an online slideshow maker. Both options have been provided for you to choose from. Online UniConverter Slideshow Maker because it is easier. The tool has unique features you can use to create beautiful slideshow videos, as mentioned above. Follow the simple steps outlined, and you can create a video slideshow like a professional.