The use of video slideshows on Facebook has become a game-changer for businesses to increase their online awareness and, consequently, their customer base. Facebook is at the top of the ladder of most popular social media platforms, hence why people leverage it to get the exposure they need for their businesses.
Indeed, you must learn the skills required to make eye-catching slideshows that will reach your target audience on Facebook. You can create Facebook slideshows using the feature designed on Facebook for this purpose. Other methods are also suggested to you if you do not find the Facebook default slideshow feature. A method like using Online UniConverter Facebook slideshow maker gives you a better experience creating a slideshow with music on Facebook.
Part 1: How to create a slideshow on Facebook via Facebook slideshow feature
Most Facebook users know about the Facebook slideshow feature, and they use it to create slideshows that promote their brands and online presence. However, for those who do not know, you can create a slideshow on Facebook using the slideshow feature, and here is how you can do that:
Log on to your Facebook page on your desktop or PC.
Select Create Post just like you always begin when you want to create a Facebook post.
Click Create Slideshow.
Facebook slideshow feature has three significant settings, each with a specific use during editing. They are Aspect ratio (which means the size of the video slideshow), image duration (i.e., the length of time each photo stays up on the screen), and transition (which is the style in which photos slide from one to the next, be it through fading or without any transition at all).

The Facebook slideshow feature allows you to add from three to ten images per slideshow video. You can leave the default aspect ratio of the photos or change to any of these options: rectangle (16:9), square (1:1), or vertical (2:3). Also, edit the duration of each image in the slideshow and the transition style.



Add music to the slideshow from the list of music provided on the slideshow tool.
Add tags to your video before publishing if you wish, and select the thumbnail to use for the slideshow. A thumbnail is what attracts viewers to your video, so make it good.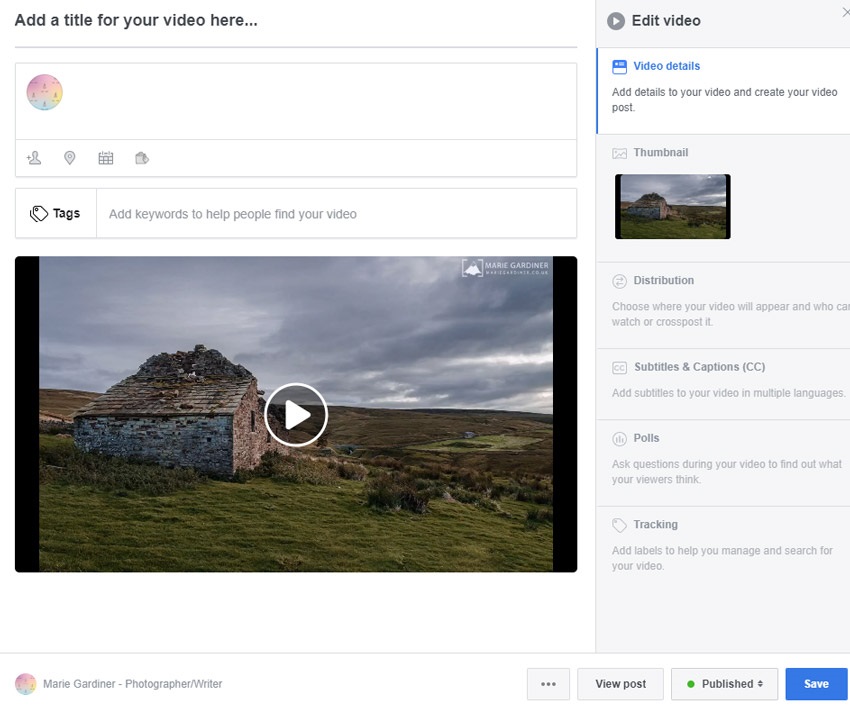 Part 2: Facebook slideshow feature disappeared - what can you do? (3 methods)
Due to some unexpected changes by the Facebook support team, users can no longer find the Facebook slideshow feature. If you cannot use your Facebook slideshow feature because it has disappeared, you can still create a slideshow on Facebook. Use any of the three solutions mentioned below, and you are good to go:
Solution 1: Update the Facebook App (most straightforward)
A common reason why you cannot find the Facebook slideshow maker feature could be that your Facebook app is outdated. It is especially true for those who have never used the slideshow feature on Facebook and are just learning about it. Update the app on your device for both Android and iOS users.
For Android users, visit Google Playstore and search for Facebook. You will see the option to update the app since you already have it. Just tap on this option, install and open it to access the slideshow feature.
For iPhone users, visit your App store, do the exact search for Facebook, and then update it to the latest version. Launch the app as usual and continue using it after installation.
Solution 2: Use Ads Manager
When you cannot find the Facebook slideshow feature, it does not mean it has disappeared. Technically, it is still on Facebook but the Ads Manager section instead, where it is supposed to be for creating Ads slideshows. However, you can use this tool without creating ads on Facebook (although you may be using your slideshow to advertise after all) when you look at it.
Anyway, follow these steps to locate the Ads Manager tool and use it to create a slideshow on Facebook:
1. Open the Facebook Ads Manager:
If you cannot still create slideshows on Facebook using its carousel, you can use the Ads Manager section.
2. Select page posts:
Go to the top-left end of the Ads Manager window and click on the 9-dot icon there. From the list of options, choose Page Posts.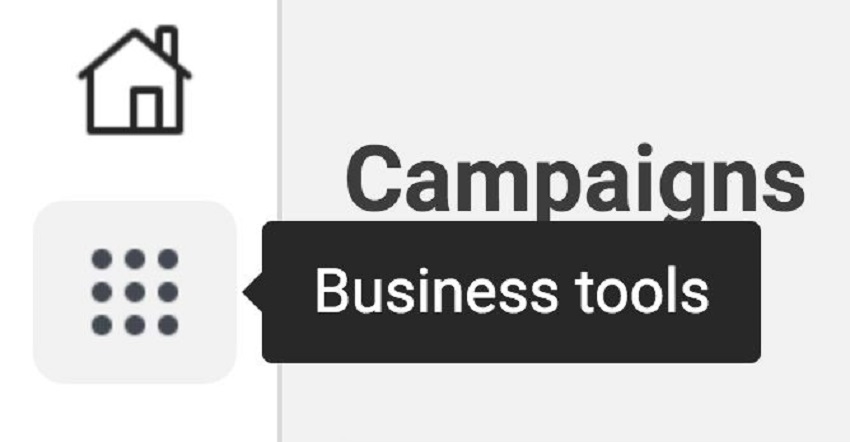 3. Create slideshow post:
Click the blue Create Post button. Follow the prompt that appears to create, and if you have multiple Facebook pages, ensure you are using the right one to do this. Select Photo/Video.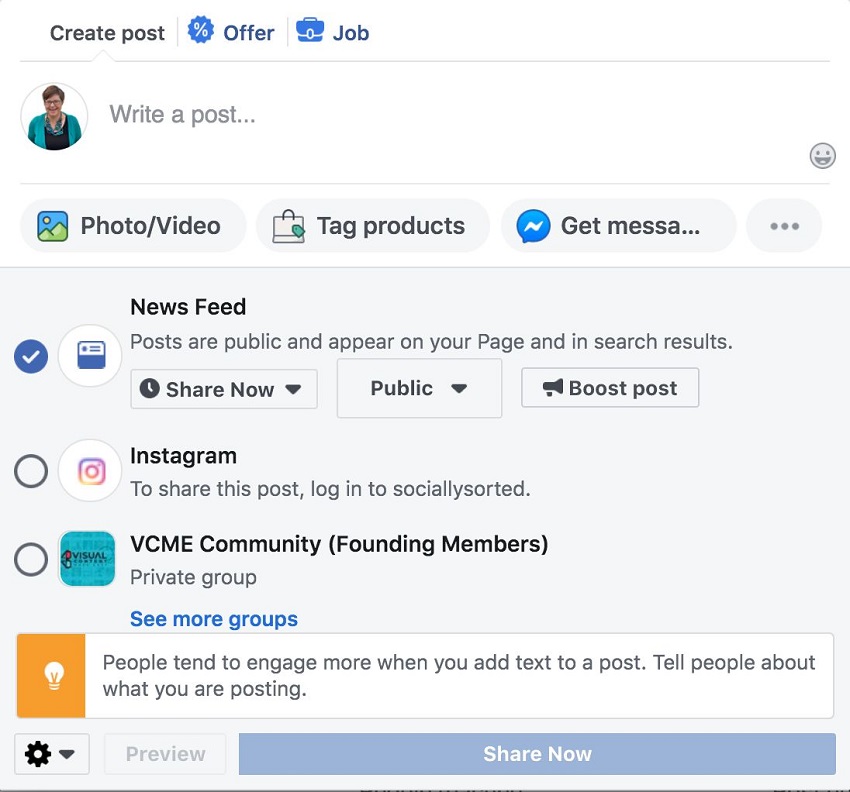 4. Choose to create slideshow:
A list of options will appear to choose what you want to create. From the list, select Create Slideshow.
5. Edit the slideshow elements:
You can add between three to ten photos for the slideshow video.

Have fun editing your work by adjusting the duration of each image, selecting the transition from photo to photo, and deciding what aspect ratio to use, as discussed in the section above. You can as well add music to the slideshow to give it spice.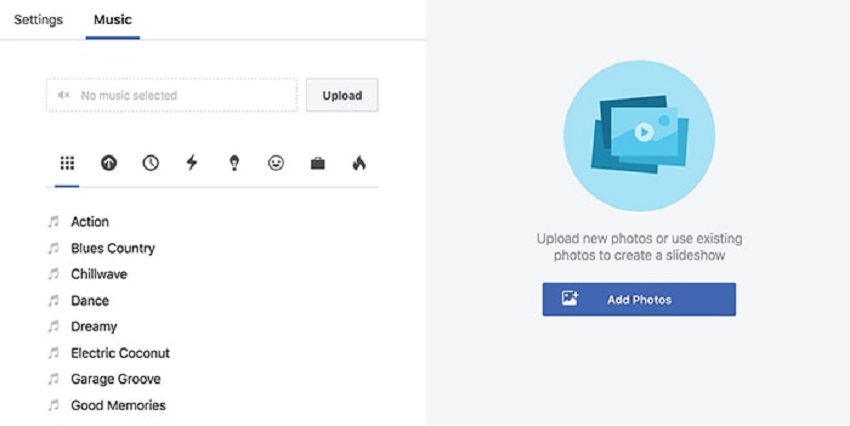 6. Preview the edited slideshow:
To see your edited work from start to finish, select the play button. If there are any changes you would like to make, now is the time to make them since you can't edit the slideshow after publishing it.
7. Publish your slideshow:
Give your video a description after it has been uploaded. Next, the posting option should be Newsfeed since you are not posting it as a Facebook Ad even though you are using Ads Manager. Click Share Now to publish your slideshow video on your Facebook page.
Solution 3: Online UniConverter Slideshow Maker [Recommended!]
The third solution to the problem of the Facebook slideshow feature disappearing is Online UniConverter Slideshow Maker. It is an online-only tool that lets you create slideshows with music on Facebook. The background music can be any song or audio recording you have stored on your music gallery. It gives the slideshow you are making a unique personal touch yet a professional finish. Create and edit simple slideshows with your favorite photos for your Facebook post using Online UniConverter Slideshow Maker for free!
How to Create A Slideshow with Music
This Facebook slideshow maker comes with exciting tools and features that make for the easy creation of a slideshow on Facebook. Check out the following about this online tool:
Intuitive user interface and friendly creation process.
Simple and free tool to use for even the most basic beginner. You can produce professional-looking results.
Allows users to create a slideshow with Facebook's aspect ratios. It makes for easy exporting directly to Facebook using popular file formats like MP4, FLV, MPG, 3GP, MKV, MOV, WMV, WebM, etc.
It supports different formats of music added to the photos like MP3, WAV, and MP4. This is a significant advantage over the default Facebook slideshow maker that has limited music you can add.
Complete privacy is guaranteed: photos get deleted after twenty-four hours on the UniConverter Slideshow Maker website.
How to make a slideshow with music on Facebook with the online tool
Now, go online to UniConverter Slideshow Maker to begin creating beautiful slideshows for your Facebook page by following these steps:
Step 1: Upload photos
The first step is to add the slideshow's images by dragging and dropping them from your device storage to the home page of the slideshow maker. Alternatively, click Choose Files.
Step 2: Edit the photos
Add music to the slideshow background to play as the photos slide through the screen. Adjust the duration of each image to suit what you want. You can either leave the pictures as you have added them or rearrange the order in which they appear.
Step 3: Export the final video
Once you are done, you can move the slideshow straight to Facebook as a post. Remember, one of the features of this tool is that it lets you edit and export your work using the aspect ratios of pages like Facebook; take advantage of it.
Conclusion
With Facebook, you can create slideshows to share with friends, loved ones, and your general audience. This article has given you the correct guide on creating a slideshow on Facebook using this slideshow feature. Now, the slideshow feature on Facebook and Ads Manager is not reliable for making slideshow on Facebook. Sometimes, you may not find the feature anymore, and the use of Ads Manager is also limited as the editing options and music options are few. Thus, it would help if you had a third-party tool with more advantages over the default Facebook slideshow tools. That is why Online UniConverter Slideshow Maker comes in. It gives you variety, letting you add your music to your slideshow. With this tool, you can freely create slideshows using the Facebook aspect ratio online, then directly export it to Facebook.