Happy birthday videos are great ways to make the birthdays of your loved ones feel more personal and enjoyable. It is more preferable than getting a birthday card from a store nearby or doing the conventional happy birthday gift card. These days, there are too many confusing birthday video ideas and happy birthday messages offered to people online. The truth is, these happy birthday messages and videos can get confusing to viewers like you who want something different.
You may be worried that you need professional help to create a unique happy birthday video clip for your loved one, but it is not that complicated. With simple clicks, you can achieve it. The person celebrating the birthday will greatly appreciate it, they will feel loved, and you will be glad you did it. All you need is to pay attention to the guidelines in the sections that follow below.
Part 1. What materials do you need to prepare for a distinct birthday video clip?
If you want to make a distinct happy birthday video clip for your loved one, there are essentials that you must have prepared. The essentials are components that will make up the unique birthday video. They include related pictures of handmade birthday cards or gifts, memorable pictures or video clips, and a recorded happy birthday audio clip.
These essentials are discussed as follows:
1. Related pictures of handmade birthday card or gift:
Instead of going to the general store to buy already-made birthday cards, you can get beautiful materials and create your handmade birthday card for your loved one. There are many templates, cardboard or colored papers, pens of different colors, and other decorations you can use to create handmade birthday cards. These handmade cards will play a big role in your happy birthday clip editing.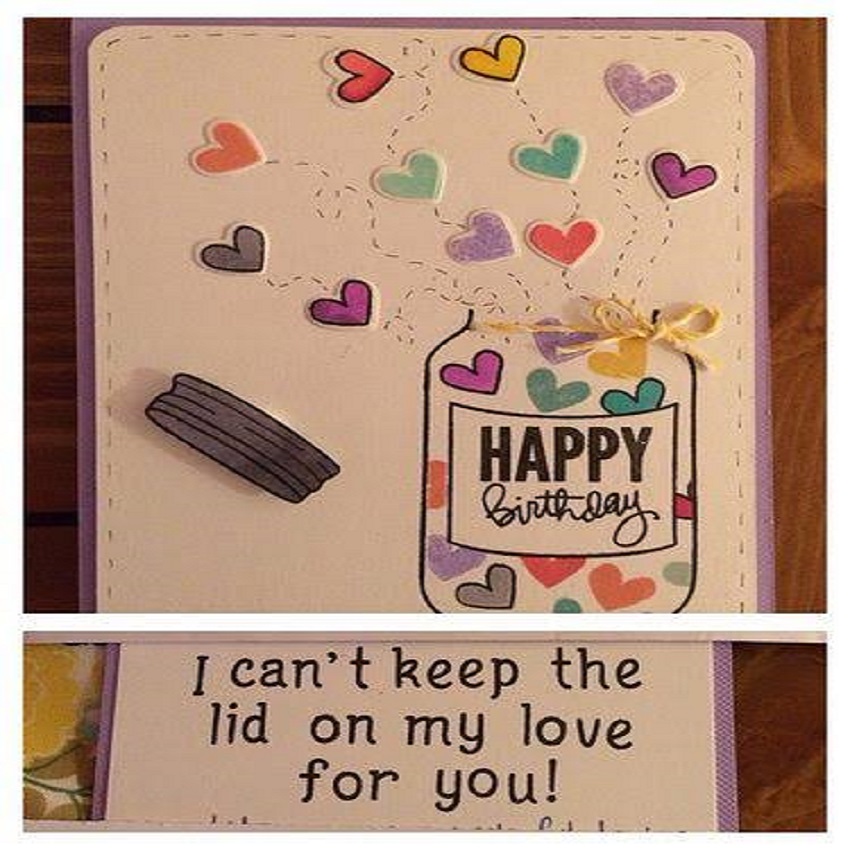 It gets more interesting as you include pictures that mean something to the celebrant, such as photos of the beach or ocean, if the person loves such scenery, images of instruments or famous artists that the person loves, the person's favorite park among other things. Once you have these handmade birthday cards and gifts in place, you move on to the next stage.
2. Memorable/old pictures or video clips:
Another essential you need in creating a unique birthday clip is a set of old pictures or video clips covering memorable times in the life of the person whose birthday you are celebrating. These photos and video clips could be from childhood, special events like previous birthday celebrations, trips, as well as proud moments you have celebrated together as loved ones. Ensure that these are precious moments between you and the person celebrating their birthday. Get all these photos and video clips into a storage drive or just saved them in a folder on your computer or any device you wish to use to create the happy birthday video clip slideshow. Moreover, what is the point of creating happy birthday wishes with photos if there are no photos?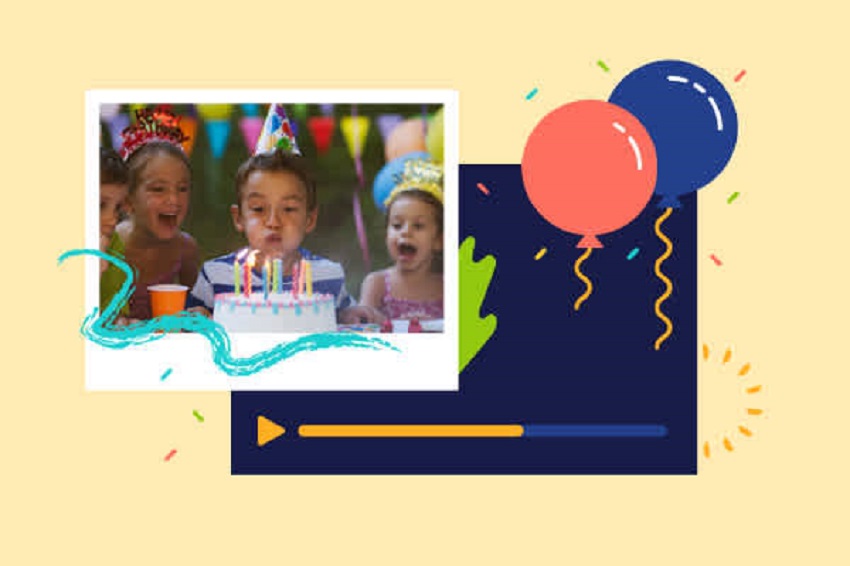 3. A recorded happy birthday audio clip:
The final essential that will bring everything together is a happy birthday audio clip. This happy birthday sound clip is a recorded audio you should personally make for your loved one. You can make it into a speech that outlines all that the person has gone through or all you have been through together as a family or as friends, the importance of the person in your life, and all you wish the person to be or achieve in life. A happy birthday audio clip will be greatly appreciated as it lets you express your inner love to the person whose birthday you are celebrating, and it shows your best wishes to them.
The recorded happy birthday audio clip can serve as a voice-over for the final happy birthday video slideshow you want to make with all the essentials. This clip can run while you display the photos or video clips from the points above.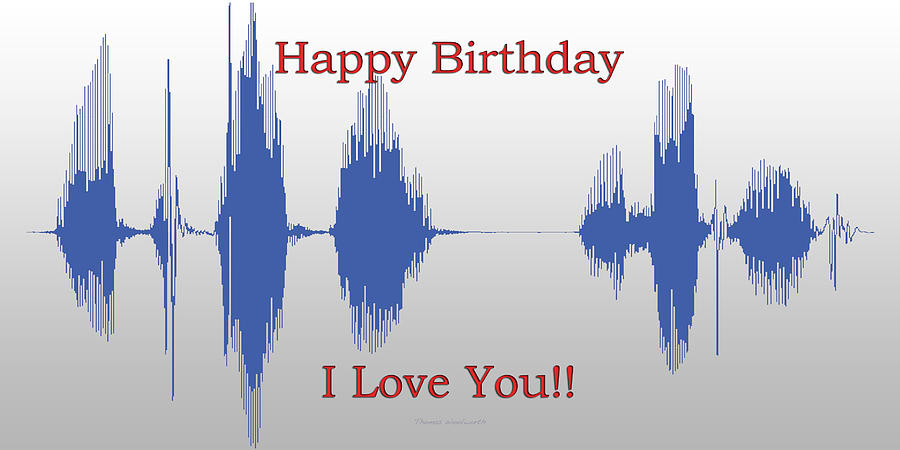 Now that you have these essentials in place, you can create a unique birthday video online using our recommended online tool.
Part 2. How to create a unique birthday video online [highly recommended]
This section shows you how you can combine all the essentials mentioned above into a unique birthday video clip that your loved one will love. Many tools are available online to create video clips or slideshows. One of the most highly recommended tools is the Online Uniconverter Slideshow Maker for both beginners and experts. This tool lets you create video clips that appear as though a professional did them. Let's tell you more about this handy birthday clip maker.
The Online UniConverter Slideshow Maker is a free online tool designed by Wondershare to help users create beautiful video clips in the form of slideshows. It is a tool that lets you add photos and videos into one whole slideshow with a theme of your choosing. You do not need to download an app to use the UniConverter Slideshow Maker, as it is purely an online tool.
How to Create An Birthday Slideshow with Music
Check out the following to know more about this tool and how best you can enjoy it:
Supports many different video formats for the export of your edited slideshow video. Supported formats include 3GP, MKV, WMV, WebM, M4V, MPG, MP4, FLV, MOV, and AVI.
A free tool with support for background music of different audio formats such as WAV, MP3, and MP4.
Simple-to-use for even the most basic beginner in the art of video editing. Produces professional final results.
Flexible in the sense that it allows for combination of photos, videos, and music.
Enjoy unlimited experience on UniConverter Slideshow Maker with a registered free plan, and premium package.
Different aspect ratios are available for YouTube, Instagram, Facebook, Twitter, and other social media pages.
Guarantees privacy as uploaded files are deleted after twenty-four hours.
Now, how can you create a happy birthday video clip online using the Online UniConverter Slideshow Maker? Well, it is easier than you may think. Visit the UniConverter website or just tap the below Choose Files to begin.
Follow the steps below to create on this online birthday video maker with photos:
Step 1: Upload the pictures, video clips, and sound clips
Remember all the essentials you gathered from above? Now is the time to use them. Upload all the memorable photos, old precious video clips, recordings to the UniConverter Slideshow Maker to begin. It would be easier to do this step if you already saved them to one folder on your device.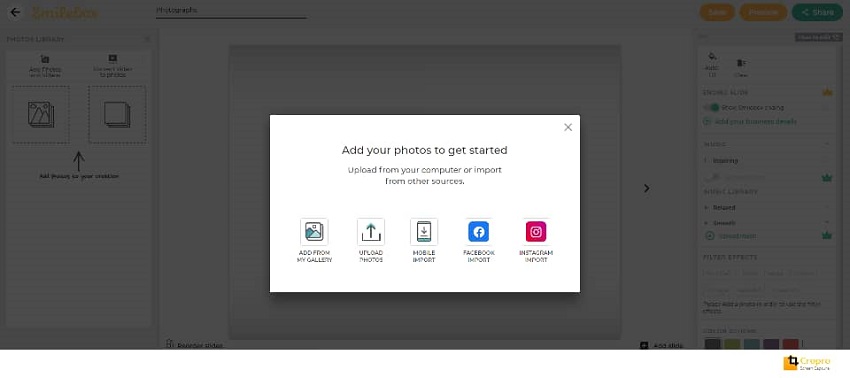 Step 2: Edit uploaded media
Here is where it gets all fun and creative. Edit the photos and video clips, as well as the audio you uploaded to the site. Change the duration of each clip and photo to suit your taste. Arrange the photos/videos in the order you want and customize your music's parts in the video slideshow. Note that UniConverter lets you add background music from your music collection.
Step 3: Save and export edited slideshow
Preview the edited birthday video clip to ensure you have what you want. Then save the work and export it to any storage of your choice. You can also share your social media pages to celebrate your loved one.
Conclusion
Birthdays are special moments and what makes them unique are the loved ones celebrating the day and the celebrant. Make the birthday of the ones you love amazing by creating birthday video clips with the Online UniConverter Slideshow Maker. It is an online birthday video maker you can trust for simplicity, free use, flexibility, and a beautiful result. Ensure you have all the essentials mentioned in this article, then follow the simple steps provided for you to create the best birthday clip ever for your loved ones.