Question: Can a video be a meme?
Answer: The simple response to the above question is yes, videos can be made into memes.
Understandably, several people have asked if a video can be made a meme. The general recognition is that memes should be made from a GIF or an image. However, you can make a video meme in the same vein, just like images and GIFs. Video memes have become viral, trending on social media platforms like Facebook, YouTube, etc., because of their peculiarity.
So, do you want to go viral on all socials with video memes? Then, you should pay attention to the guidelines in this blog because they will come in handy when you need to make video memes to share on your social media platforms. In addition, you will be introduced to the best video meme creator or app that you will find helpful.
Part 1. How to Fast Make a Video Meme [3 Online Tools]
Create a funny video meme with Clipchamp, a funny video maker that lets you create video memes online without stress. With these memes, you can quickly make an advert for your business and brand, then share them on all socials to reach ten times more people. If there is a video meme trend, get the meme and customize it to become your version. This way, you do not have to create the video meme from scratch. Alternatively, you can use any default memes on the tool Stock Library to make your video meme and export.

To use Clipchamp video meme maker online, follow the guidelines below:
Step 1: Upload the video you want to use as a meme after setting up the aspect ratio of the video meme. You can either choose from the 800,000 royalty-free videos on the tool's Stock Library or add the videos from your device.
Step 2: Go to the title library for motion pictures and find the meme text. Add and customize the meme text to complete the process.
Step 3: Choose the meme resolution (1080p for sites and 720p for social media) and export the meme to your device storage before sharing.
Note: If you want to make memes online using a particular picture of a favorite GIF, you can directly use an online tool called Media.io Meme Generator. This tool works on any device that has a good internet browser. It is straightforward to use without any digital or graphic skills required. Moreso, there are meme templates on the website that you can access to customize your meme. It reduces the time you need to create a meme for social sharing quickly. Just upload the meme photo or gif on the tool or use any provided meme templates. Then edit the text using font style, size, color, and alignment. Finally, download the meme you edited for further sharing on your social media platforms.
The second online video meme maker we recommend is Clideo Meme Maker. This tool is a fast editor that lets you upload a video meme template, adjust the parameters, and edit the text you type on it within a short time. In addition, there are 12 different font types you can use to add text. It does not only work on videos but images and gifs as well. Clideo works on all phones and computer systems, so visit the site today!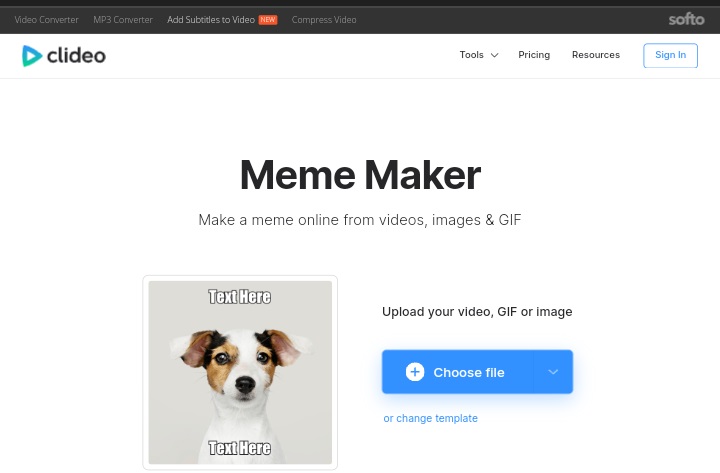 Use the steps below to make a video meme with Clideo:
Step 1: Choose the video file you want to edit as a meme; you can upload it from Dropbox or Google Drive or the free video templates on Clideo.
Step 2: Edit the text on the meme video and adjust the video to suit your preferences.
Step 3: Export the video meme to your device and share it on your socials.
Wave is a video maker and editor for social media, websites, emails, and blogs. It is also a video meme creator that contains up to 200M stock videos that you can use to make memes. In addition, it lets you give your meme videos a style of their own, customize video templates, add text captions, and review video analytics.

You can easily use Wave video meme maker by following these guidelines:
Step 1: Select a video template from the vast stock video collection on the site.
Step 2: Edit the caption and resize the video to the size you want.
Step 3: Export the video meme you have created and share it to all social platforms to go viral.
Part 2. How to Quickly Make a Meme Video on iPhone [Best App]
The online video meme makers described above are good enough for making video memes on both iPhones and Android phones. However, because some users used to download apps, we will recommend the best video meme maker app I have seen. For iPhone users, the best video meme app you can use is the ImgPlay app.
ImgPlay, a video meme maker, is an ideal video editor for iPhone. It supports not just videos but gifs and photos. You can import videos from iTunes, Wi-Fi, or Dropbox to turn them into memes and share them across your different social media platforms. Furthermore, it lets you easily add text to your video, customize text fonts, and download other fonts online.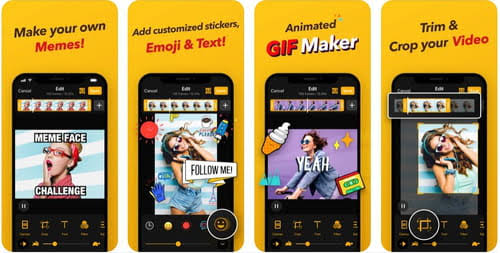 To use ImgPlay on iPhone for video meme making, go to AppStore and follow the steps below:
Step 1: Install ImgPlay and open it; then select the video you want to turn into a meme.
Step 2: Select the Canvas button and select the canvas style for your meme. Add the caption and choose done to finish editing.
Step 3: Save the video meme or directly share it on socials.
Part 3. How to Quickly Make a Meme Video on Android [Best App]
As introduced in Part (2) above, some Android users prefer to download and install video editor apps for the same reasons. Thus, we also recommend the video meme maker app we have seen for Android.
Video and Gif Memes is an app designed by Zombodroid for making video memes on Android phones. Interestingly enough, you can add images, gifs, and videos all in one meme content. In addition, the app lets you add text to your video meme, adjust different aspect ratios of files, adjust the frame rate of the video output, and even upload your video to be used as a meme. Furthermore, you can access these features for free without watermarks appearing on the video meme.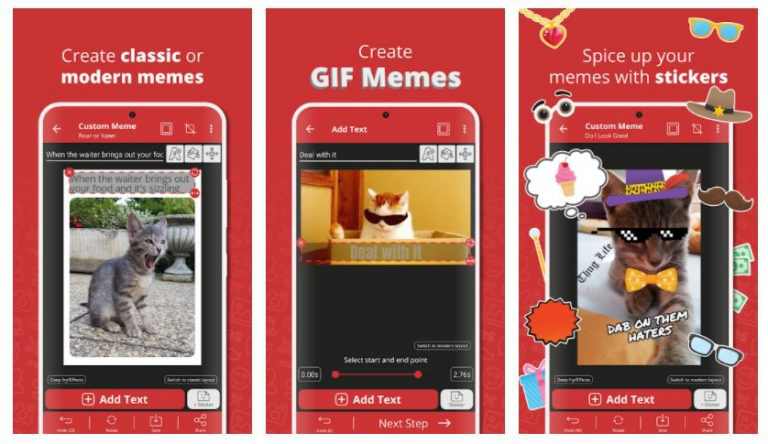 All you need to do is visit Google PlayStore and download Video and Gif memes, then use these steps to create a video meme on the app:
Step 1: Choose your input file from your Android phone storage.
Step 2: Add the text caption to the video and align it accordingly. Edit the video to create the meme you want.
Step 3: Share the edited video meme or save it on your phone first.
Conclusion
Video memes have become popular, just like regular photo memes or gifs. That is why you need to be a master at the game by knowing how to make video memes that you can share to go viral. The best video meme makers will give you the results you want. That is why we have suggested the best video meme apps for Android, iPhones, and online use.