When scrolling through different social platforms, it has become customary to see one or two or even more inspirational quotes on your timeline. Whether they are old Bible quote memes cited on a WhatsApp story or a movie quote meme by someone famous cited on an Instagram quote template, inspirational quote memes have grown popular today. Who doesn't want to be encouraged in times of struggle? Or motivated to become a better version of them? Or be pushed to get up and discover their great potentials!? Inspirational quote memes are capable of doing all these. That is why you need to learn how to make these types of memes to encourage your viewers and create new connections based on inclinations.
This blog will teach you how to make positive meme quotes. You will be provided with the best quote meme generators with templates you can use. In addition, you will be given some positive quote ideas with which you can make motivational quote memes.
Part 1. What is an Inspirational Quote Meme?
People often do not reach to fulfill their purpose in life because of a lack of motivation. Sometimes, all you need is a few words of wisdom to motivate you. That is why people seek such words in inspirational quotes memes. An inspirational quote meme is made with images and text. It is not just a combination of image and text to create a meme, but it is a meme that is meant to inspire positivity and push the viewer to strive for better results. You, too, can create your positive quote meme. All you need to do is find a picture that describes or goes with the message you are trying to pass across. Then, get a reasonable quote and add to the image using a good genius quote maker like the Media.io Meme Generator. That is it! You got a beautiful positive meme quote.
Media.io Meme Generator is an online tool that supports the making of memes on all devices and systems. Currently, only the desktop version of this editor is available so if you are using a mobile phone to access this site, make sure to set your browser to desktop view. Although Media.io is a free tool, it is fast, contains unique features, does not bring interrupting ads, and does not add a watermark to any meme you create on the site. In addition, it includes 9 beautiful meme templates you can use to customize your inspirational quote meme. You may also choose to add text to an image of your choice instead.
How do you make a meme with inspirational quotes using this quote meme generator? Below are some steps to follow:
Step 1: Add the image to be used as a meme by clicking Choose Files or choosing one of the 9 meme templates already provided by Media.io Meme Generator.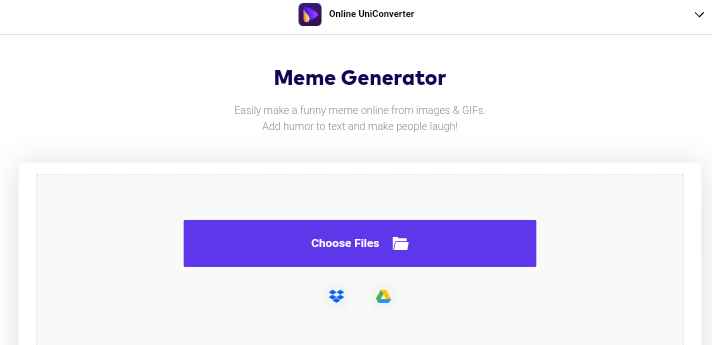 Step 2: Create your text meme by adding text using any of the three font styles on the tool; you can change the text color and align it correctly on the meme image. Click Generate.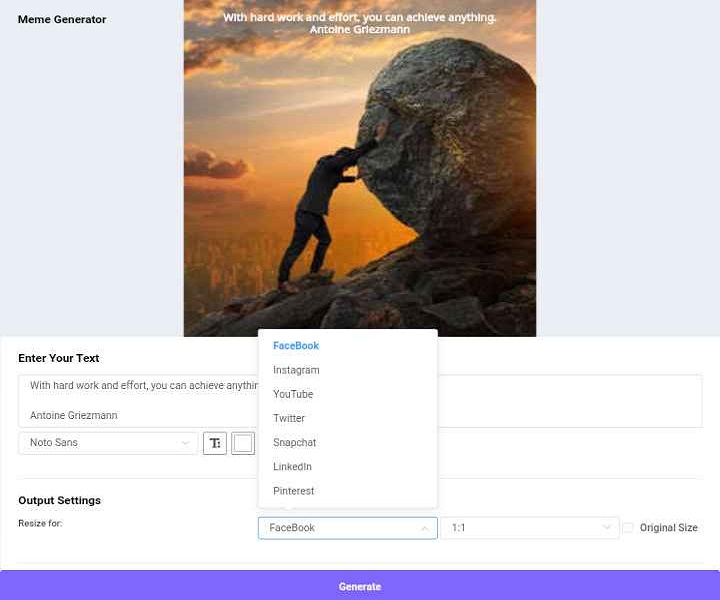 Step 3: Save and share your inspirational quote meme on Instagram, Facebook, Twitter, YouTube, Snapchat, etc. Please note that the output format and the file size must align with what is applicable on the social platform you are sharing the meme.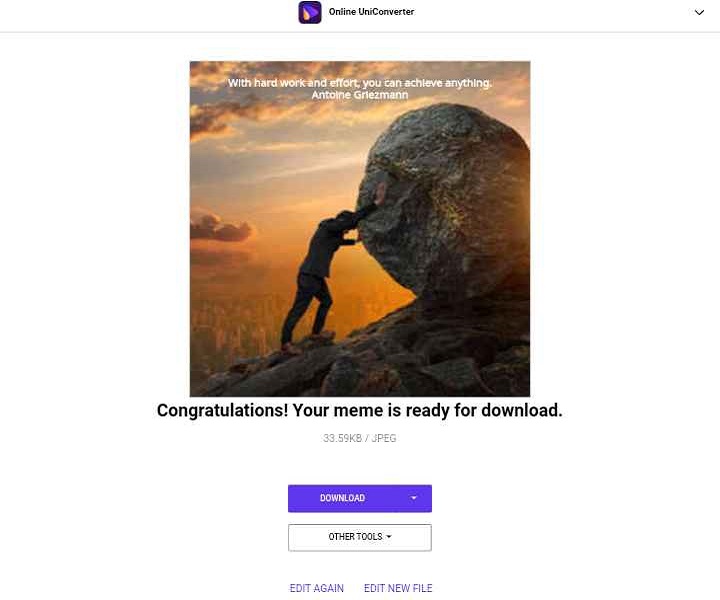 Part 2. Top 5 Quote Meme Generators with Templates
To make the best inspirational quote memes, you need the best quote meme generators. This section will show you 5 quote meme generators that also provide you with meme templates to edit the text to make beautiful positive meme quotes.
The top five quote meme generators with templates include the following:
Imgflip is our first recommended top quote meme generator that provides meme templates to edit positive quote texts. In addition to providing you with meme templates, Imgflip lets you create memes from scratch using your images or photos. You can customize the text color, resize and drag the text to be positioned on the right spot on the meme template, and draw on the meme. Note that if you must remove ads and watermarks on your memes, you need to upgrade to the paid Imgflip Pro version of the meme maker.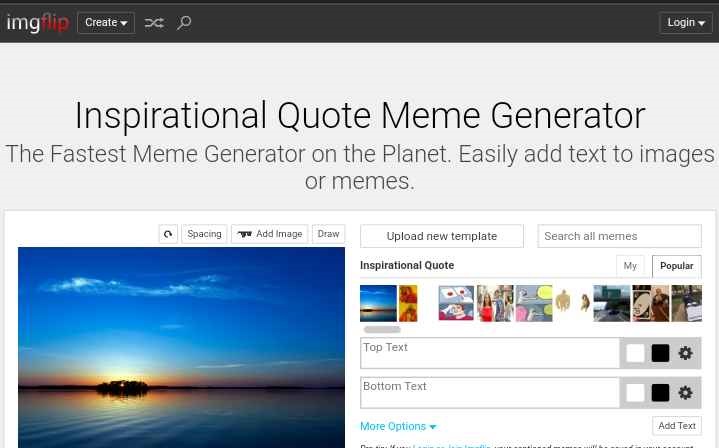 Kapwing is an online editor that works effectively as a quote memes generator. It helps you create different types of memes using the images provided on the site as meme templates. The meme templates are organized as blank, popular, classic, and more templates. It makes searching for the meme of your choice much more accessible. In addition, you can add different meme elements to make the final result even more appealing.

Canva is a popular site known for having some of the most beautiful meme templates online for different designs. Add some inspirational words to any of these templates, and you have a meme that looks professionally made. Furthermore, you can access over a million photo templates that can be used as Instagram quote templates for Bible quote memes, movie quote memes, etc. In addition, you can upload your images if you wish, then edit them into something unique. You may also choose to add any of the stickers offered on Canva to your meme.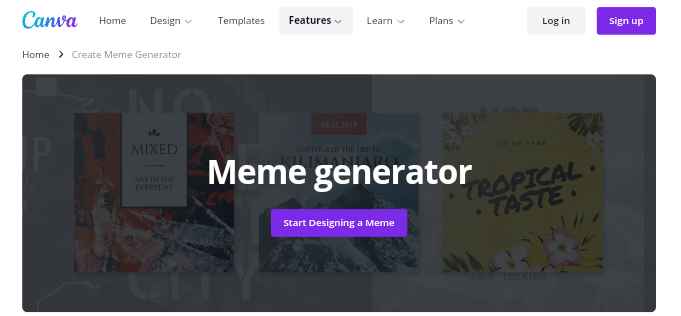 This is a tool for making positive meme quotes using the guidelines provided on the website. Make a Meme has a simple interface that makes it straightforward to use, even for beginners. It can be accessed on any device as long as you remember your log-in details. In addition, you can upload images from your gallery and add text to them to create your inspirational quote meme that will motivate your viewers.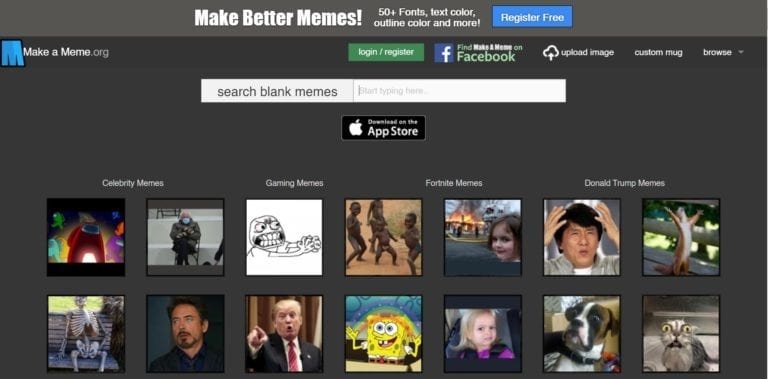 Quotes Cover is a fast and straightforward quote meme generator that does not require any skills in designing before it can be used. Write your motivational texts and let this tool turn them into beautiful graphics using beautiful fonts on breathtaking backgrounds. With Quotes Cover, you do not have to worry about Instagram quote templates for your Instagram motivational quotes or even motivational quotes on any social media platform. Furthermore, you do not have to sign up or log in to use this free online editor.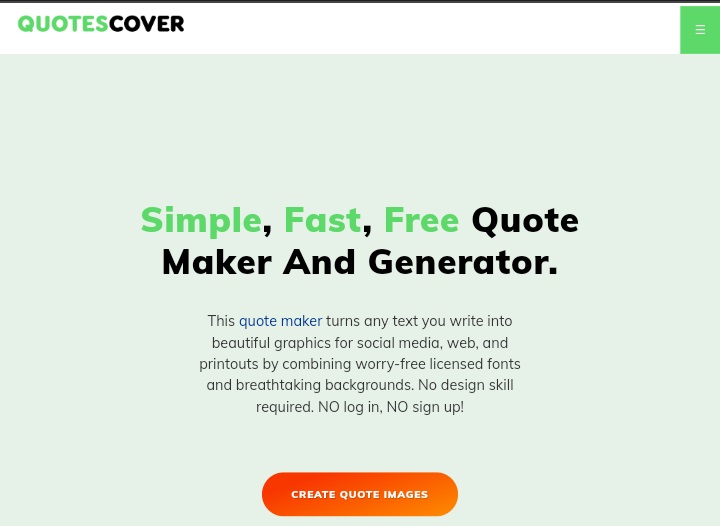 Part 3. [New] 10 Best Positive Quotes Ideas for Motivational Meme
Are you looking for some positive quote ideas to make motivational memes with the tools discussed above? Then you need to pay attention to this part. Here are some new best positive quotes that will get you started on this path of creating inspirational quotes memes:
Stop chasing the money and start chasing the passion. Tony Hsieh.
If you set your goals ridiculously high and it's a failure, you will fail above everyone else's success. James Cameron.
All our dreams can come true if we have the courage to pursue them. Walt Disney.
Success is walking from failure to failure with no loss of enthusiasm. Winston Churchill.
Success? I don't know what that word means. I'm happy. But success, that goes back to what, in somebody's eyes, success means. For me, success is inner peace. That's a good day for me. Denzel Washington.
Great minds discuss ideas; average minds discuss events; small minds discuss people. Eleanor Roosevelt.
Only put off until tomorrow what you are willing to die having left undone. Pablo Picasso.
I find that when you have a real interest in life and a curious life, that sleep is not the most important thing. Martha Stewart.
In my experience, there is only one motivation, and that is desire. No reasons or principle contain it or stand against it. Jane Smiley.
I don't want to get to the end of my life and find that I lived just the length of it. I want to have lived the width of it as well. Diane Ackerman.
Tips: From the list of positive meme quotes enumerated above, you can select some impressive ones and apply them to our recommended quote meme generators. Then you can share them on your social media platforms as viral memes. Among all the recommended tools, Media.io Meme Generator is the simplest way of adding quotes to images to make inspirational quote memes. You could give it a try.
Conclusion
With suitable quote meme generators, you can easily create inspirational quote memes that will go viral once you share them on your social media platforms. More so, with the right tools, you can make memes that will connect you with others of the same mindset, motivate viewers, and inspire in a fun way.