Twitter is a famous social media app, with more than 300 million active monthly users. Therefore, it's unsurprising that some of the funniest memes and quotes originate from this platform. But to create a Fake Tweets, you'll need a Twitter meme generator. Which begs the question; which are the best meme makers for Twitter? This article shares with you up to 6 helpful options to generate counterfeit tweets and funny Twitter meme templates.
Part 1. How to Make a Fake Twitter Meme?
Let's begin by learning how to make a fake Twitter in three simple ways. In other words, it's just about creating a phony tweet with a hilarious quote and retweets. Let's get going!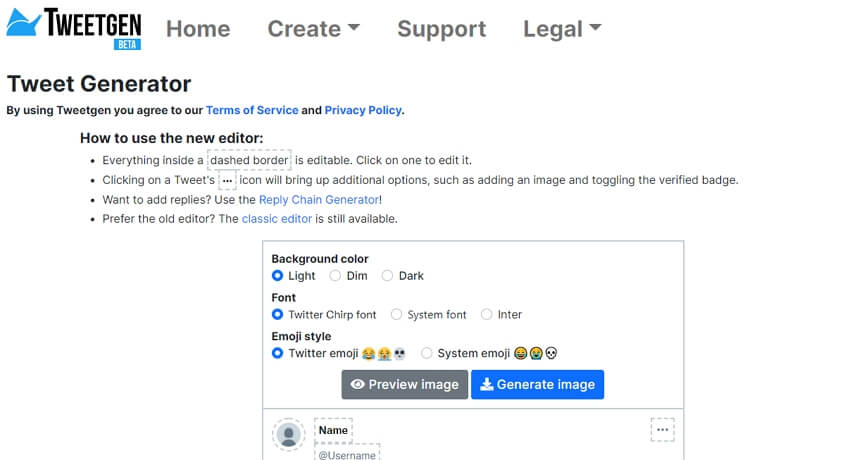 TweetGen is an online tool to help you make those dank memes for Twitter for free. Here, you can upload your own profile picture and create a fake tweet with custom texts, fonts, retweets, likes, and so on. Also, you can set the Twitter background theme as light, dark, or dim. And even better, you can add the verified checkmark on your Twitter profile to make the meme more believable.
Below is how to use TweetGen to create a fake Twitter meme:
Step 1. Launch TweetGen and then choose the meme design. You can create a meme for a new tweet, replay chain, blocked account, or suspended account. So, let's say you choose Tweet.
Step 2. Set the background color for your Tweet, and then choose the font type. You can also select the emoji style.
Step 3. Now click the profile icon to load a profile picture for the account before entering the username. You can also set the time, date, and number of retweets, quote tweets, and likes.
Step 4. If satisfied, tap Preview Image to crosscheck your work before clicking Generate Image. That's it!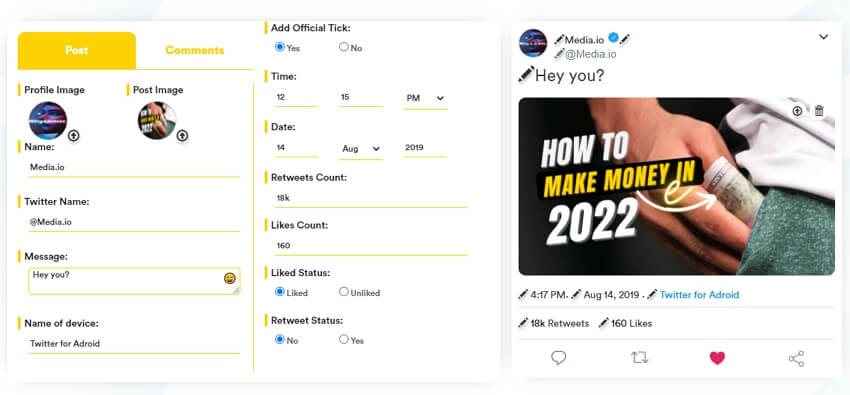 Another fake Twitter meme maker is Zeoob. It's an online program for generating fake Twitter posts and chats in seconds. As expected, you can set your profile picture, name, username, and date/time of the tweet. Then, you can simply download the Twitter screenshot and share it with the world.
Follow these steps:
Step 1. Launch Zeoob and then choose whether to make a Twitter post or comment.
Step 2. Assuming you select Post, proceed to upload a profile image and the image you want to share in the post.
Step3. Now enter the profile name, Twitter name, and tweet message. You can also name the device, add a verified checkmark, change the date, retweet status, and so on.
Step 4. After doing enough editing, simply click Save Your Tweet to generate and download it. You can even directly export fake tweets to Twitter, Facebook, Pinterest, or WhatsApp.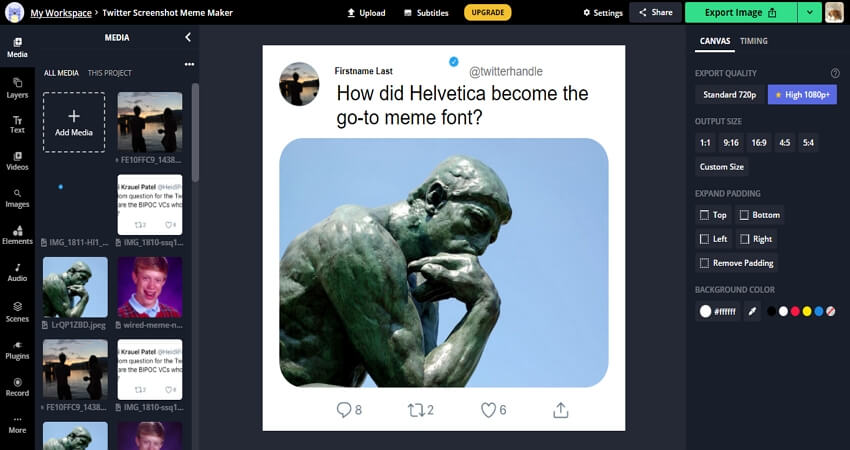 You are probably familiar with this Twitter meme generator. It's a famous online video maker that also doubles up as a meme maker for social media. On Kapwing, you'll access hundreds of free meme templates for TikTok, Twitch, Twitter, Facebook, Instagram, and so on. Just select and meme and customize it on the feature-rich Kapwing Studio.
Apply these steps to create twitter meme:
Step 1. Launch Kapwing Twitter Meme Generator and select a Twitter meme template to edit.
Step 2. Once the image has launched successfully on Kapwing Studio, you can edit the profile picture, verified badge, image post, and tweet message. You can also preset the aspect ratio for your tweet.
Step 3. Now click the Export Image button at the top-right corner and save your meme as GIF or JPG.
Part 2. How to Make a Meme for Twitter? [Simplest]
Although the methods above should help you generate a fake tweet in seconds, you'll need more to create an ideal Twitter meme. Adding a funny meme to your tweet will make it even more engaging and believable. So, without wasting time, here are 3 easiest ways to make a killer meme template for Twitter:
Media.io Meme Generator is a quick online tool for generating memes for Twitter, Pinterest, Snapchat, Instagram, and Facebook. It's simple to use and compatible with all standard image formats, including GIF files. While creating memes, this tool lets you choose the template design before adding in the relevant texts. As usual, you can edit the text color, font type, size, and layout. And most importantly, Media.io Meme Generator lets you choose the aspect ratio for your created meme template.
Here are the steps to create a Twitterpated meme with Media.io Meme Generator:
Step 1. Launch Media.io Meme Generator and then drop your image file on the UI. Alternatively, just press Choose Files to load a local picture file.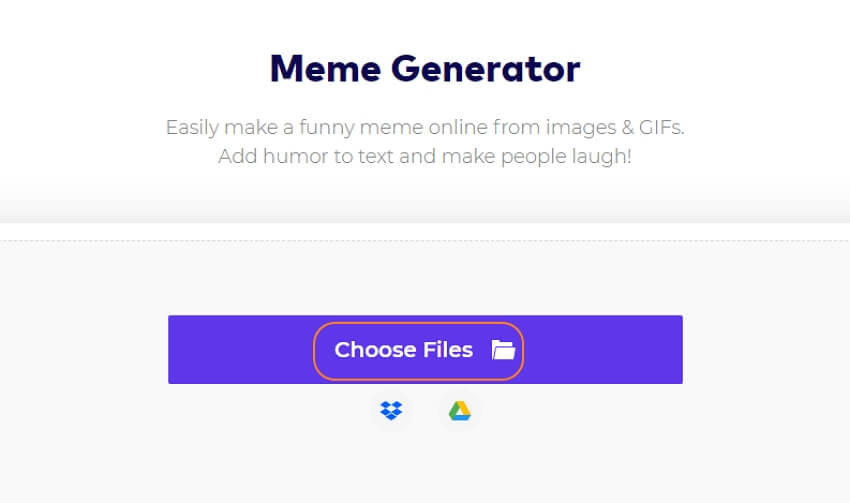 Step 2. Now select the template design on the left pane before entering the relevant texts on the fields given. Then, change the color of the meme text to make it more visible and attractive. You can also edit the font type, size, and orientation.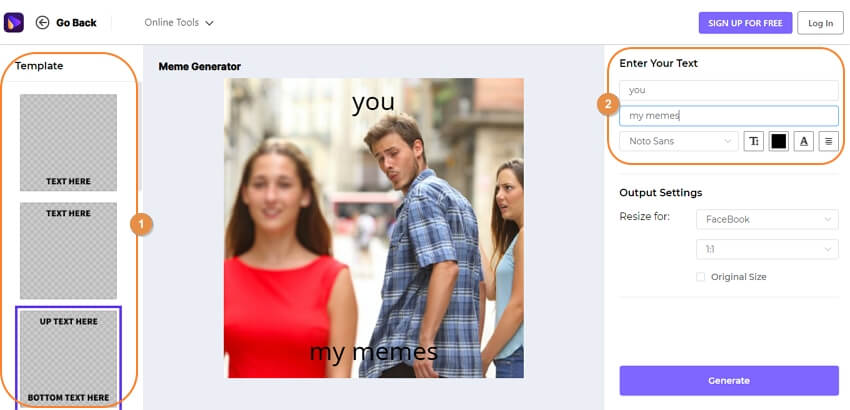 Step 3. Last but not least, go to Output Settings and resize the image for Twitter before setting the aspect ratio as 1:1. Finally, click Generate to process your Twitter meme.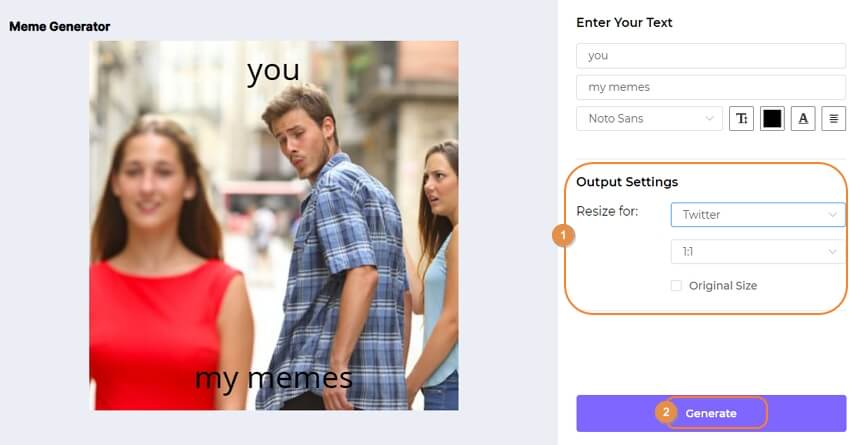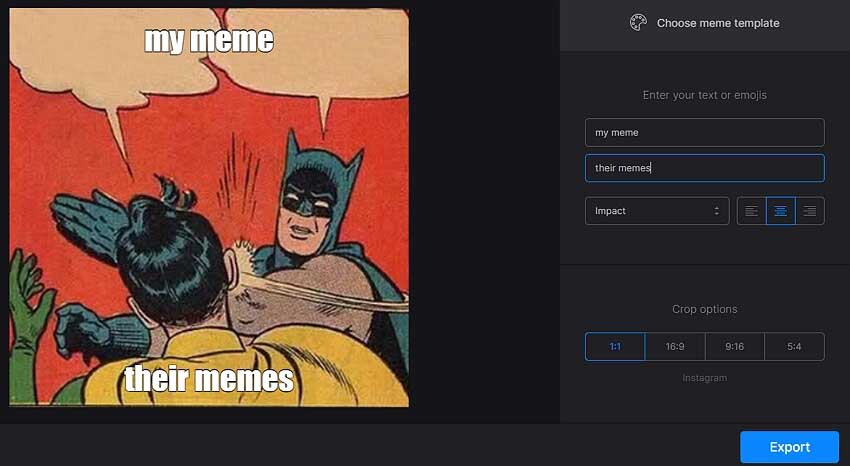 Clideo is another online meme maker for Twitter lovers. It can generate memes from standard video formats, image formats, and GIF files. Like Media.io, Clideo offers users tens of free meme templates to select and customize with top and bottom captions. To make the captions even more beautiful, you can edit the impact, font size, color, and so on. What's more, you can preset the meme aspect ratio to fit with Twitter, Instagram, Facebook, and other social channels. Sadly, all free outputs have a Clideo.com watermark.
Nonetheless, here is how to create a meme on Clideo:
Step 1. Run Clideo Meme Maker and tap Choose File to load a picture, video, or GIF file.
Step 2. Next, click Choose meme template at the top-right corner to apply a template design. Then, you can apply the top and bottom texts before retouching the text.
Step 3. Lastly, set the aspect ratio as 1:1 before clicking Export. Clideo will generate your watermarked Twitter meme template in seconds.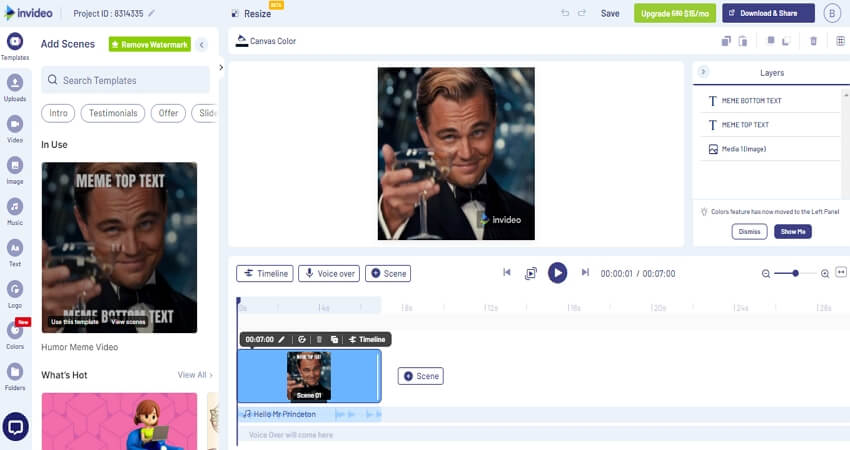 Invideo is a professional-grade meme maker to help you generate epic memes quickly and easily. Here, users can create memes from scratch using their local photos or choose a ready-made meme template to customize on the rich editor. To make the templates more dynamic, you can add texts, fonts, effects, stickers, background color, etc. Another thing, you can export the created meme to Facebook, Twitter, Instagram, and other social media platforms. But like Clideo, free Invideo outputs are watermarked.
Below are the simple steps:
Step 1. Launch Invideo Meme Maker and log into the platform.
Step 2. Now browse through the extensive templates library and select one that matches your preference or upload a local photo.
Step 3. Add top and bottom text fields and apply a catchy and fun meme caption. Don't forget to play around with the fonts to find what works best for you.
Step 4. If done, click Download & Share to process your meme template.
Note: You'll realize that Invideo is a bit unresponsive on Google Chrome. So, use another browser like Edge or Safari for a smooth experience.
Conclusion
These are the best methods to make a Twitter meme template. For the best results, use Media.io to make a clean non-watermarked meme template before adding it to your fake Twitter post using one of the websites listed at the beginning of this guide. Remember, all programs listed here are free to use. Pick one based on your needs. Happy editing!