If you are new to the meme-making game or you want to upgrade your meme-making game, you may be wondering what meme maker apps other meme makers use to get the best memes. You may also like to access these meme editor apps to create beautiful memes for entertaining your viewers or making fun conversations.
We will provide you with the best free meme maker apps, highlighting their unique features and ratings to help pick the best suitable app. Also, we will give you a bonus online meme generator that is even more efficient than most meme creator apps.
Part 1. Quick List of 12 Best Meme Maker Apps [Newest!]
Here is a quick table to give you a preview of the 12 best meme maker apps recommended for you:
| Rank | Name | Compatibility | Ratings | Supported File Formats |
| --- | --- | --- | --- | --- |
| 1. | MEAM-The Meme Maker | Android | 5.0 | Images and gifs |
| 2. | Canva | Android and iOS | 4.9 | Photos and videos |
| 3. | Meme Generator by ZomboDroid | Android and iOS | 4.7 | Images |
| 4. | Memedroid | Android and iOS | 4.5 | Images and gifs |
| 5. | Memasik | Android and iOS | 4.5 | Gifs and photos |
| 6. | Imgur MemeGen | iOS | 4.5 | Images |
| 7. | GATM Meme Generator | Android | 4.4 | Images and gifs |
| 8. | Android | Images | 4.4 | 4K at 60/30fps |
| 9. | Mematic | Android and iOS | 4.3 | Images |
| 10. | Easy Meme Maker | Android | 4.2 | Photos and gifs |
| 11. | The Meme Maker and GIF Generator | iOS | 4.1 | Gifs and Images |
| 12. | Meme Creator | Android | 3.9 | Images and gifs |
Part 2. Top 12 Recommended Meme Generator Apps for Social Sharing
Here is a more detailed review of the twelve best free meme generators we have classified in the table above:
MEAM-The Meme Maker: MEAM is one of the best meme creating apps for Android devices. It imports the top meme posts from Reddit to update its meme library collection regularly, so if there is a new viral meme in town, you are sure to find it on MEAM - The Meme Maker. If you do not want to use any of the meme templates on the app, you are free to upload images or photos from your phone gallery; then, edit it by adding funny captions.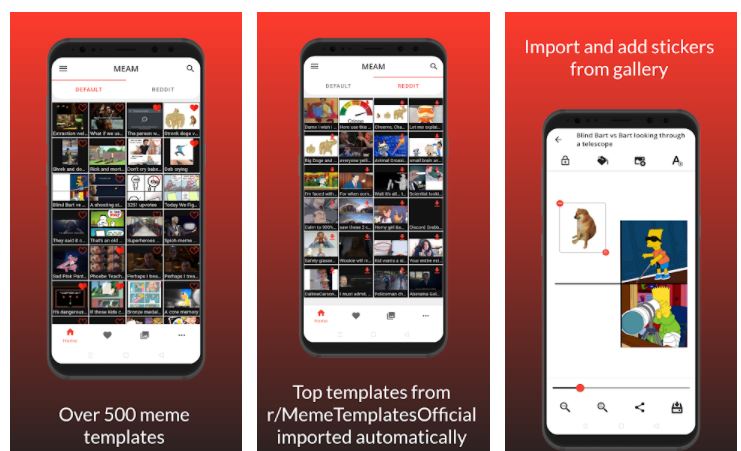 It gives you control over the customization of memes to suit your taste. With this app, you can resize, whitespace, and edit text over meme images as you please. In addition, there are stickers you can customize and add to the memes. You can as well draw on the memes with your fingers.
Over 900 meme templates can be found on this app for users like yourself to access, edit, and share amongst friends and viewers.
Even as a free meme maker app, it does not include a watermark on memes when you save to your device or share directly to other apps.
You can search for memes on KnowYourMeme and Google directly from the app.
Canva: Canva meme editor app is a free app compatible with Android and iOS devices. It is the ideal app for editing and designing images, posters, logos to become memes. Even if you are not an expert at designing, you can easily use Canva to create beautiful meme designs.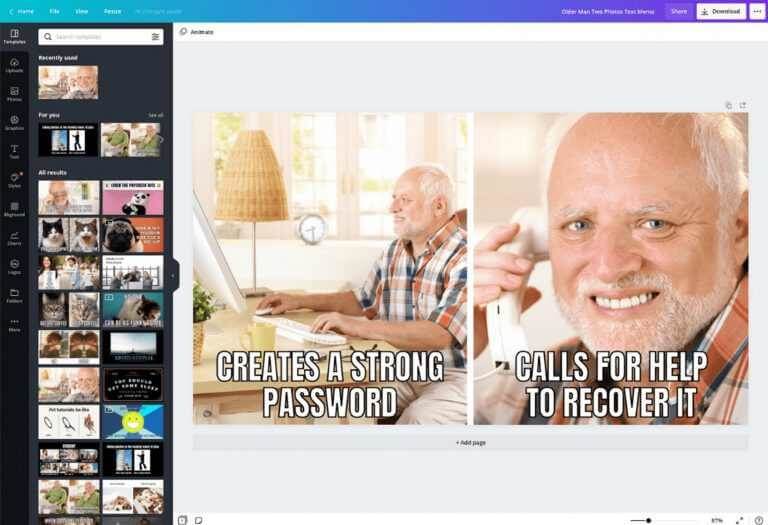 It has a colorful and straightforward user interface that makes editing a seamless experience.
It enables you to get back to any design you are working on, on your computer, iPhone, or iPad; time and place are not barriers.
It has over 60,000 free templates you can access to edit and create your funny memes.
Meme Generator by ZomboDroid: Zombodroid's Meme Generator has been available since 2011, and it is one of the best apps for meme-making. It is compatible with both iOS and Android phones. This app allows you to get creative with the meme-making process to become fun for you, and the result becomes entertaining for your viewers.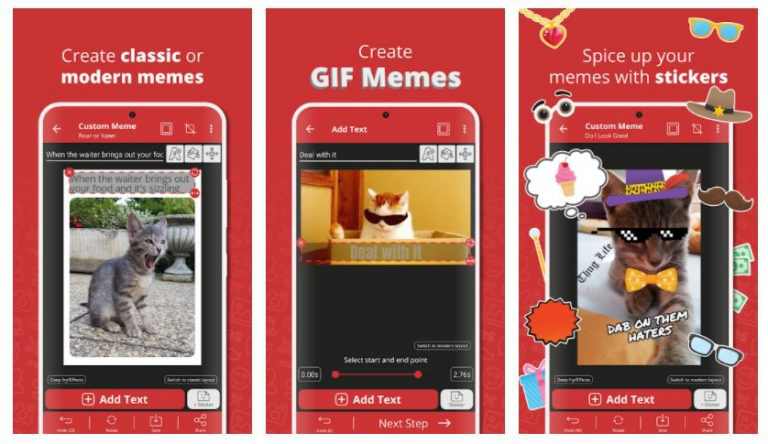 The app contains 1,000 meme templates, hundreds of stickers, and sixty fonts which you can apply to the text on the memes when editing them.
It also features different effects, which you can add to your meme, such as the popular profound fry effect. You are also free to change the text style, color, and size, add borders to the text or meme image, crop images to the format you want, etc.
The favorite memes feature gives you the chance to make a list of your favorite memes on the app for easier access.
Memedroid: Memedroid is a free app for creating humorous memes, funny pictures, and animated GIFs, shared across all online platforms. On this free meme editor app, you will find a variety of memes ranging from social media screenshots, jokes, funny pranks, fun facts, funny animal memes, etc. With these memes, you can put a smile on your face and those of your viewers.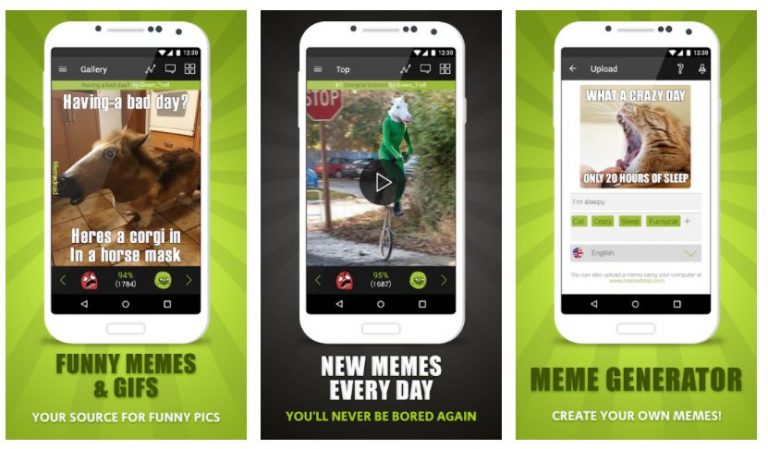 There is a field where you can search for different memes in categories like sports, politics, or even celebrity memes.
You can create memes in different languages as Memedroid has multilingual support.
New memes are uploaded regularly to help you update your meme library, and at the same time, the classics are there for you to access if that is what you want.
Memasik: Memasik Meme Maker is one of the best apps to make memes on iOS and Android phones. It is a free and open meme generator that lets you edit the texts and emojis you add to your meme photos before you post them.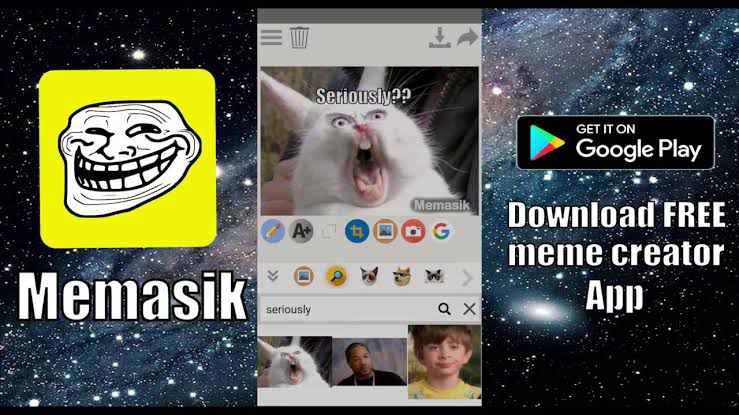 It allows you to use your images, stickers, and gifs to create memes that you like.
The meme collection/library is constantly updated to give you the latest popular themes.
You can share interesting content on Memasik and grow your following when viewers like your edited photos.
It supports meme editing, image cropping, text rotation and movement, and even handwritten messages on meme images.
Imgur MemeGen: This iOS compatible tool is one of the best meme generator apps we recommend for you. It requires an iOS mobile device of version 13.0 or later to work efficiently. Fill your phone with funny memes by accessing all that Imgur offers regarding spicy memes, awe-inspiring facts, pets in sweaters, and so much more.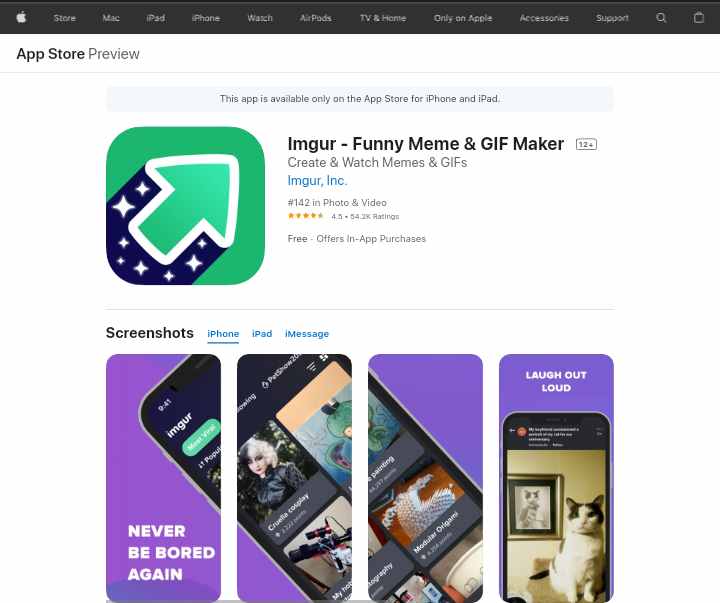 New and exciting images and videos are posted on the app, giving you a fresh batch of content to use as memes for your socials.
Subscribers can post content and go viral on the app based on others' votes. So, you can not only discover but create and watch memes.
It is divided into different sections to make it easier for users to choose their preferences, including failed GIFs, cosplay, comics, art, etc.
GATM Meme Generator: Get the best, most recent memes on GATM Meme Generator and thrill your audience with your customized memes. It comes with ad interruptions as a free tool, but you need to pay for the app pro version if you wish to erase that. Use the search field to find the meme that suits your preferences. It is an Android-compatible editor app.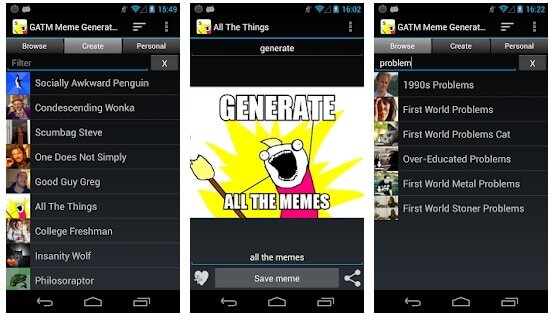 The memes do not come out with watermark, which is great news for whoever loves to use a free meme maker app that does not have the usual free tool impositions like the watermark.
You can freely share the memes from GATM Meme Generator on different social media platforms without restrictions.
You can make a shortlist of all the favorite memes you get from this app.
Meme Factory: Meme Factory is one of the best meme apps that focus on the social aspect of the meme-making process. It gives you the chance to grow a significant following when you share memes and get upvotes on them. You can also get verified and add your memes to the trending tab highlights! Although it has just over a hundred meme templates, you can rest assured that these meme templates are the best you will find online, and they get updated regularly.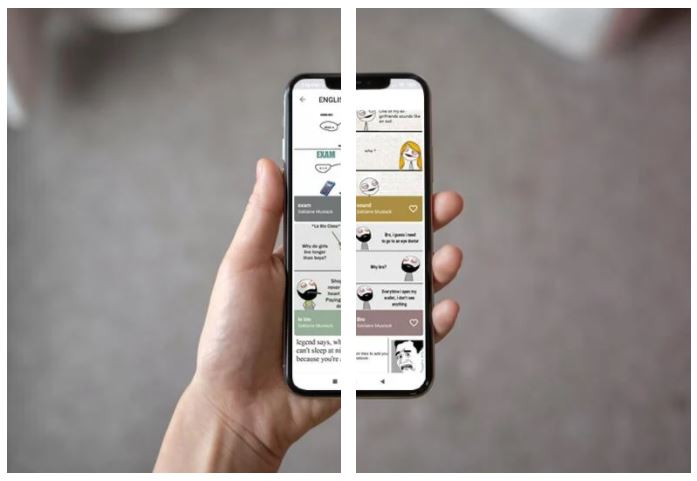 It features trending memes which are updated regularly.
Memes are arranged according to categories to make it easier for you to search for them.
You can set memes as your wallpaper, home screen, lock screen, etc.
Mematic: Mematic is a freememe maker app compatible with both Android and iOS devices. It works on iOS 12.0 or later versions and iPad and iPod touch of the exact specifications. Although it is a free app, you can make in-app purchases to upgrade features and limitations on the file size you can freely convert to memes on the app.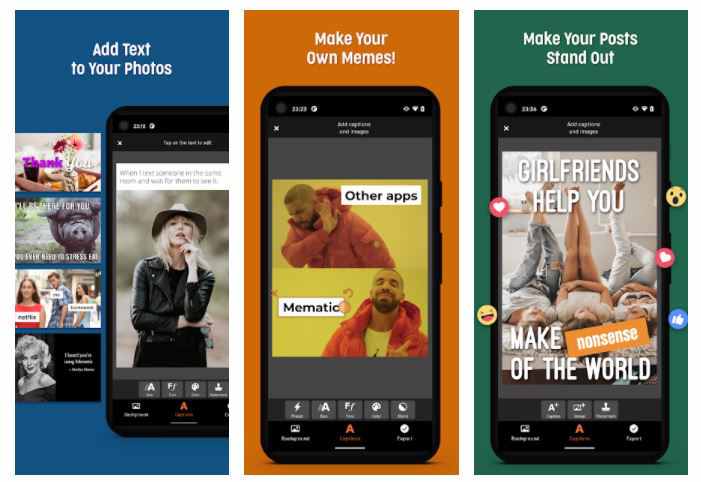 It has an extensive collection of free premium images, GIFs, and memes which you can edit by adding captions to give the memes a more personal touch.
It allows for creating collages and stickers and filters to images and gifs.
It is easy to navigate in a few steps.
It allows you to share memes directly after creating them on WhatsApp, Signal, Telegram, Facebook, or Instagram.
Easy Meme Maker: As the name implies, Easy Meme Maker is a straightforward meme editor app that is still effective in making the best memes. From its list of over a thousand meme templates, you can search for the meme of your choice using a keyword or tag. You can be assured that the perfect meme you are looking for will be on this list.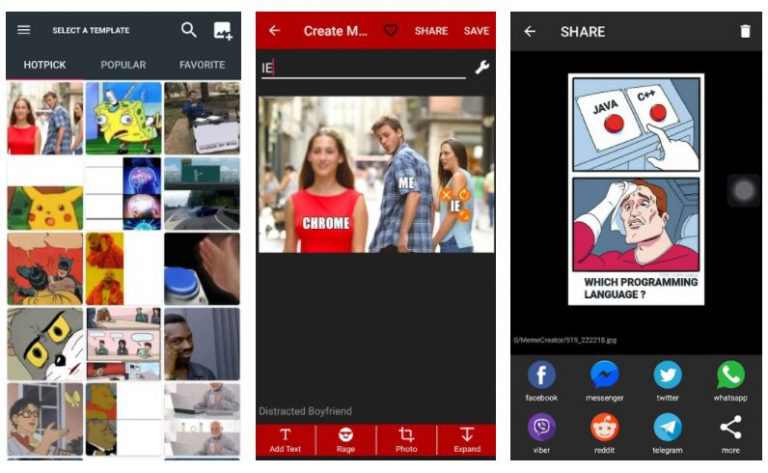 It allows for meme customization through the addition of graphics, stickers, and text editing
The option to save your favorite memes is available to be used in the future to create new memes.
Memes can be edited and shared on Instagram, Facebook, Messenger, or WhatsApp.
The Meme Maker and GIF Generator: This meme editor app is specifically designed for iPad 9.0 or later. It can also work on other iOS devices with the exact specifications and Mac 11.0 or later. Create amazing eye-catching memes with this meme maker in a bit of time and share them to go viral.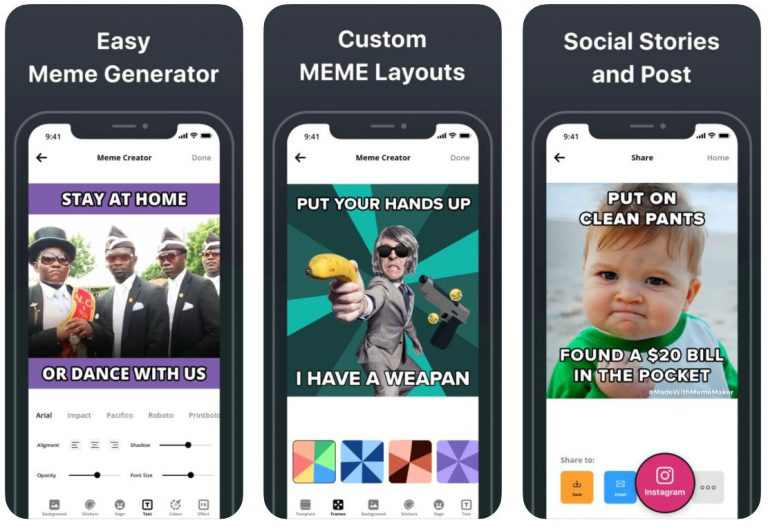 There are fun memes and stickers that you can use to go viral on social media.
It allows you to customize texts on your image memes before sharing them.
It is free but offers in-app purchases.
Meme Creator: Make Dank Memes: Meme Creator is one of the simplest free apps you can find for creating memes on iOS devices. Within seconds, you can create and share memes on this app on your iPhone, iPad, iPod touch, or Mac. Show your extraordinary side with memes from this app which can be shared on all your social media platforms.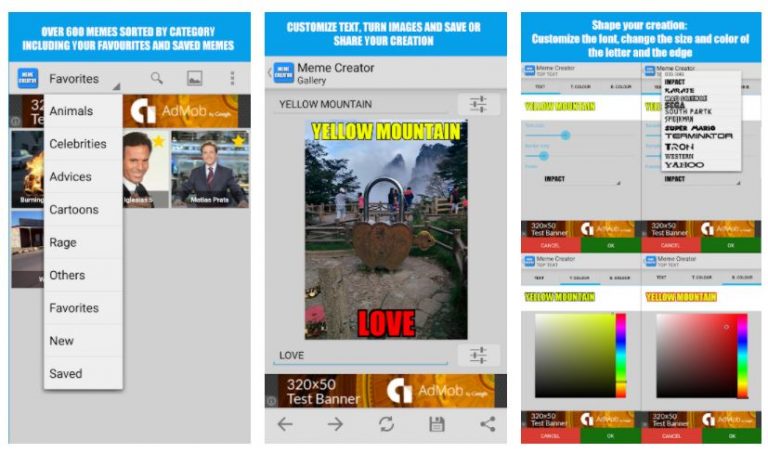 You have access to emojis, stickers, and other effects, which you can add to the memes to make them funny.
Add captions using the different text styles available on Meme Creator.
Keep up with the latest trending memes, which are usually updated regularly on the app, and revisit the old classic memes.
Part 3. The Easiest Meme Maker App Online [Worth a try!]
The Media.io Meme Generator is a recommended online tool you can also use to make funny memes is the Media.io Meme Generator. Although this is not a meme editor app, it can come in handy when you need a fast, efficient tool for making memes, so it is worth trying.
The Online Meme Generator allows you to add humor to your memes by customizing the image you upload or any meme templates on the site. It does not contain ads even though it is a free tool, which gives it an edge over other apps. More importantly, you do not have to consume time and space downloading any app to use this tool. You can use this tool on literally any device without restrictions with a good browser. That makes it the easily recommended choice for fast meme creation.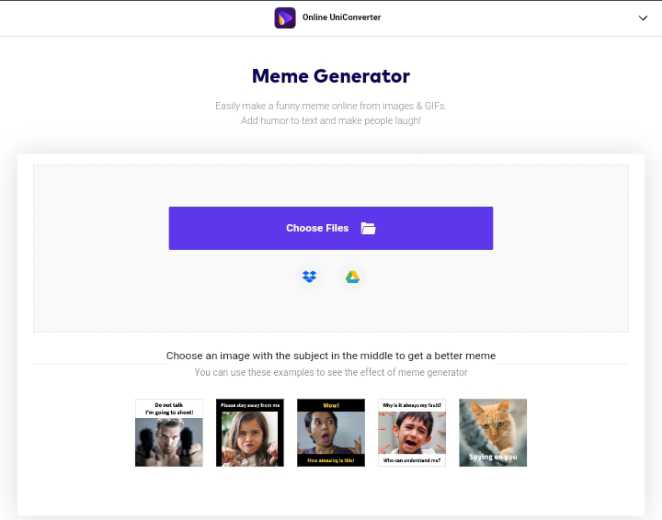 To use the Media.io Meme Generator, you can follow the simple steps below:
Choose a meme template or upload an image or gif from your device.
Edit the meme using the editing tools provided by the meme maker, then generate the meme.
Download the generated meme and share it across all your social media platforms.
Part 4. BONUS Tips for Creating a Best Meme
Apart from utilizing effective meme apps/tools, you need to note some tips and tricks for making better memes. These tips include the following:
Know the audience you are targeting. That would help you create memes that they can relate with, thereby making it easier for you to build a community based on similar interests.
Be familiar with different meme themes. You can begin by copying popular memes, then edit and make them your own.
Have fun making the memes; that is how your audience will also have fun viewing them.
Conclusion
This blog has brought you the best meme generator apps for all types of mobile devices and computer systems. Please make your selection of the app that suits you based on the review we have done above. Note that no matter the app you choose, you will enjoy great features as these are the best meme maker apps you can find now. More so, you can try the online meme generator tool for fast results.