In this OTT (Over-the-Top) era, you would have stumbled upon a movie or web series scene that was worth downloading and saving to your hard drive, probably to educate your viewers about something or to share a part of it as a Facebook or other social media meme.
After the introduction of HTML5, since many videos that are meant to be played directly on the web browsers use WebM extension that offers excellent and crisp picture quality and still have less file size, keeping good WebM to GIF conversion tool under your belt might come in handy.
In this article, you can learn how to convert WebM to GIF online free and using efficient computer applications.
Part 1. How to Convert WebM to GIF Online for Free
There are a several websites that offer online free WebM to GIF conversion. Some most popular among them are:
URL: https://www.media.io/gif-maker.html
Online UniConverter supports convert videos to GIF online and free with no download and installation. It supports WebM, MP4, MOV, AVI, and other common video formats to make a GIF with customized settings including frame rate, size, duaration, resolution, etc. You can download the GIF or save to Dropbox directly without any ads or watermarks added. Images to GIF conversion are also available here.
Easy Steps to Convert WebM to GIF with Online UniConverter:
Step 1. Add your WebM video by clicking the + icon on the web page or drag and drop it directly.
Step 2. Set output parameters for your WebM GIF, such as duration, frame rate, resolution, watermark, etc.
Step 3. Click the CREATE GIF button to start converting WebM to GIF online and free.
Try to create a GIF from WebM video easily now.
[没有发现file]
URL: https://convertio.co/webm-gif/
Convertio is an online portal that supports not only GIF but many other formats for conversion. Offering the ability to upload a file of up to 100 MB as an anonymous free user, the converter also has its API that can be integrated into your website for your visitors' convenience.
To Convert WebM to GIF Image using Convertio:
Step 1. Click Choose Files on the web page.
Step 2. Locate and select a WebM file from your local hard drive.
Step 3. Click Convert---Finish WebM to GIF conversion.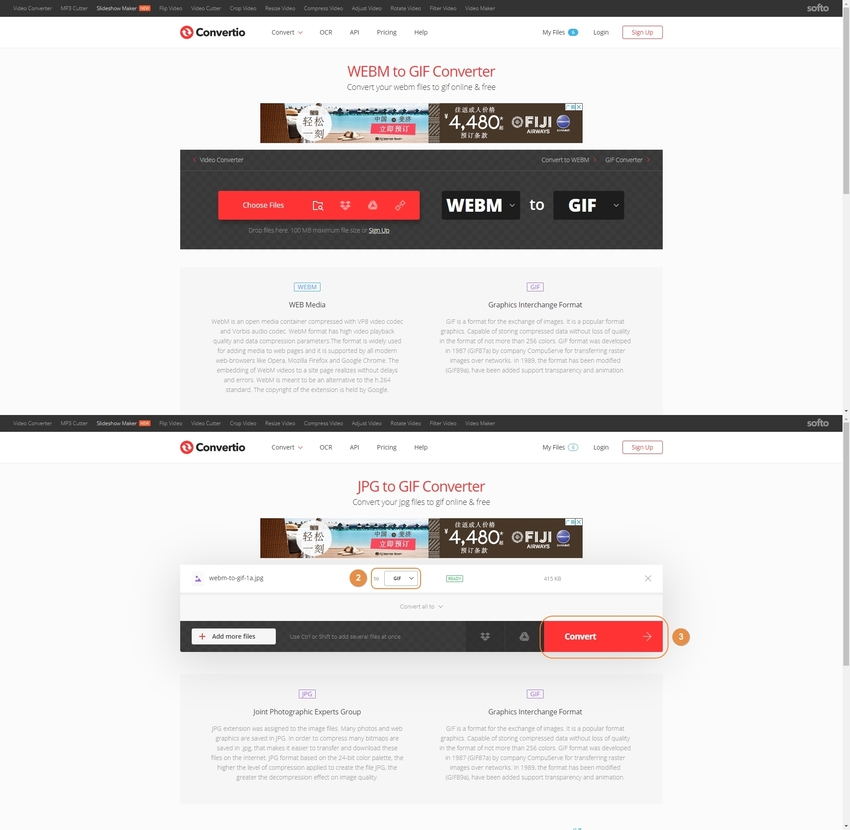 URL: https://www.zamzar.com/convert/webm-to-gif/
With the facility to drag WebM files and drop them on the portal, ZAMZAR also provides in-depth information about the participating file types on its converters' landing pages. In addition to this, you can even paste the URL of an online video to convert it to GIF and can optionally choose to receive a copy of the converted file on your email.
How to Convert WebM to GIF on Zamzar:
Step 1. Click Add Files (Or click Select Link and paste the URL of a WebM video).
Step 2. Navigate to the WebM file on your computer and upload it to the page.
Step 3. Click Convert Now to start conversion.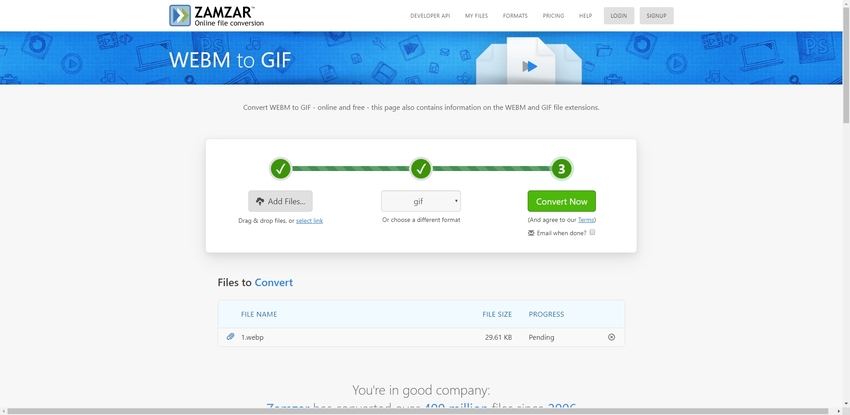 URL: https://cloudconvert.com/webm-to-gif
This online conversion tool has a neat and intuitive webpage with all the needed information right in front of you. Enabling you to pick footage from various sources such as your hard drive, a URL, Google Drive, OneDrive, etc., cloud convert, in addition to converting a WebM file to GIF, can also archive/compress the output file to *.rar, *.tar, *.7z type containers.
To Convert WebM to GIF on Cloudconvert:
Step 1. Click Select Files.
Step 2. Locate and add the source video using the File Upload box (Or click the arrow next to the button to choose another method to get the footage).
Step 3. Click Start Conversion.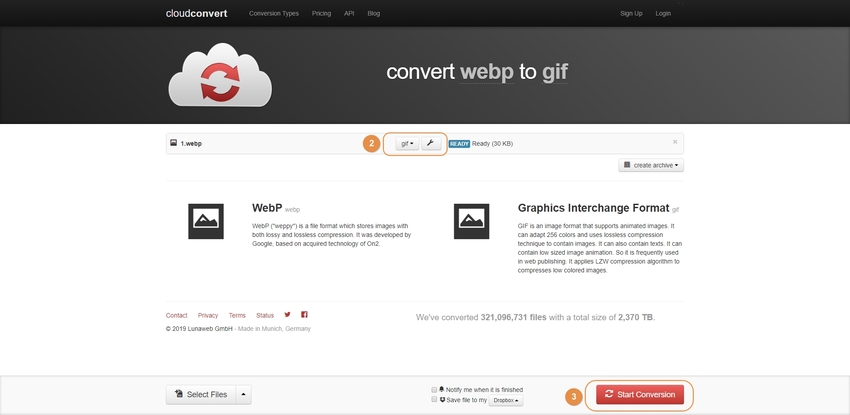 URL: https://ezgif.com/video-to-gif
Not merely from WebM, EZGIF.COM lets you upload any video file or paste its URL to convert it to an animated GIF. Before conversion, you can even define the start and end time, resolution, framerate, and method of the GIF file to give you the exact output quality you are looking for.
For WebM to GIF Conversion in EZGIF:
Step 1. Click Browse, and locate and select a footage from your hard drive (Or paste the URL of the source video in the box).
Step 2. Click Upload video.
Step 3. Choose your conversion preferences.
Step 4. Click Convert to GIF.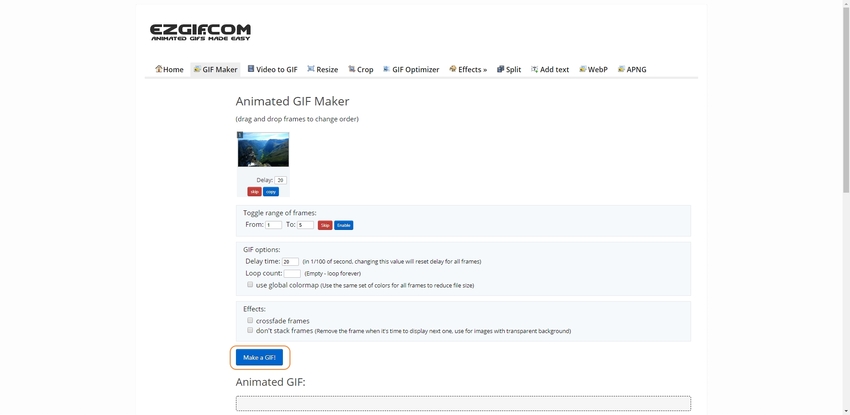 URL: https://image.online-convert.com/convert/webm-to-gif
With the ability to pick source files from your hard drive, URL, Google Drive, or Dropbox, this online tool lets you set various preferences before the conversion begins. The good thing about this portal is, you can add an example file provided by Online-Convert itself to test the conversion results before you upload your own footage.
To Use Online-Convert to Convert WebM to GIF for Free:
Step 1. Click Choose Files (Or drag and drop the footage, click Enter URL, Dropbox, or Google Drive).
Step 2. Locate and update the source video to the website.
Step 3. Click Start conversion for WebM to GIF.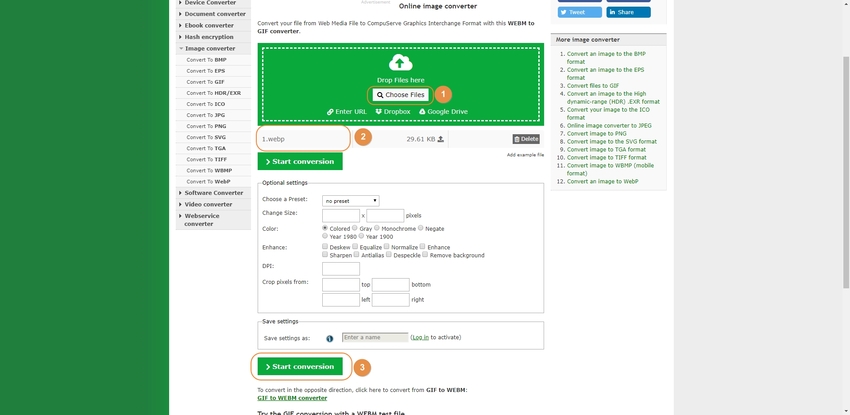 URL: https://onlineconvertfree.com/convert-format/webm-to-gif/
This free online converter has a simple interface that lets you do simple file conversion. Even though there is a file size limitation for free users, this restriction can be removed by buying a subscription plan. As a premium member, you can upload the source files of up to 500 MB.
To Change WebM to GIF using OnlineConvertFree:
Step 1. Click CHOOSE FILE to upload WebM file.
Step 2. Locate and upload a source file from your computer.
Step 3. Choose the output format from the drop-down list. (*.gif for this example.)
Step 4. Click CONVERT to begin conversion.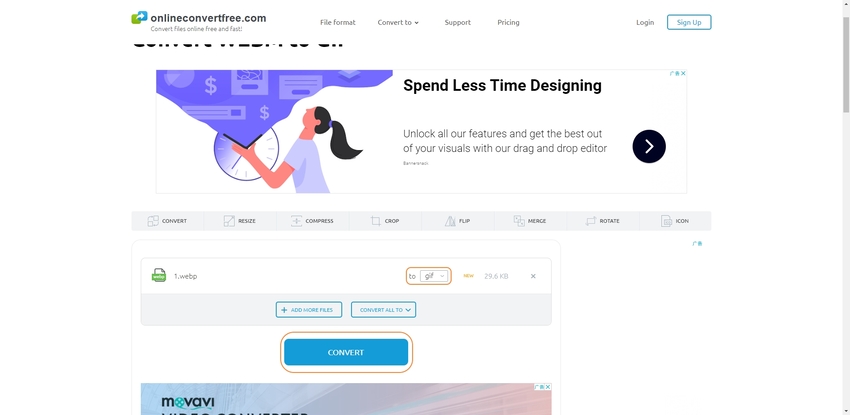 Part 2. Convert WebM to GIF Using Wondershare Filmora
With a user-friendly interface, and enriched with several transitions and animation effects, Wondershare Filmora is used by many professionals as their primary video editing solution. In addition to being populated with a plethora of animated objects/texts to decorate your footage, the app can also record your computer screen, capture live video from your webcam, or add voiceover narrations to your interactive tutorials or documentaries without using any third-party software.
You can follow the step-by-step guide given below to convert a WebM file to GIF using Wondershare Filmora:
Step 1. Install Wondershare Filmora and Launch It
Use the link given above to download and install Filmora according to the platform of your computer, i.e. Windows or Mac. After installing, double-click its shortcut icon to launch the program.
Step 2. Import the Source Footage and Add It to the Timeline
Click the + button on the Media window, and browse and double-click the WebM video you want to convert to GIF.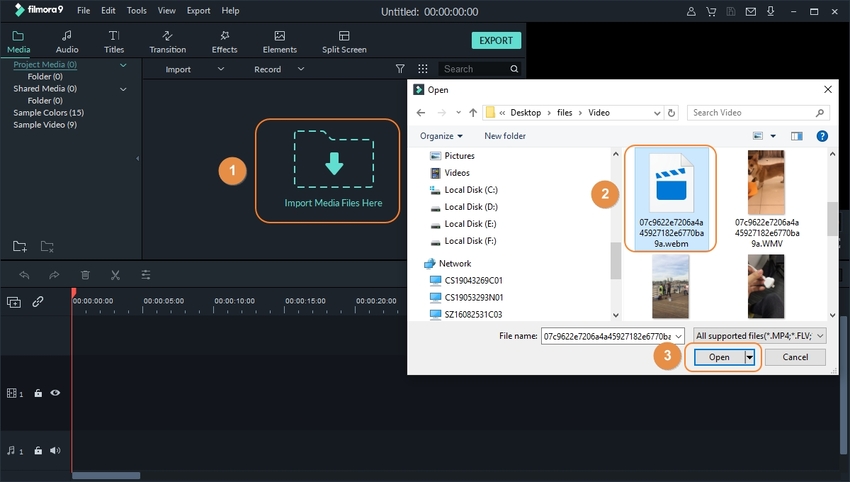 Next, hover the mouse on the thumbnail of the added media, and click + to add it to the Timeline.
Note: If the resolution of the source video doesn't match the Filmora project settings, you will be prompted to take appropriate action. Depending on your preferences for the output, you can decide how to treat the file.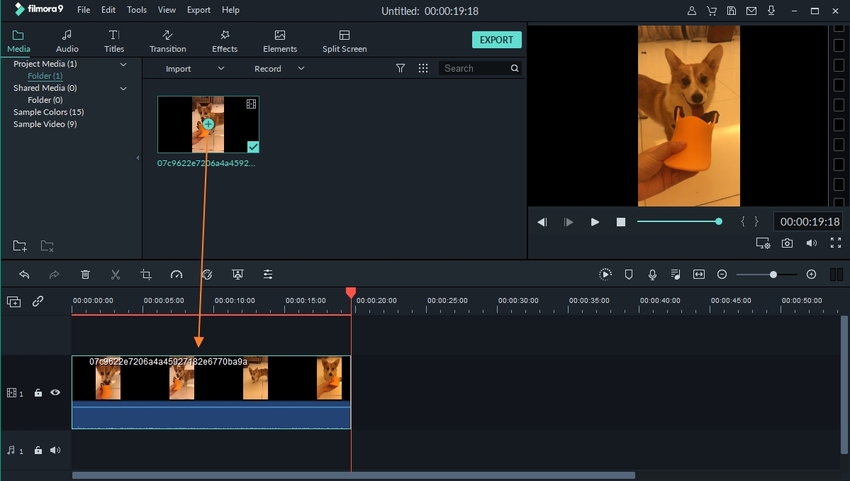 Step 3. Edit the Video in the Timeline
Drag the right or left end of the footage in the Timeline to adjust the section you want to make a GIF of.
Optionally, you can add transitions, effects, and/or elements to the clip by clicking their corresponding buttons from the toolbar at the top, and selecting your preferred effect.
Step 4. Adjust the Output Preferences and Export as GIF
Click EXPORT from the top-right corner of the Media window, click GIF from the left pane of the Export box that opens up, and review the specifications of the output file in the left pane. Optionally, click SETTINGS (if you want to change the output preferences), and click EXPORT from the bottom-right corner of the box to export the WebM media as GIF.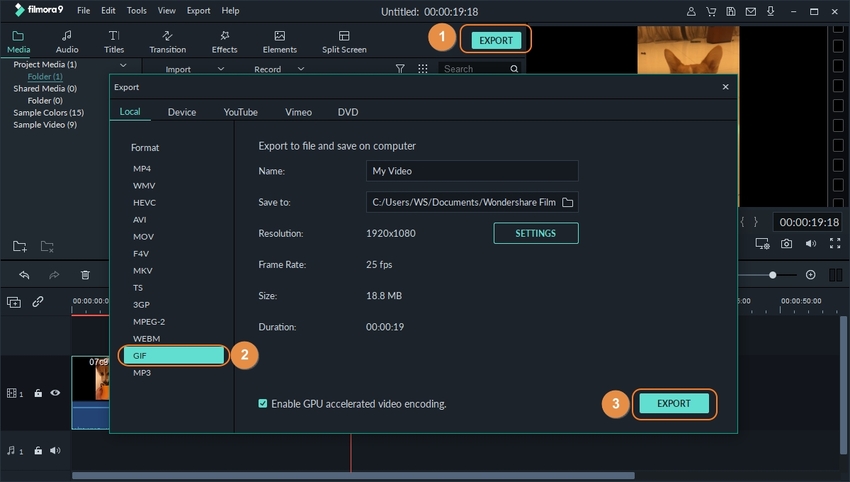 Part 3. Information on WebM
What Is WebM?
Sponsored by Google, the WebM format was introduced in 2010. The WebM files are royalty-free video clips or audio tracks that can be played on all HTML5 pages with integrated media player. That said, WebM format is mostly used for streaming videos and audios over the internet.
WebM files come from .MKV family, have decent picture quality, reduced size, and use royalty-free VP9 and Opus as their video and audio coding format respectively.
| | WebM Files |
| --- | --- |
| Codecs | Latest: VP9 (Video), Opus (Audio) | Earlier: VP8 (Video), Vorbis (Audio) |
| Quality | Almost as good as *.MP4 picture quality |
| File Size | Files are smaller in size as compared to *.MP4 or any other such format |
| Vendor/Developer | Sponsored by Google |
| Patents | 100% Royalty-Free |
Summary
Converting a WebM file to GIF is straightforward, be it an online converter that offers its services for free, or even if it is a paid program that can be downloaded and installed on your PC to get the conversions done without even going online.
Nevertheless, Wondershare Filmora remains the best because of its simple UI and ability to support various formats, which is something not many of its competitors from other vendors offer.
Wondershare UniConverter supports MP4, AVI, MPEG, WMV, MOV, and 3GP video format convert to GIF. It also has another way to convert pictures to GIF as well.
Wondershare UniConverter
· Edit, compress, and convert is the main features of UniConverter.
· The conversion and download speed is fast.
· Allows users to transfer videos from computer to iPhone or Android mobiles without using iTunes.
· Very simple to use with the intuitive software interface.
· System Available: Mac and Windows