Just like the other popular social media sites, Tumblr presents a friendly platform for users to post texts, photos, audios, and videos. One common way Tumblr users present their pictures is through GIF, otherwise called Graphics Interchange Format. It is quite famous for sure. You may have ever met them somewhere but do not know how to post them. The process is simple and straightforward. So if you do not know how to upload GIF on Tumblr, then you are off for a good start.
This tutorial will show you the process of uploading a GIF on Tumblr and how to save GIFs from Tumblr.
Part 1. How to Post a GIF on Tumblr
GIF file types have the perfect blend between imagery and videos with no audios. This makes them suitable for displaying short story scenes and mini-stories. GIF files are also very flexible. Hence, they can be easily shared across mobile and desktop devices. The most common way people obtain GIF is by taking some part of a clip and later converting them to GIF. Alternatively, one can opt to use the vast existing GIFs that have been availed across social media platforms.
Tumblr has set size and format standards for images that GIF files must adhere to, too, to guarantee proper outlook. More so, the height and width parameters must be nearer to that of the rendering screen. If those requirements are not met, then one will face trouble getting their files to be shown adequately. If you are facing problems having your files getting a proper display, then this section is going to take you through detailed steps on how to put a GIF on Tumblr, and in a manner that will guarantee a good display.
How Do I Upload a GIF on Tumblr?
Step 1. Log in to Your Tumblr Account
Sign in to your Tumblr account and click on the button named Photo. Upon clicking on it, you will be taken to a page named Upload a Photo.

Step 2. Upload a GIF File to Tumblr
Go to the Browse button and you will be taken to your device's internal storage. Find the GIF files that you want to add on your blog. Double click on them. The GIF files will be automatically added to the Upload a File page.
Step 3. Write a Description and Send It with GIF
The last step is how to upload GIF to Tumblr is first to include any desired caption or tag to go along with the GIF. One can do this by typing into the Caption and Tags section, respectively. When everything is done and well set, click on the Create Post button to upload the GIF into Tumblr.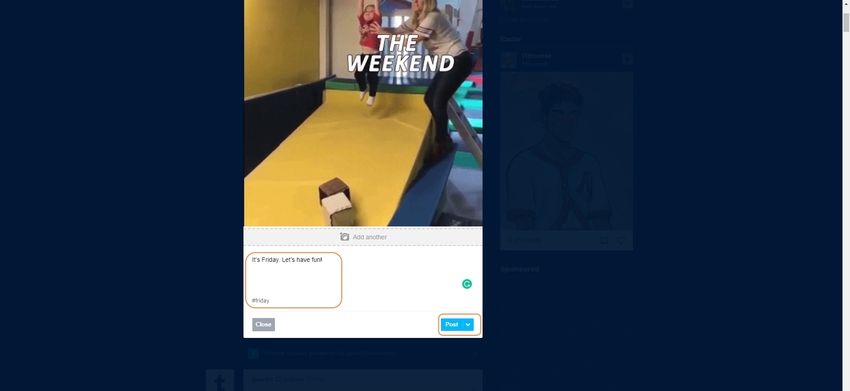 Part 2. How to Save GIFs from Tumblr on iPhone or Android
Humor is one of the big reasons why people use social media. GIF file format provides an ideal medium where users can share funny captions with ease. Some can be so entertaining such that one can opt to save them for later uses. But how do you download GIFs from Tumblr in Apple and Android? Don't worry, and this guide is going to show you how.
How to Save GIF from Tumblr on Android?
Step 1. The first step is to launch the Tumblr application in your Android device.
Step 2. Look for the GIF file that you would download if it's onscreen. There is a magnifying glass icon on the page's bottom. Click on it, and you will then be provided with a search field to type in the name of the specific GIF. Click on Enter after writing its keyword.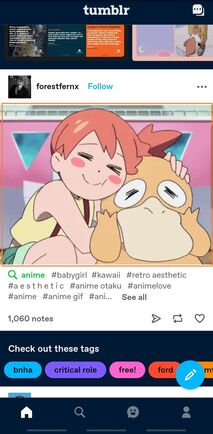 Step 3. Tap on the specific GIF that you would want to download and hold. A popup window with Share Photo and Download Photo button will be displayed. Click on the Download Photo option. The downloaded GIF will be saved in your phone's storage in a folder called Tumblr.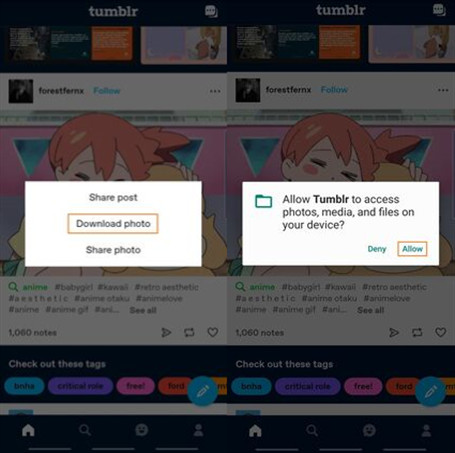 How to Save GIF from Tumblr on iPhone?
It is common nowadays to come along a series of animated GIFs online, and especially on Tumblr. Earlier used to create motions in websites, GIF has revolved with is speedy and dynamic nature making it a go-to for coming up with jokes. Indeed, some will not escape your attention such that you will like to store them on your computer for later uses. And the process of doing so is, in fact, easy, as shown below.
Step 1. Open the Tumblr application and go to the site where the GIF is present. Click and hold on the file from some menus will be shown. Click on the iPhone's Tumblr downloader button called Save GIF and you will have the file stored in the camera roll.
Step 2. The saved GIF will be stored in the animated folder, and you can be able to access it at any time using the Photos app.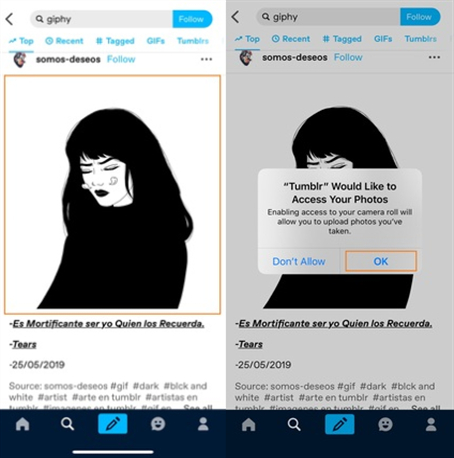 Part 3. How to Save GIFs from Tumblr on PC or Mac
Step 1. The first step is to go to Tumblr leading site and then enter your login credentials; that is the email and password. Once on Tumblr leading site, scroll down the timeline until you find the GIF file.
Step 2. Take the cursor into the specific GIF file that you would want to store into your device and right-click on it. A pop-up window with multiple options will be shown. Click on the Save image as option.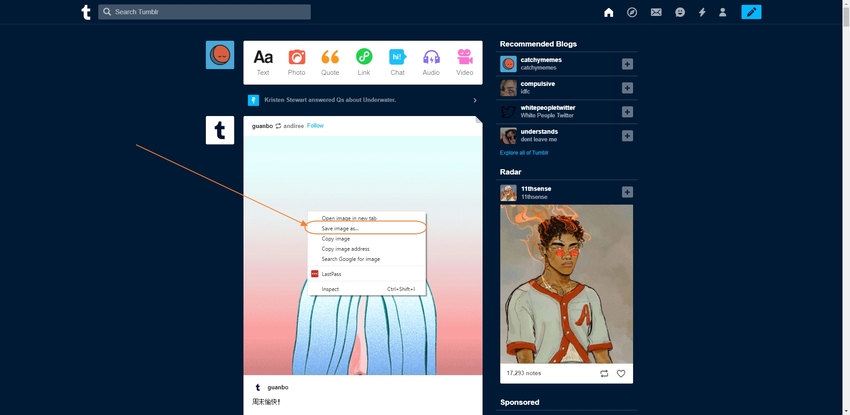 Step 3. The internal storage of your computer will be shown. You will be needed to the specific location in your device that you will want to store the GIF file. And when that gets done, click on the Save option.
Summary
You will first have to save a Tumblr GIF into your device to share them with others online. Hopefully, you have now comprehended all the possible steps that are needed to save GIF on Tumblr. The steps involved are comfortable, and with just a few clicks, you shall have your files stored into your device memory.
Let's using Wondershare UniConverter to create a GIF from a video or photos with ease, and share it to my social platforms, such as Tumblr, Facebook, Twitter, and others.
Wondershare UniConverter
· Wondershare UniConverter is the easiest to use software that can install on Windows and Mac.
· The main feature is conversion, which can convert video, audio, and image file to more than 1000+ formats with high-quality.
· It allows peopel to transfer videos from computer to iPhone or Android without using iTunes.
· In Toolbox function, it includes VR converter, video compressor, GIF maker, and others.
· Wondershare UniConverter allows you to burn video and other media files to DVD as well.