Are you looking for the best tool to convert animated SVG to GIF? You've come to the right place. While Scalable Vector Graphics allow you to scale an image to any size with little or no distortion, editing and playing your animated SVGs files on some devices can lead to compatibility issues. Moreover, SVGs are not compatible with all websites, so if you want to use it in your blog or websites where they're not supported, then you'll need to convert it to a more accessible format like GIF.
There are lots of image conversion tools and online editors that allow you to convert SVG to GIF. However, not all GIF converters and editors are efficient and easy to use. In this post, you will learn about SVGs and GIFs formats as well as the top animated SVG to GIF converter that you can use to make GIF images and share it with your friends quickly.
Part 1. 5 Welcome Online Tools to Convert SVG Animation to GIF [Free]
Below are the top five SVG animation to GIF converters that are available today.
CloudConvert is an easy to use online file conversion tool with a robust and scalable API. This all-in-one cloud-based converter supports over 200 different file formats from vectors, audio, and video. With this tool, you can convert SVG to GIF in your browser and email it to yourself or transfer it to integrated cloud services like Google Drive and Dropbox.
The pricing of the CloudConvert paid version starts at $8. However, the tool offers a free trial version that you can use to convert your files quickly.
Key Features:
ClouldConvert supports 218 formats.
It supports folder monitoring and batch conversion.
Cloud file conversion with a powerful API.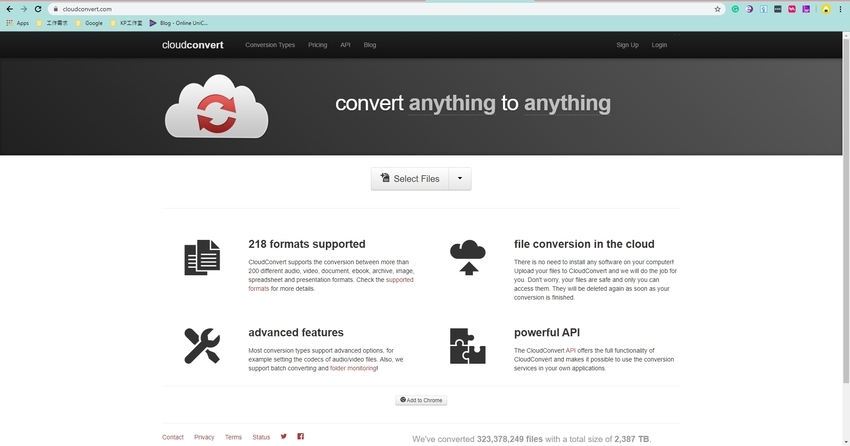 Convertio is a super simple file converter that offers both paid and free web-based version to convert SVG to GIF animation. The tool works with all file types and provides a one-time payment pricing system that starts at $7.99. It supports more than 300 different file format conversion and allows you to upload your converted files to other applications such as Dropbox and Google Drive. The maximum file memory size that you can upload to this tool is 100MB.
Key Features:
Convertio supports 300+ file formats.
Works for all platforms.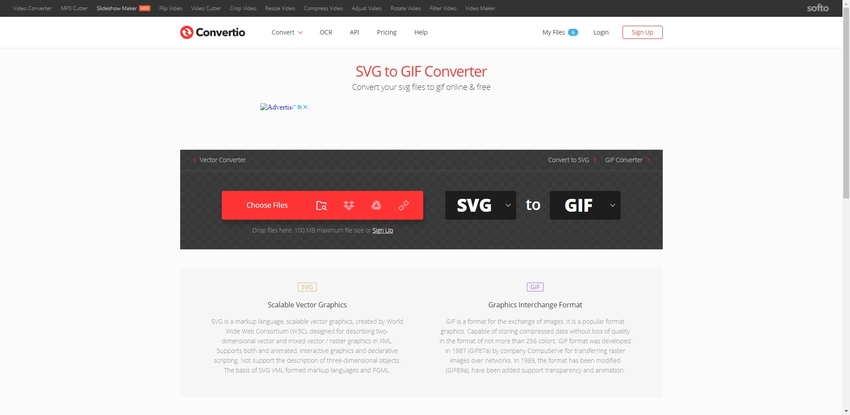 https://www.aconvert.com/image/svg-to-gif/#
AConvert is one of the most straightforward free web-based file converters out there. This tool will not only convert SVG to GIF efficiently, but it also has several functions that allow you to compress, crop, rotate, merge, resize, and adds your desired effects to your GIF file.
The tool is easy to use, supports 200+ formats conversion, and allows you to download the files you want to convert or upload your saved files to other applications such as Dropbox and Google Drive. You can also choose online files from a URL to complete your conversion projects. The maximum file memory size that you can upload and convert with this tool is 200MB.
Key Features:
Options available to edit, compress, resize and add effects to image files.
Intuitive interface.
It supports 255 formats.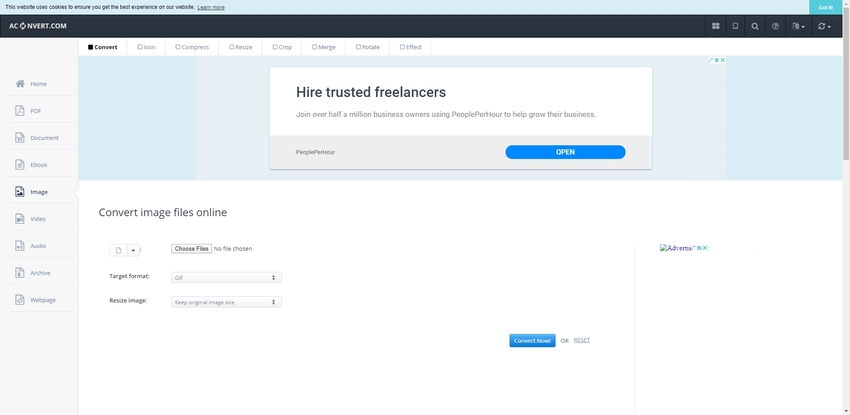 https://www.coolutils.com/online/SVG-to-GIF#
CoolUtils is a powerful desktop file converter that offers a variety of file conversion utilities such as the web-based file conversion to convert your animate SVG to GIF. The tool has a clear and easy to understand interface, supports a lot of file formats, has responsive support, and features powerful engines that help to process your files in one go.
Although the tool offers 14-day money-back guarantee and a 30 days free trial, you can make use of its free online SVG to GIF converter and get the best result. Just upload the files you want to convert from your local computer or other applications such as Dropbox and Google Drive, set your convert option, download the converted file, and voila!
Key Features:
Impressive support.
Support thousands of formats.
Flexible settings.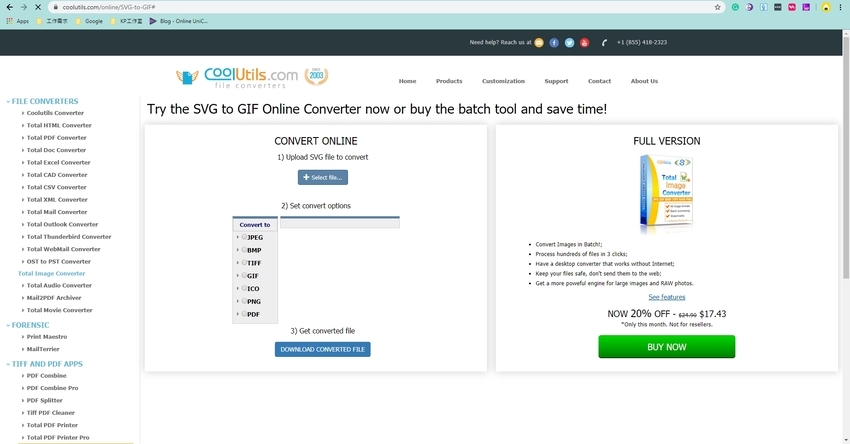 https://onlineconvertfree.com/convert-format/svg-to-gif/
OnlineConvertFree, as the name implies, is a fully-featured online conversion tool that allows you to convert anything into any format you desire for free. As one of the easiest and efficient drag and drop services out there, OnlineConvertFree will help you to save your SVG animation to GIF in no time. The tool supports hundreds of different formats and has a lot of features to help you compress, crop, resize, rotate, merge, and create an icon with your GIF file.
Key Features:
Drag and drop to upload files.
Various options to edit or customize your GIF file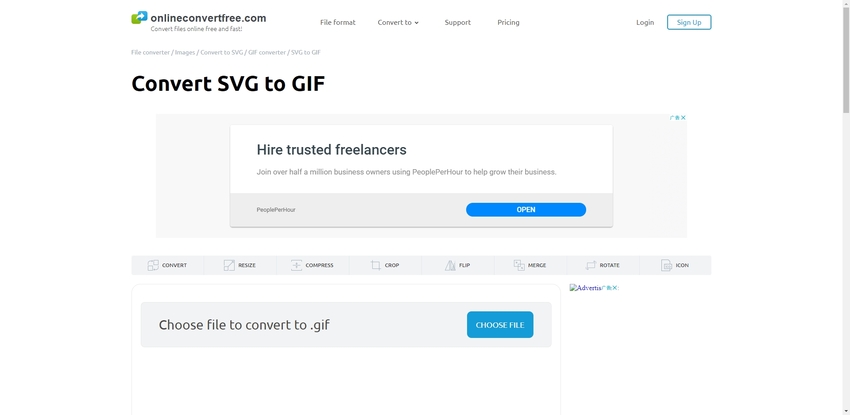 Part 2. Use Google Chrome Add-on to Convert SVG to GIF
SVG to GIF Converter
https://chrome.google.com/webstore/detail/svg-to-gif-converter/hcohjlndjjikkfmiafbifjboghndpian
SVG to GIF Converter is a dedicated Google Chrome extension that allows you to convert SVG to GIF with ease. This web-based tool integrates with your web browser and allows you to quickly upload your SVG files while it turns and send a download link where you can quickly get your converted files to your email.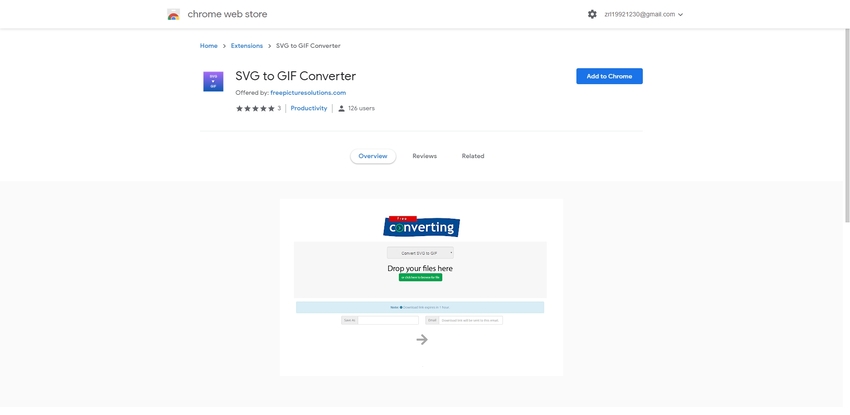 Part 3. Extensive Information about SVG and GIF
A. What is the Scalable Vector Graphic (SVG)?
Scalable Vector Graphics (SVG) format is an XML-based vector image format for displaying various graphics. Under the hood, Scalable Vector Graphics are simply plain text files or code that is used to describe the lines, colors, shapes, texts, and curves of two-dimensional graphics.
SVG code is human-readable and can be easily modified, edited, and manipulated via JavaScript or CSS; this makes it more versatile and flexible than the traditional JPGs, PNG, or GIF files. SVGs are programmable, interactive, can include animation, and can be zoomed in to any size without pixelating the image.
B. What is GIF?
Graphics Interchange Format (GIF) is a lossless bitmap image format that supports both static and animated images. With GIF, multiple frames are encoded into a single image file using the Graphics Interchange Format, so a web browser and other graphic software will automatically playback the images in animated sequences.
C. Comparison Table of SVG and GIF
| | SVG | GIF |
| --- | --- | --- |
| Vector/Raster | Vector | Raster |
| Transparency | Yes | No |
| Animation | Yes | Yes |
| Lossy | No | No |
Summary
We hope this article has shown you the top animated SVG to GIF converters that you can turn to and quickly convert your image files and share them with your friends as well as the meaning of SVG, GIF formats.
The tools mentioned above are the ones we recommend due to their good performance and reliability. However, if you have other suggestions, feel free to let us know.
UniConverter is one of the popular items in Wondershare. Why? It's a simplified software for most users who are looking for simple edit, convert, and compress tools. Many useful features are waiting for you to explore and use.
Wondershare UniConverter
· Lossless quality conversion supported at a super-fast speed.
· Wondershare UniConverter supports Windows and Mac systems.
· UniConverter supports users to transfer videos from computer to iPhone or Android mobiles without using iTunes.
· UniConverter toolbox contains image converter, GIF maker, watermark editor, background remover, VR converter, fix media metadata, and other new features.
· Wondershare UniConverter allows you to burn video and other media files to DVD as well.